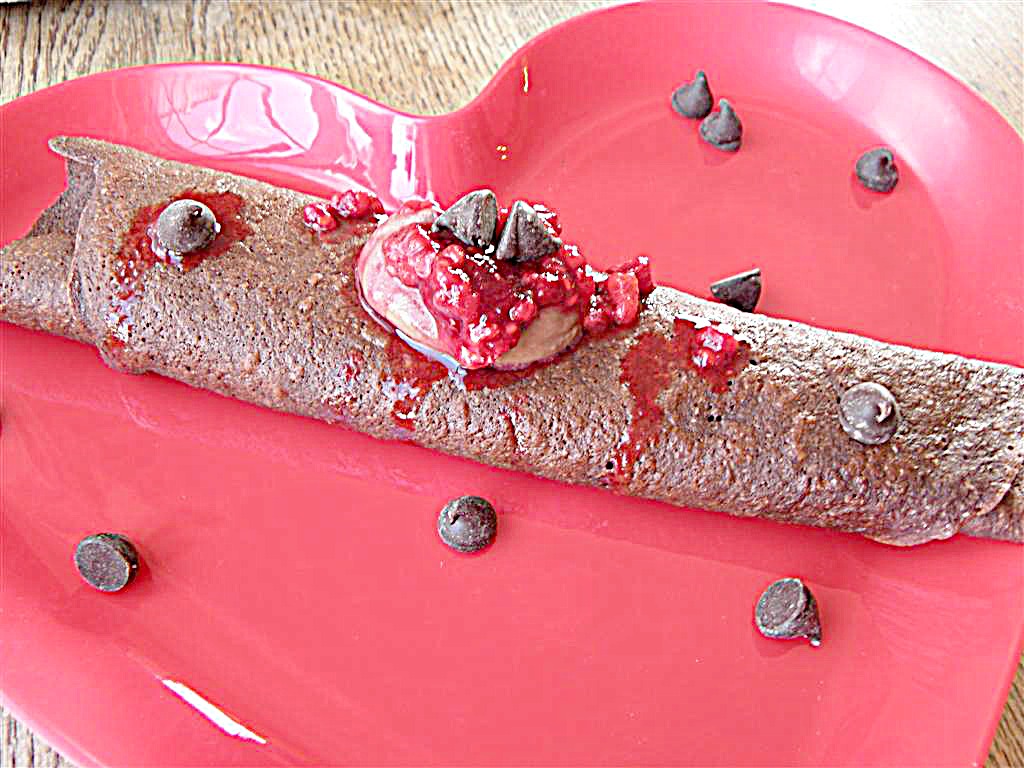 Happy Valentine's Day!!!
When I received the Sweetleaf Stevia chocolate raspberry flavor in the mail to review I knew I wanted to make a fantastic dessert that would complement those very flavors. I saved this recipe especially for Valentine's day!
I love using sweetleaf stevia in liquid form because you don't need a lot of it to add sweetness to many recipes and it is completely, naturally sugar free. I usually use vanilla creme and chocolate, but after trying this chocolate raspberry I just fell in love with it! I even like it in my coffee!
So I created this recipe using my original basic crepe recipe, adding cocoa and the raspberry stevia. They came out fantastic! I also added the flavor to the original chocolate mousse recipe I have posted making it even more delicious than it already was. Combine both of these things and you have a fabulous Valentine's dessert for you and your family!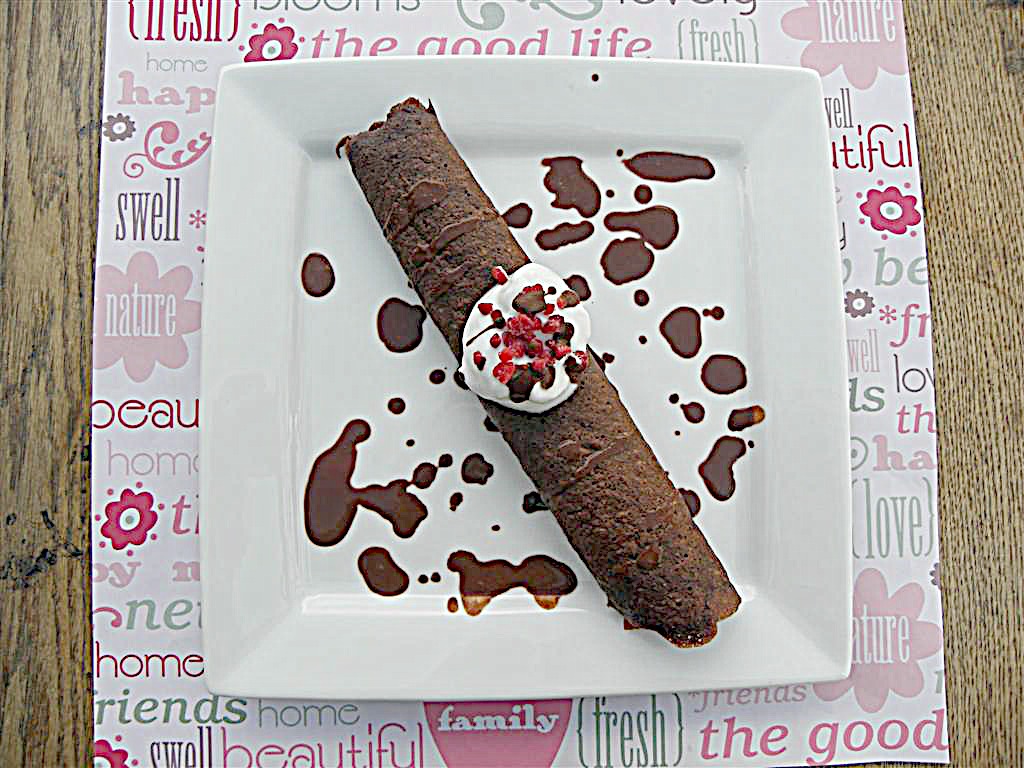 And of course I don't want to forget to mention SUGAR FREE and no one will even notice! A delicious dessert for less than 120 calories is amazing don't you think? I'm pretty happy with the results and I think you will be too!
I want to share the love today and give away a bottle of the Chocolate Raspberry Stevia for you to experiment with and enjoy!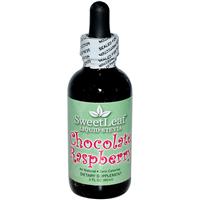 *THIS GIVEAWAY IS NOW CLOSED.
The Winner of this yummy Chocolate Raspberry Sweetleaf Stevia chosen by random.org...........
The Better Baker #17!!! Congrats!
Thank you everyone who participated!
Here are the rules for the Giveaway and after that you will find the recipe for the crepes!
Mandatory entry :Simply leave a comment sharing whether you have ever tried Sweetleaf Stevia in liquid form before and what is your sweetener of choice.
Optional Extra Entries: ( only after completing mandatory entry) You can do any or all of the following entries below for one extra entry each.
Please leave a separate comment below for each one you do. Don't forget to leave your email so I can contact you if you are the winner!
"Like" Sugar-Free mom on Facebook comment that you did or tell me you already do.
"Like" Sweetleaf Stevia on Facebook and comment that you did.
Mention this giveaway on Facebook using the share button above and let me know in a comment below.
Follow me on Twitter and comment that you did or tell me you already do.
Follow Sweetleaf Stevia on Twitter and comment that you are.
Tweet this giveaway using the button up top above this post. (This you may only do ONCE per day) and comment that you did.
Subscribe via email or RSS feed and never miss a post, and comment that you did or tell me you already do.
Follow me on Networked Blogs on my right side bar and comment that you did or tell me you are already.
Last but not least, write a post about this giveaway on YOUR blog. (Leave a link to your post in your comment here.)
The contest will end on Friday the 17th at noon EST. The winner will be chosen by random.org and will be contacted by email. Please respond within 24 hours or a new winner will be chosen.* This product was given to me to review, but as always all comments in this post are 100% my own.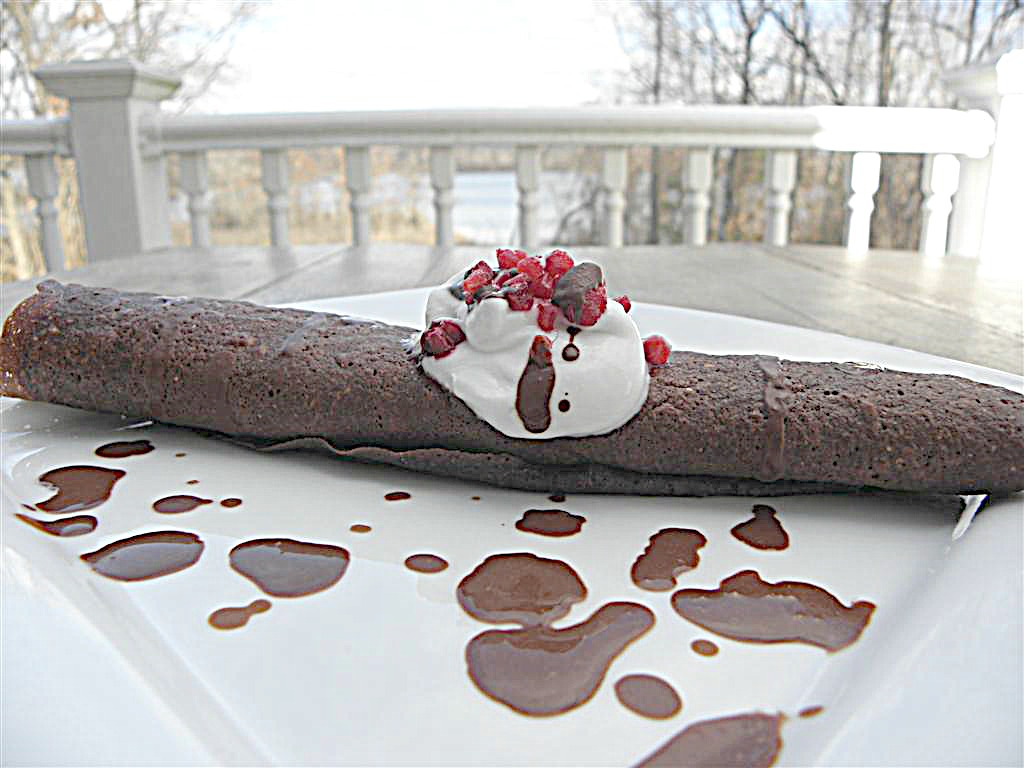 Recipe Notes:
Mousse requires coconut milk uncovered in fridge overnight.
You could certainly use whipped cream, pudding or cool whip in place of the coconut mousse.
I used frozen raspberries and added sweetleaf stevia to sweeten.
Instead of raspberries try strawberries, blueberries or even chocolate chips.
I used Sweetleaf Stevia's new flavor Chocolate Raspberry for this recipe and giveaway, but chocolate liquid stevia would be fine as well.
I made the chocolate syrup on the plate by mixing 2 tablespoon of unsweetened cocoa with 1 ½ tablespoon water and ⅛ of teaspoon of chocolate raspberry liquid stevia.
Chocolate Raspberry Mousse Dairy Free Sugar Free Filling
Ingredients
1 can (13.5oz.) Coconut milk equal to about 1 cup
¼ c. unsweetened cocoa
¼ tsp. Sweetleaf Stevia, chocolate raspberry liquid drops
1 c. raspberries, fresh or frozen, coarsely chopped
Directions
Open the can of coconut milk and leave it in the refrigerator overnight and uncovered. DO NOT SHAKE THE CAN before opening.
Spoon out only the cream and leave the water at the bottom of the can, it should be about a cup. You can save the water for a smoothie!
Add the coconut "cream", cocoa, and stevia to the bowl of a stand mixer and whip on setting 2 for about 5 minutes, scrap the sides of the bowl to make sure its all incorporated.
That's it! Store uncovered in the fridge and it will continue to thicken!
Chocolate Crepe
Ingredients
1 large egg
2 large egg whites
¾ c. whole wheat pastry flour
¼ c. cocoa powder, unsweetened
1 c. milk, 1%
olive oil cooking spray
Directions
Prepare crepes in your blender. Combine egg, whites, cocoa, flour, stevia and milk. Process until well mixed.
Chill batter in the fridge for an hour, but I was impatient and only waited a half an hour and it was just fine.
Remove blender from fridge and pulse to re-mix batter.
Heat an 8 inch nonstick skillet pan over medium heat and when hot spray with cooking spray.
Add ¼ c. of batter to pan, swirl around to coat entire pan, cook until crepe is set, about a minute.
Use spatula around edges to gently flip crepe over. They can easily be fixed if they overlap at all. Cook for about 30 seconds and lay crepe on aluminum foil to cool while you make the others. I fit two at a time on each foil and just continued to lay aluminum foil over the made crepes.
You should be able to make 8 crepes with this amount of batter.
Crepes can be made ahead and stored in fridge for 2-3 days before using. Warm in a saute pan when ready to assemble.
To assemble Crepes:
On a plate lay one crepe, add 1 tbsp. chocolate mousse or cool whip, then add a tbsp. of raspberries or fruit of choice.
Starting on one end roll crepe around with seam side down on plate. Top with more mousse or whipped cream. Enjoy!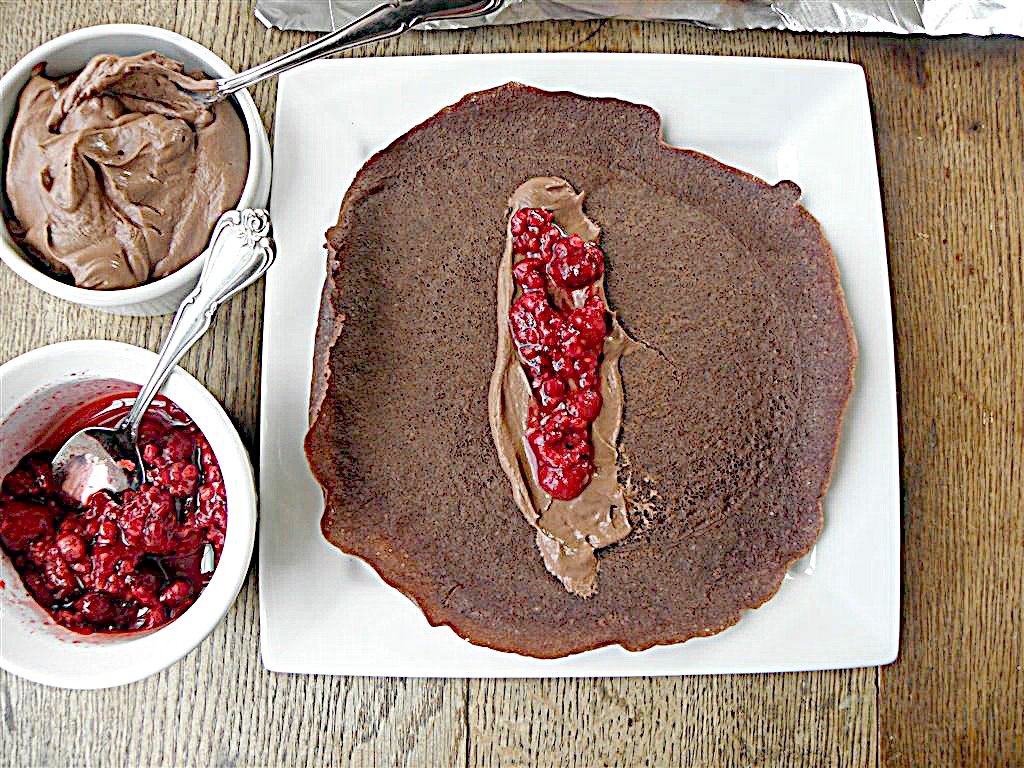 Nutrition Info
Servings 8*
One serving= 1 crepe with 2 tbsp. chocolate mousse and 2 tbsp. of raspberries
Calories: 115* Fat: 7g* Fiber: 2g* Carbs: 12g* Protein: 5g* Points+: 3*
Isn't that amazing?!!!
Don't forget to comment to enter to win the chocolate raspberry stevia!!