An Instant Pot is an electric pressure cooker that makes cooking meals a lot quicker! I'm giving one away today!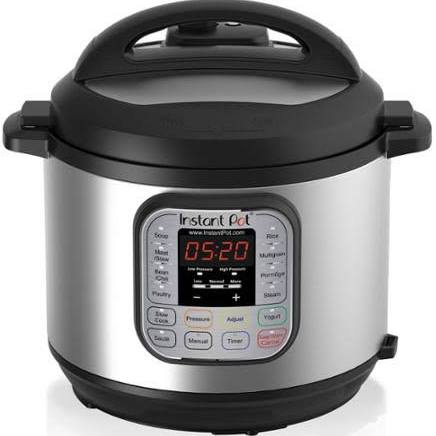 I fell in love with pressure cooking a long time ago under the supervision of my wonderful grandmother and mother. They were avid pressure cooker experts and never had any issues with explosions or problems.
In fact,
I've got a video showing how to use the older version on youtube.

I've got 2 recipes using the older version which could easily be converted to the Instant Pot:
Using a standard pressure cooker can be scary if you've got a gas stove and not quite sure how to keep the heat steady and the pressure cooker evenly cooking.
If you've always loved the crock pot, the aspect of plugging in an appliance might be more appealing to you than the older version.
This new version takes the guess work out of it! NO need to worry about how to keep the heat at the right temperature on the stove! The manual is easy to follow and you will be amazed at how quickly you can get a meal on the table!
I've also started developing recipes using this new electric Instant Pot:
Recently the Instant Pot company sent me a brand new Instant Pot! Since I all ready have one, I decided this would be a wonderful way to introduce someone to this new method of quick cooking! Since I will be mailing this heavy appliance myself, I will need to keep this to the United States only, sorry friends, it's just too costly for me to ship out of the states!
GIVEAWAY IS NOW CLOSED: Starts 3/28/2016 -Ends April 2, 2016 at 12:01am. Open to US residents only. Winner will be notified via email and has 24 hours to reply or a new winner will be chosen. Winner will be chosen by random.org.
Here's How to Enter this Giveaway:
MANDATORY QUESTION:
**Have you ever used a pressure cooker before and if not, why not?
Extra Enters: Each extra enter you make will be counted as a point, so be sure to make a separate additional comment for it to count.
"LIKE" SugarFreeMom on Facebook and come back to my website to reply you did in another comment.
"Follow" SugarFreeMom on Pinterest and come back to mention you did.
"Follow" SugarFreeMom on Instagram and come back to tell me your username.
"Follow" @thesugarfreemom on Periscope and come back to tell me your username.
CONGRATS TO #333 DEBBIE SCHMU!!!