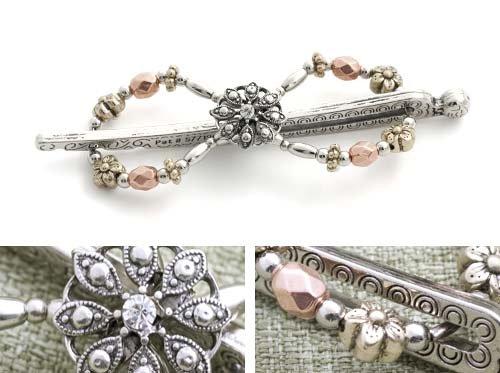 Do you like pretty hair accessories? DO you like FREE hair accessories? YOU are in luck today friends! But first you are probably wondering why in the world I am sharing about HAIR stuff right?? Well.......It all began when I received an email from a mom named Gail asking if I would be interested in doing a review and giveaway of this product. Before I even finished reading I was going to say no that has nothing to do with a food blog. BUT she won me over with...."I know your site is really about cooking and being in the kitchen. But hey! No one wants hair in their food right?" And. I. Was. Sold.

I not only was able to receive one for myself, but she graciously gave my daughter one to try as well! I chose a large clip since my hair is super curly and thick and my daughter has a medium size clip. Although she has straight hair it is also very thick. We LOVE them! So much prettier than an elastic for a ponytail and worked fabulously to keep our hair up off our necks.
If you're interested in purchasing any of these hair accessories, Gail is offering a "Buy 3 Get 1 Free" for new customers until the end of the month!
Here's her website, Imperfect Housewife.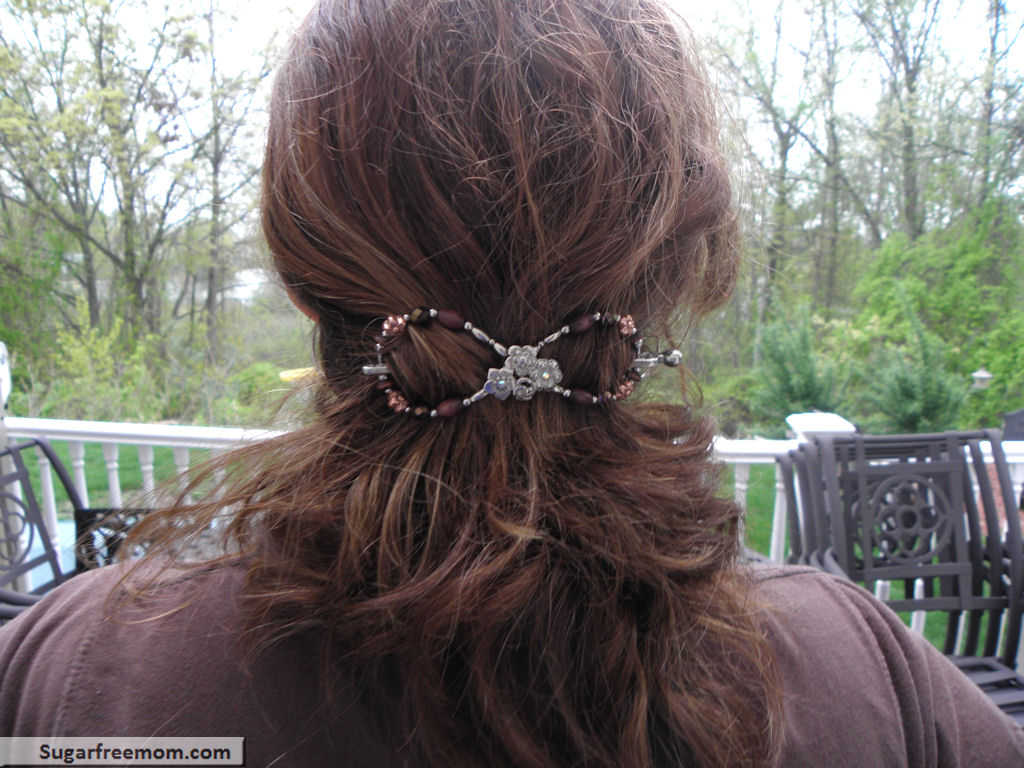 The following is a Guest Post from Gail Harris, author of the blog The Imperfect Housewife.
I'm sure you are wondering what a food blog and a hair accessory company have to do with each other? You see, if you are like me, you have children to care for, a husband to care for, and oh yes, that stray dog you found at church on Sunday. On top of that, you may spend a lot of time in your kitchen preparing healthy food for your family. This is where the lovely Flexi-clip comes in! The Flexi-clip is a patented one piece hair clip that comes in 7 different sizes from Mini for baby fine hair to the Mega for long, thick hair. I use my flexi-clips just about everyday. I put my hair up to workout in the morning with a Medium if I'm putting all of my hair up, or maybe an X-Small for half of my hair with a Small holding up the rest of it. If I'm not wearing my flexi, I might go with a Hairband if I want to leave my hair down for the day. The best part about the accessories from Lilla Rose is, not only are they beautiful, and they stay put all day, I don't have a headache by the end of the night. No behind the ears headband marks, nothing.
Ok, back to what this has to do with food, right? I don't know about you, but when I am working in the kitchen I get hot, and I want my hair out of my face and out of my food. Insert Flexi-Clip! It does both of those things! Keeps me cool and keeps my hair where I want it so I don't find those stray hairs in my food! Again, one of the great things about the Flexi-clip is it's ability to stay put all day long. I very rarely have to redo my hair. Most mornings, (if I don't have time to shower after working out) my hair stays the way I did it to work out!
Now, let's say you want to try this Flexi-clip. You go and watch the Size and Styling Video. You place your order, but when you receive your clips the size is too small, or maybe it's too big. You can contact our Customer Service and send it back (for free!) and exchange it for the correct size. Does it get better than that?! I have met many people who have been skeptical of this wonderful product and they end up being the ones who love it the most! Even better, you have a chance to enter the giveaway and win one of your own!
I'd like to say a special thank you to Brenda for allowing me the opportunity to share this product with you and for hosting a review and giveaway for me!
BIO: Gail is a stay-at-home mom with 5 children and has been married to her husband for almost 8 years! She blogs over at The Imperfect Housewife about what life is like having children, 5 years old and under and, more importantly, her walk with Christ. Gail has been an Independent Consultant for Lilla Rose since December of 2011 and feels blessed to have the flexibility to continue to stay home with her children while sharing a product that she loves.
THIS GIVEAWAY IS NOW CLOSED. Congrats to Margaret R.!!!
Enter the Giveaway here. Contest ends on Sunday May 20, 2012 at midnight, est.
a Rafflecopter giveaway