Baked Eggs inside halves of peppers is a fabulously easy recipe for a quick low carb breakfast or snack anytime!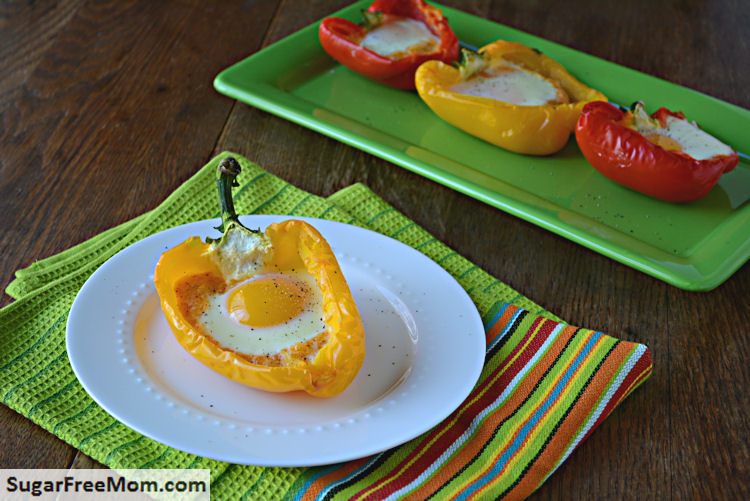 Have you ever wanted to try a recipe you've seen multiple pictures of many times and finally have all the ingredients on hand to make it as your next meal, with great anticipation of a glorious feast, only to be completely disappointed that the chosen ingredients necessary weren't ripe enough to use?? That.was.me.last.week. My defeat was the unripe avocado. It burst my bubble. BUT I was determined to try something else in place of the avocado. Yes, not as creamy and smooth as an avocado, but still the same idea.
Maybe you've never seen the famous baked eggs in avocado halves before? Every time I've seen a picture of a baked avocado with an egg it left me drooling. One day I shall make it, once those darn avocadoes ripen. BUT Pepper halves were my next best idea. I've never seen anyone bake eggs in peppers, maybe someone out there in the world wide web has, but I've not come across it. So of course to me it was a genius idea. 🙂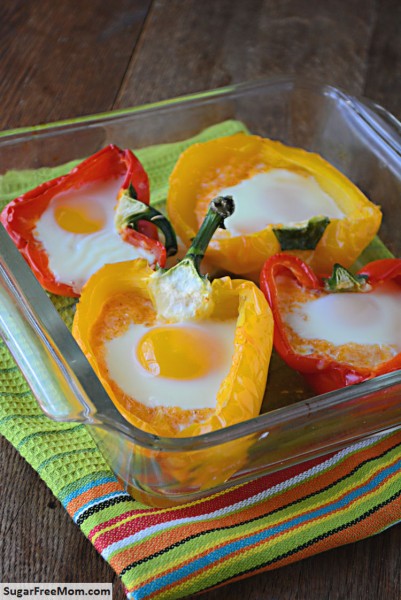 Three ingredients is all that's needed for a fine and healthy breakfast or snack. Precooking the pepper halves makes them tender before adding the egg to set and bake in it. If you are dairy sensitive you could eliminate the cheese I added to each half, I'm sure it would work just fine without it. Another option might be to add another veggie like spinach before cracking the egg in. Either way a quick and easy breakfast I'd say.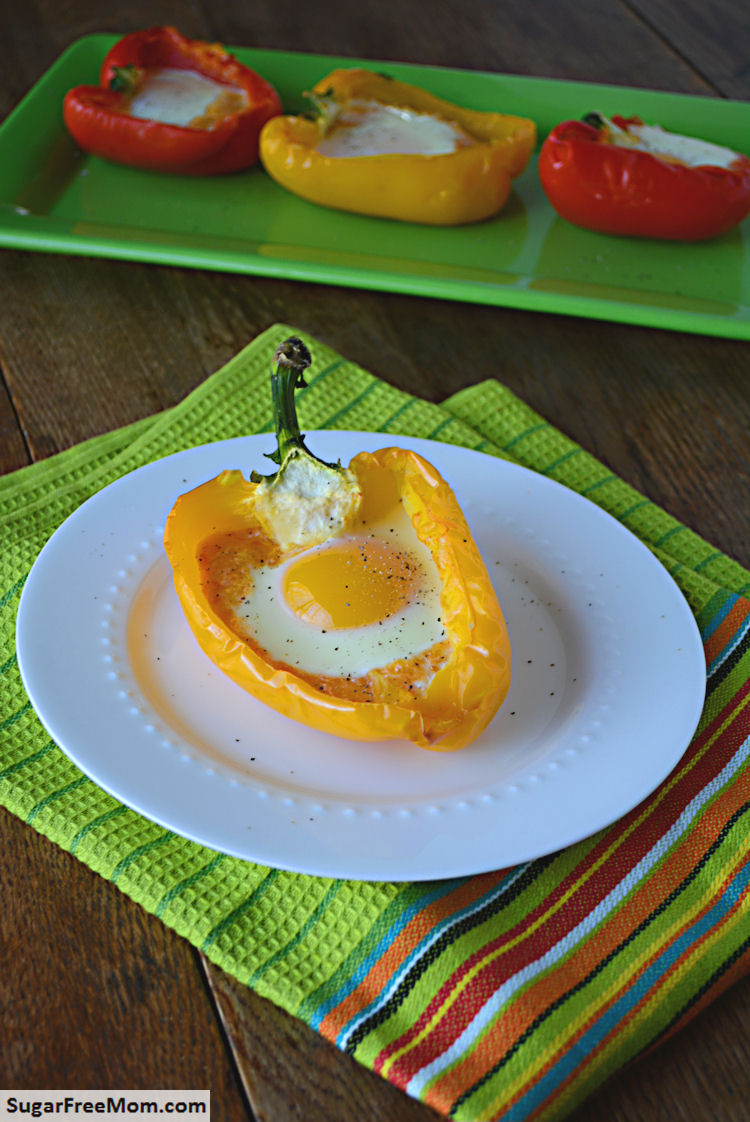 This week I'm enjoying many eggs as I am doing my own Sugar Detox program, although I don't need to sugar detox, go figure right? I've been sugar free for about 8 years. Why in the world am I doing it then? To put it simply, I need the discipline that menu planning and counting calories provides. I have been over consuming and it has to stop or the weight will continue to creep up and annoy me. I've maintained my weight loss for a long time but every so often, lack of discipline and just portion control play a big role in adding a few pounds to my figure. I have to work hard to maintain my weight so the best way to lose the 5-8 pounds I want to is getting back to limits and calorie counting. That's what works, oh and limiting my grains is key as well. So even if you don't need to sugar detox, my plan helps to get back on track and focus on healthy meals without gluten or grains then gradually add back as you decide to. Once you purchase the plan you can always use your password to come back to access the plan at any time and do the program at anytime, whenever you need to. So getting back to the eggs....they are my friend this week and I am coming up with new ideas to enjoy them so I hope you will enjoy them too!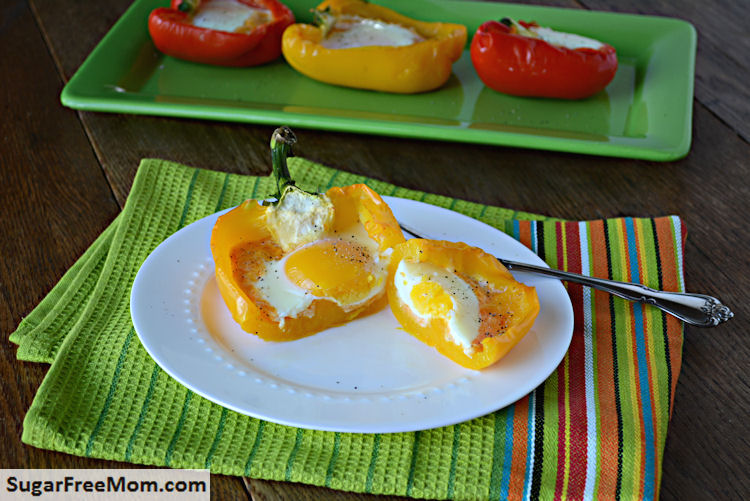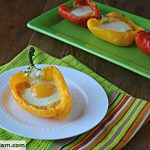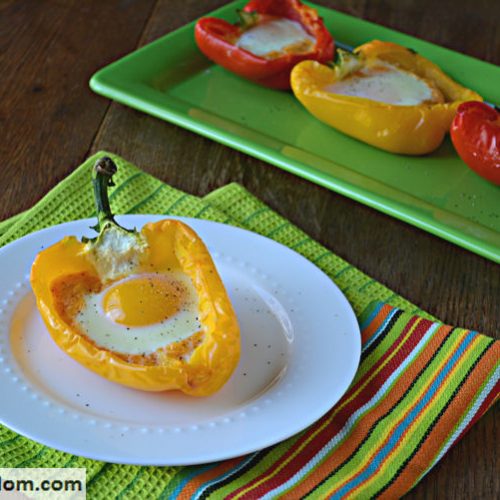 Print
Low Carb Baked Eggs in Peppers
Ingredients
2

sweet peppers

halved, seeds removed

½

cup

water

4

eggs

½

cup

shredded cheddar cheese

salt & pepper to taste
Instructions
Preheat oven to 400 degrees.

In an 8 by 8 baking dish, pour water and place peppers cut side down.

Microwave for 5 minutes or bake in oven at 400 degrees for 10-15 minutes or until tender.

Turn peppers over and evenly sprinkle shredded cheese into each pepper half.

Crack one egg into each pepper.

Bake for 15 minutes for runny eggs and 18-20 minutes for cooked through eggs.
Notes
Weight Watcher Point Plus: 4*
Nutrition
Serving:
1
g
|
Calories:
145
kcal
|
Carbohydrates:
4.7
g
|
Protein:
10.5
g
|
Fat:
8.6
g
|
Saturated Fat:
3.5
g
|
Cholesterol:
195
mg
|
Sodium:
151
mg
|
Fiber:
0.9
g
|
Sugar:
1
g