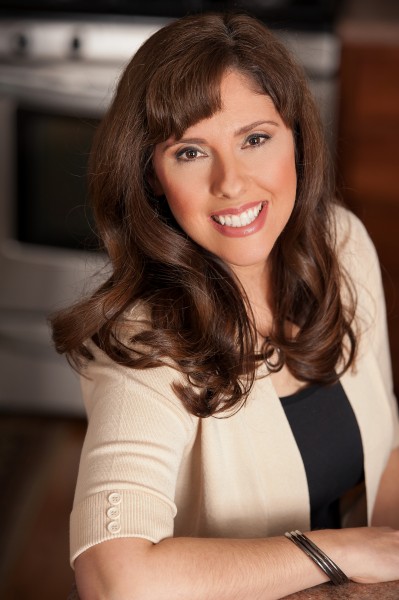 Sugar-Free Mom is a woman on a mission to reduce and eliminate added, processed sugars in her families lives. She focuses on using natural sugars and sugar free substitutes to create healthier versions of popular and beloved recipes. Since 2011, her blog has become the most popular sugar-free source on the web today. She has a devoted following of those looking to simply reduce sugar consumption, many who follow a low carb diet and many who have multiple allergies. Her readers can identify with her as her own children have tree nut, peanut, and soy allergies and she herself has a gluten and dairy intolerance. She is a mom who had to give up sugar, but still wants chocolate working hard to maintain her weight loss. With her 3 children who keep her very busy she strives to balance it all and still provide healthy, homemade meals that don't require too much time in the kitchen. Her cookbook, Sugar-Free Mom, Naturally Sweet & Sugar-Free Recipes for the Whole Family is available now for order ,  released on December 9, 2014.
A few words from Brenda:
I am not a nutritionist, never took a cooking class but cooking has been in my blood since I was a little girl in a big Italian family. I love photography, but still feel I'm an amateur.  I am a health conscious mom who tries her best to eat foods as natural as possible. My natural sugar substitutes of choice are sucanat, or raw, unfiltered honey, and sugar-free substitutes are stevia and erythritol. Here's a post about them: Top 3 Refined Sugar Free Sweeteners. To find out more about the stevia products I use check this post: Top 3 Best Stevia Products.
You will not find any recipes that include using white refined flour or sugar, brown sugar, agave nectar, Splenda or other artificial sweeteners. Here's a post all about why I won't use Splenda: 3 Splenda Myths Busted.
I have been successfully maintaining a 50 pound weight loss for the last 8 years since my third child was born. My experience is my own and I share what I've learned. I hope to help others achieve their weight loss goals through healthy eating tips and recipes! If you'd like the full details of how I became sugar-free, please read My Journey.
10 tidbits you should know about me:
Jesus is Number 1 in my Life!
My family is my main priority.
My youngest child has a tree nut allergy.
My oldest child has a soy and peanut allergy.
I love cheese!
Many recipes are vegetarian.
I have a wheat sensitivity so I'm now trying to convert many older recipes to gluten free. Current recipes are all gluten free and low carb.
I LOVE to exercise, really I really do!
I am a coffee lover.
I pray YOU will find help, encouragement, laughter, joy, ideas, direction, fabulous family friendly recipes and most of all HOPE that you too can lead a life free of refined sugar and LOVE it!
To get started on your journey to removing sugar and leading a more healthy life, Get Started here.
HUGS & BLESSINGS,
BRENDA
Sugar-Free Mom
PLEASE NOTE DISCLAIMER:
Brenda Bennett is not a medical professional or nutritionist. She does not have formal weight loss training. This blog is her own experience as examples and guidelines for healthy eating, exercise and weight loss strategies. Consult a medical professional before making exercise and dietary changes.