Sugar Free Versus Low Carb. Is there a difference and why should it matter?
This has been a controversial topic that continues among those who are healthy food bloggers with a following of mixed readership and those looking for healthy, sugar free and/or low carb recipes. What is the difference and why should you need to know? There is quite a big difference and everyone should be knowledgeable in knowing what works best for your body and how it functions. If you're a follower of my blog and enjoy my sugar free recipes you may wonder what, if anything will change on my blog. I'm sharing all I know with you today and how it effects my recipes.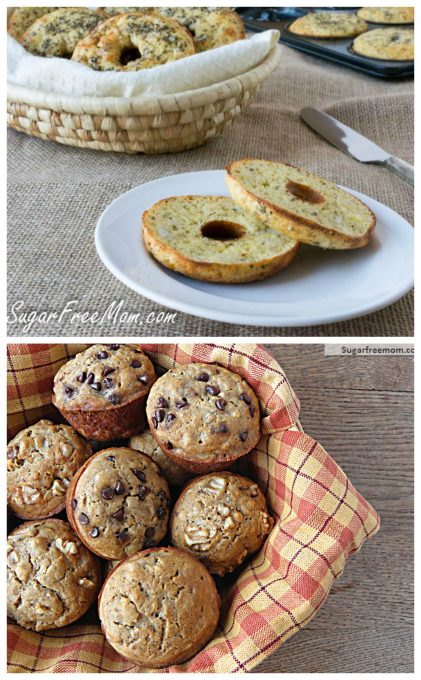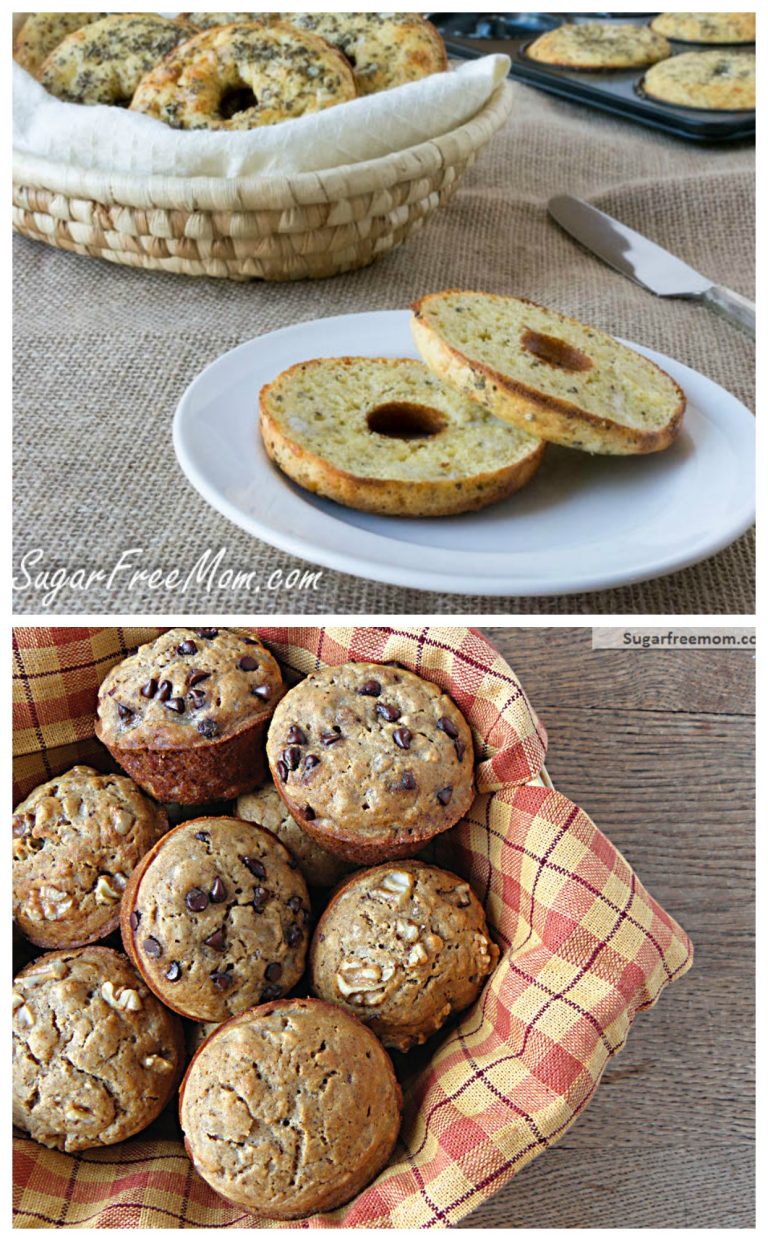 Top Photo: Low Carb Everything Bagels (Net carbs: 1.7g)
Bottom Photo: Gluten Free Banana Bread Muffins (Net carbs: 22g)
When I first began my blog 3 ½ years ago I had been sugar free for 8 years. Or at least what I considered sugar free at the time. I was still using whole wheat flour and natural sugars like fruits and honey in recipes. My sugar addiction was to added sugar, refined sugars, white table sugar. Once I removed those refined sugars in my life my cravings subsided. So sugar free, to me, meant no white refined sugar in any way, shape or form in my recipes. Basically what's called today the "no white approach" and even what I would consider paleo as well, with the exception I love cheese and dairy!No white sugar, no white flour, no white rice, no white potatoes and just eliminating those was enough for me for many years to live and maintain my weight loss after my 3rd child.
I lived happily enjoying life until one day I received a comment of confusion. "This isn't a sugar free recipe because it contains applesauce and it's high in carbs." My happy bubble had been popped. I thought I was doing everything right. No longer were my recipes what I thought they were and having a recipe with the words, "Sugar-Free" in the title, quickly brought on controversy like no other I've ever experienced.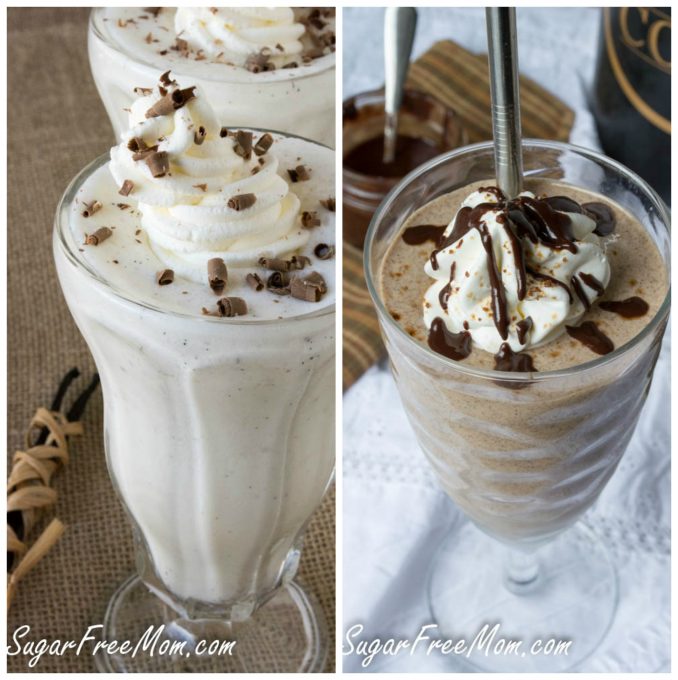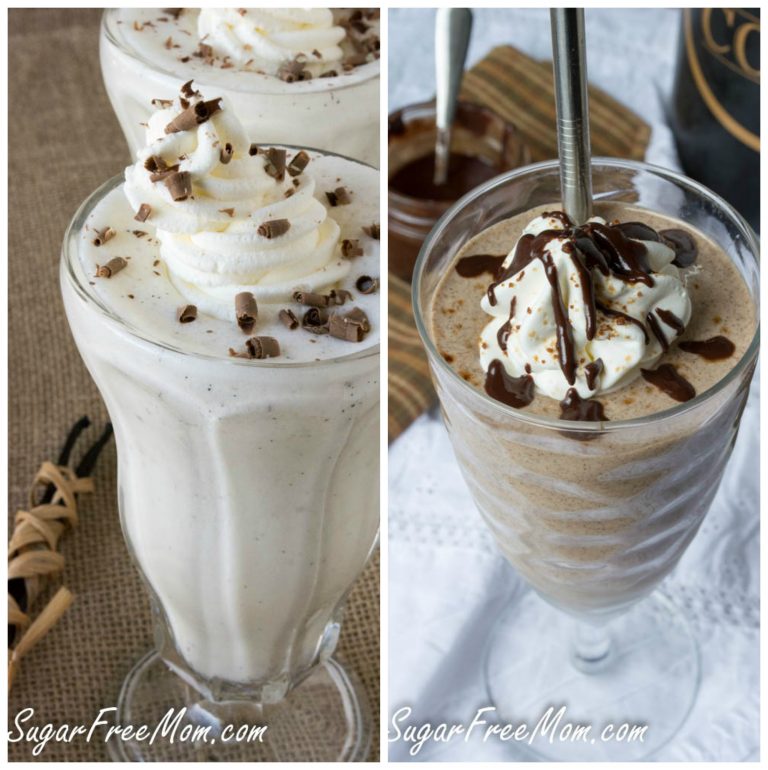 Left Photo: Sugar Free Vanilla Bean Frappuccino (Net carbs: 0g)
Right Photo: Coffee Cake Protein Smoothie ( Net carbs: 12.6g)
I couldn't be upset or mad about the comment, but it made me realize why such a confusion occurred. What was the deal with low carb, how would it effect my goal in my life and on my blog which has always been eliminating refined added sugars as the main focus? Was low carb just for those who have issues with diabetes?
So that one comment started my investigation into the low carb lifestyle. As I researched and read more and more about living a low carb life I still wasn't convinced I needed to make my recipes low carb.
When you do research on low carb diets, "Low Carb" can be defined in many ways with the biggest difference being in the amount of carb intake in a day. Some articles suggest a person can still be low carb enjoying 20% carbohydrates daily, some advise to go as low as 5%. The main problem is that no number is perfect for everyone. Each person needs to experiment if they are looking to lose weight on a low carb diet. The other difference is whether you count the total carbs in a recipe or you count the "net" carbs. "Net" carbs are calculated from subtracting the dietary fiber from the carbohydrates.
I still wasn't sure that this was something I needed to worry about with my recipes. My main goal was eliminating refined sugar. The end. Or so I thought.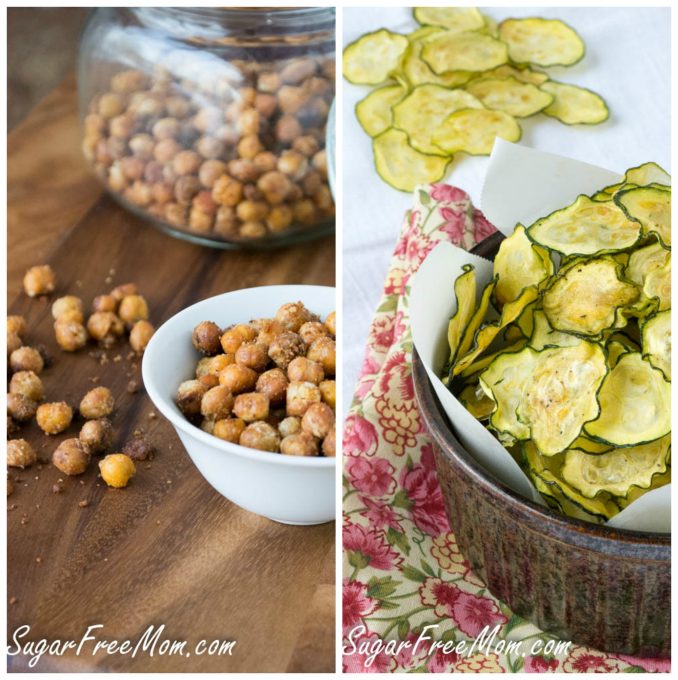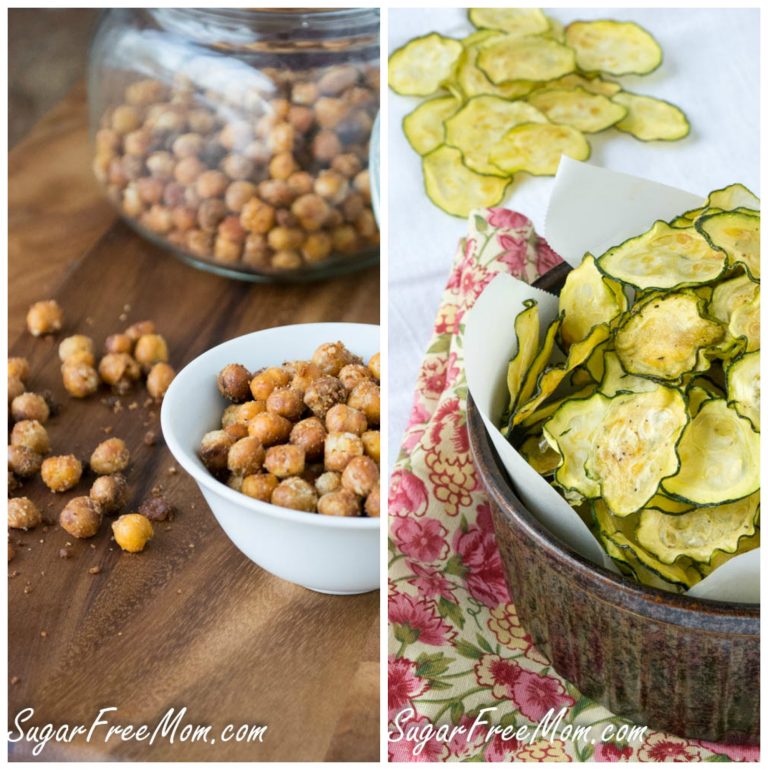 Left Photo: Garlic Parmesan Roasted Chickpeas (Net carbs: 17.7g)
Right Photo: Salt & Vinegar Zucchini Chips (Net carbs: 2.3g)
Many of my earlier recipes on my blog contained natural fruits like applesauce or banana as well as using stevia. Because fruits are high in carbs the recipes would not be considered low carb. Each picture compares 2 recipes so you can see the differences.
Unhealthy High carbohydrate foods: Breads, pasta, potato products, rice, crackers, packaged sugary snacks, certain flours especially white flour, cereals.
Healthier but still high carbohydrate foods: fruits, beans, nuts, legumes, certain vegetables, oats, barely, quinoa, yogurt.
Many of my earlier recipes were using these healthier but still high in carbs foods. Which as I've said before, did not cause any problems for me . My sugar cravings never returned once I went off those white foods I described.
THE CONTROVERSY: How low is low enough to be considered a low carb recipe? Some say under 5 grams, some say under 10 grams of carbs per serving. The amount of carbs per day varies per person, but in many it can cause blood sugar spikes as well as increased sugar cravings, whether or not you are a diabetic. Even fruit has carbs and natural sugars, although good for you, can still cause cravings in some people. High carb foods and actually any foods that are carbohydrates, whether they come from a healthy source or not, turn to sugar in the body. The quality and quantity of the carbs you eat determines how fast your blood sugar rises and falls. Obviously the healthy high carb foods like fruit, legumes and vegetables are much better for you. They also are digested more slowly into your body so that sugar rush doesn't happen like after eating a sugary treat like a donut or a plate of pasta. Before I started on a lower carb diet, I was eating about 80-100 healthy carbs a day. Now I'm doing about 20 net carbs a day.
The amount of carbs, not just the added sugar is the difference in a sugar free recipe and and a recipe that is low carb. If it's low carb it IS sugar free there is no other way around that. But sugar free does not always mean low carb and that is a big difference here as you can see in the picture comparisons in this post.
Over a year ago I was writing a cookbook and in the process of about 10 months with all the recipe testing I put on about 10 pounds. I struggled desperately to lose the weight and follow what I had done for years before and always worked. Nothing budged. Could I blame it on being over 40? Perhaps, or perhaps my body just needed a new change, perhaps clean eating and low fat wasn't enough to get this weight off.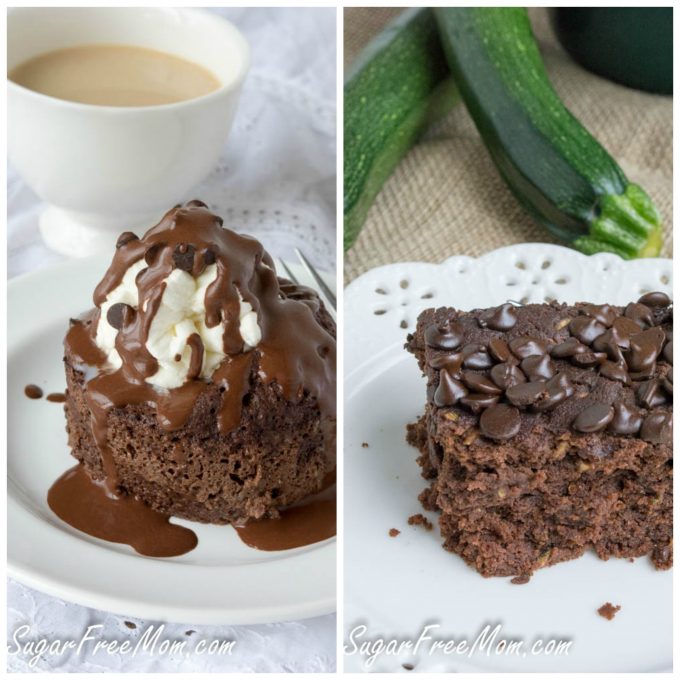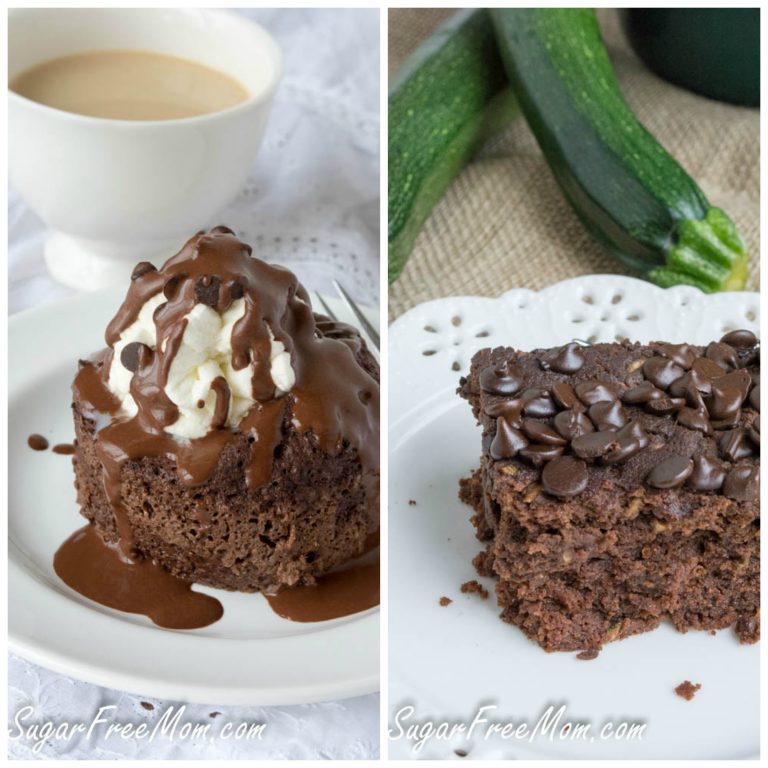 Left Photo: 1 Minute Chocolate Mug Cake (Net carbs: 4.5g)
Right Photo: Crock Pot Chocolate Zucchini Cake (Net carbs: 26.4g)
Moving to a low carb diet also meant having to get passed the myth that fat makes you fat. Learning to embrace the good healthy fats like olive oil, avocados, coconut oil, and yes even butter, while on a low carb diet is imperative to success. Healthy fats are what keep you satiated and satisfied. You'll be less likely to fall off the wagon and binge on junk food and carbs. I can say that personally I am a lot more satisfied and not hungry between meals in the least. I believe it's a life style that is sustainable. The focus of my blog will not and has not changed. Both kinds of recipes will still be on my blog as well as now being gluten free, but going forward you will see the majority, unless otherwise noted and made specifically for my kids, low in carbs AND sugar free.
In my research I've found some other wonderful sugar free AND low carb bloggers:
If you've purchased my cookbook, Sugar Free Mom: Naturally Sweet & Sugar Free Recipes for the whole family, you will also find BOTH kinds of recipes. All recipes in the cookbook have nutritional information so you can simply decide which recipes will suit your needs and carb intake.
Hopefully you'd found this helpful and there will be less confusion going forward. So as a reader of my blog you can be certain that truly nothing has changed. It's still about the sugar and removing and eliminating it whether the recipes are low carb or not. 🙂