This 6 week LIVE Sugar Detox course will get you back on track to reaching your health goals!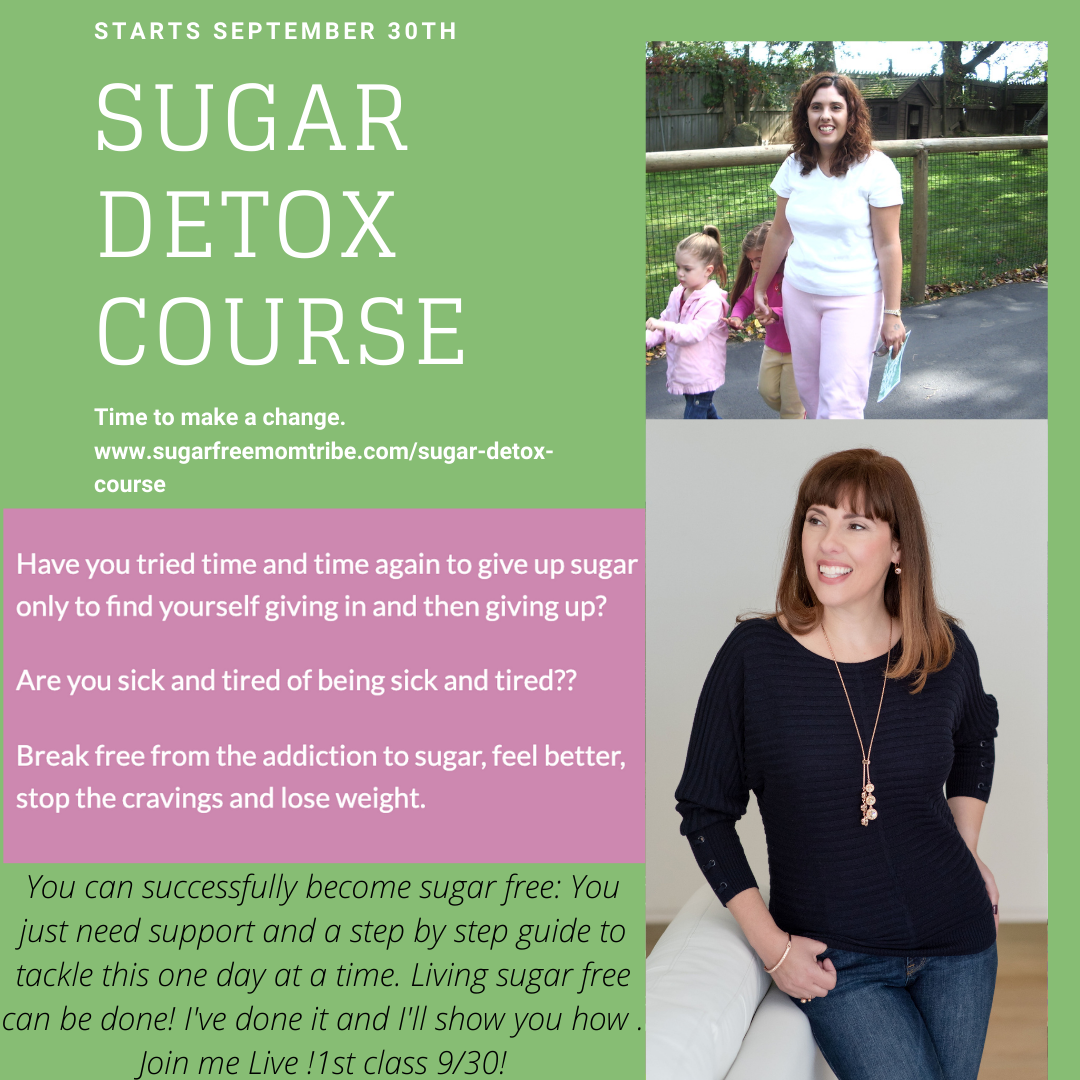 6 Week LIVE Sugar Detox Course
Angela says, "I'm down 4.6 pounds and more motivated than ever"! Just one week on Sugar Detox course!
Susan says, "I stepped on the scale this morning, after just one week on plan I'm down 4.8 pounds! So excited!"
Trish says, " (Just catching up on week 4 because I had surgery last week- watching the meeting now). Brenda this has been a very positive experience! Before surgery I had lost 5 lbs. and was feeling better than I had in a long time. Learning a new way to think, cook, and eat has been great and I will be able to stick with this and make it a lifestyle. I have really enjoyed this course and would definitely recommend it to others!"
These are just a few of the wonderful praises for my live sugar detox course in April. We did the course in a pandemic and it was remarkable the amount fo weight loss and health that was achieved! I'm launching the course LIVE for just the second time ever and it starts September 30th! YOU CAN ACHIEVE YOUR WEIGHT LOSS GOALS WITH MY HELP IN THIS 6 WEEK SUGAR DETOX COURSE!!
Achieve Sugar Freedom
Why would I ever say this is the best sugar detox course you could ever join? Because I'm not going to tell you that you need to be following a keto diet. I'm not going to be telling you, you need to go dairy free. I'm not going to even tell you how many carbs you need to eat each day! I am going to help you figure out what is right for YOUR body! You will discover how many carbs to eat by taking this course. You will discover what carbs are a good fit for your body and what are not. You will finally find a way to remove sugar and carb cravings once and for all so you will reach a healthy weight for your body. It's about bio-individuality and no one should ever be telling you what vegetables are off limits for your body because every body is different and is effected differently by certain foods. Some can eat sweet potatoes without any raise in blood sugar while others can not. This sugar detox course is the only one that will meet you where you are at, to help you find what works for you to balance your blood sugar and have food freedom!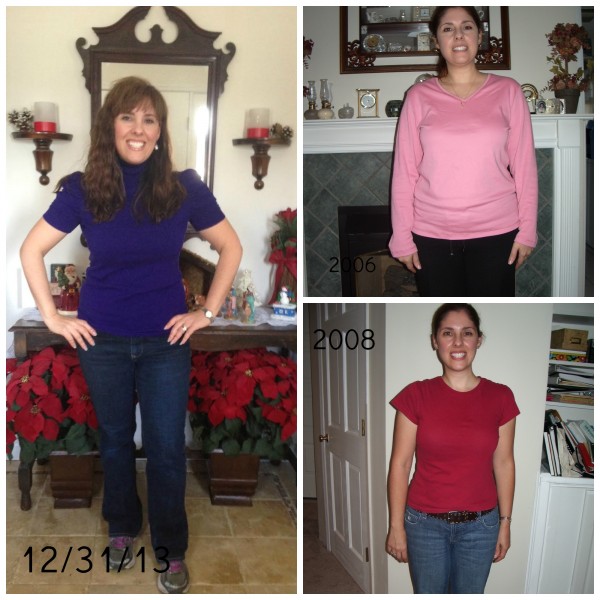 Sugar Addiction
Top right corner of this collage above, I was miserable and overweight in 2006. I had my third child in 2005 and could not get off the sugar and carbs. I had known sugar freedom in 2004 after my second child was born, but once pregnant with the third I chose to throw it all out the window because, "I did it once, I'll just go back to sugar free after he's born" is what I told myself. I truly believed it was that easy and I was so very wrong. The pull for sugar was even worse trying to go sugar free a second time and with out any support. It took me about a year to truly break free from sugar and I've never touched it since!
I'm not more special than you. I don't have more will power than you. I don't have more discipline than you. I just found what to eat to avoid cravings for good. That doesn't mean I don't overindulge some days in more whole, natural carbs, it happens. But I NEVER touch sugar and I never touch processed, refined carbs. End of story. You can get there too if that is your desire. If you truly are motivated to make a change, I am here to help.
You can successfully become sugar free: You just need support and a step by step guide to tackle this one day at a time. Living sugar free can be done I've done it and I'll show you how .
Back in 2012 I wrote a Sugar Detox Plan that was a wonderful 6 week program, but it was pre-recorded videos and self-paced. There was no live element to it and you were essentially doing it on your own. In 2019, I removed the plan from my website because I could no longer promote the course as some of the ideas I recommended, I no longer recommend today. It needed to be revamped and updated and that's exactly what I did!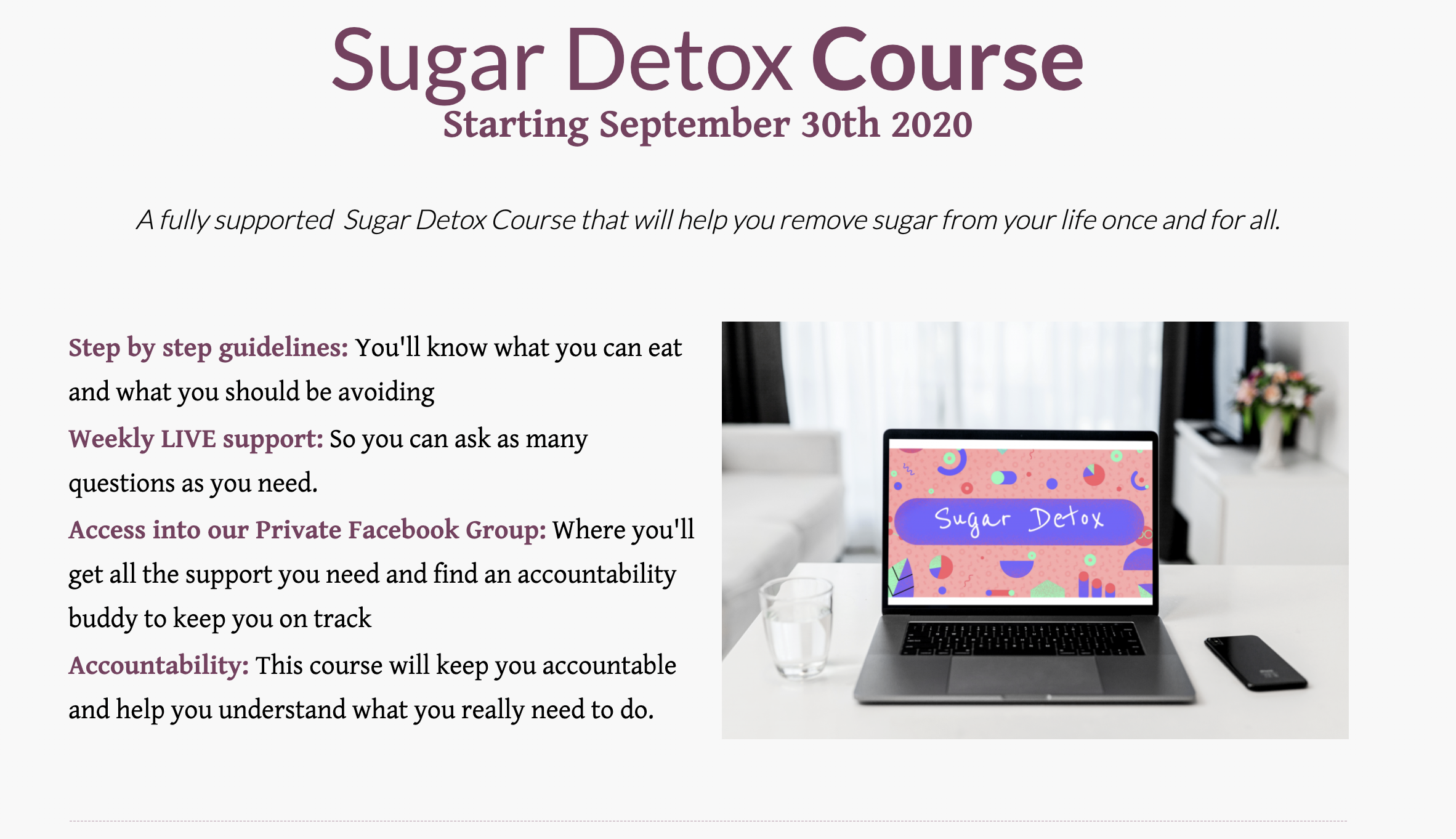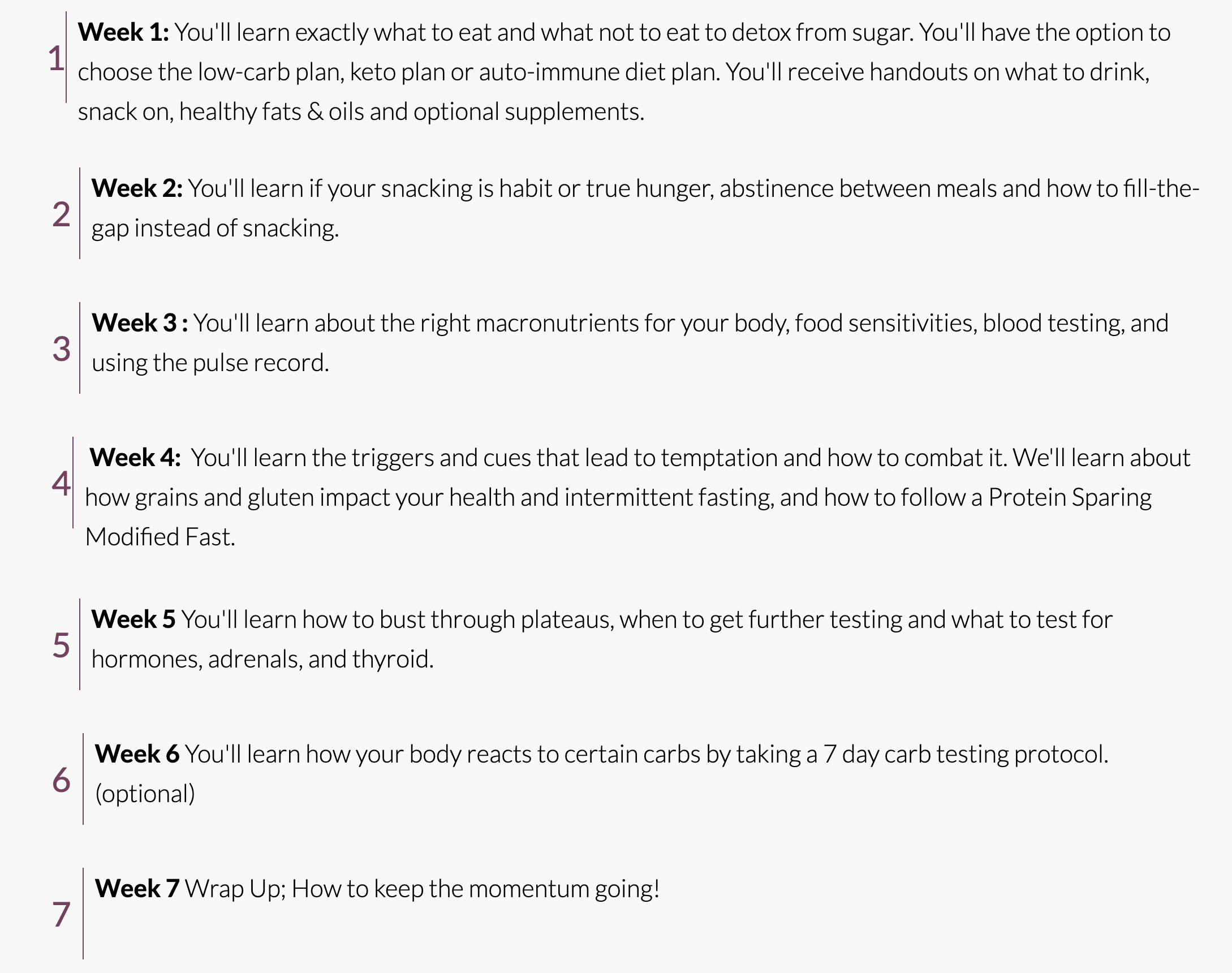 Time Commitment
Starting September 30th, we will have our first Zoom meeting and your detox begins on Thursday October 1st! We will meet each Wednesday LIVE during the course for about an hour on Zoom for 6 weeks and you will have 24/7 access to me in the private FB group just for this course. If you can't make any of the LIVE Zoom meetings, no worries as they will all be recorded and available on the member website to view.
100% Satisfaction Guarantee
There is absolutely no risk for you. If you don't love everything, all you do is let us know within 14 days of your purchase, just email me, and I'll personally send you a prompt refund. No questions asked. We are real people just like you, and it makes a difference to us that you're satisfied!
Pam says,
"I am over the moon excited today! I have doing all the rules , though not posting much. I have to preface this with I am a Type 2 diabetic and have been for 13 years. Been through the gamut of meds and have had terrible reactions to some of them- so I convinced my doctor that I could control my blood sugar through fasting and keto. I got a whole lecture on how keto is bad for you, etc. well, I am a terrible patient and didn't listen. Stopped my meds ( with her blessing as they were making me sicker) and joined this group. The excitement is that my fasting blood sugar this morning was 117!!!!! Yahoo! It has not been that low on 13 years! It has been hovering around 140 most days, but today was such a surprise! I am excited!!"
This course WILL NOT be offered again until 2021!
Special offer-Just $99
Offer ends Midnight 23rd September, after that price will be $149!!
Y

ou will have LIFETIME access to this information to help you stay on track for a lifetime. This means anytime I offer the course again you can join us for FREE!