This easy, creamy, Keto Panna Cotta is silky smooth and needs just 5 simple ingredients for an effortless, keto dessert!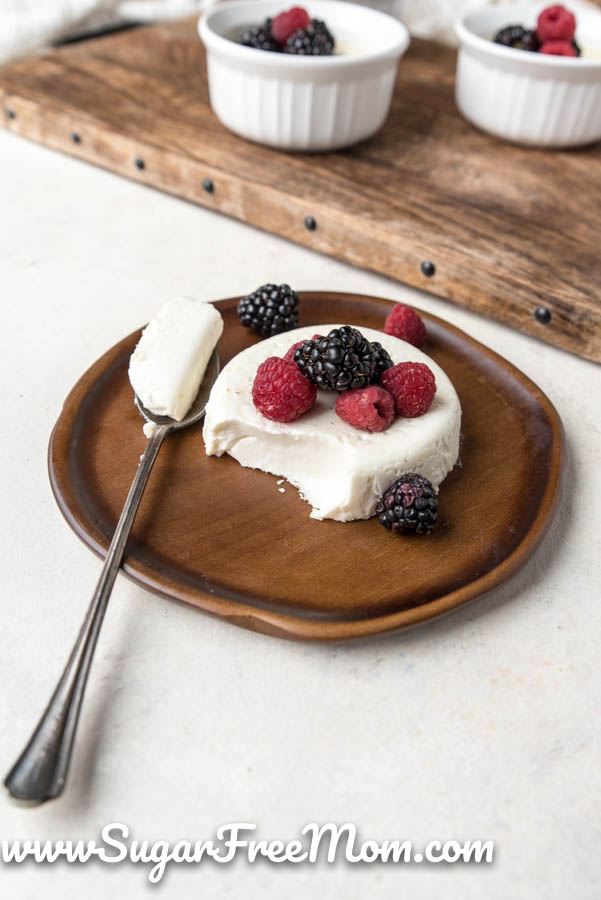 CREAMY PANNA COTTA
Panna Cotta in Italian means, "Cooked Cream". It's a very simple, yet elegant dessert that uses just a few ingredients. Traditional panna cotta has cream, sugar and vanilla in it, as well as gelatin to help it set and mold. Sometimes other flavor enhancers like coffee or lemon, are used to create slight variations in this wonderfully silky smooth, creamy dessert. This is an amazing dessert to enjoy any night of the week!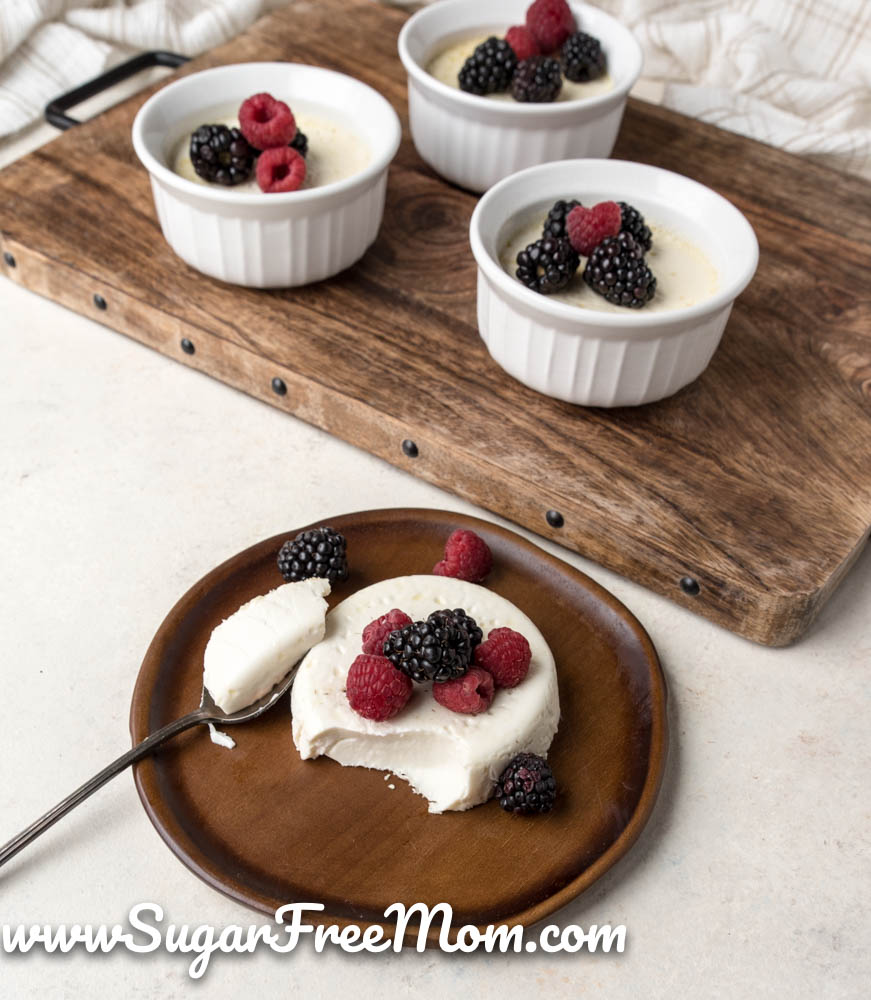 HOW TO USE POWDERED GELATIN TO THICKEN
Gelatin is a fantastic ingredient to use to thicken recipes like keto panna cotta. It can turn a liquid into a gel like consistency so it is a perfect ingredient to use for panna cotta. While xanthan gum is a thickener in most baked keto desserts, using it for this recipe would not work as well. This Grass-Fed Gelatin is the one I use because of the fact of what I learned in Nutritional Therapy School about toxins. All toxins are stored within our fat cells, people and animals, so if you want to make sure you aren't ingesting toxins, using grass fed gelatin is the best option for your health.
Simply evenly sprinkle the powdered gelatin over the cold cream in this recipe. Allow the gelatin to "bloom", by not stirring and letting it sit on top of the cream for about 5 minutes, then proceed with the recipe by heating the mixture to bring to a simmer. This simmering while continually stirring will help the gelatin to dissolve smoothly into the cream and create that silky texture reminiscent of panna cotta.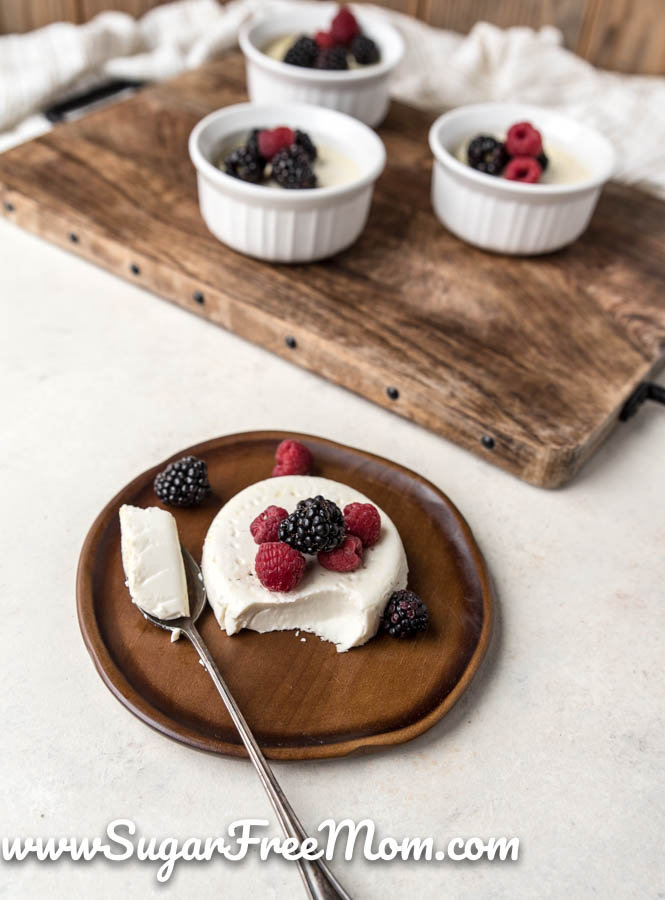 KETO SWEETENER OPTIONS
There are quite a few low carb powdered or confectioners sweeteners out on the market, but there are only a couple I would recommend. The most popular one that many low carb keto bloggers use and myself included, is from Swerve. There is nice and fine and works well in so many recipes. It is only 70% as sweet as sugar so keep that in mind.
The next confectioners low carb sweetener I have been using more recently is from Sweetleaf, called Better than Sugar. The powdered combines erythritol and stevia and has just as much sweetness as sugar. It is just as fine as the Swerve brand. Either will work in this recipe.
30% OFF KETO LOW CARB MEAL PLANS
Happy New Year 2021!!! I can't think of a better time to get started on meal planning, especially if you've never tried it before! We are hoping you are ready to get started with out Keto or Low Carb meal plans and to make this even easier for you, we are giving a coupon for the new year! Use code NY2021at check out today off our monthly or yearly membership and you'll get 30% OFF! This offer ends at the end of January so act now!
You can choose from Three Meal Plan Options:
Low Carb Meal Plan includes breakfast, lunch, dinner, and snacks with 40 net grams of carbs or less per day.

Keto Meal Plan includes breakfast, lunch, dinner, and snacks with 20 net grams of carbs or less per day.

Intermittent Fasting Keto Meal Plan includes 2 meals per day plus one protein/fat rich snack daily with no more than 20 TOTAL carbs per day.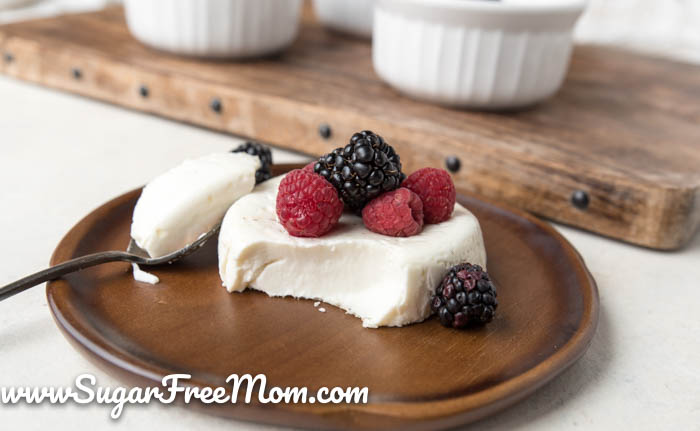 Other Creamy Keto Custard Desserts:

KETO PANNA COTTA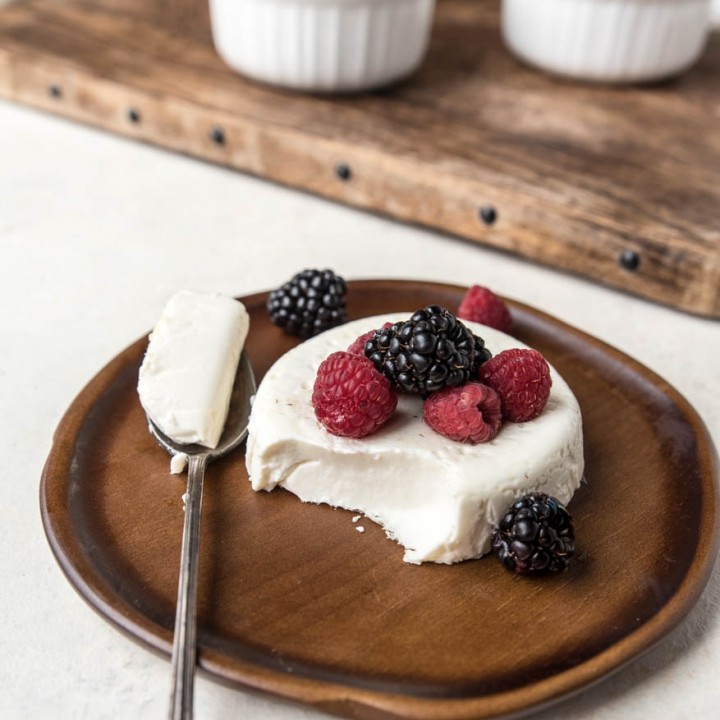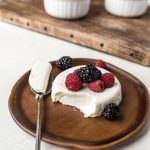 Print
Keto Panna Cotta
Instructions
Grease four- 7 ounce ramekins.

Pour heavy cream and almond milk into a medium sized saucepan. Turn heat to medium high and sprinkle gelatin over cream mixture. Don't stir, allow to bloom while the mixture comes to a simmer, about 3-5 minutes.

Once at a simmer, reduce heat to low and continually whisk mixture until gelatin is completely dissolved.

Whisk in the salt, and sweetener and continue to simmer just about 2-3 minutes. Turn off heat and stir in vanilla extract. Taste and adjust sweetener if needed.

Evenly pour mixture into ramekins and allow to cool 15 minutes. Place in the refrigerator to set for about 6 hours or overnight.
Nutrition
Serving:
1
serving
|
Calories:
308
kcal
|
Carbohydrates:
1
g
|
Protein:
1
g
|
Fat:
30
g
|
Saturated Fat:
21
g
|
Sodium:
2
mg
|
Sugar:
1
g