Crock Pot Grain Free Low Carb Granola made sugar free as well!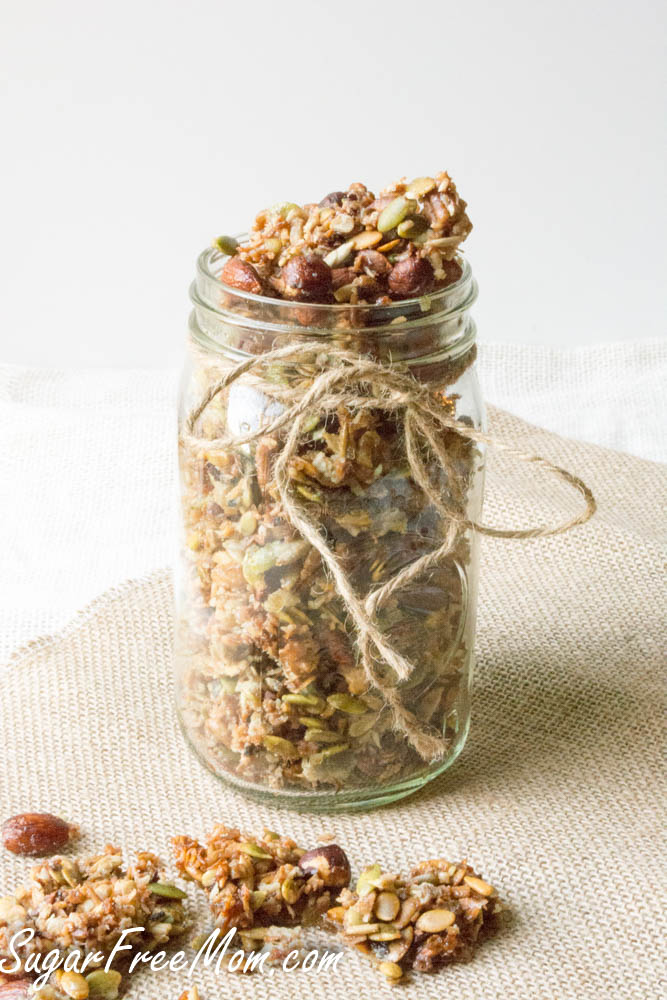 Here's a crunchy snack that's made easily in your crock pot and perfect for an on-the-go treat!
This recipe was first published in September of 2015. I decided a nice new video to show how easy it is to make was needed so I'm reposting it today.
Slow cooking makes my life so much better as a busy momma. Dump in the ingredients and be on my way to do other things is why I love my crock pot! I recently bought a new one by Hamilton that has 3 different settings. If you choose timer you can make sure your food stops cooking when it hits a certain temperature so there's no need of worrying about anything overcooking and drying out.
While my boys do have nut allergies my hubby, myself and my daughter do not. I make plenty of yummy snacks that are nut free for them but sometimes hubby, daughter and I really want some nutty granola.
This was one of those times the hubby mentioned I haven't made anything with nuts for him. And I had plenty of other recipes I was working on so that why's the crock pot came to mind immediately to make life easier.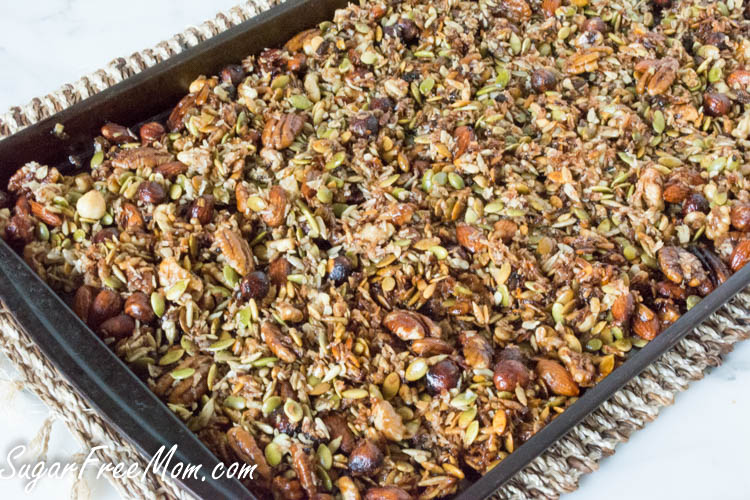 Once cooked in the crock pot you lay it out on a baking sheet and let it cool. It hardens nicely then you can store it as you like.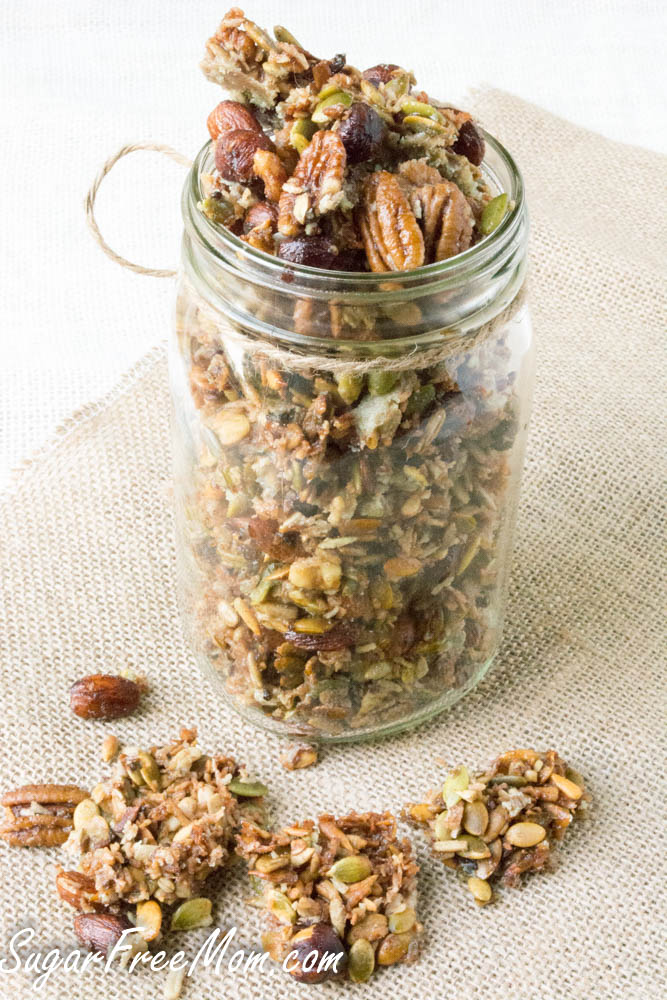 It was only the three of us eating it, but within a few days, it was gone. Hubby especially loves it!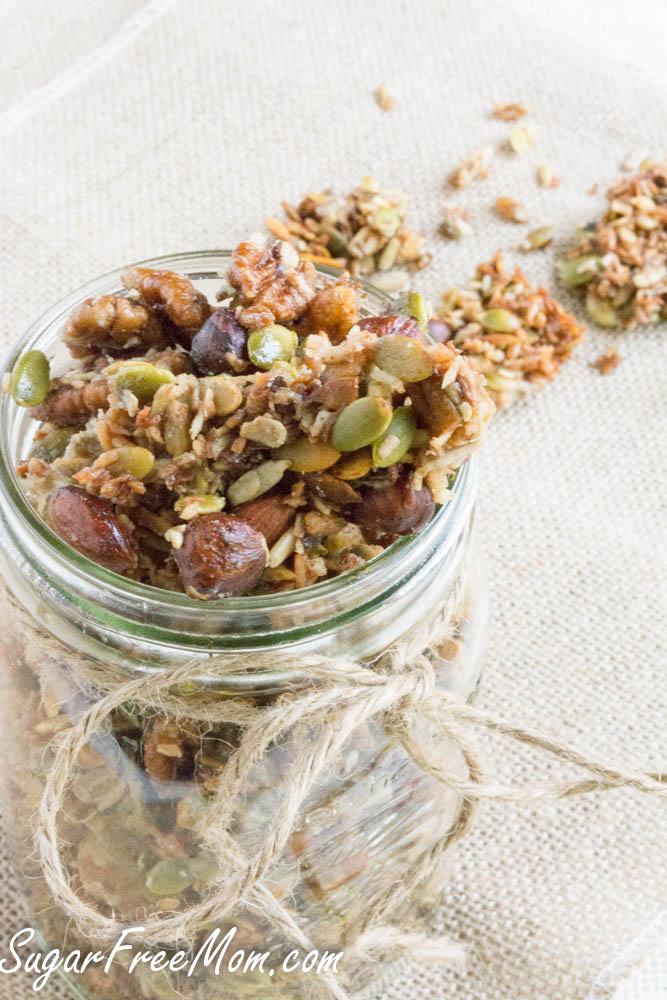 Place your yummy granola in a mason jar and cover or make individual little baggies up for the kids in the cupboard when they want a snack to grab!
UPDATE: After reading several comments that many people were getting burned granola, I've adjusted the temperature from high in orginial recipe to low, still works great but all crock pots are different and some heat better than others. On low this may take you longer than 2 hours to get them toasted.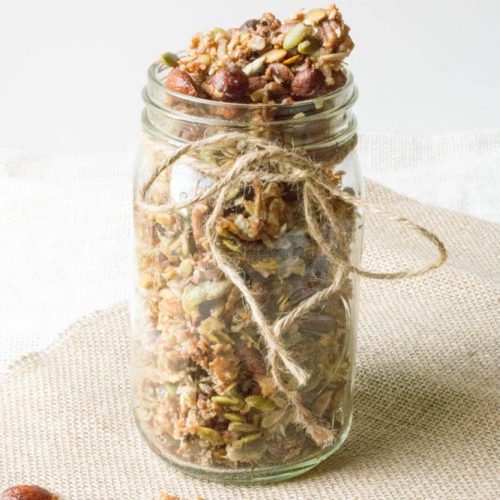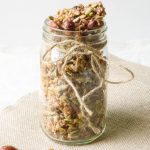 Print
Crock Pot Grain Free Low Carb Granola
Ingredients
⅓

cup

coconut oil

1

teaspoon

vanilla extract

1

teaspoon

vanilla stevia

½

cup

almonds

½

cup

walnuts

½

cup

pecans

½

cup

hazelnuts

1

cup

sunflower seeds

1

cup

pumpkin seeds

½

cup

Swerve granular sweetener or other sugar free sub of choice

1

teaspoon

ground cinnamon

1

teaspoon

salt
Instructions
Turn Crock Pot to low and add coconut oil and allow it to melt.

Once melted add vanilla extract and stevia.

Stir well before adding nuts, seeds and coconut.

Stir the granola mixture well to make sure all is coated.

Whisk Swerve, cinnamon and salt together then sprinkle over the nut and seed mixture.

Cover and cook on low 2 hours or until you can smell them and they appear browned and toasted.

Stir every 30 minutes.

Pour and spread out onto a baking pan to cool and/or refrigerate.

Keep stored in a covered container.
Nutrition
Serving:
1
serving
|
Calories:
327
kcal
|
Carbohydrates:
8
g
|
Protein:
7
g
|
Fat:
31
g
|
Saturated Fat:
11
g
|
Sodium:
198
mg
|
Potassium:
271
mg
|
Fiber:
4
g
|
Sugar:
1
g
|
Vitamin A:
5
IU
|
Vitamin C:
0.7
mg
|
Calcium:
44
mg
|
Iron:
2
mg