Balsamic Chicken Drumsticks
During the week life can be so busy with all the day to day responsibilities, activities of the children and "always there for you" household chores.
Cooking sometimes goes on the back burner for some who just don't enjoy it. It is yet another chore on the to-do list, which is always ever growing.
Those of us who have had to cook healthier to lose unwanted weight know too well, eating out and highly prepared, processed foods does not help achieve our goals.
So if you've made a commitment to eat healthier, it is not going to be a piece of cake, PUN intended. It is a lot more work to eat healthier, whole nutritious meals then eating processed foods that are easy to cook.
I can tell you this though, it doesn't have to be a chore, even if you are " cooking challenged" shall we say? Finding recipes that have been created, tested and proved to be delicious by another family is the best choice to not waste your time with lengthy meals and ingredients. If you know its good, use it and keep it in a folder of your family's favorite recipes. (More on organizing those tried and true recipes in another post!)
For now, all you need is a little extra time to plan ahead with ingredients to make some fabulously, healthy foods for you and your family.
The weekend is (usually) the best opportunity for me to get cooking, experimenting with new recipes and cooking and doubling recipes we love so they can be frozen and pulled out on a busy night. You have to choose your recipes wisely and plan your week knowing when you have a a little extra time in the kitchen. Many of us like to entertain friends on the weekend so this recipe is for when you may be doing just that and want to show them your stuff! This recipe is a beautifully prepared chicken dish that not only is delicious, but turns ordinary chicken drumsticks into something a bit more glamorous for guests! Again, it is a little bit involved for a weeknight meal so save it for when you know you can devote time to it.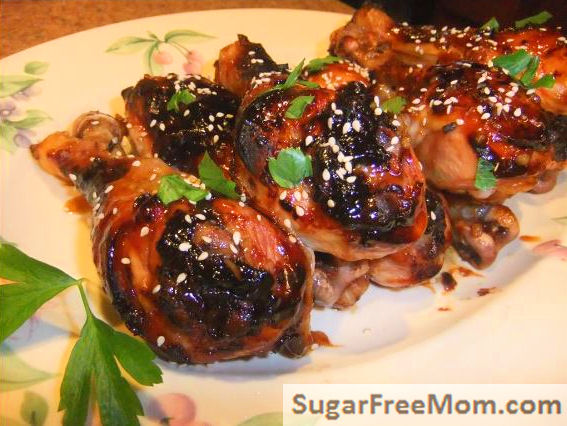 The inspiration for this recipe was from Giada De Laurentiis on the Food Network. I altered the ingredients to suit my sugar free lifestyle and used drumsticks instead of drumettes.
Nutrition Info:
Prep Time: 30 min.
Cook Time: 1 hour
Servings: 5 (2 drumsticks each)
Calories: 291
Fat: 6g
Fiber: .6g
Protein: 27g
Carbs: 33g
Weight Watchers PointsPlus: 8 (for 2 drumsticks) (Previous Method 6 )
Balsamic Chicken Drumsticks
[sc:Ziplist]
Ingredients
½ c. balsamic vinegar
½ c. honey
¼ c. Tamari soy sauce (Use my code: YAJ035 and get $5 off your first order.)
1 tsp. minced garlic
10 chicken drumsticks
2 tablespoon sesame seeds
¼ c. fresh, chopped parsley
Directions
Mix together vinegar, soy sauce, honey and garlic.
Place mixture in a plastic zip lock bag and then add drumsticks.
After sealing the bag, work the mixture all over the drumsticks in the bag.
Place in the refrigerator for 30 minutes to marinate.
Preheat oven to 450 degrees.
After marinating in the fridge, place the drumsticks on a foil lined baking sheet, but reserve the marinade still left in the bag and pour into a saucepan and set aside
Cook the drumsticks for about 1 hour until you start seeing them caramelized.
Heat the marinade in the saucepan until boiling to kill bacteria, then reduce heat and simmer until thick (15-20 min)
When the chicken is done, brush the marinade all over the drumsticks.
Place on a platter. Sprinkle sesame seeds on top and parsley and you will look like a Fabulous Gourmet chef!