This perfectly seared and seasoned pork tenderloin is served over a creamy cauliflower mash and makes for an easy weeknight meal!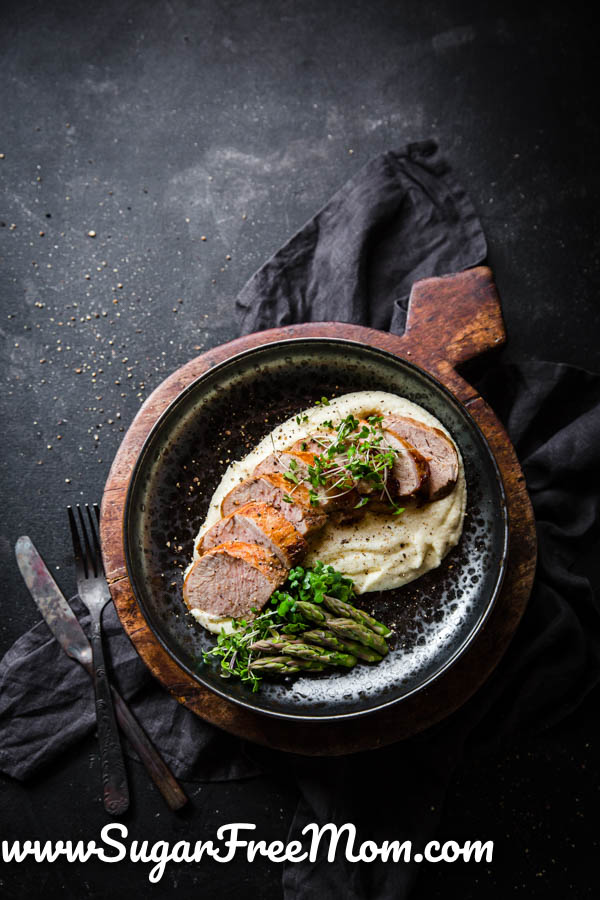 Best Baked Pork Tenderloin
If you've ever cooked pork tenderloin, then you know if you let it spend just a few extra minutes in the oven it can go from juicy and tender to dry and unappetizing. The key to making the best baked pork tenderloin is first searing the outside of the meat before popping it in the oven. This way it will have a nice crusty outer layer and a juicy soft inside.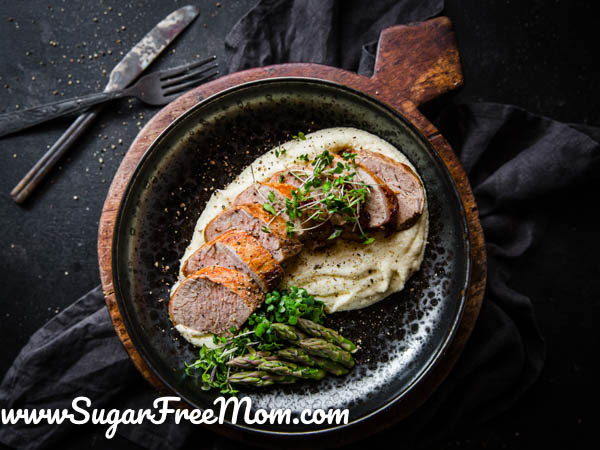 Creamy Mashed Cauliflower
It takes less than 30 minutes to put this meal together so it's perfect for any busy weeknight. Making sure you've got your meat thawing out the night before and you'll be good to go and getting this on the table quickly. Making a bed of creamy mashed cauliflower makes this a comforting meal and still perfectly keto friendly. The addition of macadamia nuts might sound odd to you but it truly makes this mashed cauliflower taste like mashed potato. It gives it a dense texture equivalent to potatoes and shouldn't be knocked until you've tried it.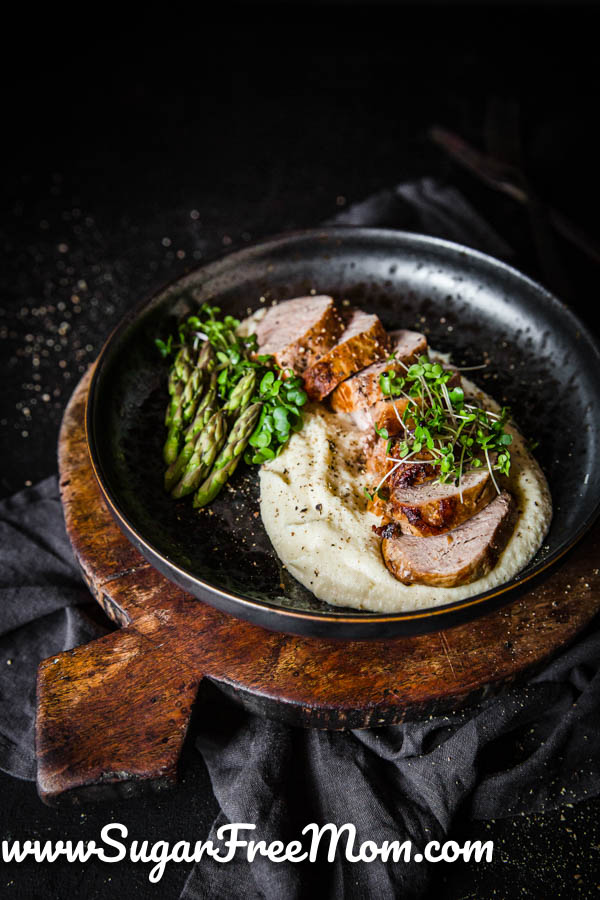 This meal is a win for the whole family. It they don't like mashed cauliflower maybe the kids would enjoy my Keto Cauliflower Tots instead.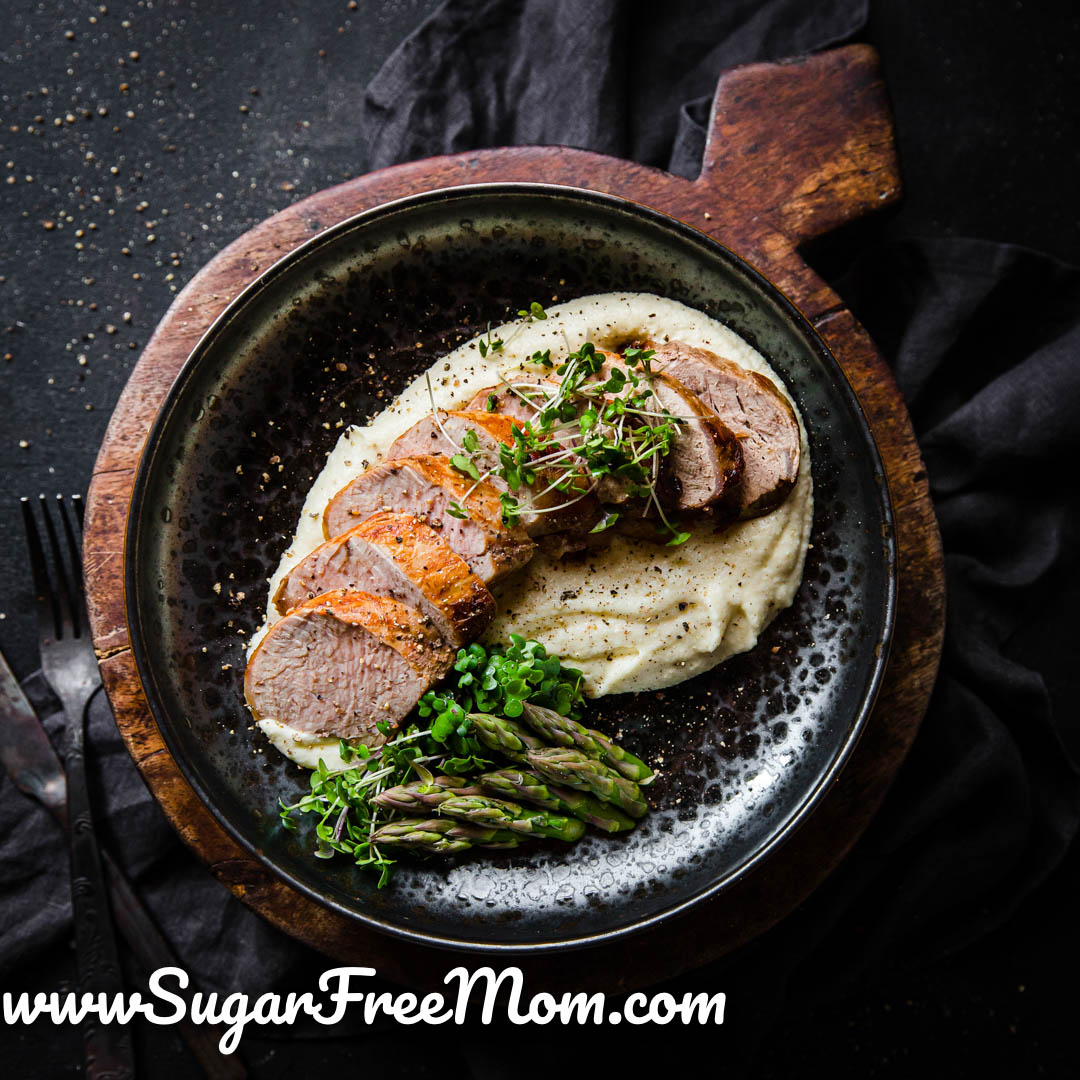 Meal Planning
If you love recipes like this for yourself and family, you might be interested in my meal planning membership. Weekly low carb and/or keto meal plan sent to your inbox every Friday with shopping list. The best part about my meal planning feature is that if you aren't interested in one of the dinner meals you can swap it out for something else! You can even change serving sizes and the shopping list will adjust! It pretty amazing software and I hope you'll take advantage of it. You can have a sustainable low carb/keto lifestyle when you're well prepared and planning meals is the key! LEARN MORE TODAY!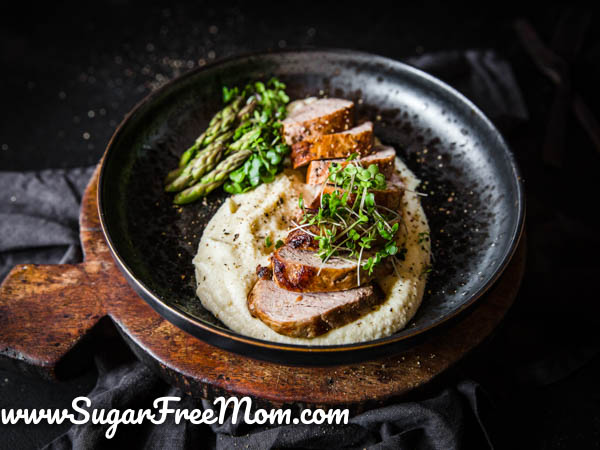 Naturally Keto Starter Pack Giveaway
Look at all these amazing products below! Here's what's included, with over $200 worth of amazing products to use in my new cookbook! You'll certainly be ready for the holiday season with all these products and my cookbook. It's an incredible bundle of goodies! Enter this Giveaway Here!
Keto Pork Tenderloin with Macadamia Cauliflower Mash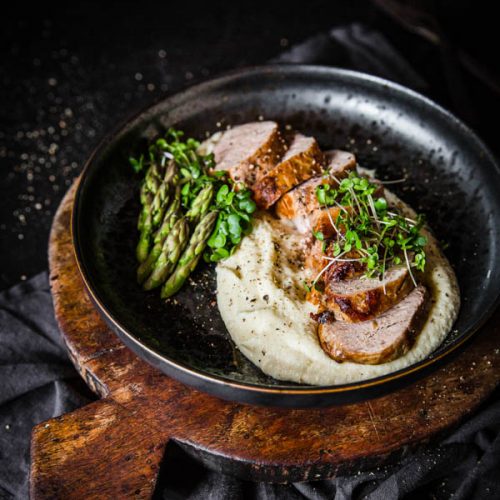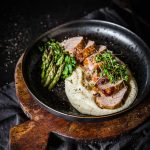 Print
Keto Pork Tenderloin with Macadamia Cauliflower Mash
Beautifully seasoned and seared pork tenderloin is served on a bed of creamy cauliflower
and macadamia mash that is as close to mashed potatoes you'll ever get.
Ingredients
1

pound

pork tenderloin

salt and pepper to taste

½

head

cauliflower

(about a pound)

4

ounces

macadamia nuts

1.25

cup

heavy cream

2

ounces

butter
Instructions
Pre-heat the oven to 425° F.

Place the cauliflower florets, macadamia nuts, cream and butter into a saucepan over
medium-high heat and bring to the boil.

Reduce to a simmer and cook for 20 minutes.

Season your pork loin with salt and pepper and then sear on a hot pan for a few minutes on each side until the entire loin is browned.

Sit pork on a lined oven tray and place in the oven for a further 10 minutes, or until the
internal temperature of the meat reaches 145° F.

Remove from oven and rest for five minutes.

Spoon the cauliflower mixture into a blender, leaving none behind in the pot, and blend
until a smooth puree is formed.

Taste and add seasoning, if required.

Serve the pork sliced on a generous bed of the mash, with some greens on the side if
desired.

This pork can be wrapped in foil or cling wrap and
stored in the fridge for up to four days.The mash can be stored in the fridge, in a covered
container, for up to five days.Both can be frozen.
Notes
Net Carbs: 4g
Serving size: 4 ounces of pork tenderloin and then dividing the mashed cauliflower into 4 servings, should be about a cup worth.
Nutrition
Serving:
1
serving
|
Calories:
709
kcal
|
Carbohydrates:
8
g
|
Protein:
27
g
|
Fat:
62
g
|
Saturated Fat:
30
g
|
Cholesterol:
104
mg
|
Sodium:
183
mg
|
Potassium:
765
mg
|
Fiber:
4
g
|
Sugar:
3
g
|
Vitamin A:
354
IU
|
Vitamin C:
35
mg
|
Calcium:
50
mg
|
Iron:
2
mg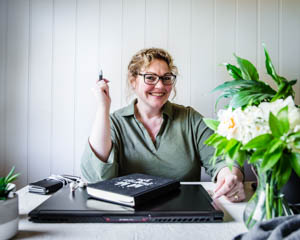 Naomi is the force behind Naomi Sherman | Food Creative. She is passionate about recipe development, food photography and styling. An accomplished home cook who was diagnosed with an auto-immune disease eight years ago, Naomi started to explore the connection between healthy, whole food and her symptoms, and a new love was born. She fiercely believes that what you put in your body is one of the most important factors for your physical, and mental, wellbeing.