If you haven't yet tried making a sugar free, keto cheesecake in your instant pot, don't wait any longer! This recipe is fool proof for a perfectly delicious sugar free low carb cheesecake. Be sure to check my tips below so no cracking on top will happen!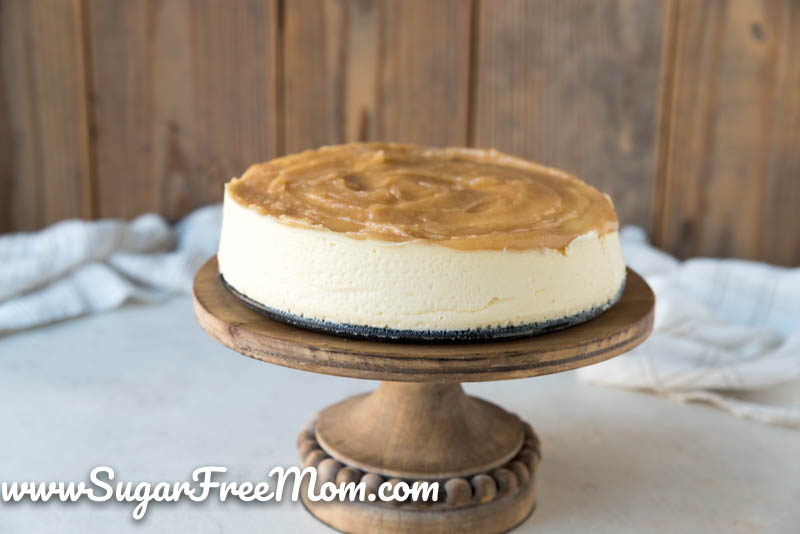 INSTANT POT CHEESECAKE
The Instant pot has so many advantages and is a great addition to your keto kitchen. It can save you so much time when it comes to making low carb dinners for your family, but it can also be used for amazing, keto desserts as well! I adapted my popular crustless vanilla cheesecake recipe to create a smaller version for the 8 inch spring form pan used inside the Instant pot.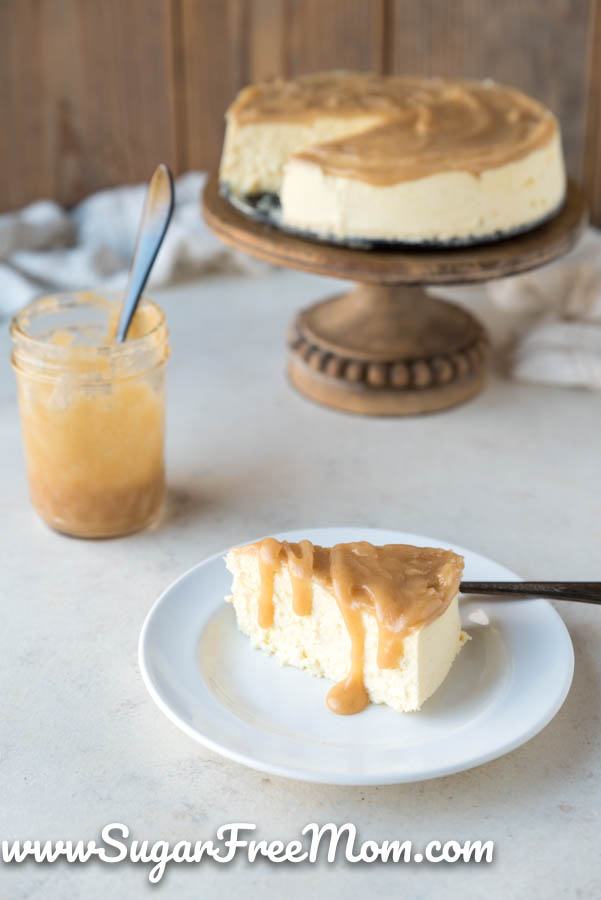 SUGAR FREE CHEESECAKE
Creating sugar free desserts is always about using low carb sweeteners that you prefer. If you're brand new to sugar free baking then it can be a little challenging to choose the right sweetener for your taste buds. Be sure to read the below paragraph about the low carb sweetener options you can use for this recipe. But honestly, making a traditional cheesecake into a sugar free cheesecake is really quite simple when you start with a fabulous creamy cheesecake recipe like mine. My orginial recipe which is in my cookbook,Naturally Keto, is adapted from my mom of course. She is an Italian American and knows how to make incredible, decadent desserts, but cheesecake and ricotta pie are some of her best recipes.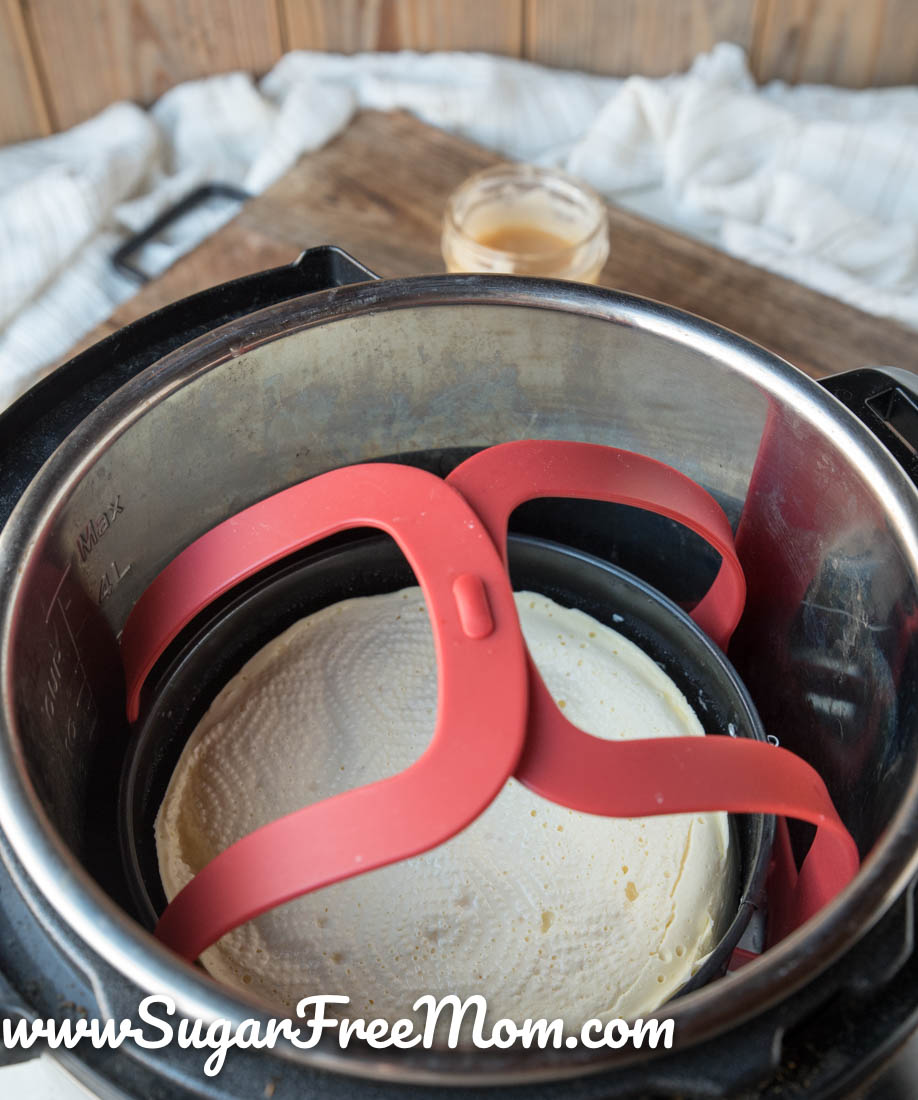 TIPS FOR NO CRACKS INSTANT POT CHEESECAKE
My mistake as you can see from the above photo is that I did forget my paper towel would cause a design to form over the top of my cheesecake. Using parchment over the top of the cheesecake then using 2 paper towels will absorb the condensation that occurs while baking.
While not completely needed, a layer of aluminum foil over the paper towels will also help prevent liquid over the top of the keto cheesecake.
The most important step to take to prevent cracking in the middle of your cheesecake is letting the Instant Pot Naturally Release. Do not do anything else, just turn it off and leave that cover on, no peeking! After one hour you can remove the lid and the foil, paper towel and parchment and you will have a perfect looking Instant Pot Keto Cheesecake!
To make removal easier from the Instant Pot I used a silicone trivet.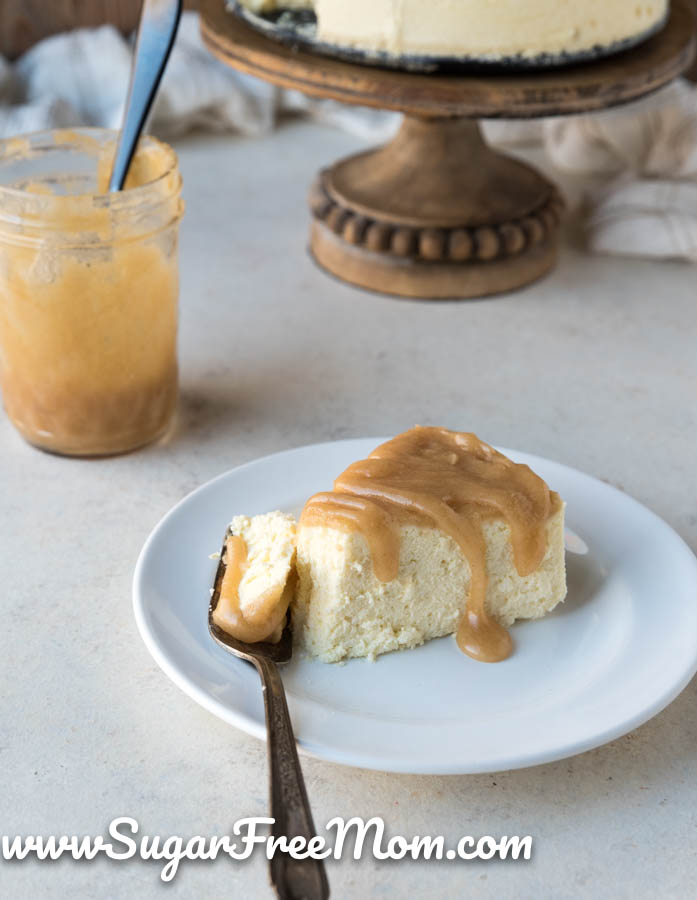 CRUST OR CRUSTLESS CHEESECAKE
You could certainly make a keto crust for this cheesecake, but honestly I don't think you will miss not having one and you can save on carbs keeping it crustless. But totally up to you of course! If you want a crust, I'd recommend this crust from my no bake strawberry mousse pie recipe.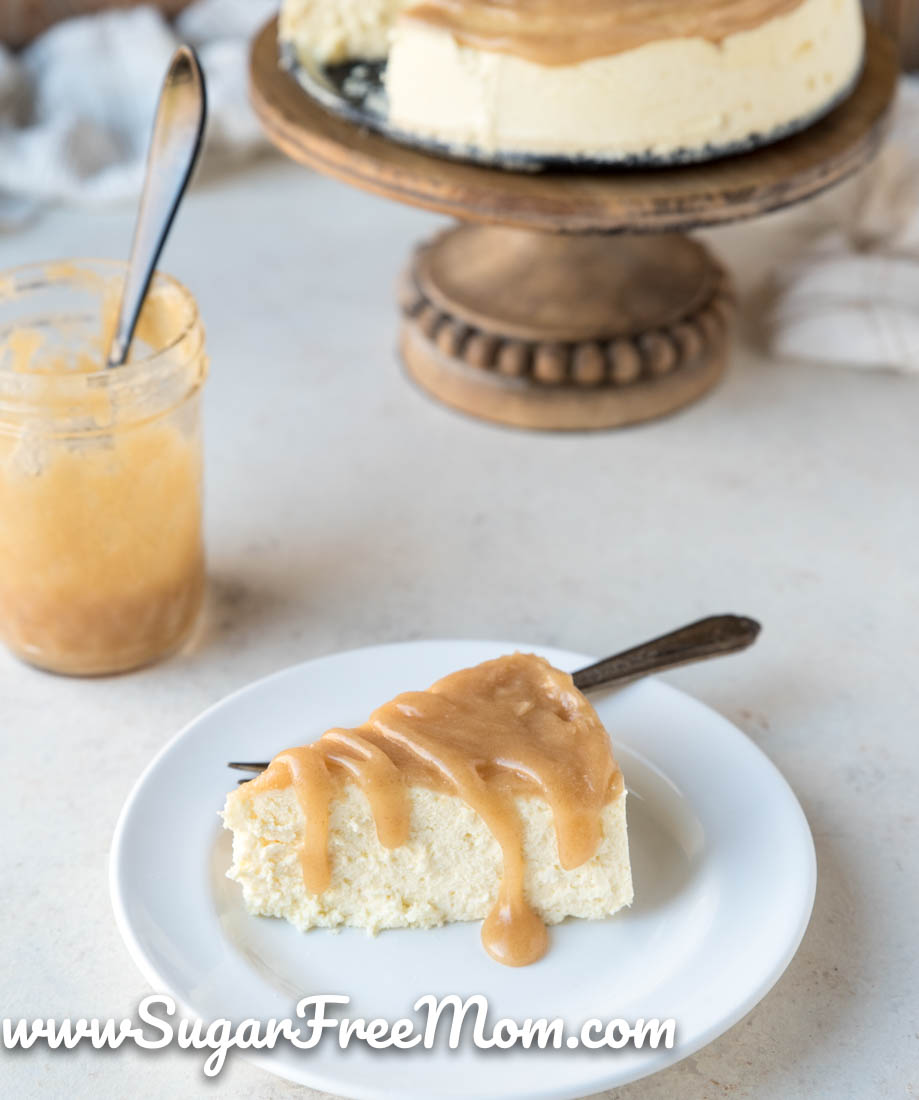 BEST LOW CARB SWEETENER OPTIONS
Our favorite low carb sweetener that doesn't leave an aftertaste, is Better than Sugar by Sweetleaf. We used the powdered sweetener and they also have a granulated option. It's a combination of erythritol and stevia and has plenty of sweetness as sugar would provide. Swerve confectioners sweetener is also low carb but doesn't have as much sweetness and you may need to use a bit more to get this as sweet as you like. Allulose would be another option but again it isn't as sweet as using the Better than Sugar sweetener. Allulose comes in a liquid which would probably work best in this cheesecake recipe as well as my keto caramel sauce recipe, but it also comes granulated if you prefer.
NO INSTANT POT?
Use this recipe for my Crustless Low Carb Cheesecake made in the oven.

SUGAR FREE KETO INSTANT POT CHEESECAKE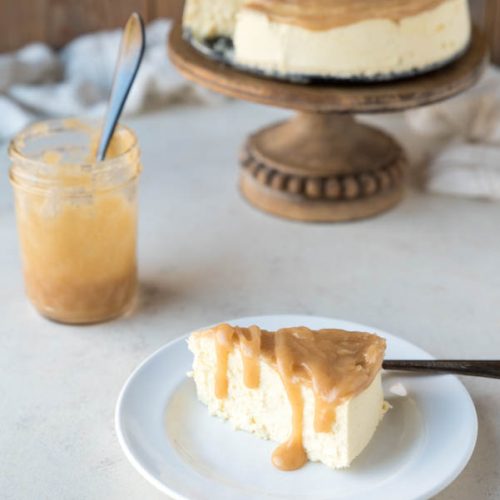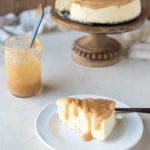 Print
Sugar Free Keto Instant Pot Cheesecake
Ingredients
Entire recipe for Sugar Free Caramel Sauce
Instructions
Place all the ingredients for the cheesecake into a mixer and blend until smooth. If you're concerned about the sweetener, wait to add the eggs until after you can taste the sweetener with the other ingredients. Once you adjust the sweetness of the batter, then incorporate your eggs. Pour this batter into the greased spring form pan.

Place the pan onto the trivet. Place a piece of parchment over the top of the pan. Place 2 folded pieces of paper towel over the parchment. Place one piece of aluminum foil over the paper towels. Close the lid of the instant pot.

Press manual mode and set the timer for 35 minutes on high pressure. After timer beeps, unplug the instant pot and leave it alone for 1 hour. After one hour, remove the lid and the pan from the instant pot. Remove parchment, paper towels and foil. Allow to cool on the counter for 30 minutes, then place in the refrigerator for 4-5 hours or overnight before serving.

Store left overs in the refrigerator in an airtight container for up to 5 days.
Notes
Nutrition Info does not include any toppings. Net Carbs: 3g
Cheesecake Nutrition Info with entire recipe of caramel sauce:
Calories: 374
Carbs: 4g
Protein: 6g
Fat: 38g
Nutrition
Serving:
1
serving
|
Calories:
253
kcal
|
Carbohydrates:
4
g
|
Protein:
6
g
|
Fat:
24
g
|
Saturated Fat:
14
g
|
Polyunsaturated Fat:
1
g
|
Monounsaturated Fat:
6
g
|
Trans Fat:
0.01
g
|
Cholesterol:
137
mg
|
Sodium:
201
mg
|
Potassium:
113
mg
|
Sugar:
3
g
|
Vitamin A:
951
IU
|
Vitamin C:
0.1
mg
|
Calcium:
79
mg
|
Iron:
0.4
mg