This chocolate coconut pie is sugar-free, low carb, gluten free and dairy free!
Sometimes you feel like a nut, sometimes you don't. Have you ever heard that song from the commercial for Almond joy and Mounds candy bars? For some odd reason that songs been in my head for a long time and I have no idea why as I never eat those candy bars anymore. Since last summer when I made my Crustless Coconut Custard pie I knew I wanted to create a chocolate version of it. I was mentioning it to my friend Laurie and said I had no idea what to call it. She exclaimed, It's a Mounds Pie!! So I guess since then that song has been ringing through my head. Thanks Laurie!
When I was asked to create a new recipe for Silk with their Coconut milk, I knew the pie idea HAD to be made! Even if you're not really a fan of coconut I can guarantee you will enjoy this pie. It's perfect for the summer as it's not too heavy in texture.
Not only was I asked to create a new recipe using Silk Coconut Milk, but I was also invited to have a "Secret Ingredient" party with family or friends to see if they could guess the star of the show in all my recipes shared.
I went crazy with excitement thinking of the the dessert recipes I already have using coconut milk that would compliment this new pie recipe quite perfectly!
This was the spread when I had my family over to guess the secret ingredient of all these desserts.
From left to right clockwise is another one of my newer recipes that compliments this secret ingredient so nicely, No Bake Lemon Coconut Truffles. Then so everyone could try a little, I doubled the recipe for my Dairy & Sugar Free Chocolate Milkshakes. The new pie recipe is below and to the right is my Crock Pot Dairy & Sugar Free Fudge.
All the recipes except the lemon truffles are dairy free.
My brother and sister in law trying the milkshakes!
They guessed the secret ingredient as soon as they all tried the pie!!
Piece of fudge anyone? It's dairy & sugar free!
Right now Silk is offering some fabulous coupons for you to try their coconut milk if you never have before and maybe I've even encouraged you to try some new recipes of mine you've been wanting to try as well. Just head to http://www.silk.com/coconutmilk for the coupons.
If you're on Pinterest you will love their Pinterest board devoted http://www.pinterest.com/lovemysilk/coconut-recipes/ to all Silk products with drool worthy pictures of incredible recipes!
Brenda's Recipe Notes:
You could substitute the coconut stevia for chocolate stevia or clear liquid.
You could also substitute the coconut flour for almond flour or any other flour of choice.
If you don't have liquid stevia you can use packets or pure extract.
The nutrition info is without chocolate shavings on top.
The higher fat content is due to the coconut cream topping which you could replace or eliminate to reduce fat.
The grams of sugar is coming from natural sugar in the coconut milk. There is no added sugars within this recipe.
This is low in carbs and safe for a diabetic.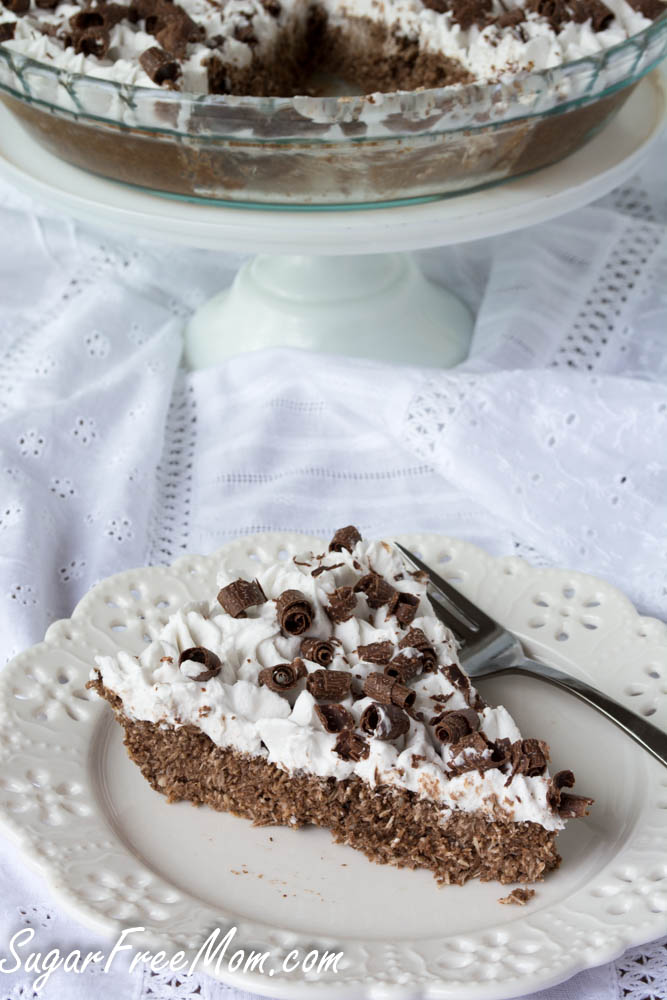 Sugar-Free & Dairy Free Chocolate Coconut Mounds Pie

Author:

Prep time:

Cook time:

Total time:

Ingredients

2 cups unsweetened coconut milk
4 eggs
1 teaspoon vanilla extract
1-½ teaspoon [url href="http://www.iherb.com/p/44829?rcode=yaj035" target="_blank"]coconut stevia[/url]
2 cups unsweetened shredded coconut
½ cup unsweetened cocoa powder
¼ cup coconut flour
½ teaspoon salt
Coconut Cream Topping
1 can (15 ounce) coconut milk (opened, overnight in fridge)
Optional: 2 ounces Lily's sugar-free coconut chocolate bar

Instructions

In a stand mixer with a whisk attachment blend the first 4 ingredients together.
Change to the paddle attachment and add the rest of the ingredients on low speed.
Pour mixture into a pie plate and bake for 40 minutes.
Allow to cool before adding coconut cream topping.
Keep refrigerated.

Serving size:

1

Calories:

242

Fat:

21.5g

Saturated fat:

17.6g

Carbohydrates:

12g

Sugar:

3.2g

Sodium:

97mg

Fiber:

4.3g

Protein:

5.6g

Cholesterol:

60mg

Notes

Weight Watchers PointsPlus:7*

This is a sponsored conversation written by me on behalf of Silk. The opinions and text are all mine.