These Sugar Free Keto Gummy Bears are easy to make at home and you can control the low carb sweetener you use as well as how much you prefer for your family!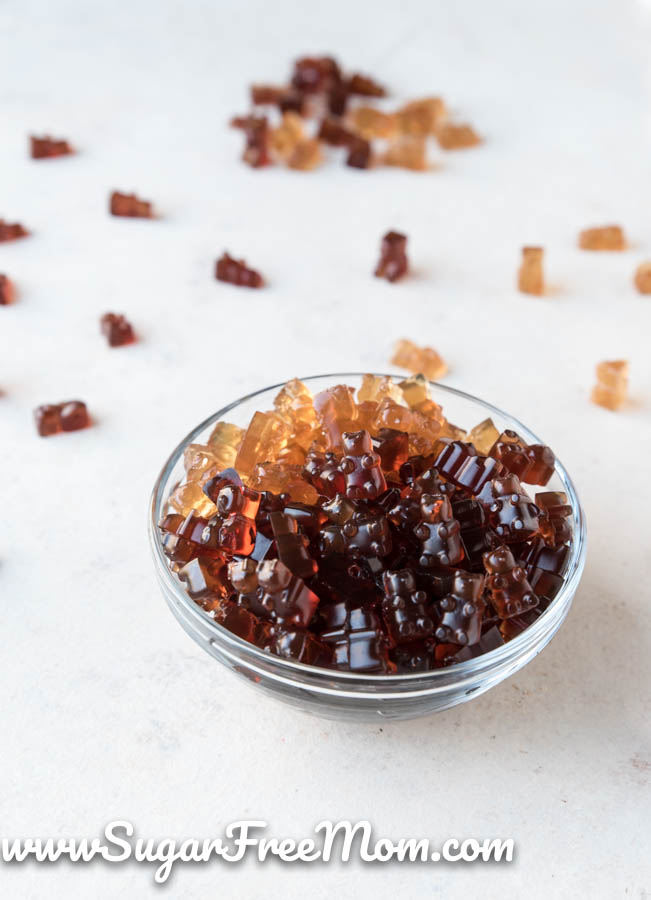 SUGAR FREE GUMMY BEARS
Gummy bears are a favorite snack for kids and adults alike. Turning them into a sugar free gummy bear really isn't as hard as you would think. Swapping out sugar with a low carb sweetener of choice and using grass-fed beef gelatin, makes these a wonderful, healthy snack for the family. This recipe was adapted from my original recipe for Sugar Free Fruitless Fruit Snacks back in 2015.
MOLDS FOR SUGAR FREE GUMMIES
You can turn these sugar free gummy bears into any shape using any kind of mold you like. For the gummy bears, use this mold. If you don't have any molds you can also just pour the mixture into a 9 by 13 glass baking dish, then once it sets you can use cookie cutter shapes to make small gummy candy. I've also made flowers, transformers and basic candy mold gummies with different sized molds. You can even make gummy bear worms with this mold!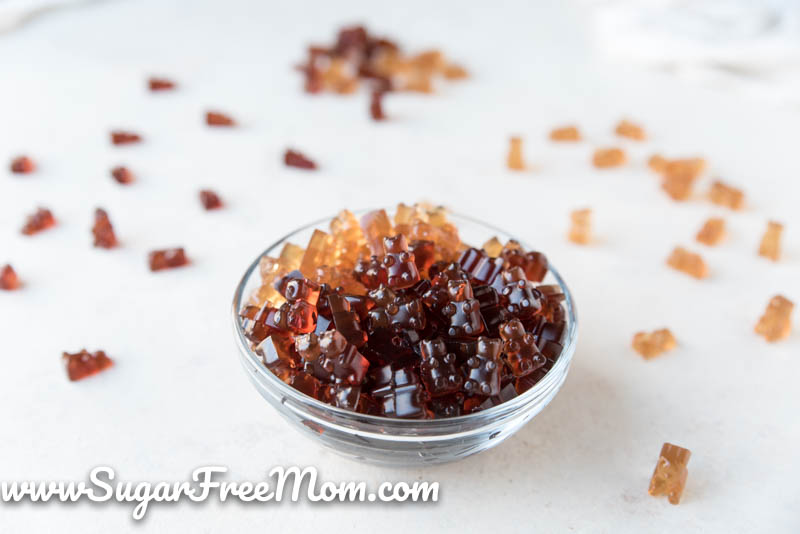 HOMEMADE LOW CARB KETO GUMMY BEARS
These homemade keto gummy bears will take less than 30 minutes to make at home and will provide you a lot of gummy bears! About 30 dozen is what my recipes makes. That's about 362 little gummy bears! The family will not be sad about this and in fact, will gladly enjoy eating them every day until they are gone!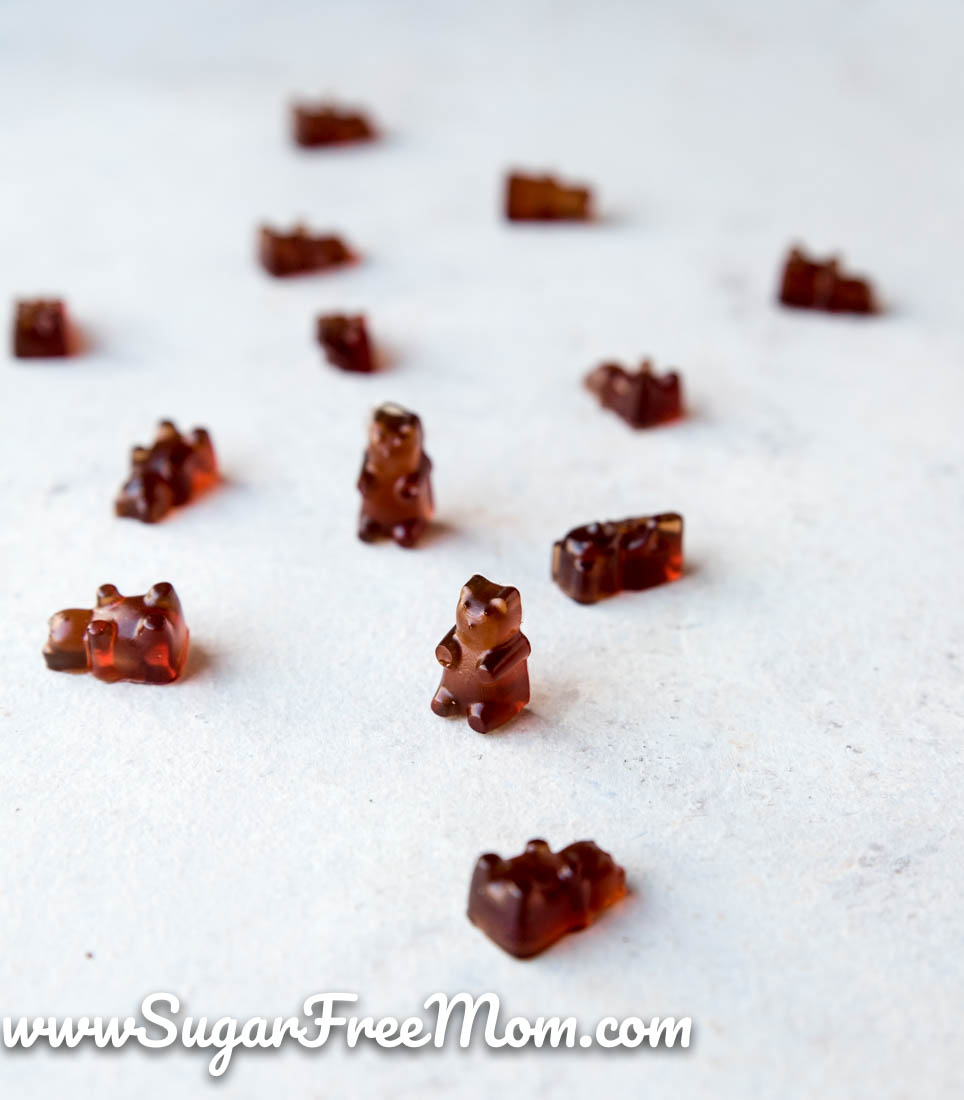 HOW TO CHANGE GUMMY BEAR FLAVORS
As you can see from my photos, I decided I wanted two different flavors and colors for our gummy bears since the recipe makes so many. To change out the recipe below to include two flavors, simply decide everything by half. So instead of using 4 tea bags in the total amount of water, divide the water into two separate jars and use 4 tea bags for 1.25 cup water and 4 tea bags in another flavor for the other half of the water. Heat the water separately and steep for the same amount of time. Divide the sweetener and all remaining ingredients in half for each jar. I used blackberry tea for the darker gummy bears and an apple spice tea for the lighter gummy bears.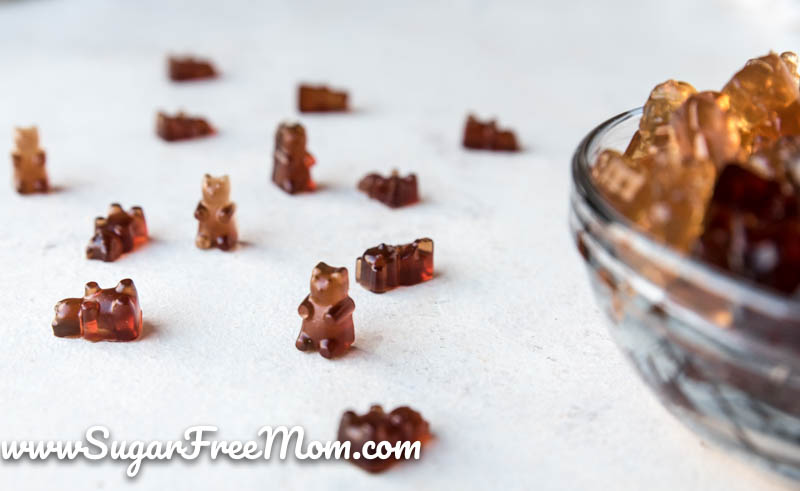 HOW TO STORE KETO GUMMY BEARS
It's best to store these gummy bears in the fridge to keep them nice and cold. They could be stored on the counter but will not last as long as storing in the fridge. Essentially these are like Jello so storing in the fridge will preserve them for longer.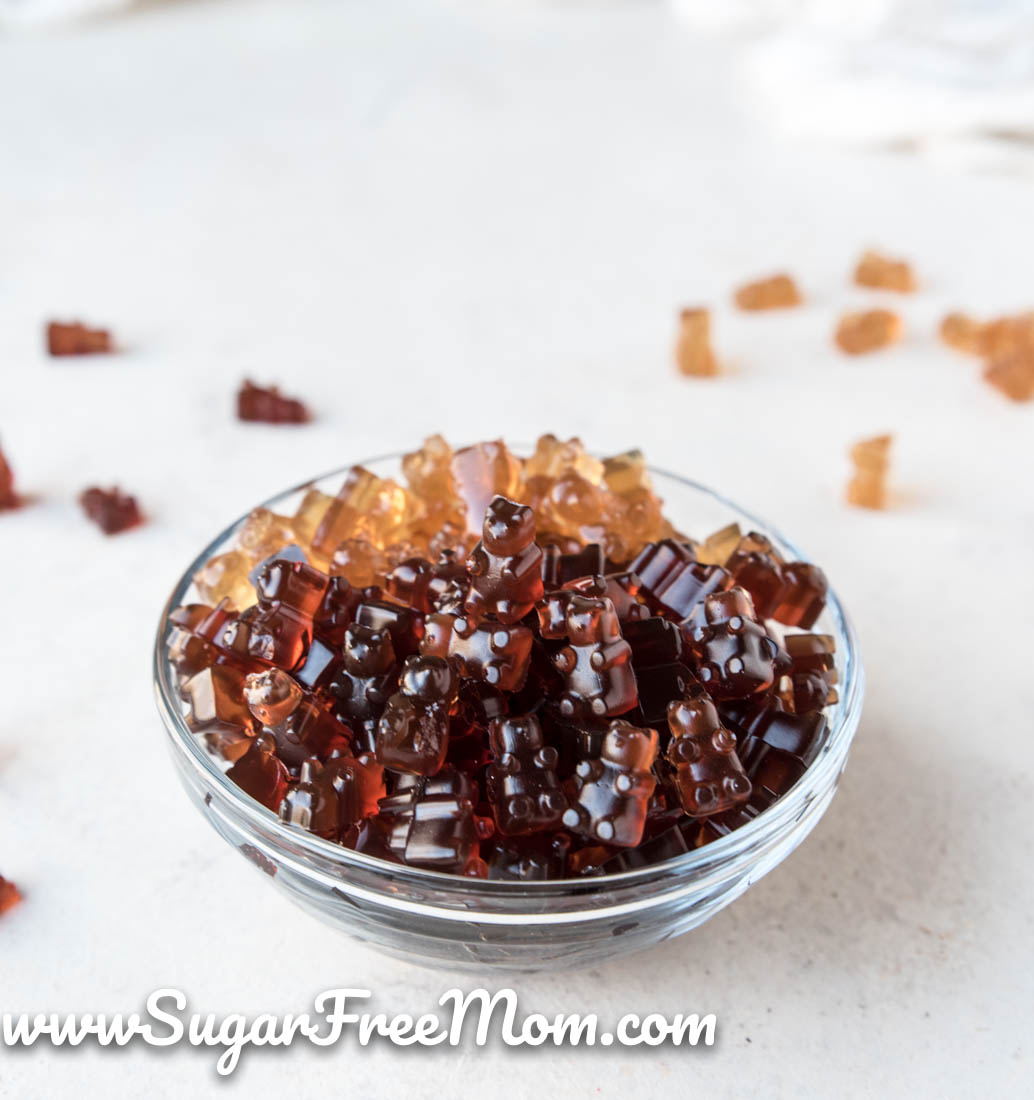 30% OFF LOW CARB MEAL PLANS
I can't think of a better time to get started on meal planning, especially if you've never tried it before! We are hoping you are ready to get started with out Keto or Low Carb meal plans and to make this even easier for you, we are giving a coupon for the new year! Use code NY2021at check out today off our monthly or yearly membership and you'll get 30% OFF! This offer ends at the end of January so act now!
You can choose from Three Meal Plan Options:
Low Carb Meal Plan includes breakfast, lunch, dinner, and snacks with 40 net grams of carbs or less per day.

Keto Meal Plan includes breakfast, lunch, dinner, and snacks with 20 net grams of carbs or less per day.

Intermittent Fasting Keto Meal Plan includes 2 meals per day plus one protein/fat rich snack daily with no more than 20 TOTAL carbs per day.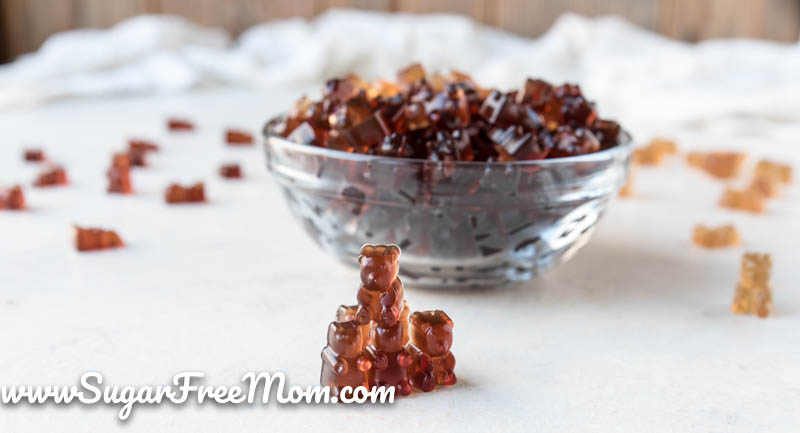 LOW CARB SWEETENER OPTIONS
Our favorite low carb sweetener that doesn't leave an aftertaste, is Better than Sugar by Sweetleaf. We used the powdered sweetener and they also have a granulated option. It's a combination of erythritol and stevia and has plenty of sweetness as sugar would provide. Optional to use would be berry liquid stevia if you felt it needed a bit more sweetness without providing any bulk to the recipe. Swerve confectioners sweetener is also low carb but doesn't have as much sweetness and you may need to use a bit more to get these as sweet as you like.
Keto Sugar Free Gummy Bears will be a favorite snack for yourself and your family, regardless if they are following a keto lifestyle. Eating less sugar is the way to keep your immune system strong! Even without the typical sugar in these gummy bears, you can control how much or how sweet you want them using the low carb sweeteners I've mentioned.

SUGAR FREE KETO GUMMY BEARS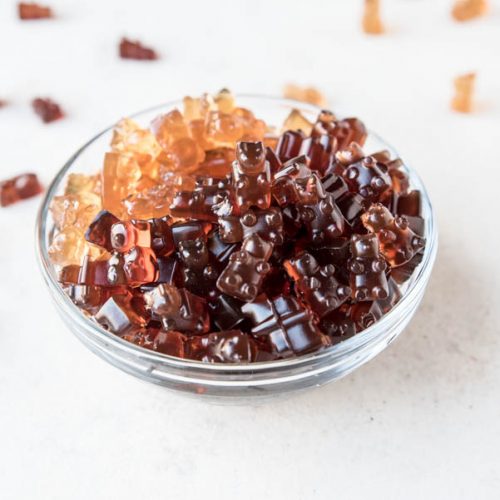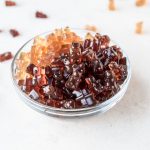 Print
Sugar Free Keto Gummy Bears
Ingredients
2.5

cups

water

4

herbal tea bags

I used Blackberry flavored and apple spice

⅓

cup

grass fed gelatin

¼

teaspoon

salt
Instructions
Boil the water in a medium sized pot on the stove. Remove from heat and add the tea bags. Steep 15 minutes then remove and discard bags.

Whisk in the gelatin until dissolved. Whisk in remaining ingredients. Taste and decide if it's sweet enough or add just ¼ teaspoon of the stevia, taste and decide if you need it sweeter.

Place gummy bear molds on baking pans. Fill gummy bear molds and place in the fridge for 2-3 hours or until set. This recipe makes 30 dozen gummy bears. One dozen is a serving.

To make two different flavors, please read above paragraph for changing flavors.
Nutrition
Serving:
1
serving @ 12 gummy bears
|
Calories:
6
kcal
|
Carbohydrates:
1
g
|
Protein:
2
g
|
Fat:
1
g
|
Saturated Fat:
1
g
|
Cholesterol:
1
mg
|
Sodium:
24
mg
|
Potassium:
1
mg
|
Fiber:
1
g
|
Sugar:
1
g
|
Calcium:
1
mg