Can you eat low carb on a cruise? YES! Here are 5 tips to help you navigate the food options on a cruise!

If you're new to low carb eating and taking a vacation, it can certainly feel overwhelming wondering if you can really pull it off successfully. I've tackled the cruise ship and won! You most certainly can enjoy yourself without blowing your low carb diet! Here are my tips and tricks to have a wonderful time while staying the course of your sugar free, low carb life style!
Tip #1 Avoid the Buffet, eat in the Dining Room
I know this is a tough one to swallow because you're on vacation and most likely traveling with others. BUT if you are like me and have a really hard time with portion control, the buffets will be torture.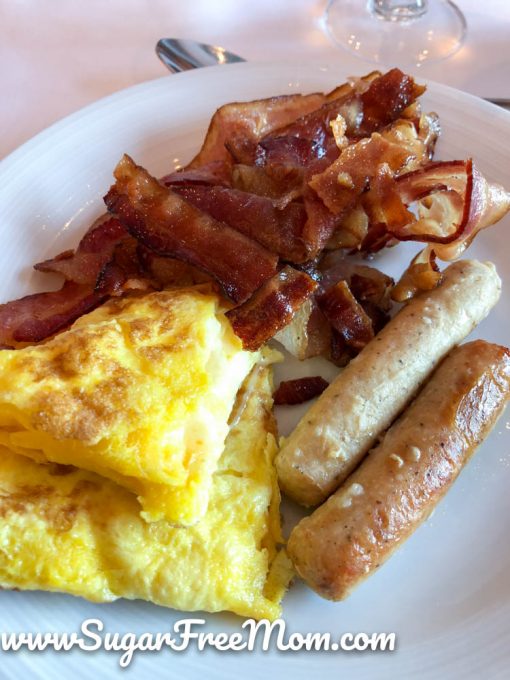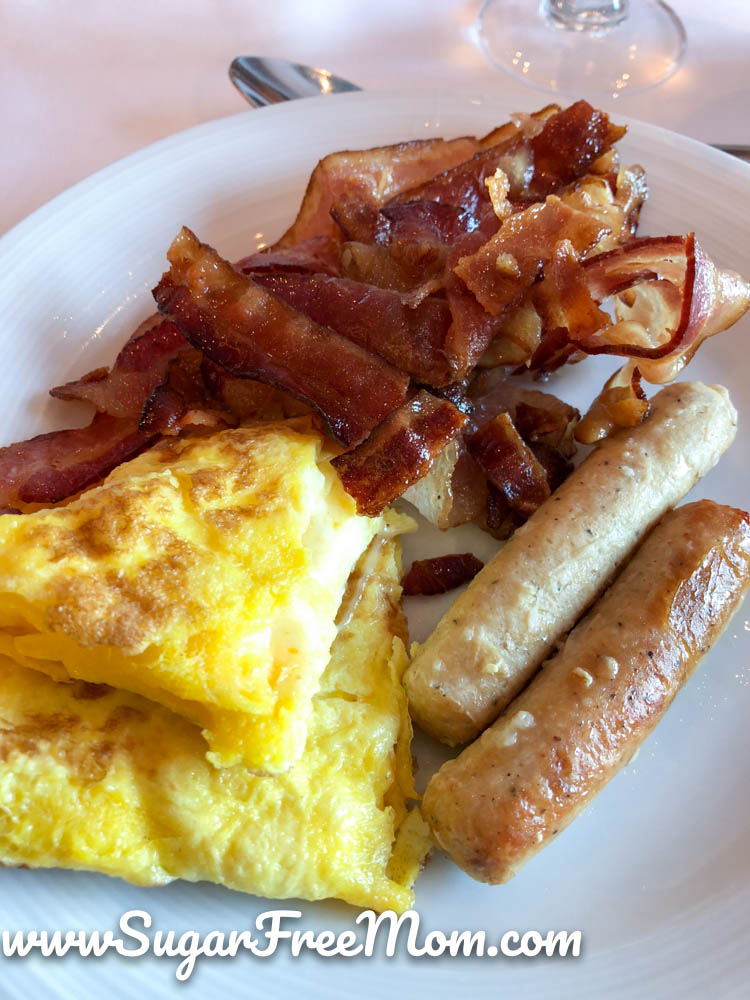 It was so extremely hard for me to eat a small amount for breakfast when everyone had an enormous amount of food on their plate. Typically at home I don't even eat breakfast. But if you can handle it there are plenty of options, like eggs, poached, fried, hard boiled and a ton of meat options like bacon, sausage, ham. Obviously you see from this plate, way too much food!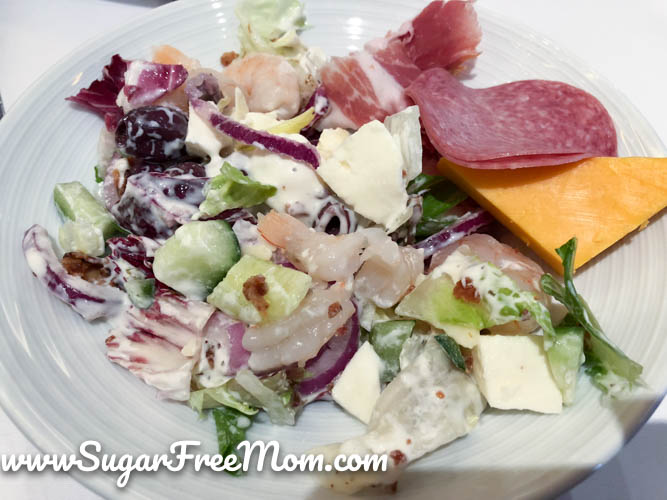 When in doubt I always choose a salad.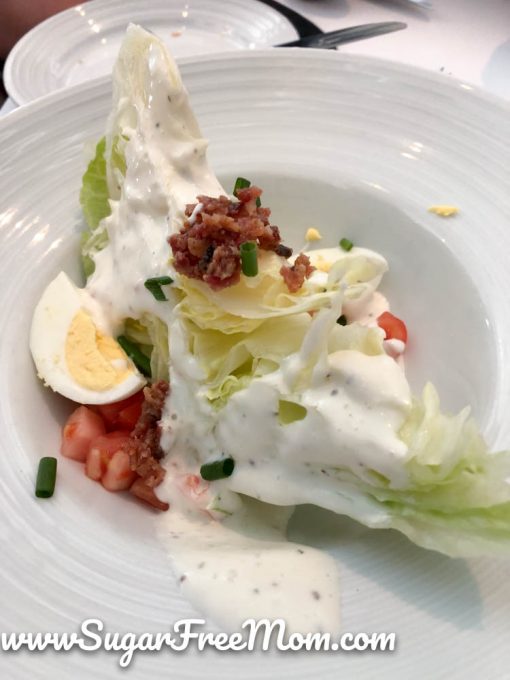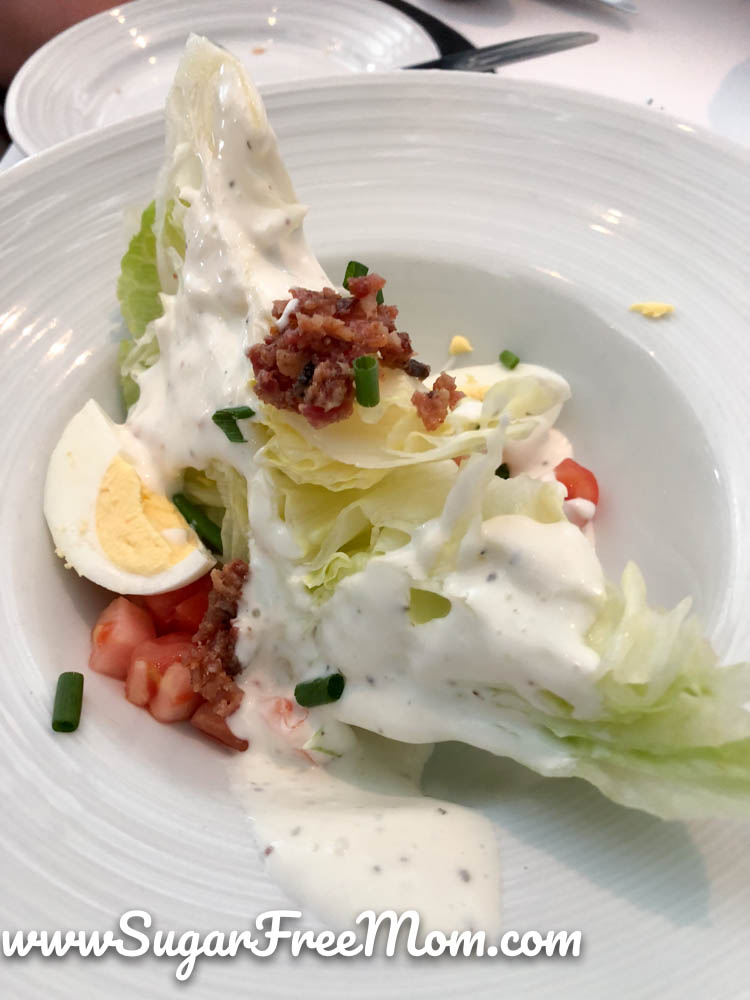 Tip #2 Ask for what you DON'T Want on your plate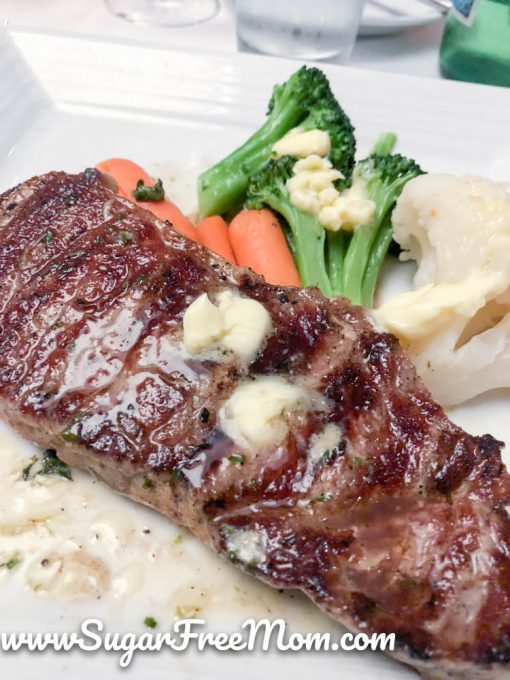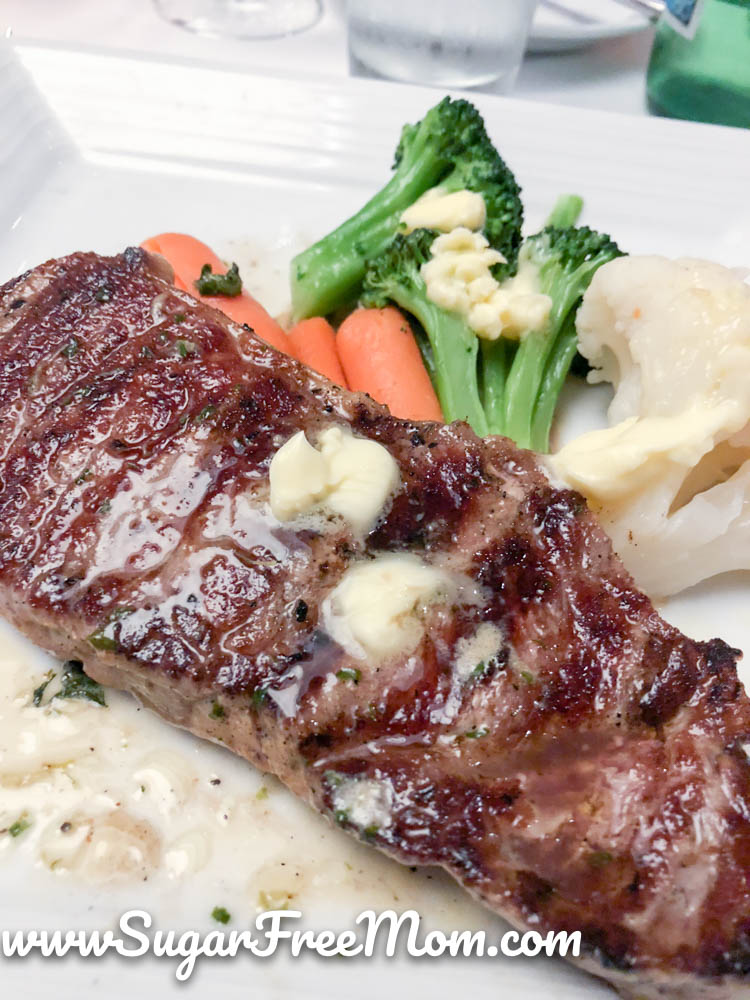 Every meal in the dining room consisted of some starchy type side. I simply asked at dinner for them to remove the potato or pasta or rice and replace with more vegetables. It worked fine, they had no issues doing that for me. I added butter to most things and was completely satisfied.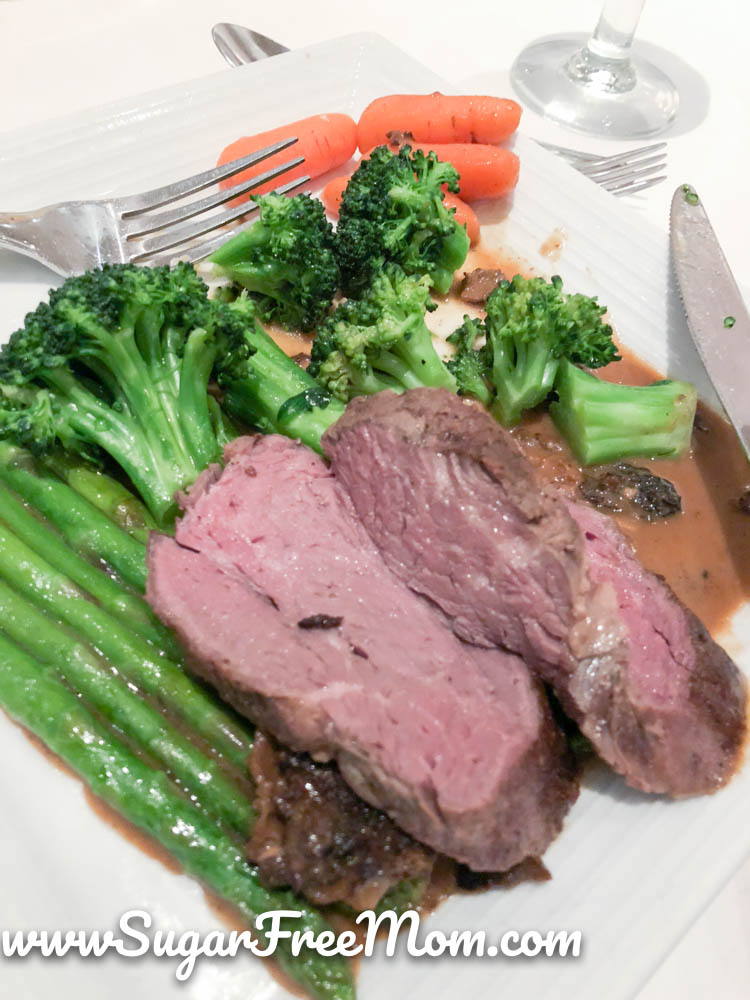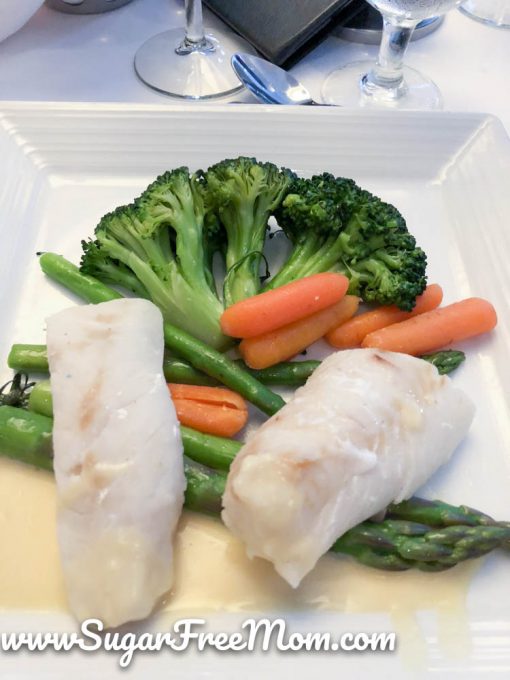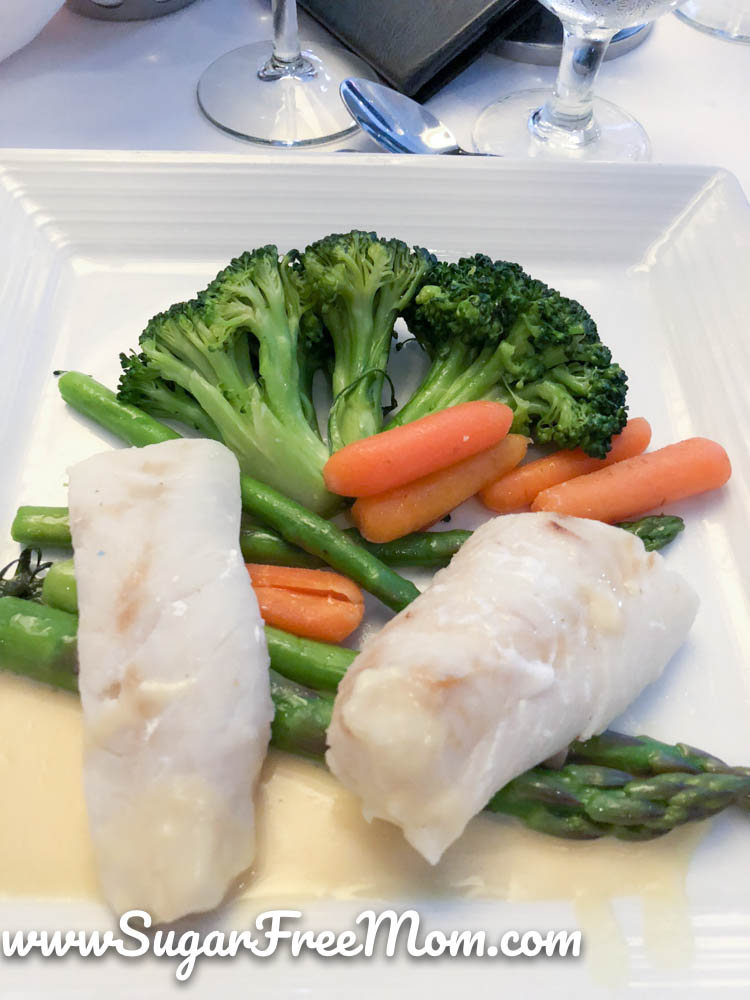 Tip #3 AVOID the Sugary Drinks, except......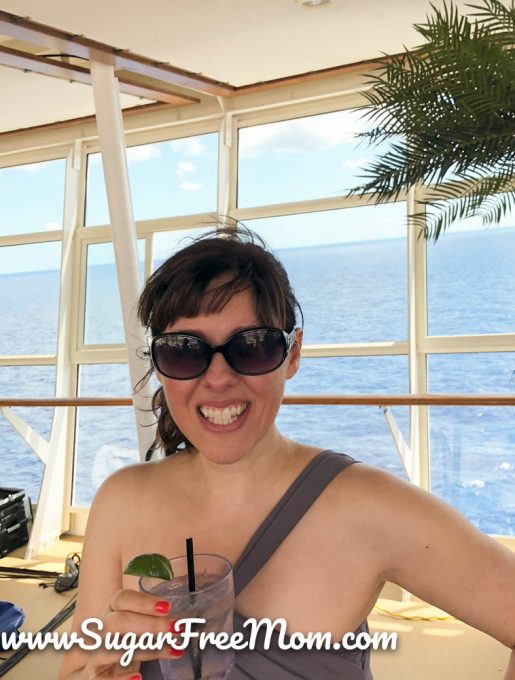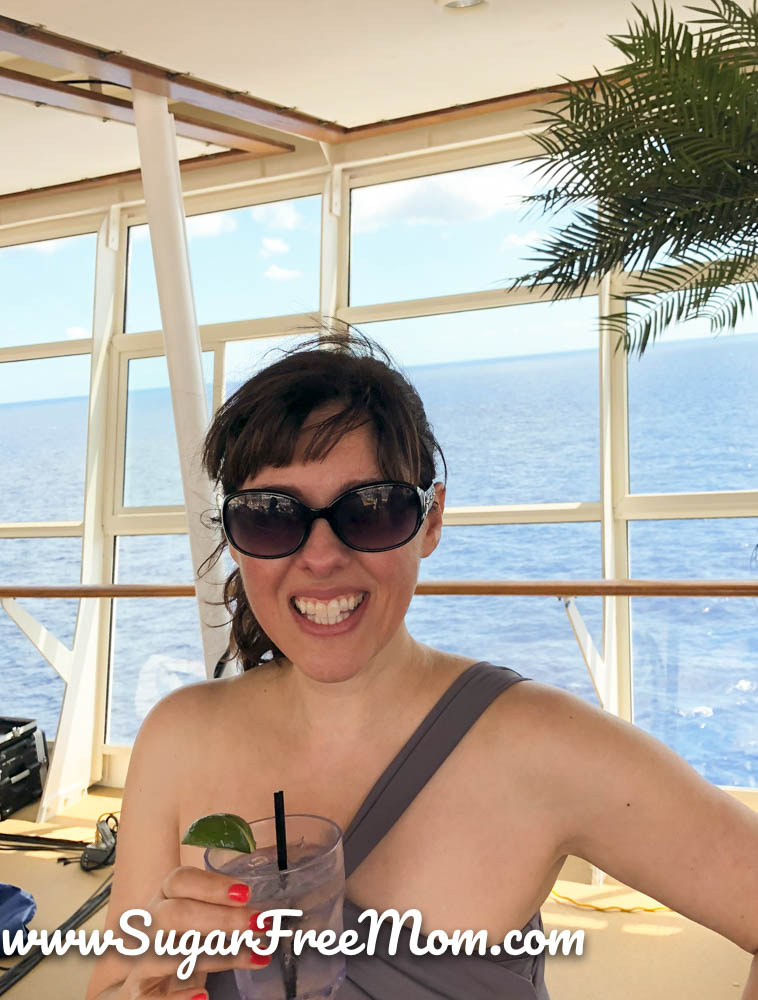 Whether you enjoy alcohol or not, many of the fruity drinks are loaded with simple syrup and sugar bases. I avoided them like the plague as much as I was tempted to try a Pina Colada I avoided it. Why? Because I know for me, once the taste of sugar hits my lips, I'm never satisfied and always crave another and the next day and so on. It's a cycle I don't want to ever repeat. If you do want some alcohol I chose vodka with Sprite Zero. Low Carb and didn't make me crave.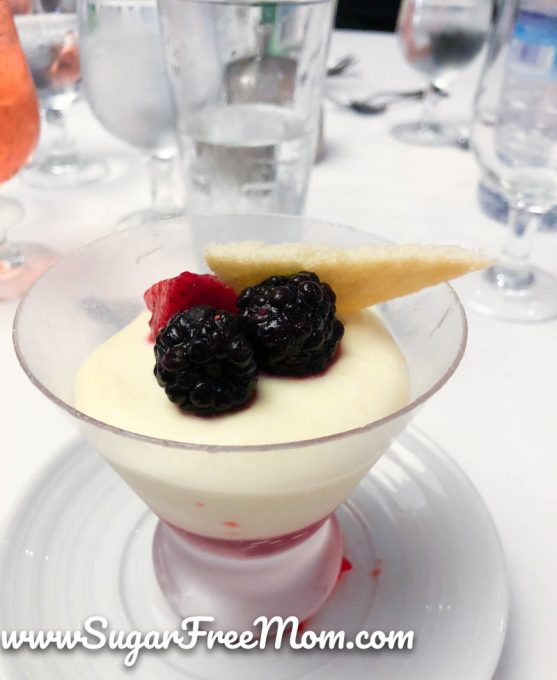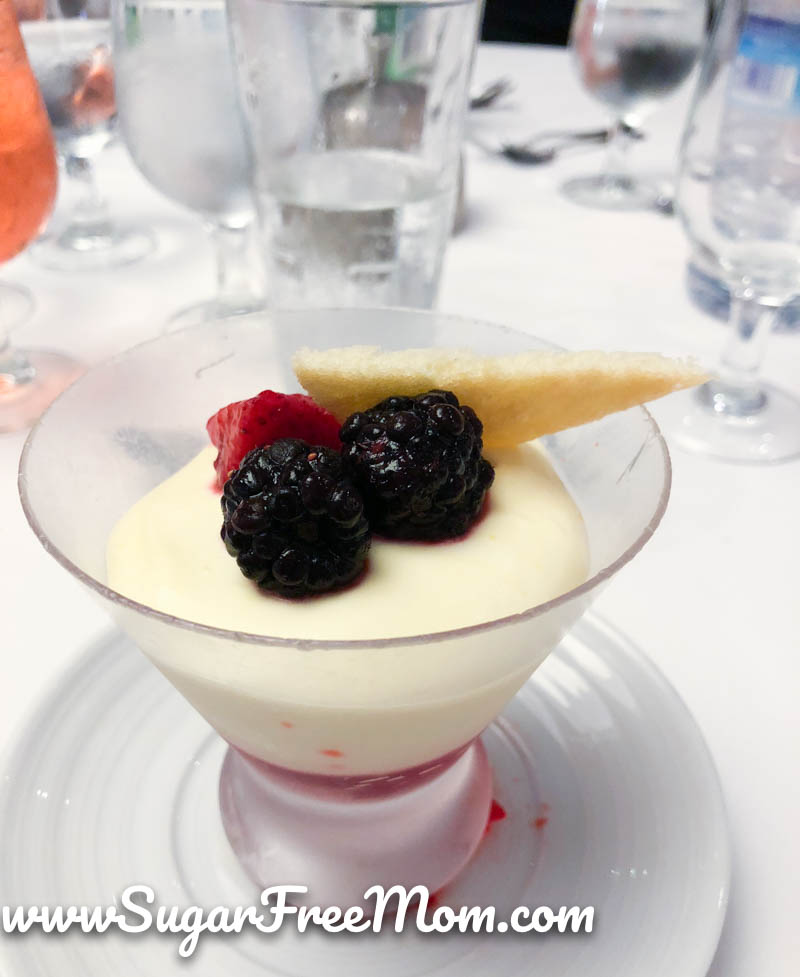 Tip #4 AVOID Sugar Free Desserts, unless......
I found most of the sugar free desserts were still heavy on white flour as a base, things like cake and pie, etc. The only sugar free dessert I felt comfortable indulging in was the custard and mousse type recipes. Most likely they were using artificial sweeteners to sweeten these but when you don't want to feel deprived during the vacation a few desserts like that are fine in my book.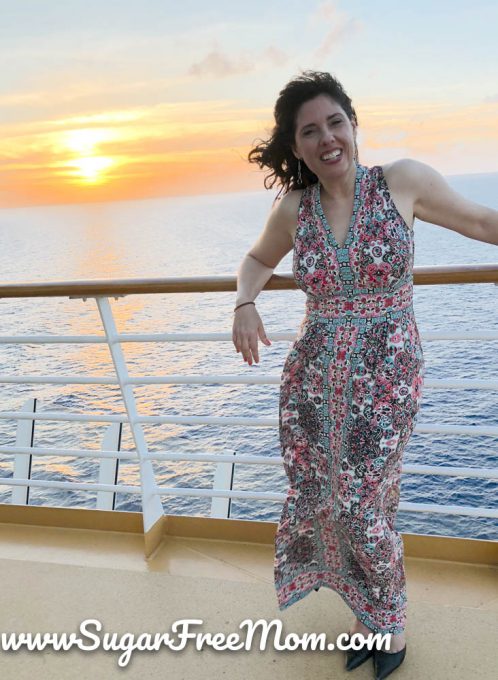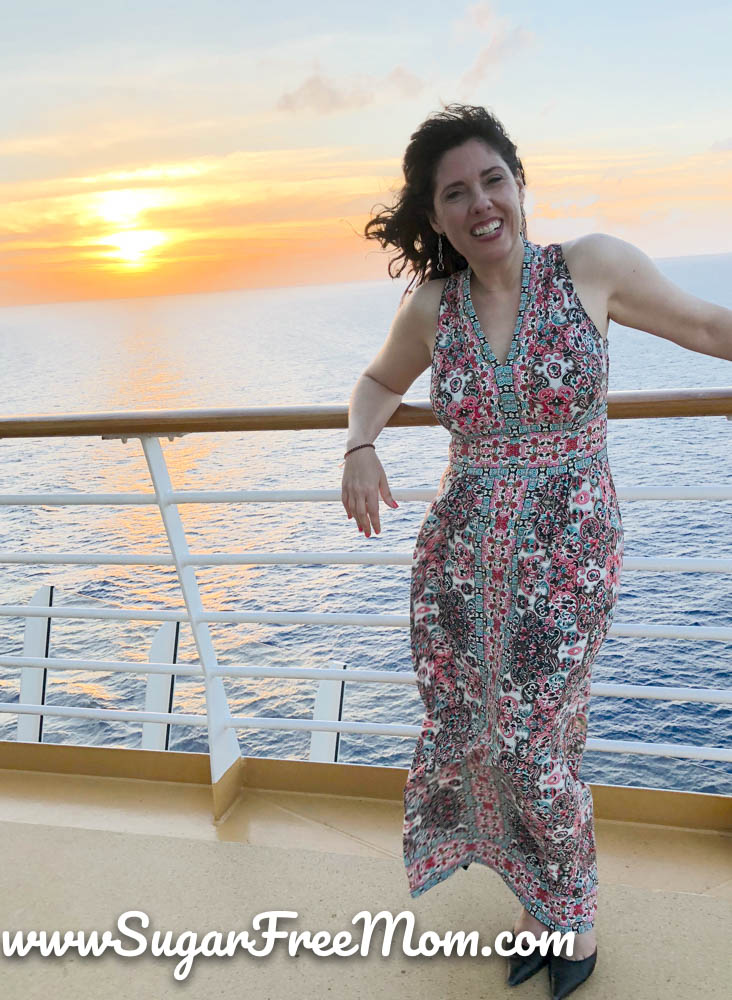 I'd rather fit into some pretty vacation clothes and forgo dessert! This pretty dress was picked out from my stylist from Stitchfix and it was so comfortable! Below are the caribbean colored pants and those were comfy too!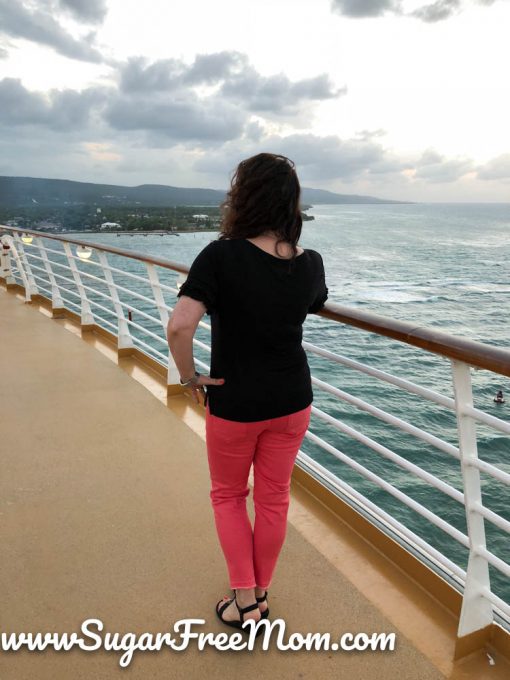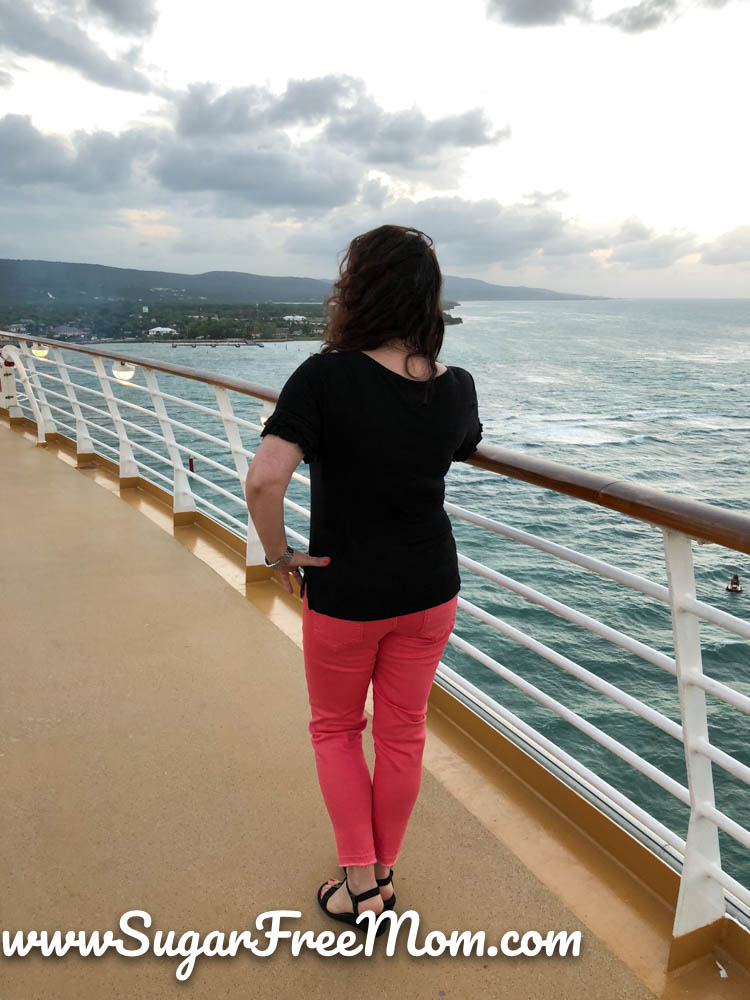 Tip #5 RELAX and ACCEPT
Obviously, eating away from home will increase the amount of food you typically eat in a day. This is normal, you just can't control everything. Some days you may eat a lot more than normal, but remember it is a vacation and you don't have to cook or clean up so BONUS! Just do the best you can. You may certainly gain a few pounds, which mostly will be water weight. But you know how to do this. You know to get back on track and you most certainly will lose those extra few pounds within 1-2 weeks of getting strict again.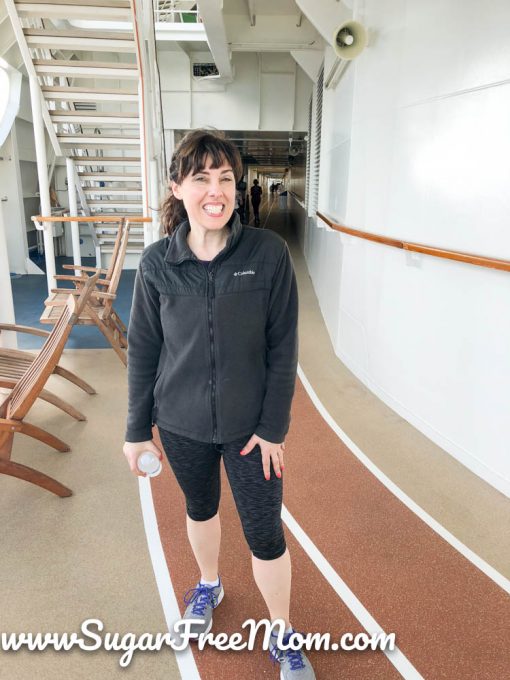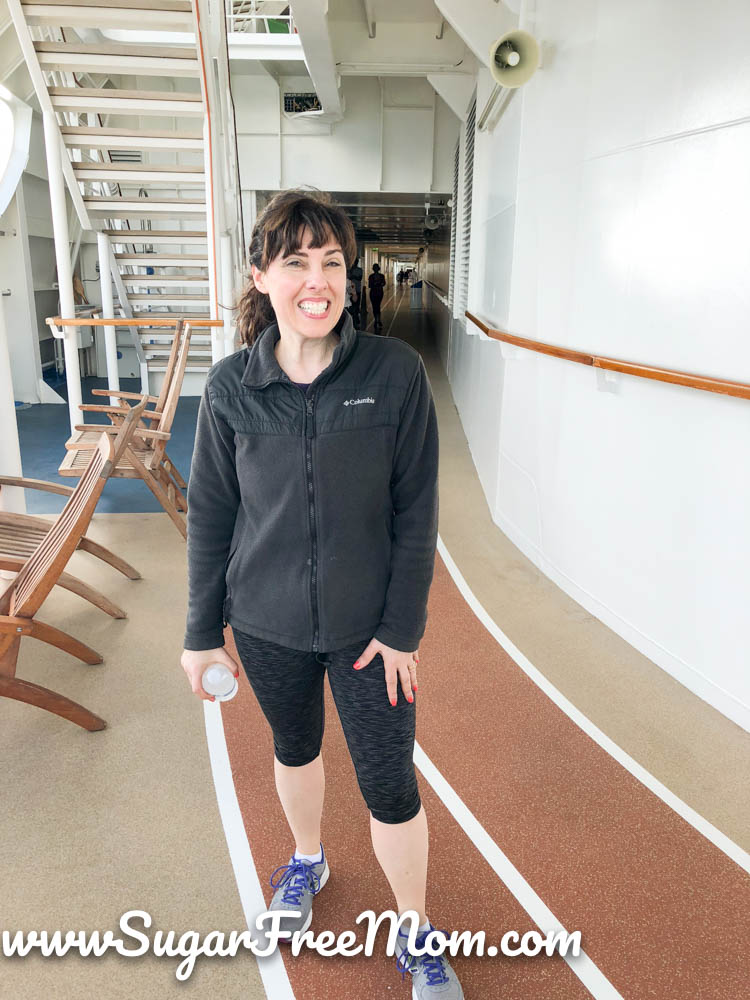 Best thing not only for your body, but for your mental health, exercise! Take a walk on the track or around the cruise floors.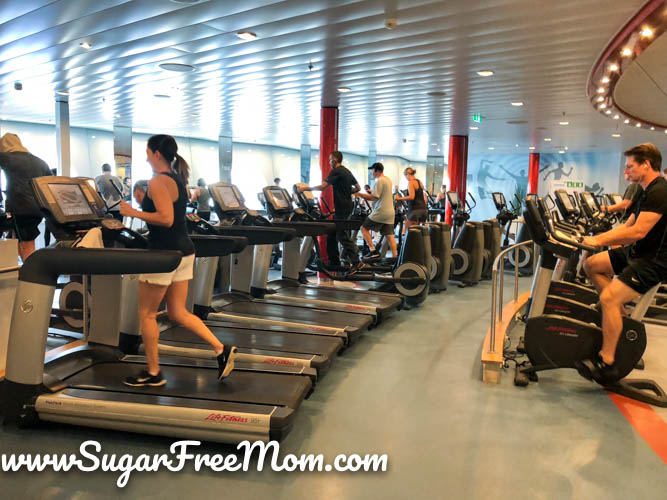 Check out the fitness center, take the stairs not the elevator and just get as much fresh air as possible, it does the body good!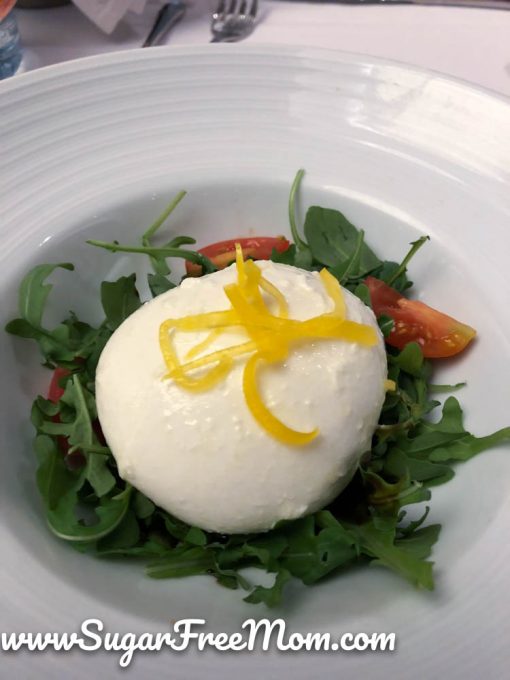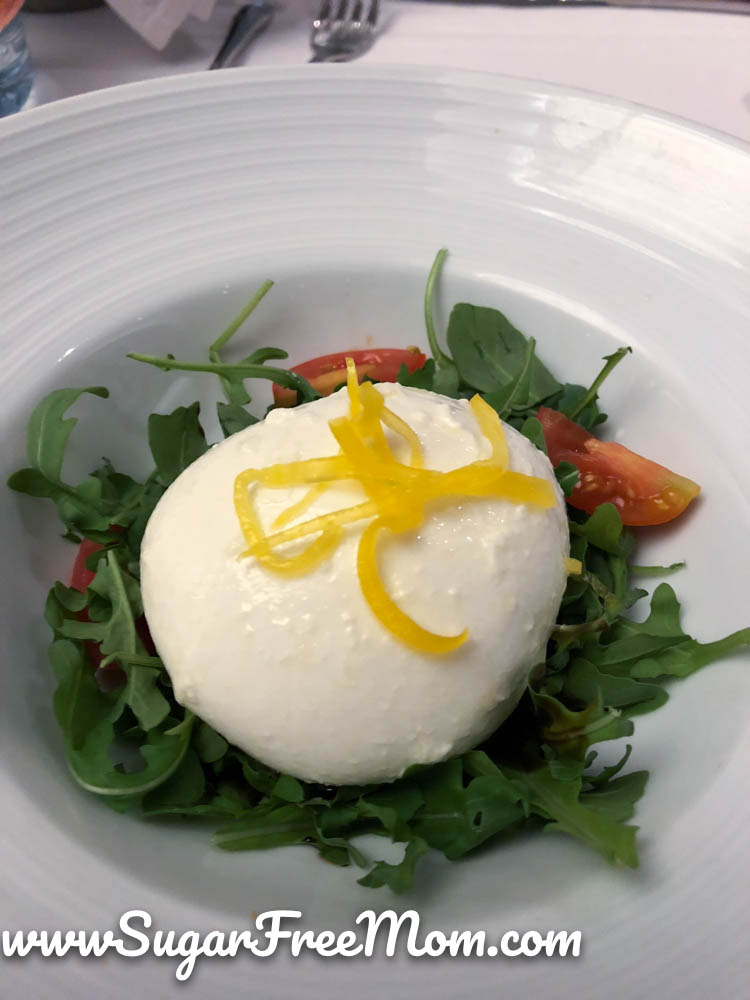 Try a new food you've never had before! This is Burrata and it's a cheese kind of like mozzarella but a little bit looser in texture, less formed and it is fantastic!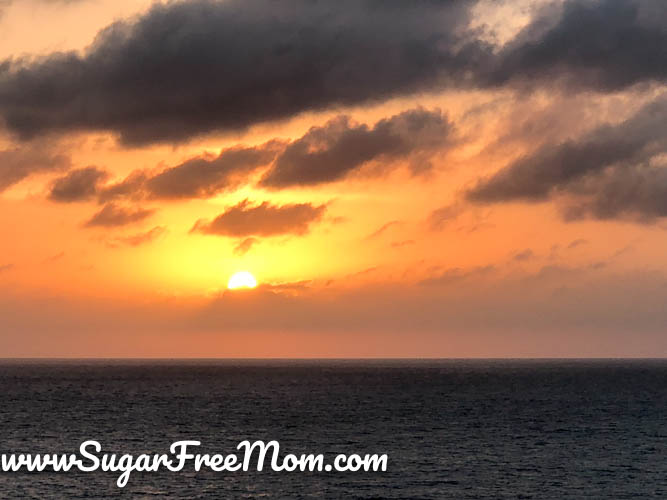 Wake up early for the sunrise and breath the fresh ocean air!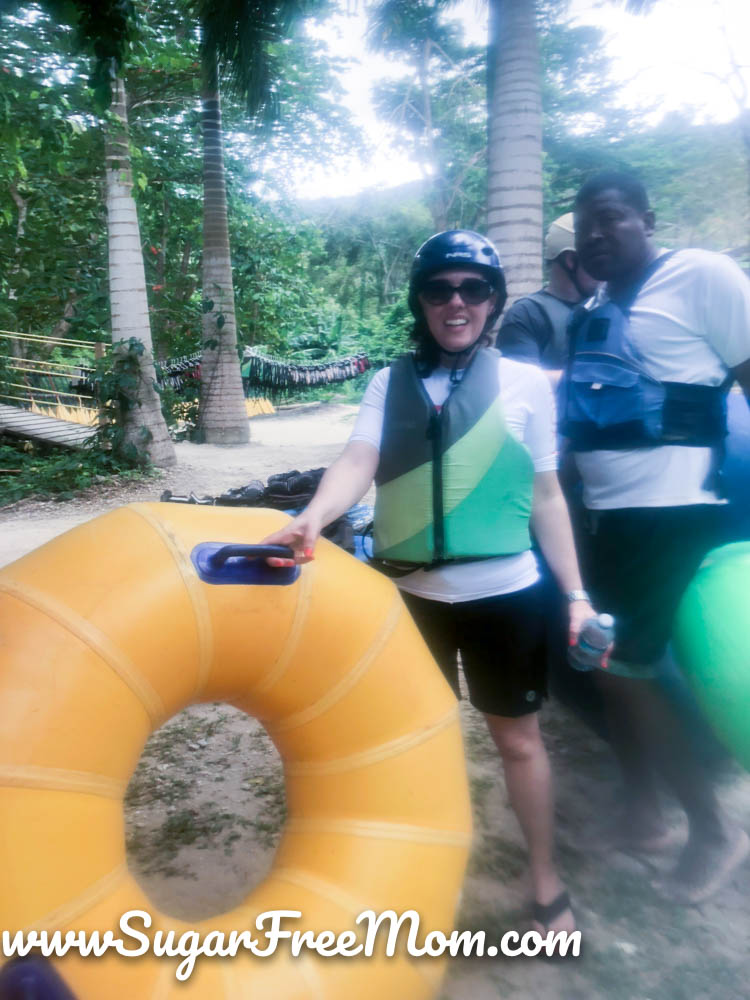 Do something you've never done before! I went on a tubing excursion! I was so scared, but it ended up being wonderful to share these memories with my family!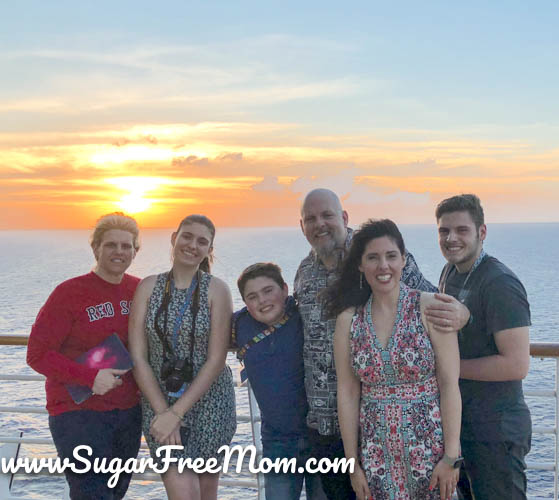 I had hoped to not gain any weight while on this trip, but sadly I gained 4 pounds. It wasn't that I ate anything I shouldn't but I just ate more than my body needs. In the first week home I lost 3 pounds and the second week home I was back to what I was when we had left for the trip. I don't regret a minute of it, it was a wonderful vacation to remember with my family!
Hope my experience will help you feel more confident when it comes to low carb eating while on vacation! It's not always easy but it is doable and you can do it when you set your mind to it!