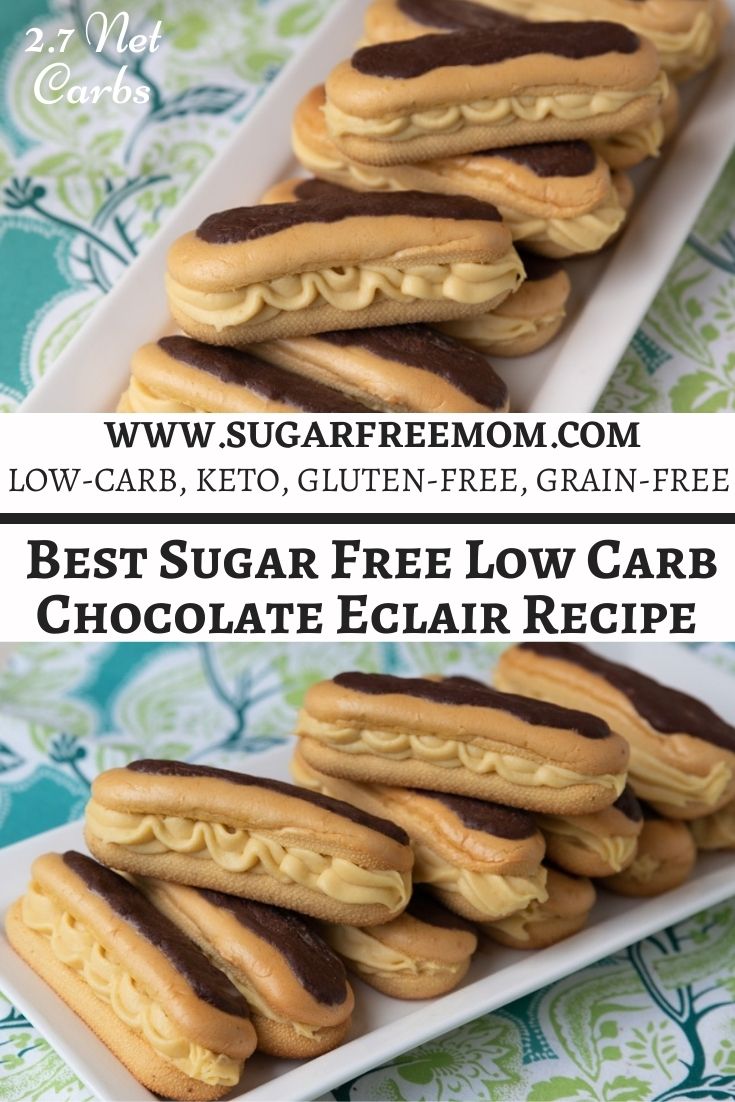 If you're on a keto diet or low carb diet or just looking to reduce your sugar intake, these gluten free, low carb, keto chocolate eclairs with curb your sweet tooth! With a light and airy almond flour free pastry, creamy vanilla pudding like custard and topped with a delicious sugar free chocolate ganache, this will be your perfect dessert to serve for special occasions!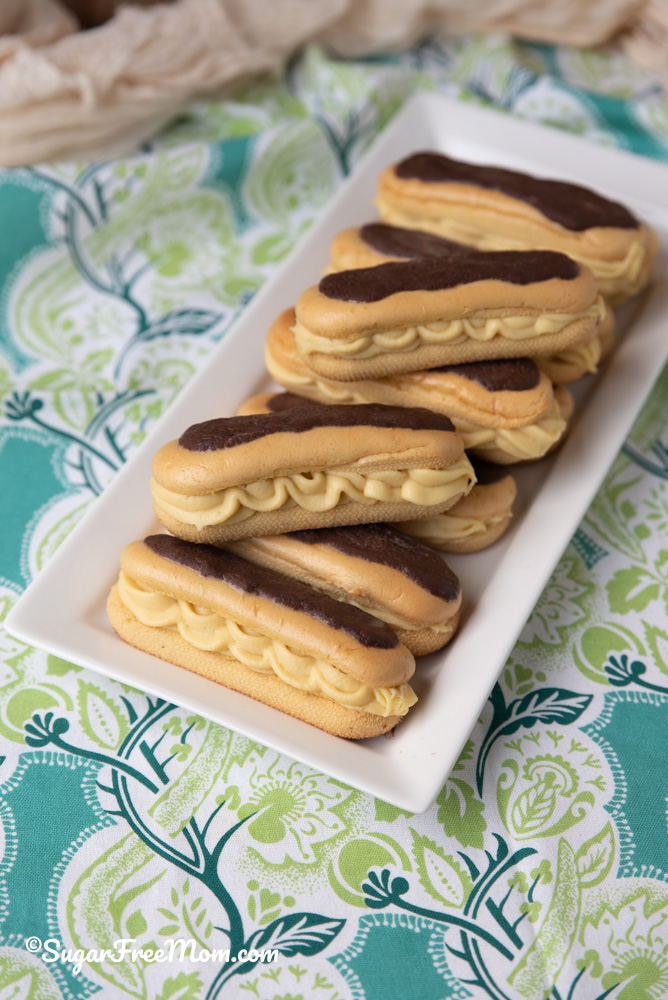 Cloud Bread Keto Eclairs
​The beauty about using my cloud bread recipe for the eclair is that it's an easy recipe to make and doesn't require any low carb flours or wheat flour so it's gluten free and keto friendly.
You can make the eclairs a day ahead of time and then make your custard cream mixture and ganache the next day.
​​A standard 4.5 inch long eclair with cream filling and chocolate icing on the Cronometer app has 273 calories, 28.4 grams of total carbs, 5.4 grams of protein, 15.7 grams of fat.
Our keto eclairs have just 3 total carbs and 2.7 g net carbs per serving!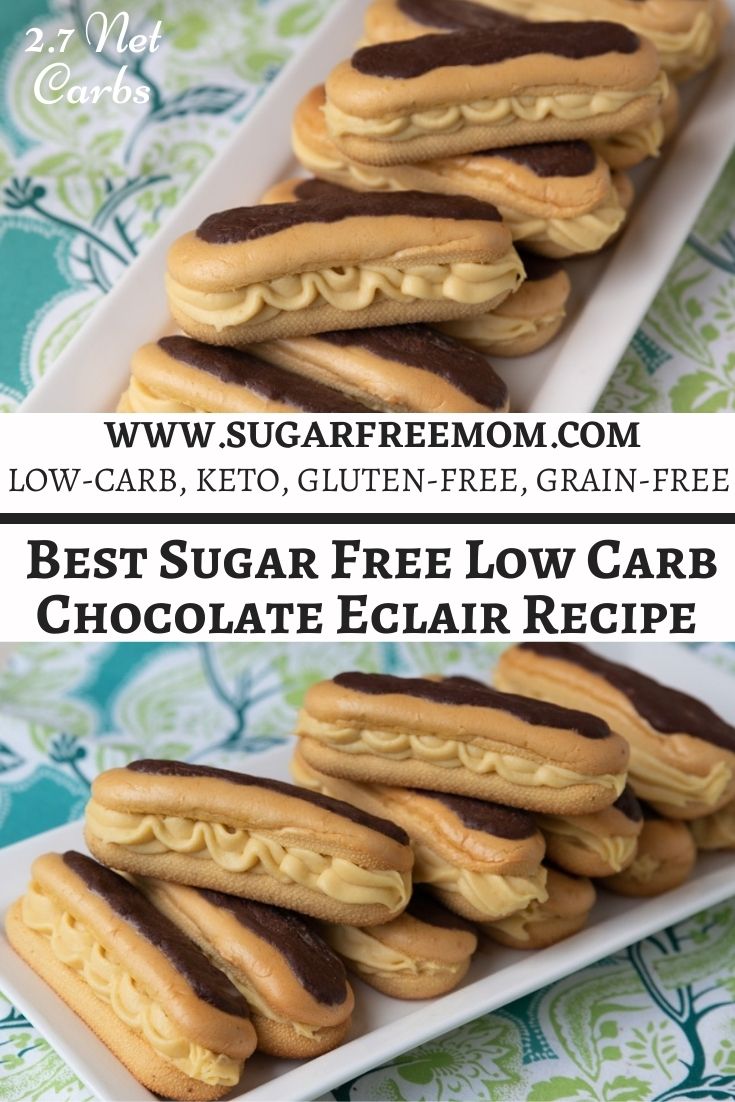 ​Can I turn this into a Keto Chocolate Eclair Cake Instead?
Instead of a keto eclair cake, I'd recommend turning this into an easy keto trifle.
You could prepare my Cloud bread recipe as a loaf, once cooked and cooled, chop into bite size pieces and layer cubes with the custard cream layer and ganache between two or three layers in the dish.
If you want to increase the custard filling to make sure you have enough for a trifle I would make a triple batch.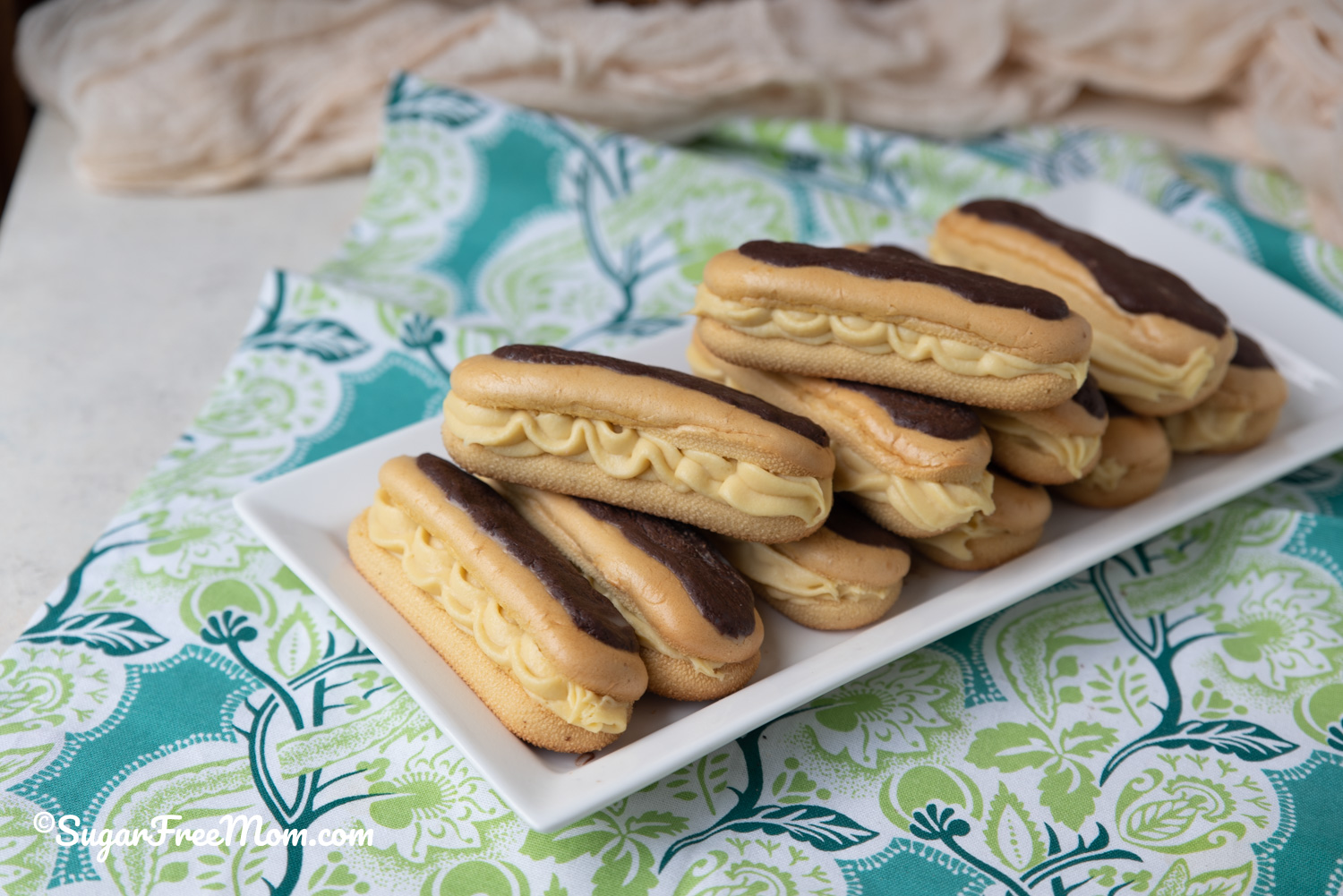 Can I use Sugar Free Instant Pudding Mix instead of making Pastry Cream?
I do not recommend using an instant pudding because of the artificial ingredients that will spike blood sugar levels. If you're on a ketogenic diet, you want balanced blood sugar so that your body can get into ketosis and use your own stored fat for fuel. If your blood sugar is spiked, no fat loss can happen.
​Can I use Sugar Free Whipped Topping instead?
I do not recommend using a store bought whipped cream topping as it is full of unhealthy ingredients, also for an eclair you want more of a custard rather than whipped cream filling.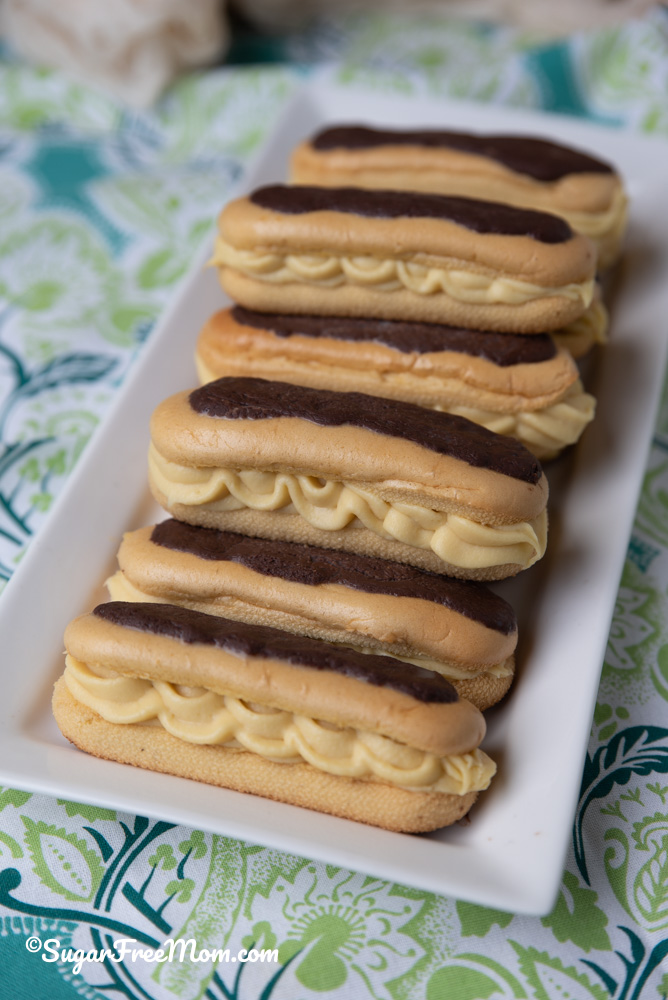 Can I use unsweetened chocolate instead of sugar free chocolate chips?
I would not recommend using unsweetened chocolate bars because they have no fat and tend to not melt as well as sugar free chocolate chips or bars. You would also have to compensate with adding more sweetener to this recipe.
​How to Store
I'd recommend wrapping each eclair in plastic wrap to keep them nice and moist. Store in an airtight container in the fridge for up to 3 days. I would not recommend freezing.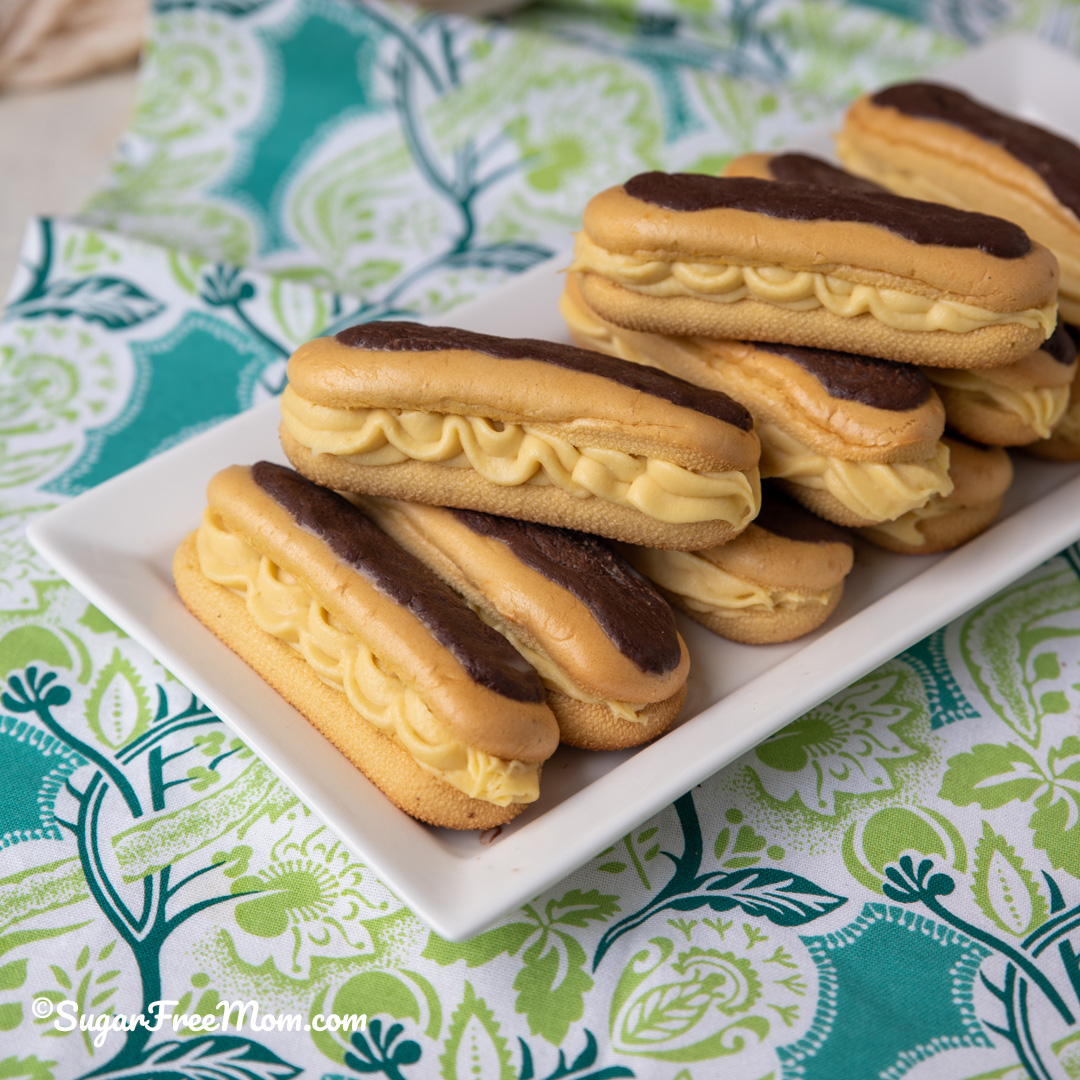 Best Sugar Free Low Carb Keto Chocolate Eclairs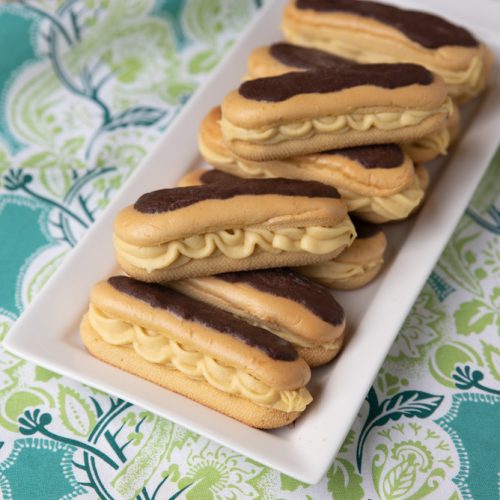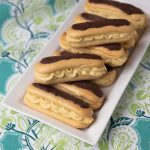 Print
Best Sugar Free Low Carb Keto Chocolate Eclair Recipe
Instructions
Eclairs
Preheat oven at 300 degrees F.

Place your egg whites in a stand mixer with vinegarand whip until stiff peaks. This should take about 10-15 minutes. Set aside.

Place the egg yolks in a high powered blender with the remaining ingredients and blend until smooth.

Spoon some of the yolk mixture into the whipped egg whites and blend until combined. Do this in 3 batches until combined.

Pour batter into a 12 capacity hot dog mold.

Bake on the middle shelf of oven for 23-25 minutes. Allow to cool before removing and slicing.
Custard Filling
Warm the cream in a medium saucepan over medium heat. While the cream is heating, whisk the egg yolks in a small bowl until they are light in color.

Once the cream is hot but not boiling, pour a small amount of the cream into the whisked egg yolks to temper them. Whisk to combine, then add a bit more (about half of the hot cream in total) to the yolks. Pour the tempered yolk mixture into the saucepan and reduce the heat to low while continuing to whisk the mixture.

Add the confectioners'-style sweetener and salt and continue to whisk until the mixture is at a rolling boil. Remove from the heat and whisk in vanilla extract and stevia.

​Sprinkle xanthan gum over the filling and whisk until it is all absorbed. Allow to cool on the stovetop for about 30 minutes and then refrigerate for 2-3 hours before filling the eclairs.
Ganache
Bring the cream to a boil in a small saucepan over medium-low heat. Meanwhile, add the chocolate chips to a small bowl.

Once the cream is boiling, sprinkle the chocolate chips over the cream and turn off the heat. Let stand for 5 minutes before stirring. After 5 minutes, stir until the ganache is completely smooth and there are no lumps.

Spoon and spread the ganache over the eclairs. Keep in mind, the longer the ganache sits, the thicker it becomes.
Nutrition
Serving:
1
serving
|
Calories:
326
kcal
|
Carbohydrates:
3
g
|
Protein:
11
g
|
Fat:
28
g
|
Saturated Fat:
4
g
|
Polyunsaturated Fat:
1
g
|
Monounsaturated Fat:
1
g
|
Trans Fat:
0.01
g
|
Cholesterol:
146
mg
|
Sodium:
199
mg
|
Potassium:
73
mg
|
Fiber:
0.3
g
|
Sugar:
0.3
g
|
Vitamin A:
201
IU
|
Calcium:
34
mg
|
Iron:
1
mg