This easy layered Mexican lasagna is layered with my popular Low Carb Cauliflower Tortillas! It's gluten free, grain free and low carb!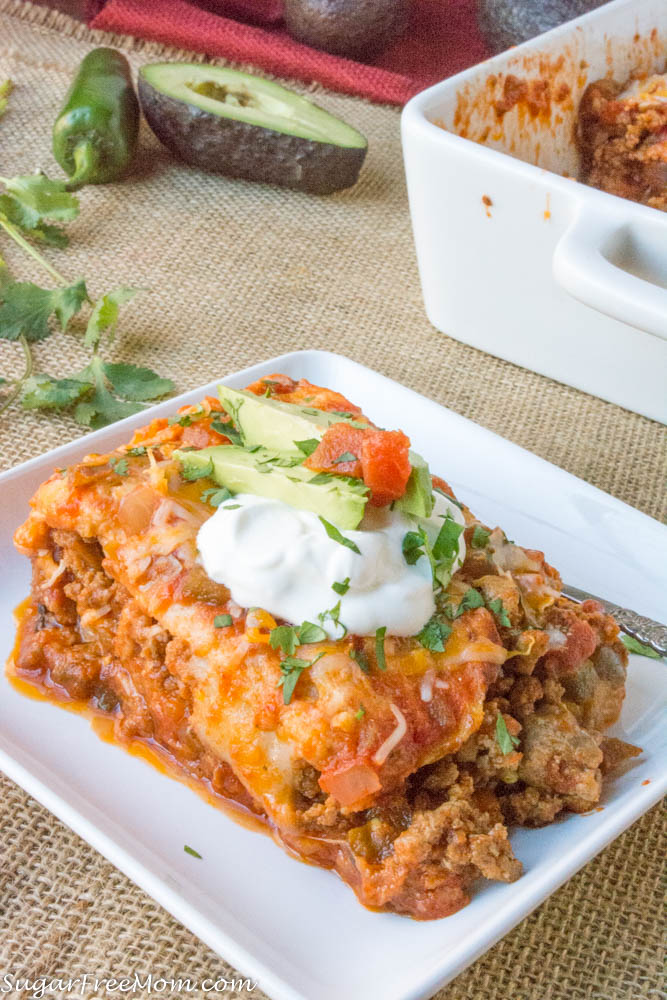 This hunky piece of Mexican lasagna is comfort food all the way! Layers of tortillas, ground meat, salsa and cheese and then topped with your favorite Mexican toppings makes you think you are eating way to many carbs for this to be in a low carb menu plan. But it is!!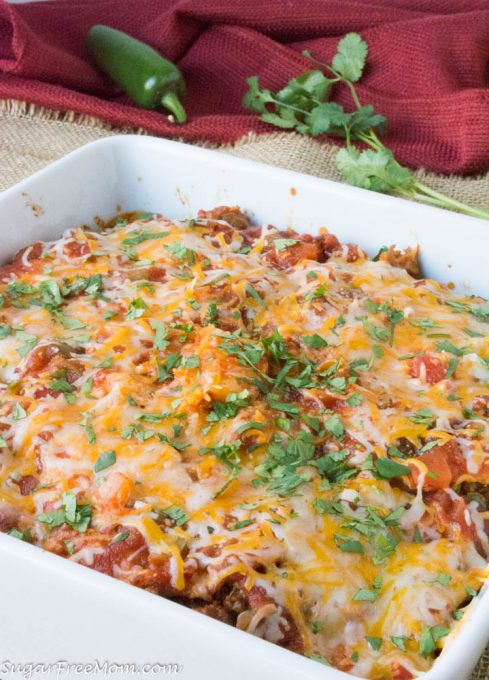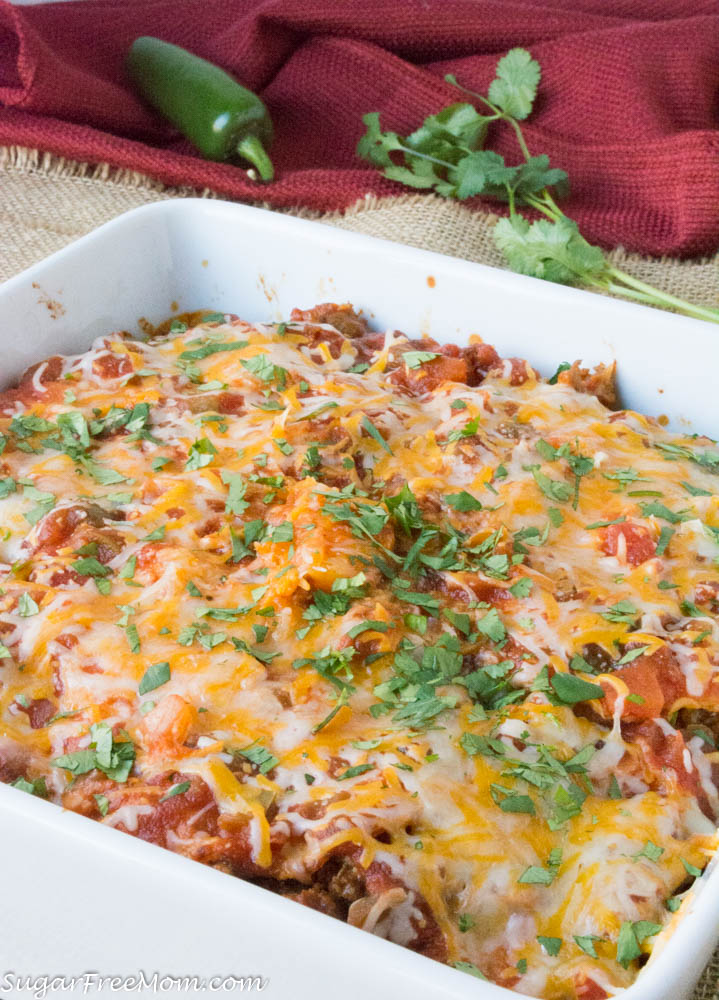 I love creating low carb and sugar free recipes for traditional meals and desserts I used to love. Salsa, sour cream, avocado, tacos, burritos, anything Mexican you can think of and I was all over it. Once I made my Cauliflower Tortillas I knew they would be perfect in making this lasagna.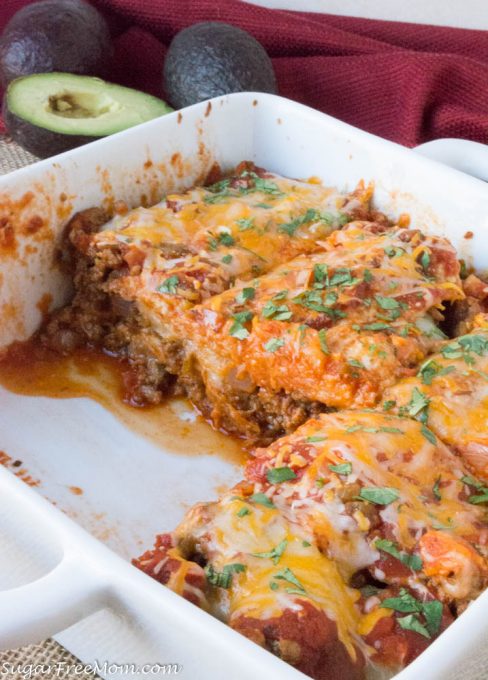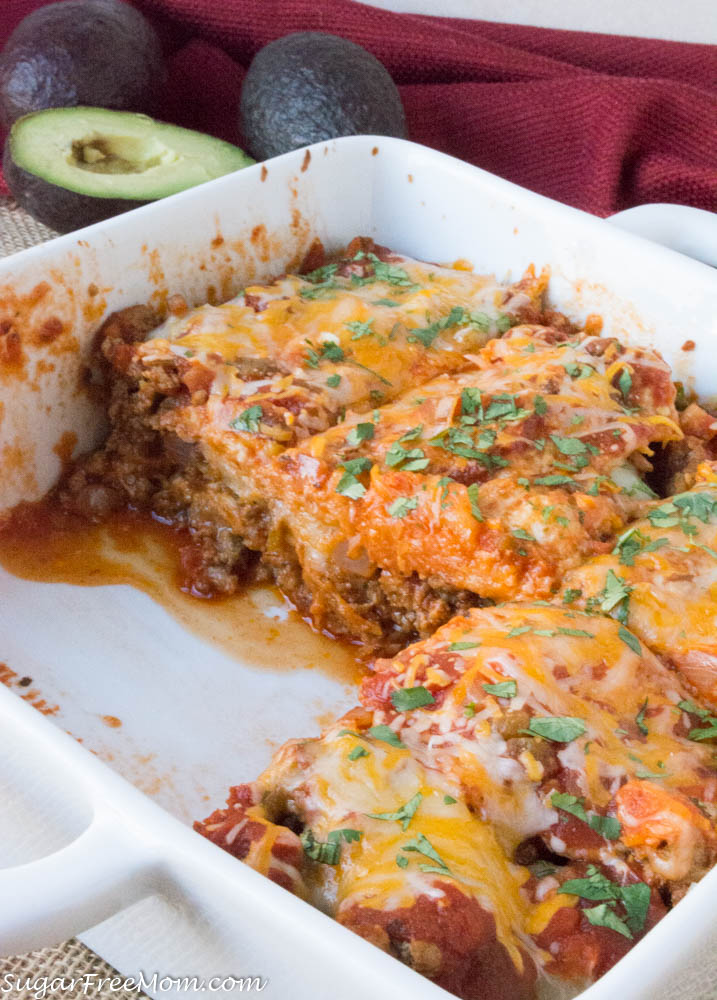 If you're a Mexican food lover like me, this has everything you hope it will. Each bite is filled with a little of everything and I promise you no one will even be able to tell the difference with the tortillas!
My very picky sister-in-law who isn't much of a fan of vegetables, was completely surprised when she tried this. She just could not believe the layers of tortillas were made with cauliflower. This is a Sneaky Cauliflower recipe at it's best!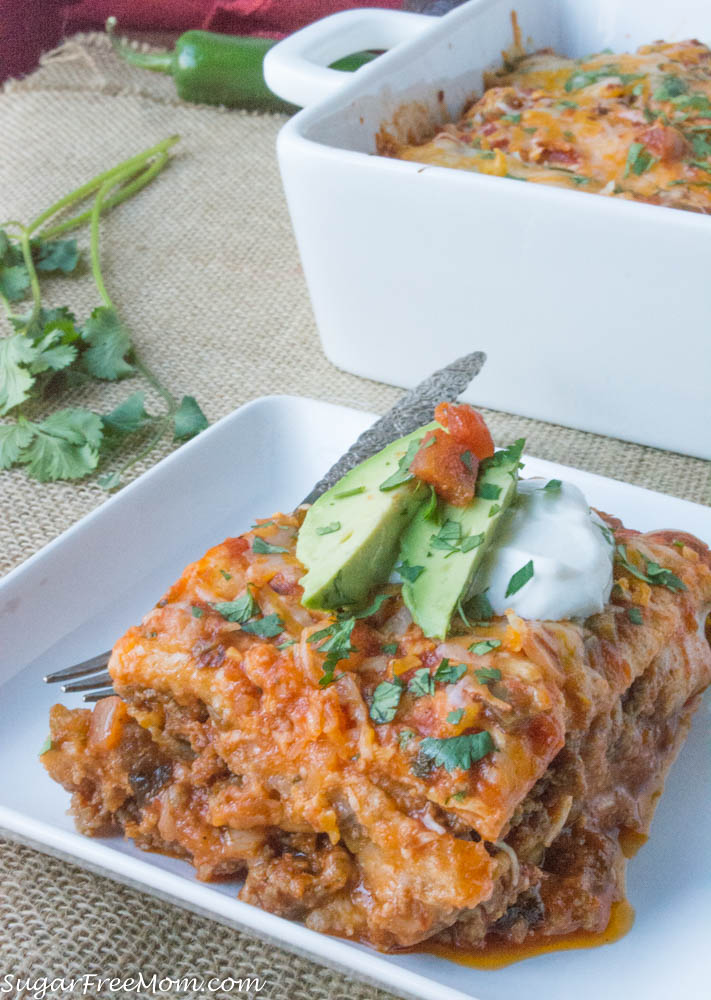 So hearty, filling, and satisfying! You get a pretty good large piece as well for just 8 net carbs! You could even cut the pieces smaller if you need less carbs for this meal.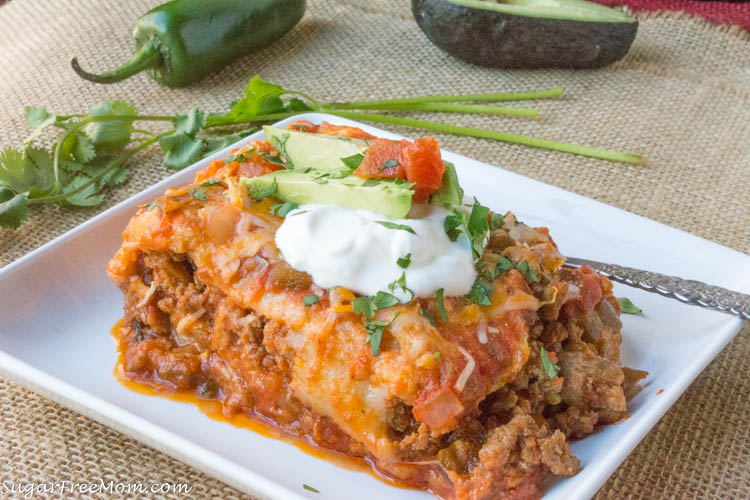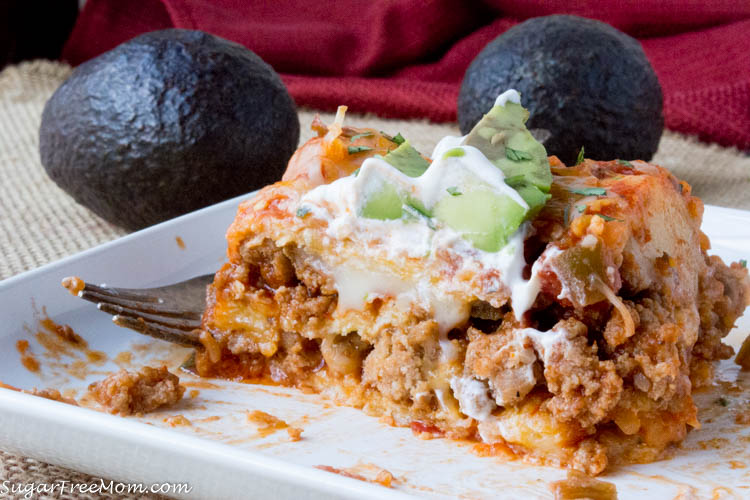 Brenda's Notes:
Adapted from my Mexican Taco Lasagna that is not low carb using store bought tortillas.
The nutrition info uses ground turkey. If you choose to use ground beef the nutrition info will be different and increase the fat and calories.
You can certainly use another low carb tortilla recipe that is not my own, but obviously the nutrition info is for using my tortillas and it is linked within the recipe to view.
You can use any oil you prefer to replace my avocado oil.
You can also change out the Mexican shredded cheese for any cheese you prefer. The Mexican blend includes- Queso, Asadero, mild cheddar and Monterey Jack.
In the pictures I originally cut the slices into 6 servings, but they are HUGE. 8 portions is a more appropriate serving. You can cut servings into 12 smaller slices and your net carbs will reduce to 5.7g.
Here's the link to the cauliflower tortillas.
Enjoy!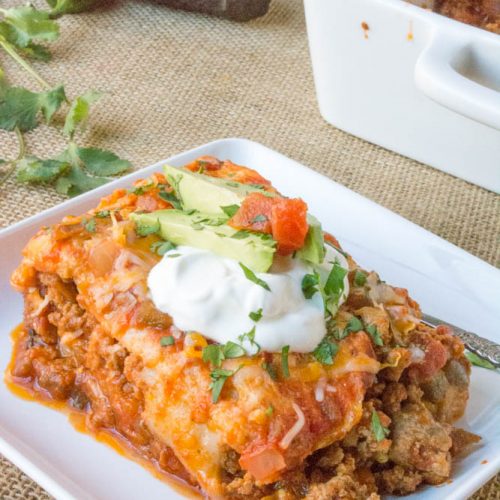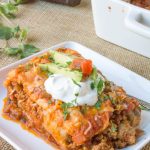 Print
Low Carb Mexican Lasagna
Instructions
Heat the oil in a large skillet and cook ground turkey until no longer pink.

Add in seasonings and 16 ounces of salsa to the cooked meat. Set aside.

Preheat oven to 350 degrees.

Add a spoonful or 2 of salsa and spread on the bottom of the pan you are using.

Lay 4 tortillas overlapping on the bottom of a 9 x 9 sized pan.

Layer half of the meat mixture over the tortillas.

Sprinkle 4 ounces of shredded cheese over the meat.

Pour 2 ounces of salsa.

Layer another 4 tortillas. The rest of the meat mixture and remaining cheese and 2 ounces of salsa.

Top with the last 4 tortillas and spread with remaining salsa.

Cover and bake for 20 minutes.

Allow to cool for 15 minutes before slicing and serving.

Top with additional toppings if desired.
Nutrition
Serving:
1
g
|
Calories:
287
kcal
|
Carbohydrates:
9.1
g
|
Protein:
23
g
|
Fat:
15.9
g
|
Saturated Fat:
6.8
g
|
Cholesterol:
100
mg
|
Sodium:
1005
mg
|
Fiber:
1.1
g
|
Sugar:
4.1
g