These Cheesy Low Carb Bacon Egg Muffin Tops are the perfect make ahead breakfasts for busy back to school mornings!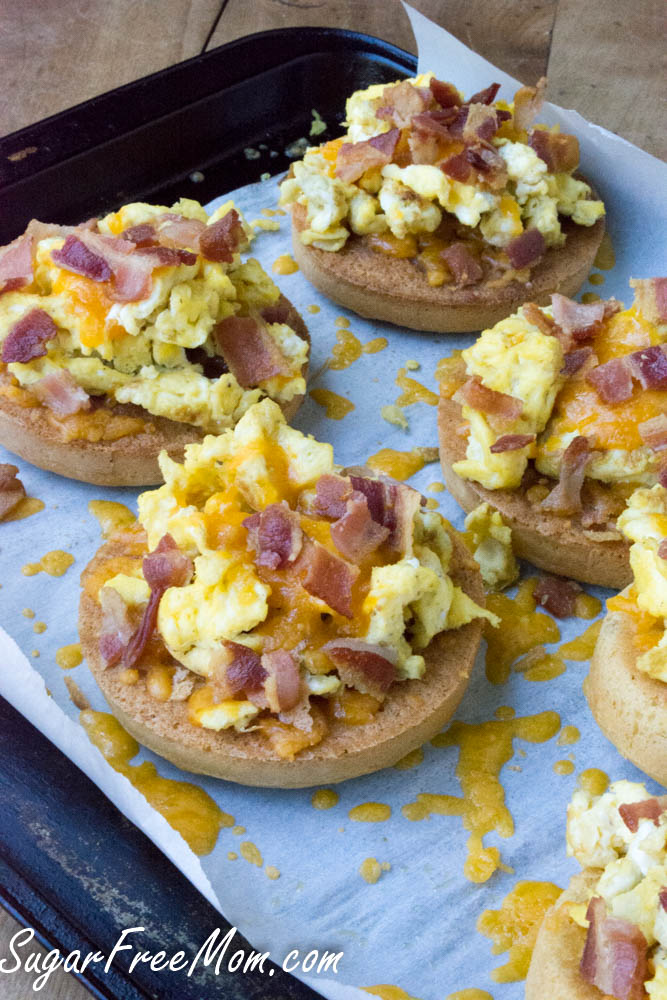 Whether your life is busy with kids or work, make ahead breakfasts make life a little bit easier. A prep once in the kitchen kind of meal that provides a few days worth of easy reheating- Grab-N- Go- style breakfasts are always a winner in my house!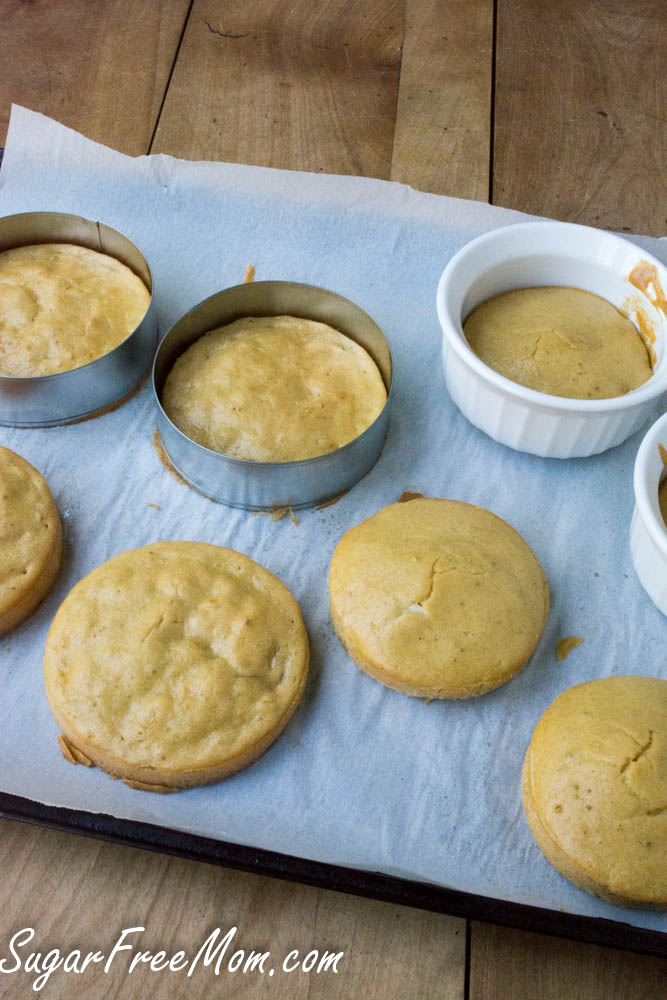 When you start with a tasty, low carb English Muffin, the rest is a piece of cake to put together. A little effort in the kitchen for less than an hour will bring you days of happy mornings!
You can see from this pic above the English Muffin rings make for a flatter and larger looking English Muffin. If you don't have the rings, use ramekins as I have above, these are 7 ounce ramekins.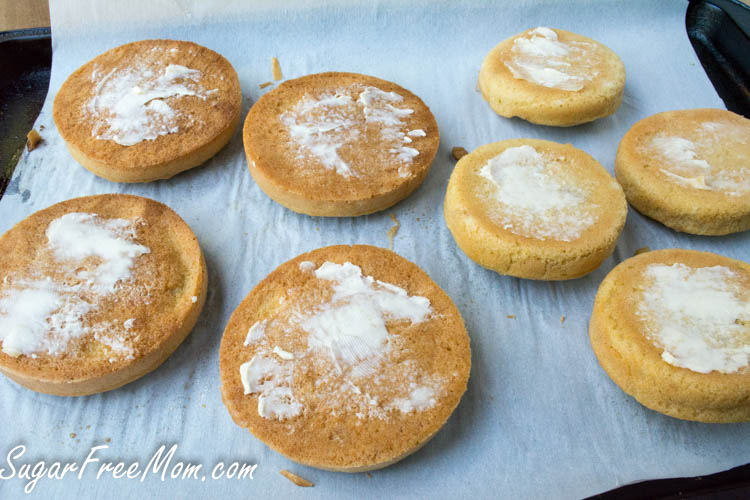 Once baked, flip over for a nice flat surface to work with. Butter and top with the remaining ingredients! Easy and delicious! You won't have anyone complaining about enjoying this for breakfast!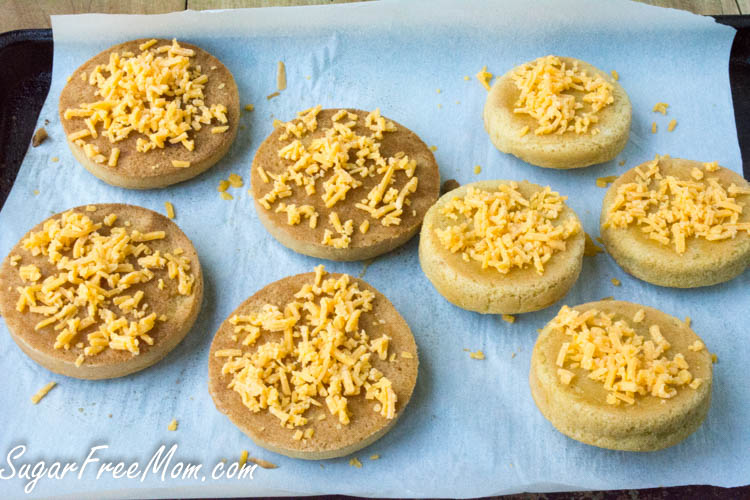 You can use whatever cheese you like. I always have shredded cheddar in my fridge so that's what I used. But feel free to change it up to what you prefer.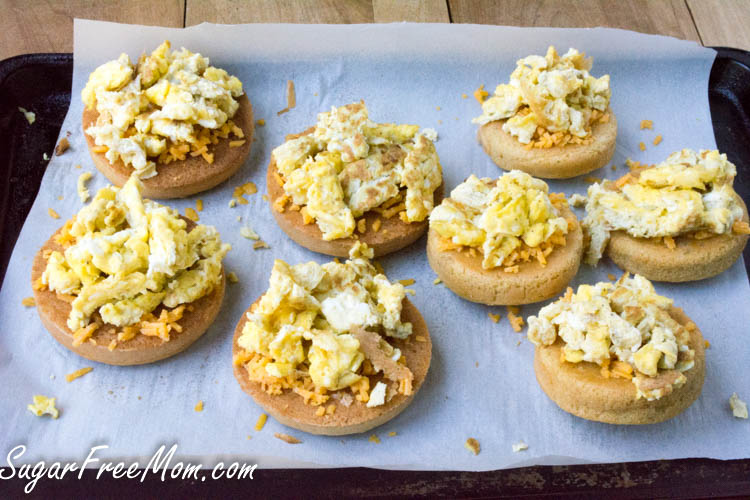 Once you made some scrambled eggs and cooked up some bacon the rest is just as easy. Like I said, a little bit of time in the kitchen once does pay off the rest of the week. These will stay great for at least 5 days in the fridge.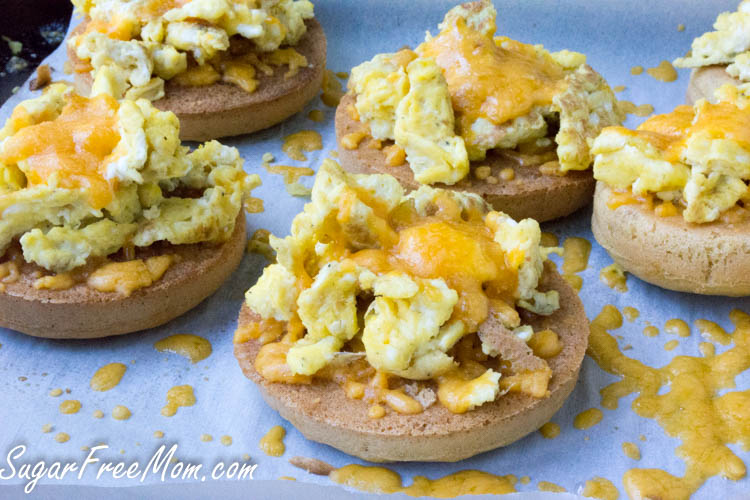 You don't need to add bacon, but since my family loves it, it was a must for them. Nutrition info does include the bacon, please keep that in mind.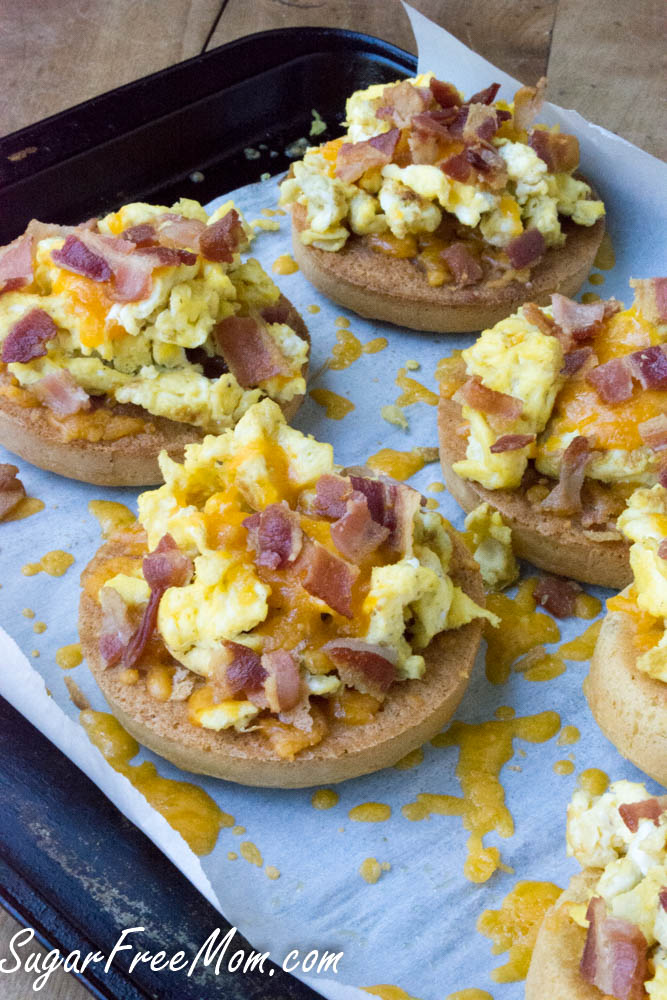 We had recently traveled to the Catskills for a vacation with my brothers, parents and their wives. We stayed one night at a Hampton Inn, before actually getting to the vacation house. For the breakfast options they had some nice hard boiled eggs, fruit and these cheesy looking egg muffin toppers. My kids were excited to try them but since they were neither gluten free or low carb, I passed, but the idea for making them at home stuck with me and my kids think these are better than the ones they tried in the hotel!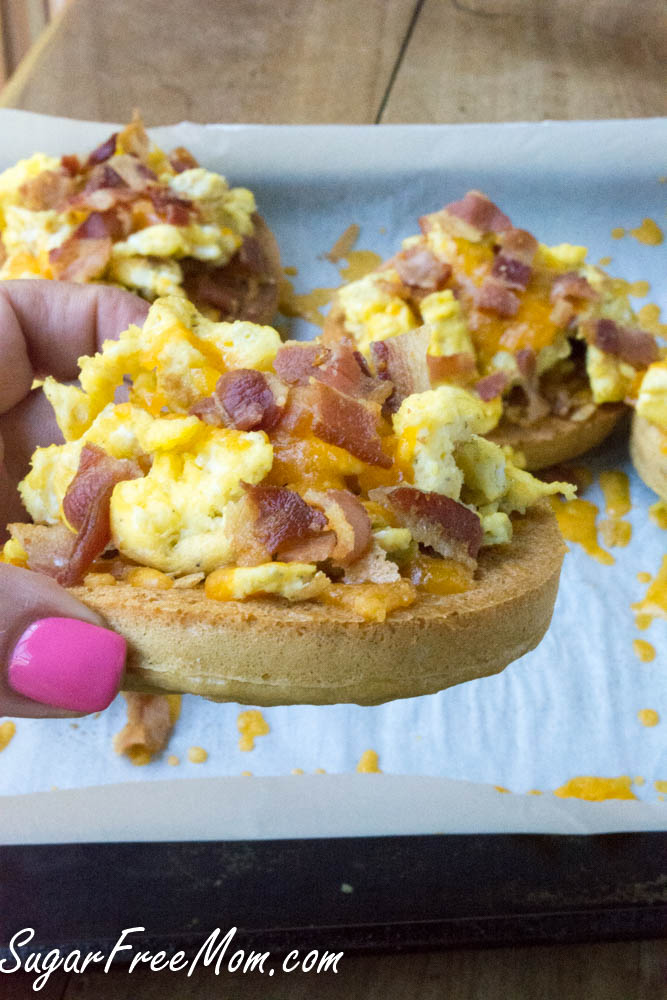 Traveling can be challenging with kids, but it sure does help when you get inspired by foods and recipes you've seen while on the road. That to me is worth the sometimes difficult travel time to get to a destination. I get so many ideas and come home and revamp what I've seen to make healthier versions!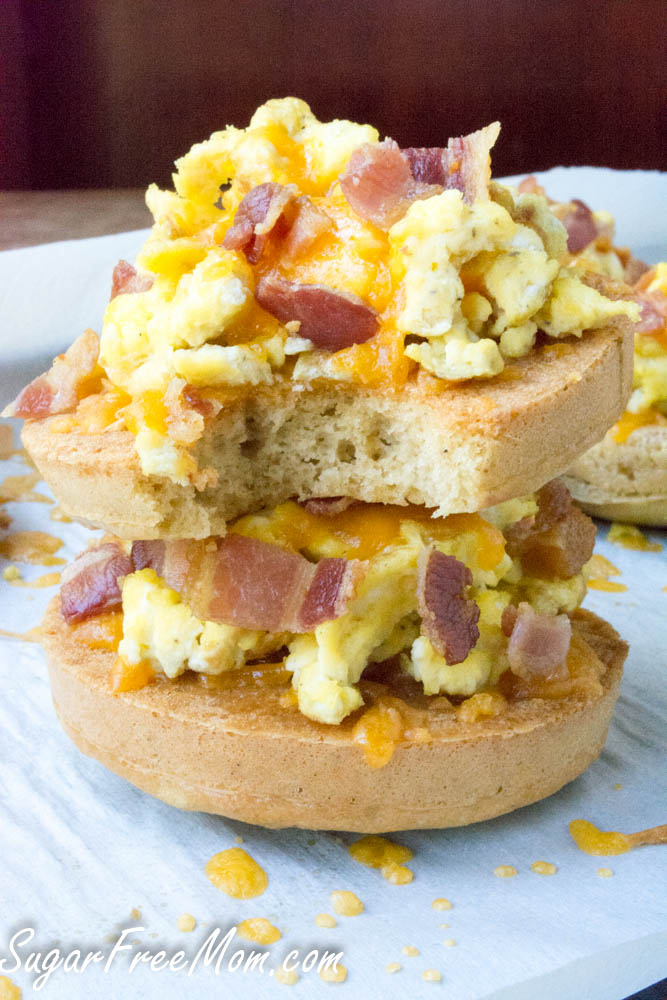 These are perfect to just pick up and get going when in a rush. You really don't need much else, maybe a napkin is about it so yummy goodness doesn't fall into the car!
It's also a perfect meal in and of itself. But could also add some cooked spinach in with the scrambled eggs as well to get a little green veggie in the kids.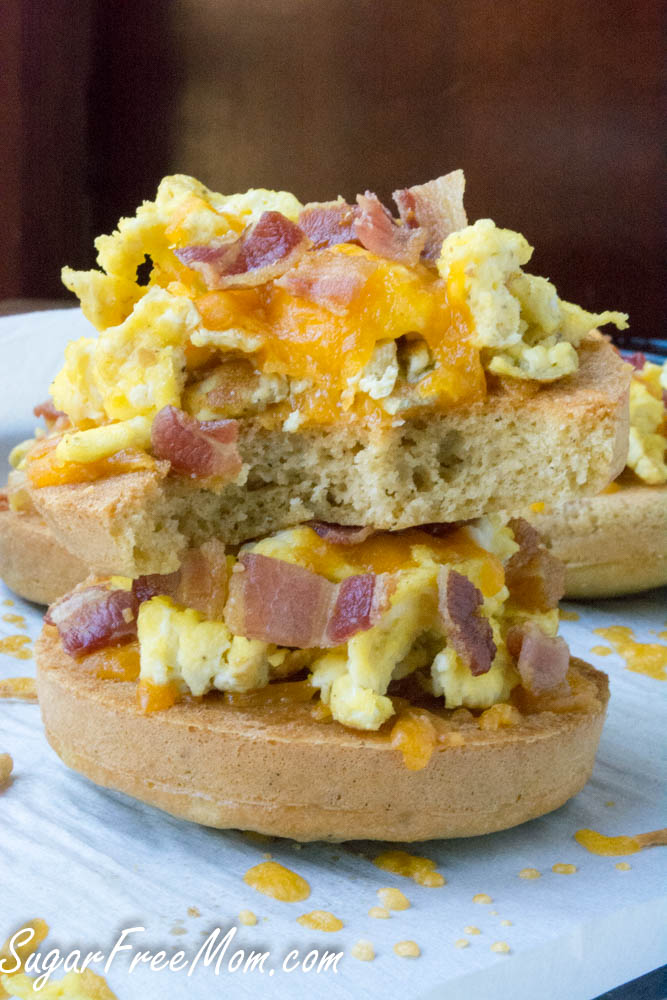 I'm sure you could get pretty creative with this recipe and change out the toppings to other things, but for now this will do and it will do well for a stress free back to school recipe!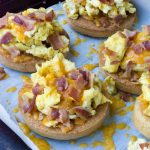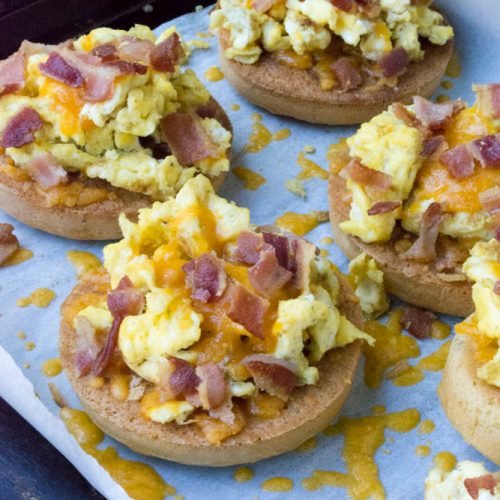 Print
Cheesy Low Carb Bacon Egg Muffin Tops
Ingredients
Entire recipe: Paleo English Muffins

4

ounces

Applegate uncured bacon

6

eggs

beaten

8

ounces

shredded cheddar cheese

2

tablespoon

butter
Instructions
Prepare english muffins according to recipe, but instead of making the 4 servings, please split the batter into 8 servings so you have just one half of an english muffin.

Once baked, remove from molds or ramekins and set aside on baking sheet to prepare the remaining ingredients.

Cook bacon in a large skillet until browned but not crisp since you will be broiling them after preparing the muffin tops. Set aside to drain on paper towels.

Heat 1 tablespoon of butter in a skillet and stir in eggs. Continue to stir eggs until cooked through and no longer runny.

Use remaining butter to spread on the English Muffins. I flipped mine over as I felt it was easier to add toppings on the underside of the muffin.

Sprinkle on half of the cheese, top with eggs and remaining cheese on each muffin top. Sprinkle on bacon and broil for 1-2 minutes until cheese is melted.

Enjoy immediately or allow to cool completely. Wrap individually in ziploc bags, aluminum foil or saran wrap. Place in the refrigerator for up to 5 days. Reheat on a microwavable plate by microwaving for 30-45 seconds.
Nutrition
Serving:
1
g
|
Calories:
335
kcal
|
Carbohydrates:
6.2
g
|
Protein:
18.6
g
|
Fat:
26.9
g
|
Saturated Fat:
9.9
g
|
Cholesterol:
244
mg
|
Sodium:
569
mg
|
Fiber:
1
g
|
Sugar:
0.9
g