I've contemplated a long time whether or not to even make cookies for my blog. I have to confess.....I'm just not that into them. I've never been one of those Christmas baking, cookie- swap making woman. Occasionally there have been years where I went full- forced into the baking season starting in November and freezing all my varieties, but those times have been far and few between. Mostly wanting to reminiscence about my wonderful grandmother who passed down some delicious recipes and desiring to keep her holiday baking traditions with our family, I pushed myself to bake them.
Watching your weight and cookie making don't really jive well. Even though I don't particularly care for cookies, it was always the sugar in them that haunted me down and I couldn't stop eating them if they were hanging around, whether I really liked them or not.
So here we are and you must be asking........" Then why are you posting a cookie recipe for goodness sake?!"
Well, because living refined sugar- free and living in this world of holiday parties and cookie swaps, many readers asked for them so they wouldn't be giving into "party peer pressure". I'm sure you know what I mean, you say you won't eat that or this or that and then you do because everyone is enjoying some so why shouldn't you. I know it well because I've done it myself and bringing a healthier alternative is the only way for me to abstain from all the other temptations.
Readers asked me for something they could feel good about eating when attending a party, that wouldn't blow their calorie budget and would most definitely NOT make sugar cravings continue well after the parties were done.
I've experimented with three different types of cookie recipes and I'm pretty pleased with them. But I must state though, if you are looking for a cookie that tastes like a white flour- white sugar overload you are typically used too eating, you will be disappointed. These cookies are delicious, but do not taste typical at all.
I like them just the way they are. My taste testers were of course my family: myself, hubby and 3 kiddies. Hubby is pretty picky about "healthier" alternatives and pretty honest as well. If hubby thinks its awful, it's not blog worthy! My kids loved them and I thought I'd be able to freeze some for Christmas, ha was I wrong!
My boys are allergic to nuts so most of my cookie recipes will exclude them, but you can certainly add ½ cup of chopped nuts to this recipe and it will be divine!
Also, these are still cookies that have fat in them, no other way around it. Yes, probably not as fattening as the standard cookie, but you must exercise discipline. Ya' can't eat 10 and still except a weight loss on the scale. I mean Sucanat, although a better alternative to white refined sugar and one that doesn't make me crave is still a form of sugar. But artificial sweeteners for me personally wreak havoc on my digestive system as well as my taste buds and make me crave. I refuse to use Splenda or other artificial sweeteners to lower the calories or fat in a recipe. I think you will agree when you make them, taste is not compromised in these cookies! This recipe made me 30 good size cookies, but you could certainly make smaller ones and get more that way.
With that....Happy Baking to you!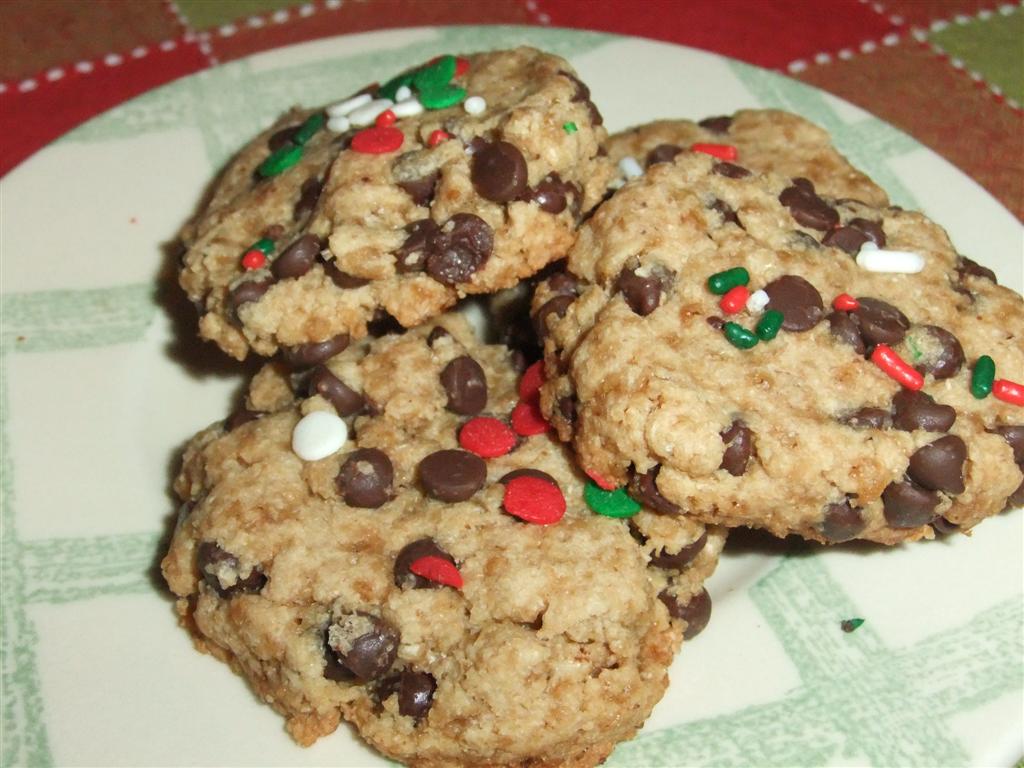 Nutrition Info:
Serving: 1* Calories: 102.5* Fat: 6.2g* Fiber: 1g* Carbs: 6.1g* Protein: 1.7g* Points+: 2* Old Points:2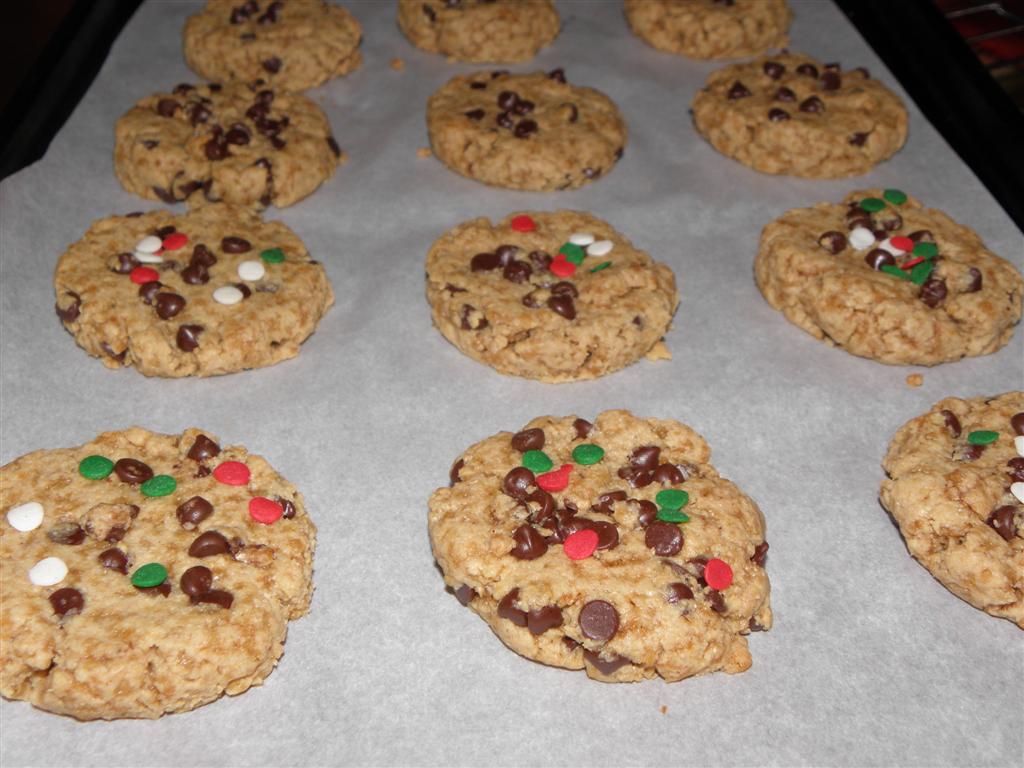 Chocolate Chip Refined Sugar Free Cookies
[sc:Ziplist]
Ingredients
2 c. whole wheat pastry flour
¼ c. butter, unsalted, softened
¼ c. coconut oil
4 oz. light cream cheese, softened
1 c. Sucanat
1 large egg
2 tsp. vanilla extract
½ teaspoon salt
½ tsp. baking powder
1 c. mini chocolate chips ( I used dairy, nut, soy free)
Use my code at iherbs.com check out at save$5, YAJ035)
Directions
Sift together flour, baking powder, and salt in a bowl.
Beat sugar, cream cheese, butter and coconut oil in a stand mixer. Add egg and vanilla.
Add flour ½ c. at a time until all combined.
Mix in chocolate chips.
Preheat oven to 350 degrees. Line 2-3 baking sheets with parchment paper. Use a small ice cream scoop to uniform the size of the cookies, flatten a bit and arrange about an inch apart on the cookie sheet. Decorate as you like!
Bake for 12-15 minutes (mine were perfect at 15) until light golden brown.