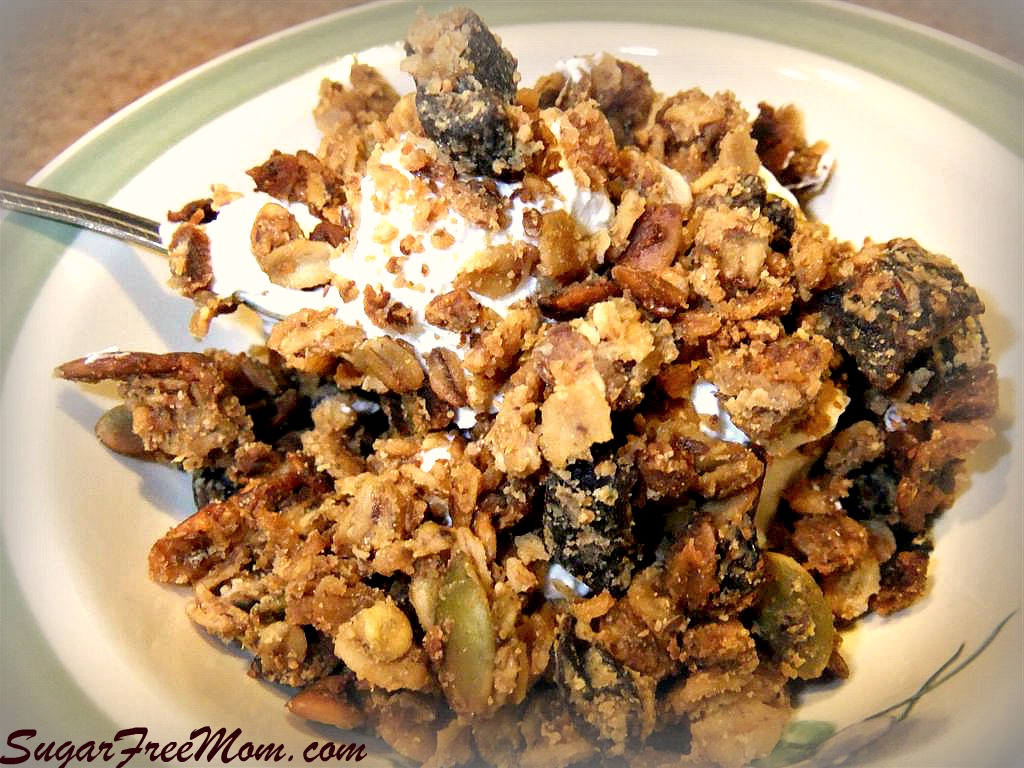 Finding healthy granola bars prepackaged has always been difficult for me. I wanted convenience, but every time I would try a different brand I would be disappointed. They all either were high in calories, full of sugar, never filling and full of ingredients I couldn't pronounce. I decided long ago I wouldn't buy them anymore for myself or my family. They just can't be a substitute for an adequate and healthy meal.
I am continuing to look for a peanut, nut- free bar I can make my boys who are allergic. If you have any suggestions, please let me know! For now hubby, daughter and I tried out this version of "bar" which came from Tosca Reno's book, "Your Best Body Now".I did not alter the recipe at all, only changed almonds to unsalted pumpkin seeds.
As you can see from the picture, they did not come together as a bar, more like granola crumbles which was absolutely delicious in my plain Greek yogurt. As far as taste is concerned it was truly OUTSTANDING!
Nutrition Info:
Servings: 14*
Calories: 194.7* Fat: 7.2g* Fiber: 2.5g* Carbs: 30g* Protein: 4g* Points+:5 Old Points: 4
Sugar-Free Mom's Review Rating
( Renaming it Oat & Granola Crumble)

Taste: A+
Prep time/Cook time: B (Took a bit of time to chop up the dried fruit)

Family Friendly:A+
Weight Loss Friendly: B ( I wouldn't eat this daily because of the high fat, but it does have a lot of fiber and kept me feeling full for quite some time!)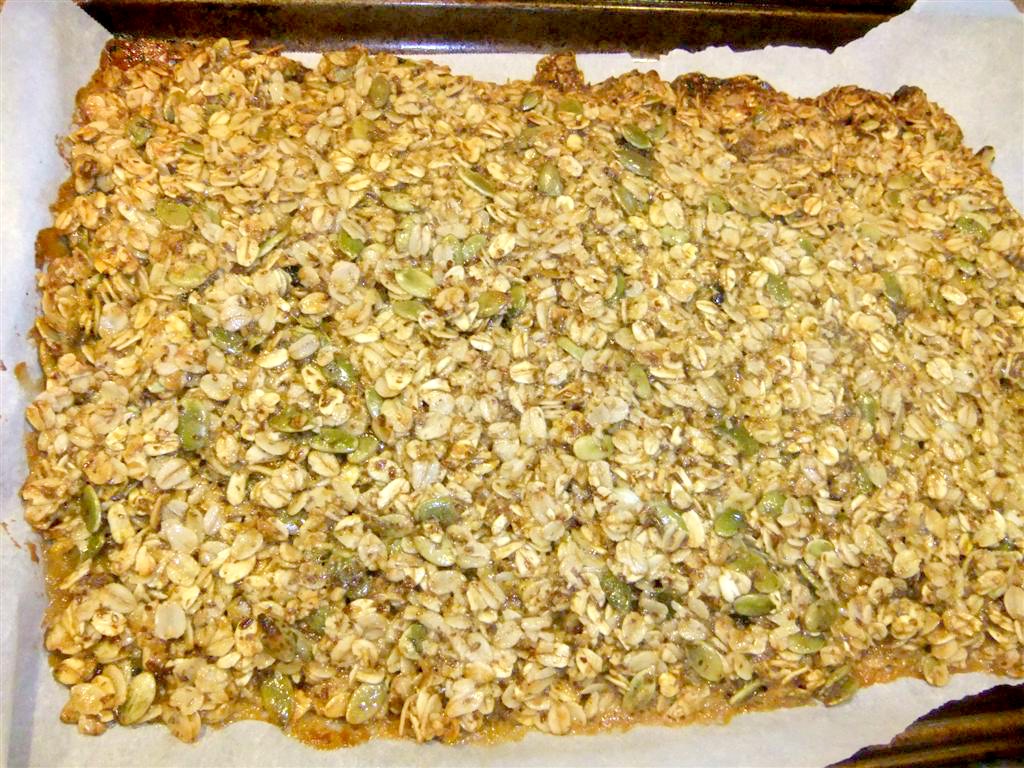 Oat & Granola
[sc:Ziplist]
Ingredients
2 c. rolled oats
1 c. unsalted pumpkin seeds
½ c. wheat germ
½ c. honey
2 large egg whites plus 1 yolk
¼ c. olive oil
¼ c. sucanat
2 tsp. vanilla extract
½ teaspoon salt
½ c. dried apricots
½ c. dried plums
½ c. raisins
½ c. natural peanut butter, sugar-free
Directions
Preheat oven to 350 degrees. Line a baking sheet with parchment paper.
Combine all ingredients ingredients EXCEPT salt, dried fruit and nut butter on baking sheet and toast until golden brown, about 15 minutes.
Line a 9 by 13 glass baking dish with parchment paper. set aside.
Whisk salt, dried fruit and peanut butter in a large bowl, add toasted mixture and combine well.
Pour mixture in baking dish and press down evenly. Bake for 20 minutes until golden brown. Cool and serve as a granola topping over yogurt, inside a baked apple, over oatmeal or individually wrap in a Ziploc bag and use as a grab and go snack.