Mini Whole Wheat Chocolate Pumpkin Breads: No Sugar Added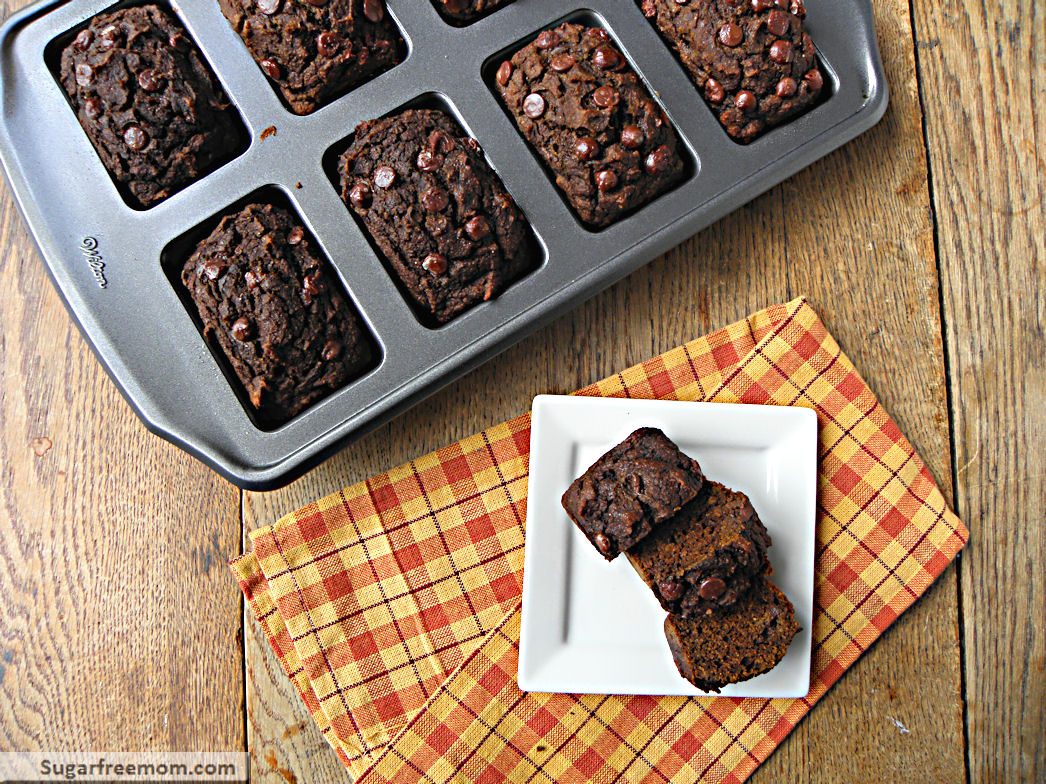 It's pumpkin time!!! Many coming recipes will revolve around it so I hope you like it!!! This recipe is the perfect way to sneak in pumpkin on your family and really they won't even realize it, they will just devour these.
A wonderful reader gave me the idea to change out my mashed zucchini in my recipe for Double Chocolate Zucchini Bread and make it pumpkin!! I was so excited to try it I went right to work. I've made it twice now and the first time was good but not quite as I had hoped it would taste. The second time I adapted the recipe slightly by adding in some eggs and other ingredients and reducing and removing some, but in the end THIS is a recipe my family loves and yours will too!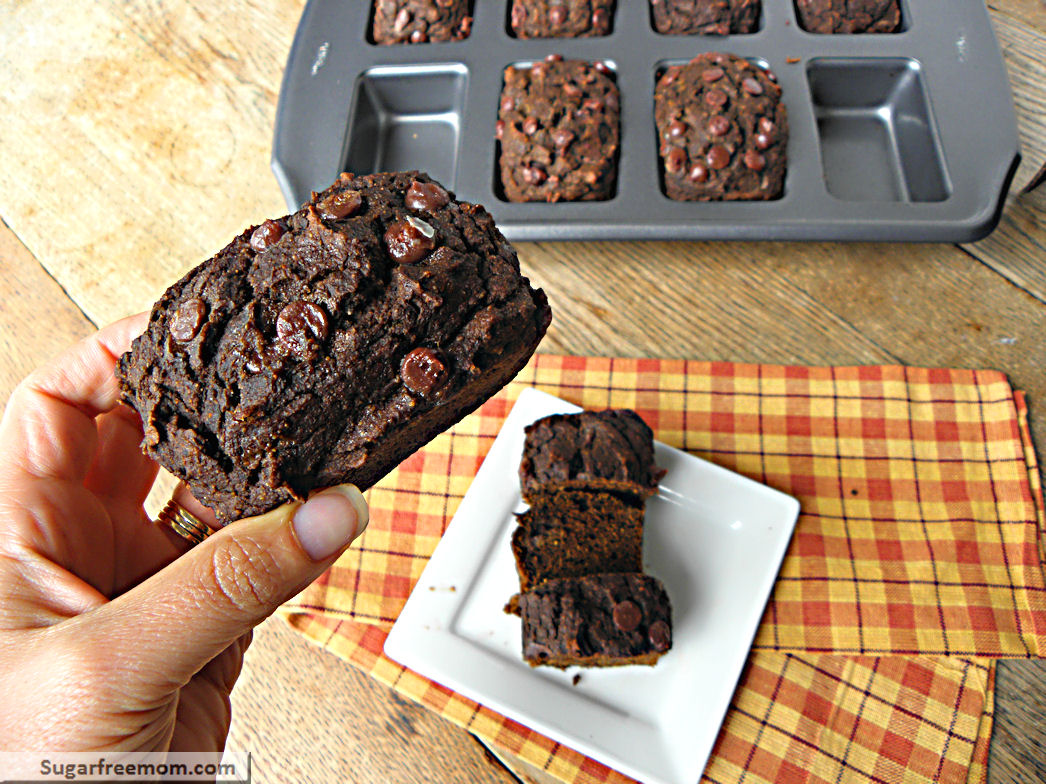 Guess what friends??? YOU CAN EAT THIS WHOLE LITTLE BREAD with No guilt! Without chocolate chips on top it is only 160 calories!!! With the chips its still good at only 226 calories!!! NOT BAD if I say so myself!!!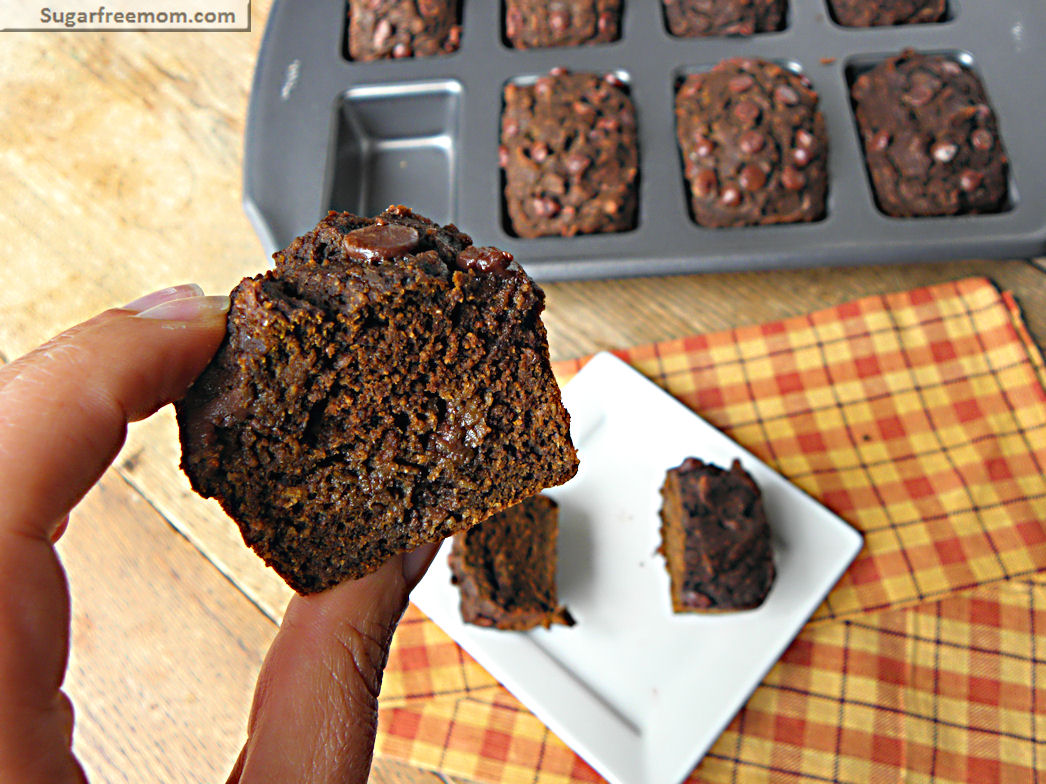 Easier to eat once sliced and the perfect size for little kiddie fingers don't you think?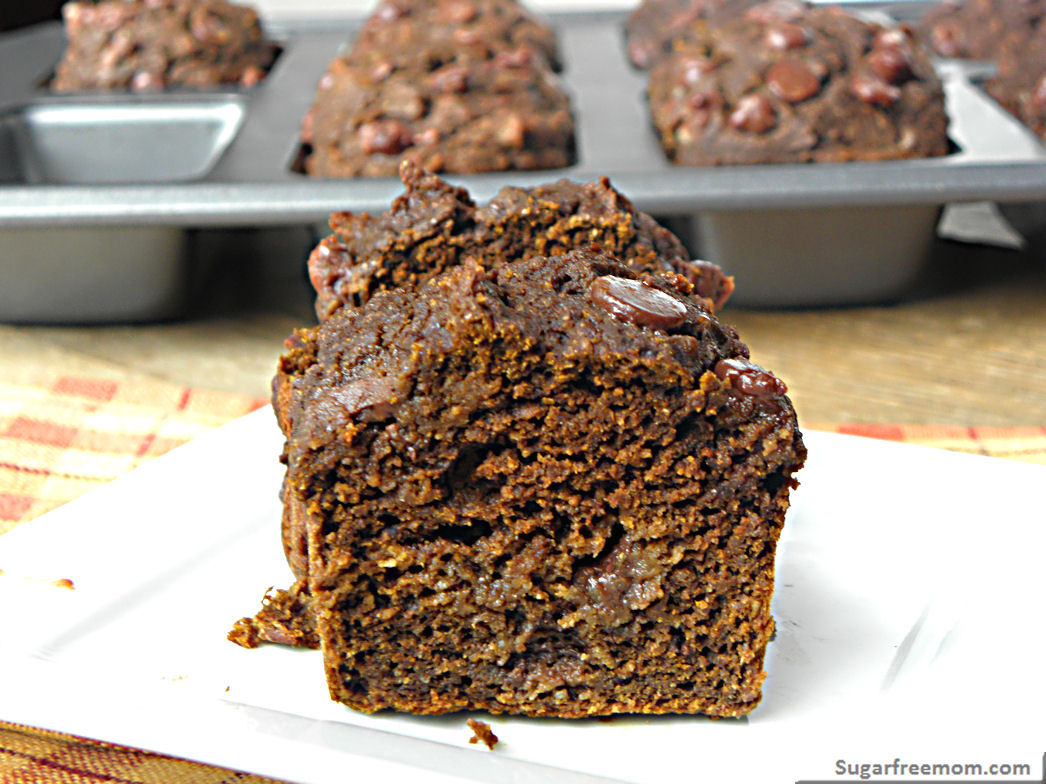 Super moist and with a little orange tint, but still I don't think your kids will notice. All they will see is the color of chocolate and they will eat these babies up!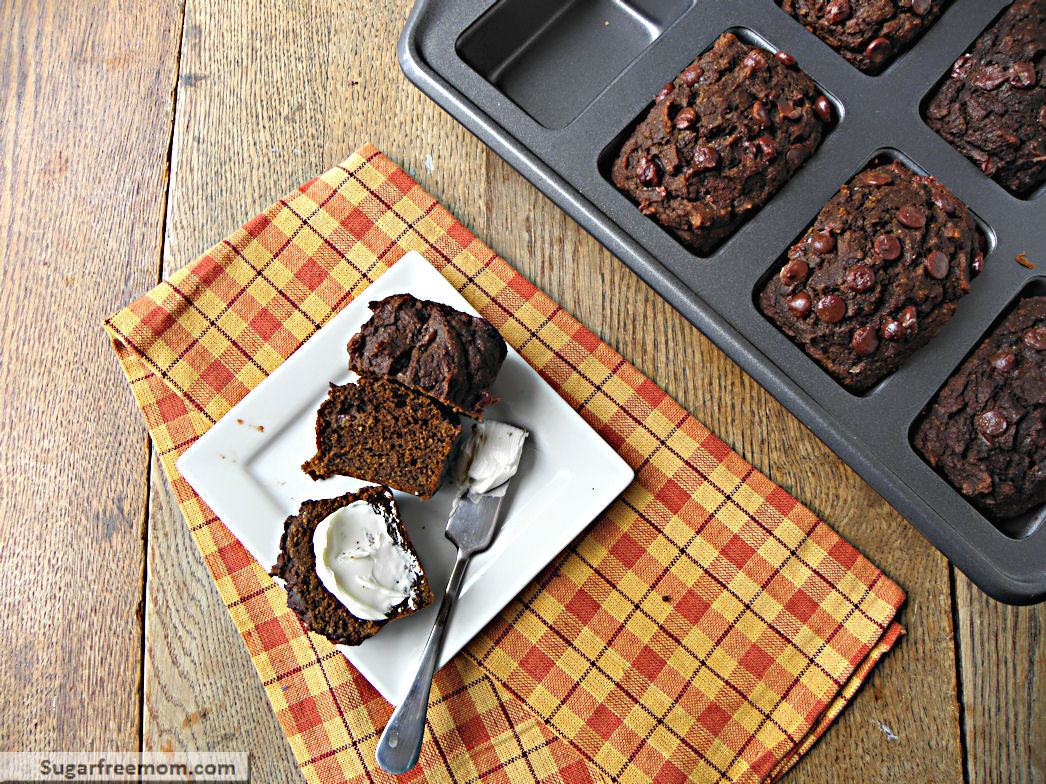 The amount of stevia is from "slightly sweet" using 6 packets or "sweet where the kids won't complain it tastes different" using 8 packets. Click the blue link below for the powdered stevia I use. If you only have liquid you will need anywhere from 4-6 teaspoons and that may use up your bottle so using the powdered is a better option here. If using honey you may need up to a cup.
Eat plain or spread on some lite cream cheese and enjoy with a nice cup of coffee!!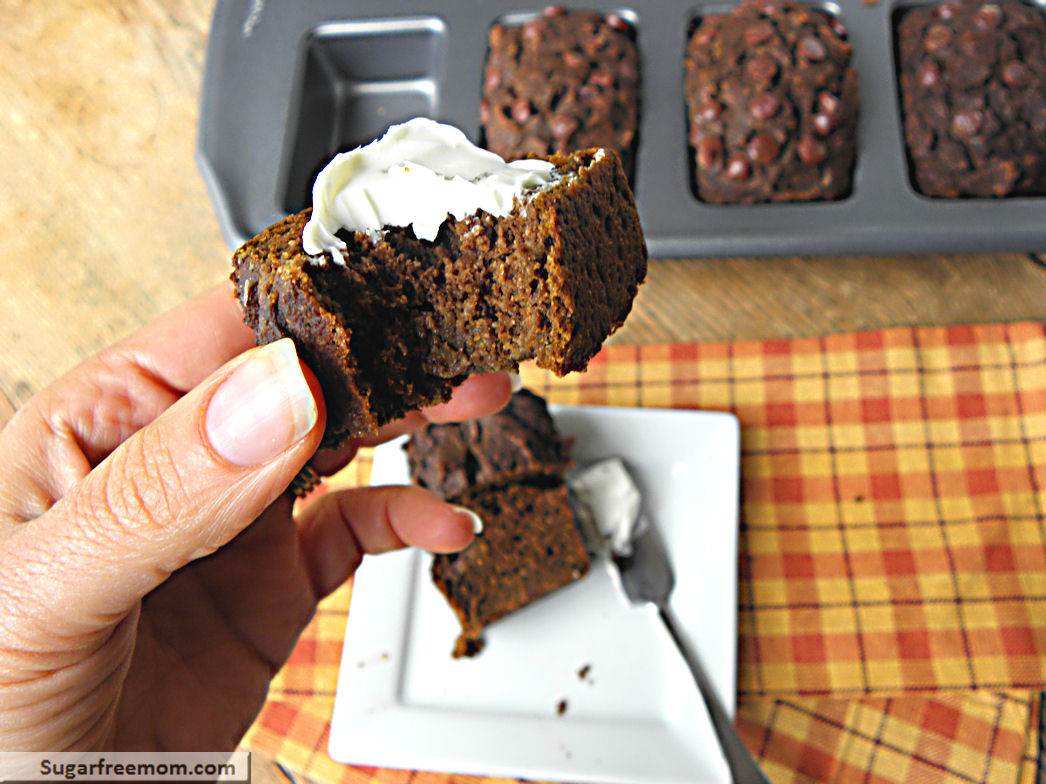 Brenda's Notes:
Gluten Free Flour could be subbed for the whole wheat. Add ½ teaspoon of xanthan gum if your flour does not contain it.
If you don't have packets of stevia, here's my conversion chart to sub different stevia's.
Mini Whole Wheat Chocolate Pumpkin Breads: No Sugar Added
Author:
Prep time:
Cook time:
Total time:
Ingredients
1 (15 ounce) can of pumpkin, no sugar added
½ cup egg whites
2 eggs
½ cup applesauce
¼ cup milk
¼ cup coconut oil, melted
1 teaspoon [url href="http://iherb.com/p/35839?rcode=yaj035" target="_blank"]vanilla extract[/url]
2 cups white whole wheat flour
½ cup cocoa powder
½ teaspoon salt
2 teaspoons baking powder
1 teaspoon baking soda
4 teaspoons pumpkin pie spice
6-8[url href="http://iherb.com/p/38959?rcode=yaj035" target="_blank"] packets stevia[/url]
optional: ½ cup chocolate chips, grain sweetened or sugar-free
Instructions
Preheat oven to 350 degrees.
In a large bowl mix together the first seven (wet) ingredients.
In another bowl mix the rest of the (dry)ingredients except the optional chocolate chips.
Add the dry ingredients to the wet ingredients and stir together until combined.
Prepare a mini loaf pan with nonstick cooking spray.
Evenly pour your batter into 8 mini loaves filling ¾ of the way.
Add optional chocolate chips on top.
Bake 40-45 minutes until a toothpick in center comes out clean.
Let cool for 15 minutes before removing from pan to finish cooling on a wire rack.
Serving size:
⅛th
Calories:
160
Fat:
9g
Carbohydrates:
17g
Sugar:
3g
Sodium:
51mg
Fiber:
5g
Protein:
7g
Cholesterol:
53mg
Notes
Weight Watchers PointsPlus: 4*
*Please note nutrition info above is without optional chocolate chips.
Nutrition Info
[with grain sweetened chocolate chips]
Calories: 226* Fat: 13g* Cholesterol: 53mg* Sodium: 51mg* Carbs: 26g* Fiber: 6g* Sugars: 7g* Protein: 7g* Points+: 6*
Other No Sugar Added recipes you might like: