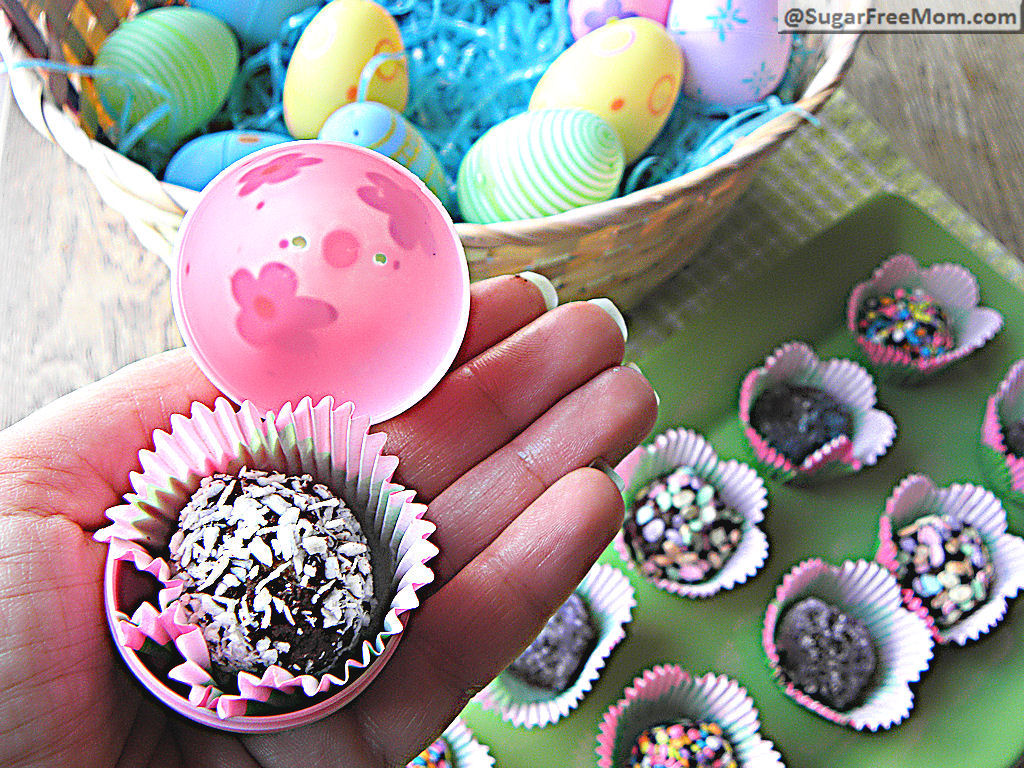 Aren't these cute? Little chocolate truffles in a plastic egg for Easter!
The making of this chocolate takes about 2 minutes! To coat the outside about 3!
...... 5 Minutes......5 Ingredients......SERIOUSLY fantastic 🙂
The EVEN better part? NO BAKING PEOPLE..........NO BAKING!!!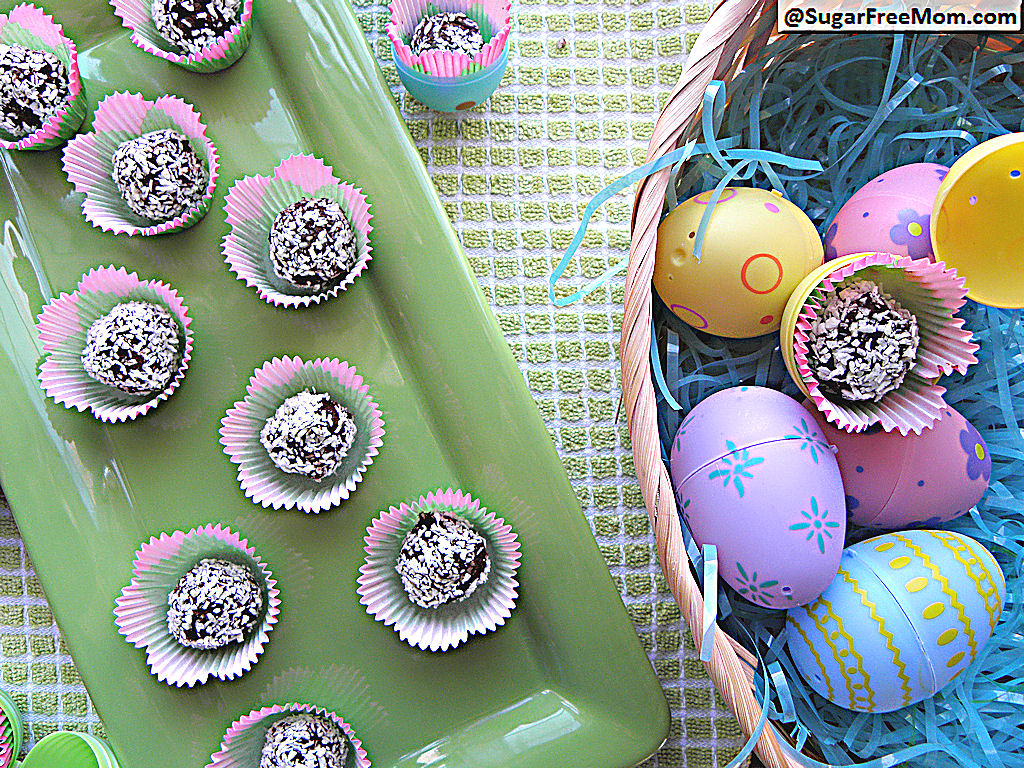 Homemade and so much better for you than anything store bought. Completely sugar free using stevia and very LOW in calories..........you won't believe it till you see it below!
I will even indulge in these little beauties!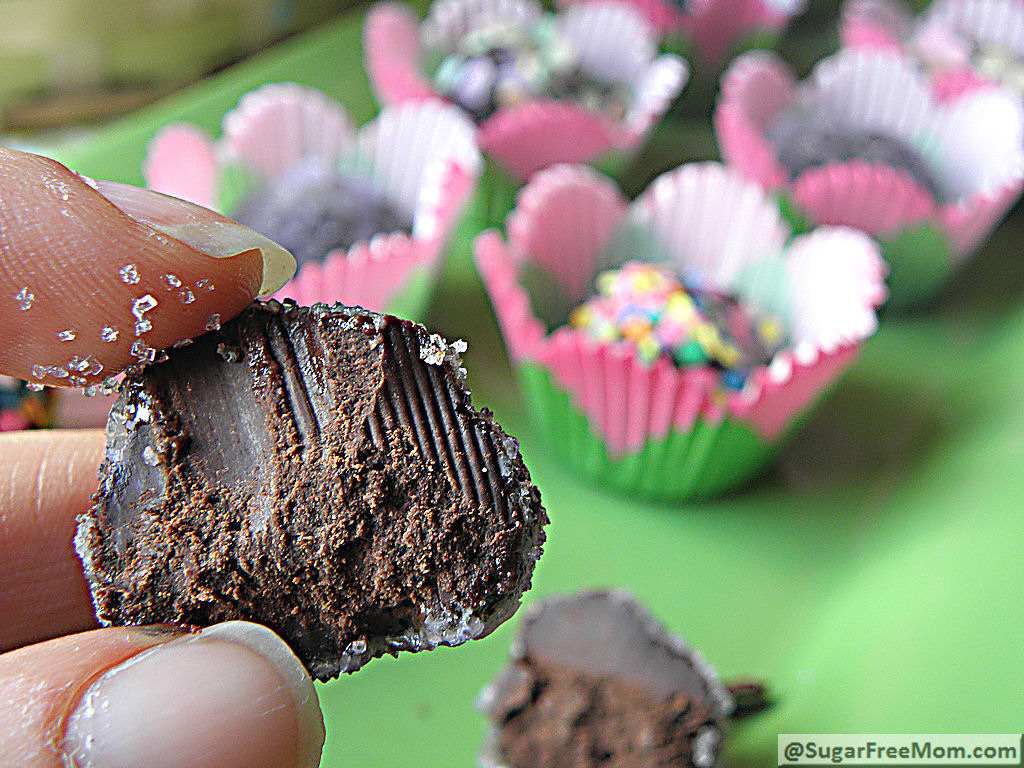 The hubby preferred the plain truffles, but I LOVED the crunchy chickpeas in mine!
If your family can have nuts, a hazelnut in the center of one of these would be incredibly good!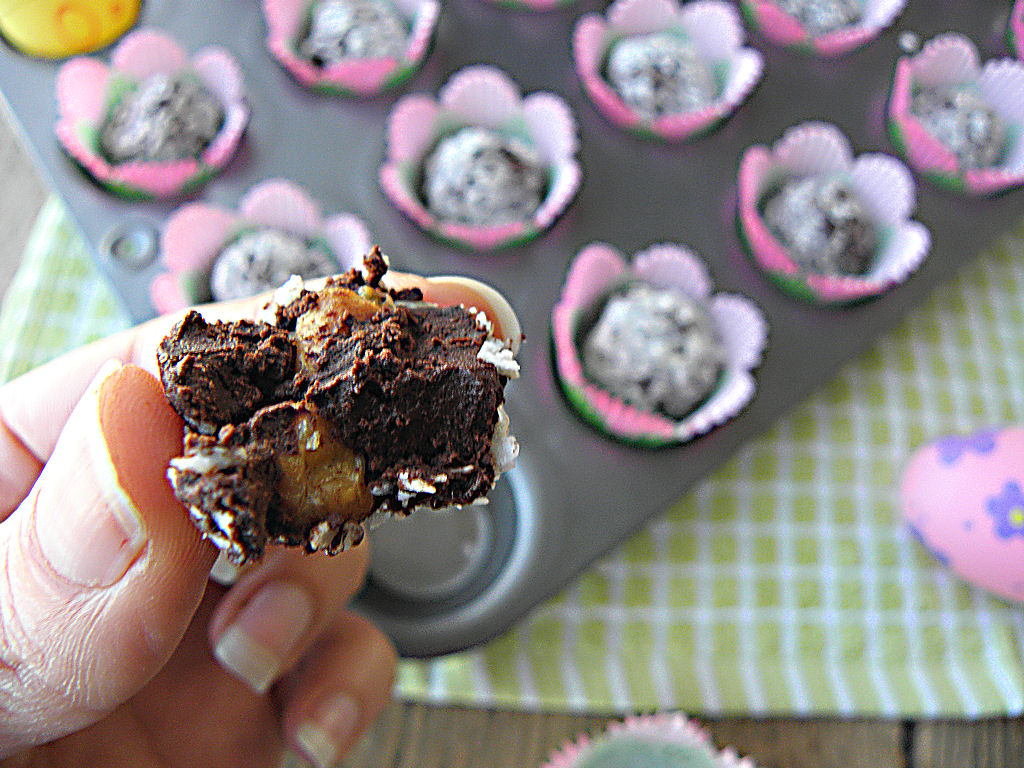 I used my Garlic Parmesan Roasted Chickpea Snack recipe and eliminated the garlic and Parmesan and just kept the oil and salt in the recipe. I only used about ½ cup of roasted chickpeas and added about 3-4 chickpeas in each chocolate ball. The kids enjoyed the rest of the salted chickpeas that we didn't use in the chocolate as a snack.
Nutrition Info with Roasted Chickpeas
Servings:18* Calories: 45* Fat: 4g* Fiber: 1g* Carbs: 3g* Protein: 1g* Points+: 1*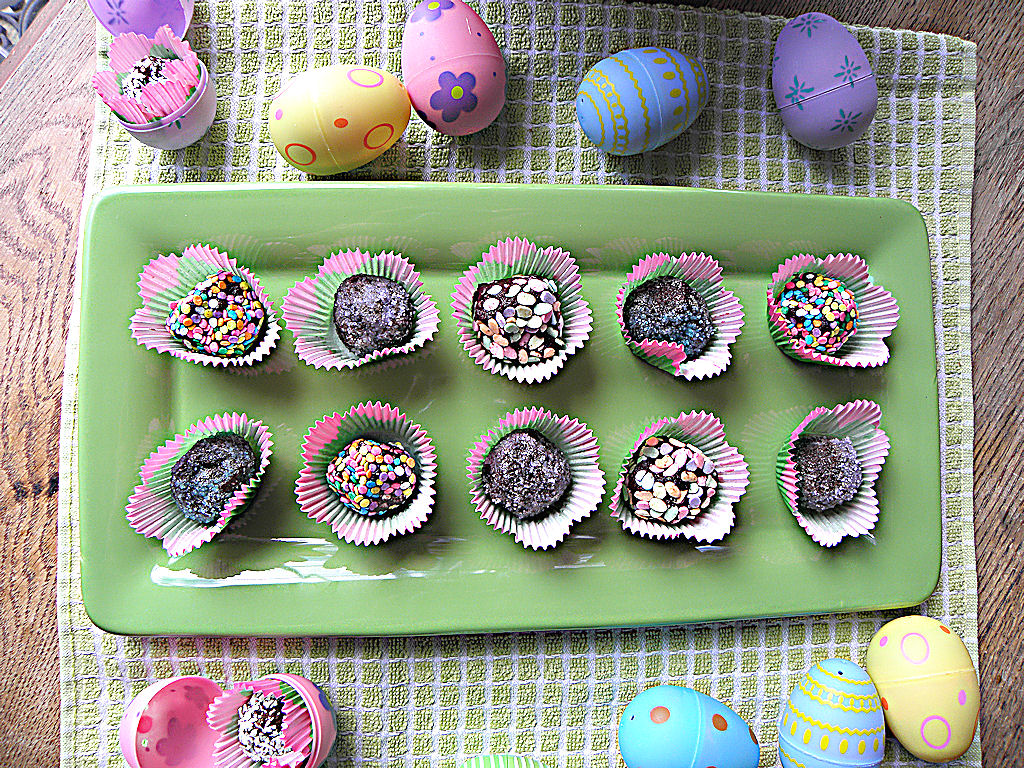 My children and hubby are not completely sugar free as I am and still have some occasional sugar. So when the hubby brought home some fun Easter sprinkles from Aldi's that's what I used to coat these truffles above.
*Additional Note: Our chocolate is like eating dark, so its slightly bitter. You can taste your chocolate before putting in the milk to decide if you want more sweetness, adding ¼ teaspoon of stevia at a time to increase.
Nutrition Info
Servings: 18* Serving size: 1* Calories: 37* Fat: 4g* Fiber: 1g* Carbs: 2g* Protein: 1g* Points+: 1*
or make them a bit larger.........
Servings:12* Calories: 55* Fat: 6g* Fiber: 1g* Carbs: 2g* Protein: 1g* Points+: 2*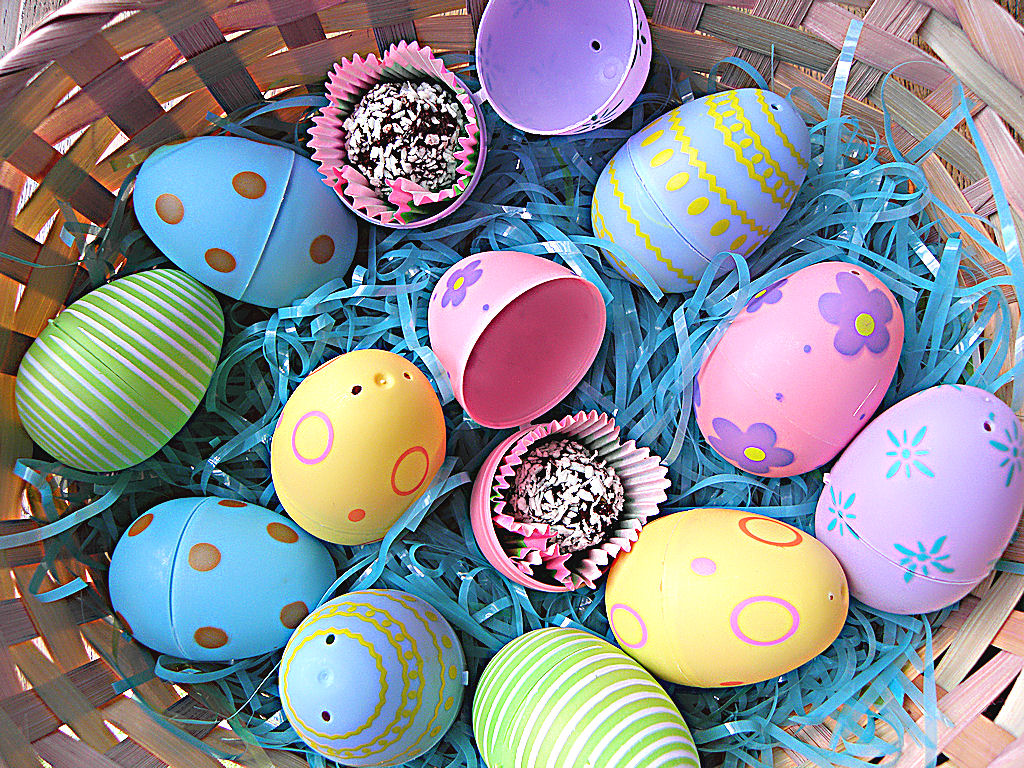 Isn't that incredible???
Only 37 calories and only 1 point for delicious chocolate!!!!
C'mon you KNOW you SO WANT to make these for Easter or ANYTIME....... right?!!
Dark Chocolate Truffles Naturally Sweetened
Author:
Ingredients
½ cup cocoa powder, unsweetened
4 tablespoons milk of choice [I used 1 %]
2 teaspoons [url href="http://www.iherb.com/p/8717?rcode=yaj035" target="_blank"]Chocolate or Vanilla Liquid stevia[/url]
4 tablespoons coconut oil, melted
½ cup coconut flakes, unsweetened
Instructions
Melt the coconut oil in a bowl. [Mine takes about a minute in the microwave].
Add the stevia and cocoa and stir until completely combined. It will be very loose and soupy. Taste it to see if you want more sweetness.
Pour the milk into the chocolate and stir vigorously. It should start becoming more pudding/mousse like.
Use a rounded tablespoon or even a coffee scoop to make a ball as best you can. Roll in coconut flakes and set in a small cupcake liner or on a plate.
Refrigerate and it will harden perfectly.
Serving size:
1
Calories:
55
Fat:
6g
Carbohydrates:
2g
Protein:
1g
Notes
Weight Watchers PointsPlus: 2*