This Creamy Delicious NO BAKE Keto, Low Carb Peanut Butter Cheesecake will WOW your friends and family showcasing that Sugar Free desserts can be just as good, if not better, than traditional!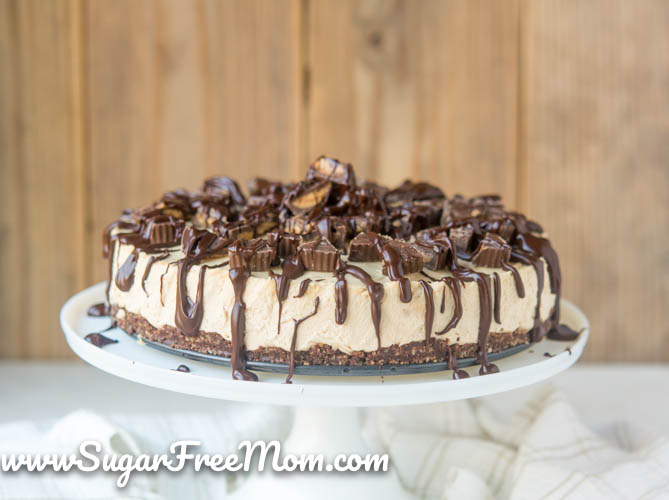 SUGAR FREE PEANUT BUTTER
Creamy Peanut Butter Cheesecake is the Ultimate Keto Low Carb Sugar-Free Dessert! It's got that sweet and salty bite that just can't be beat! Not only decadent for any special occasion, but no baking required makes it look like you spent hours in the kitchen!
Make sure you find a peanut butter that doesn't include any sugar or other ingredients. Look for one with just peanuts and salt, that's it. My favorite is Smucker's Creamy Organic Peanut Butter. If you see oil on the top of the jar, don't worry! All you need to do is scoop it out into a bowl, mix it up well and place it back into the jar. You won't have to do that again and you'll have creamy peanut butter every time.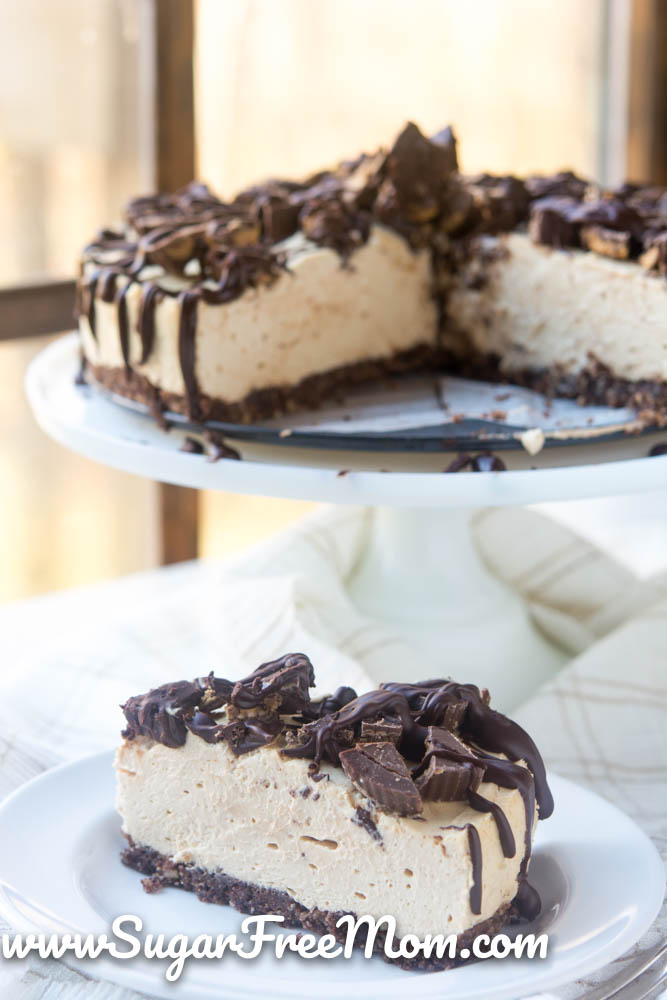 IS PEANUT BUTTER KETO?
Some keto experts will say peanut butter is a definite no as it is a legume and can be inflammatory for some people. But no foods are keto or not keto. Being keto is a metabolic state that your body is in, food is not keto and can't get into ketosis. Most people get into ketosis by keeping carbs around 20 and some people can eat up to 50 carbs a day and stay in ketosis. Many people I know, including myself can and do occasionally enjoy peanut butter and stay into ketosis. It's a personal choice.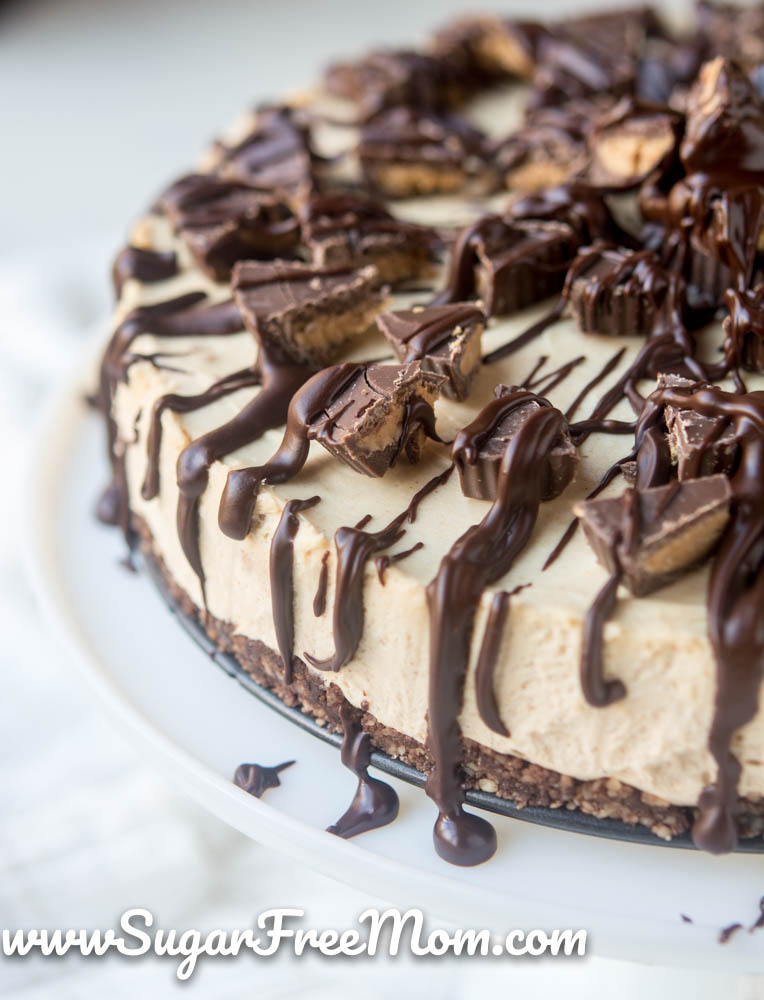 SUGAR FREE KETO PEANUT BUTTER CUPS
Peanut Butter and Chocolate is the most beloved of all combinations, in my humble opinion. I've just got a thing for peanut butter and cheesecake and with the combo of chocolate, well it's just a magical dessert.
I made this beauty for my birthday this year, which was shared on Thanksgiving and even my family who are not low carb, absolutely raved about it. They could not believe it was sugar free! That's always my goal in life to impress my non sugar free family and friends!
I wanted this to look like a fancy bakery made this so I opted to add some peanut butter cups and a drizzle of sugar free chocolate. I did cut a few corners and used some store bought sugar-free peanut butter cups on top. If I had more time I would have made my own peanut butter cups, but sometimes a few short cuts, help.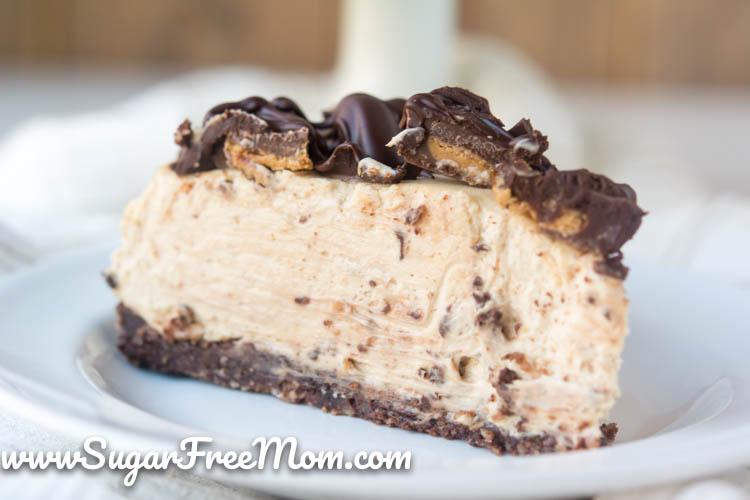 It's a fairly easy recipe since you don't have to bake the pie at all. You make the crust in the food processor, flatten it into the spring form pan then make the cheesecake in the mixer and pour it over the crust. The most time is just spent while it sets in the fridge for a few hours, then if you decide to go all out with the toppings, add them on and serve to impress your guests!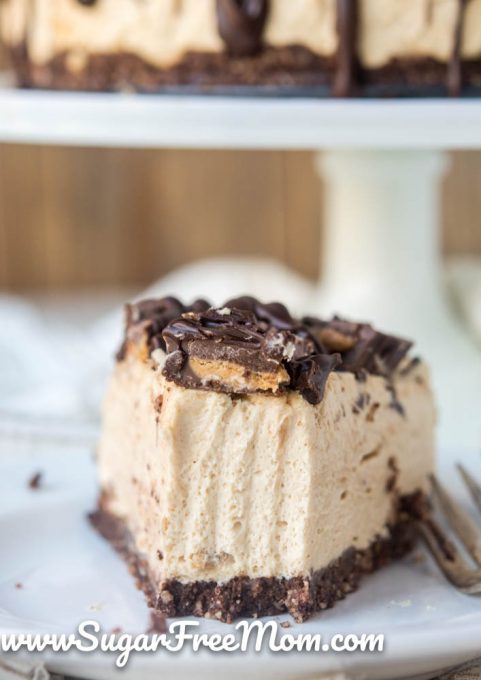 NO BAKE SUGAR FREE CHEESECAKES
Interested in more delicious no bake cheesecakes? This Coffee Cheesecake is also a stunner! Another fabulous one is this Peppermint cheesecake!
Brenda's Notes:
You don't have to use toffee flavored stevia but I do love it with this recipe. You could also use all vanilla flavored stevia or your favorite sugar free sweetener that equals 1 cup. I prefer the liquid stevia in this no bake cheesecake rather than granulated sweeteners because it helps keep the texture perfectly smooth, no graininess.

LOW CARB KETO PEANUT BUTTER CHEESECAKE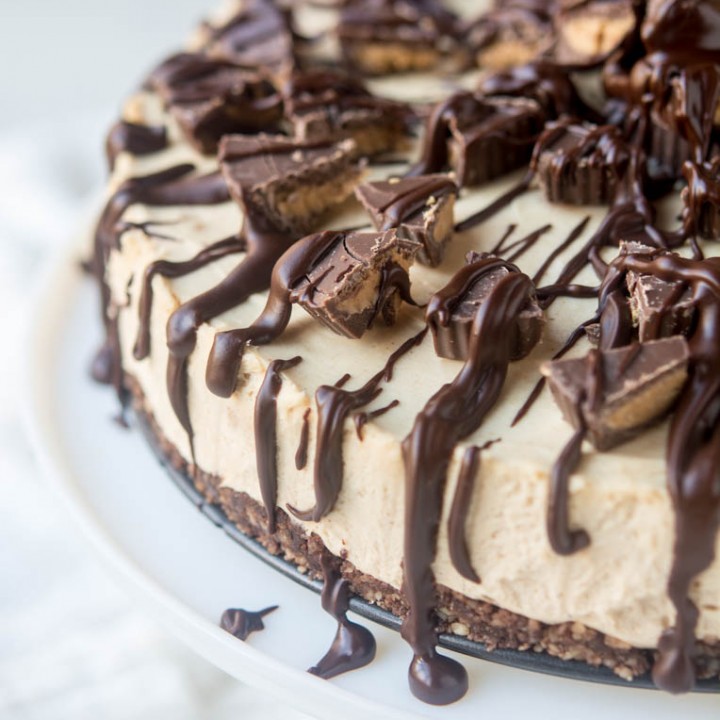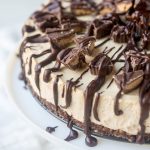 Print
Low Carb Peanut Butter Cup Cheesecake
Instructions
Place all the crust ingredients into a food processor and process until fine crumbs. Press into an 8 inch spring form pan lined with parchment. Set aside.

Boil the water and gelatin and continue to simmer and stir until it's completely dissolved. Set aside to cool.

Pour the heavy cream, vanilla extract and vanilla stevia into a stand mixer and blend on high until whipped. Remove from bowl and set aside.

To the same bowl of the stand mixer add the peanut butter, cream cheese and toffee stevia. Blend on high until smooth. Drizzle in the cooled gelatin and mix again then add the whipped cream and blend on high until well combined. Pour into crust.

Refrigerate for 3 hours. When ready to serve, add optional toppings if desired. Enjoy!
Notes
Net Carbs: 4g
Does  not include optional toppings.
This recipe was first published in Jan.2018 and updated with video in Feb 2021.
Nutrition
Serving:
1
slice
|
Calories:
368
kcal
|
Carbohydrates:
7
g
|
Protein:
8
g
|
Fat:
35
g
|
Saturated Fat:
16
g
|
Trans Fat:
1
g
|
Cholesterol:
52
mg
|
Sodium:
156
mg
|
Potassium:
54
mg
|
Fiber:
3
g
|
Sugar:
2
g
|
Vitamin A:
624
IU
|
Calcium:
63
mg
|
Iron:
1
mg