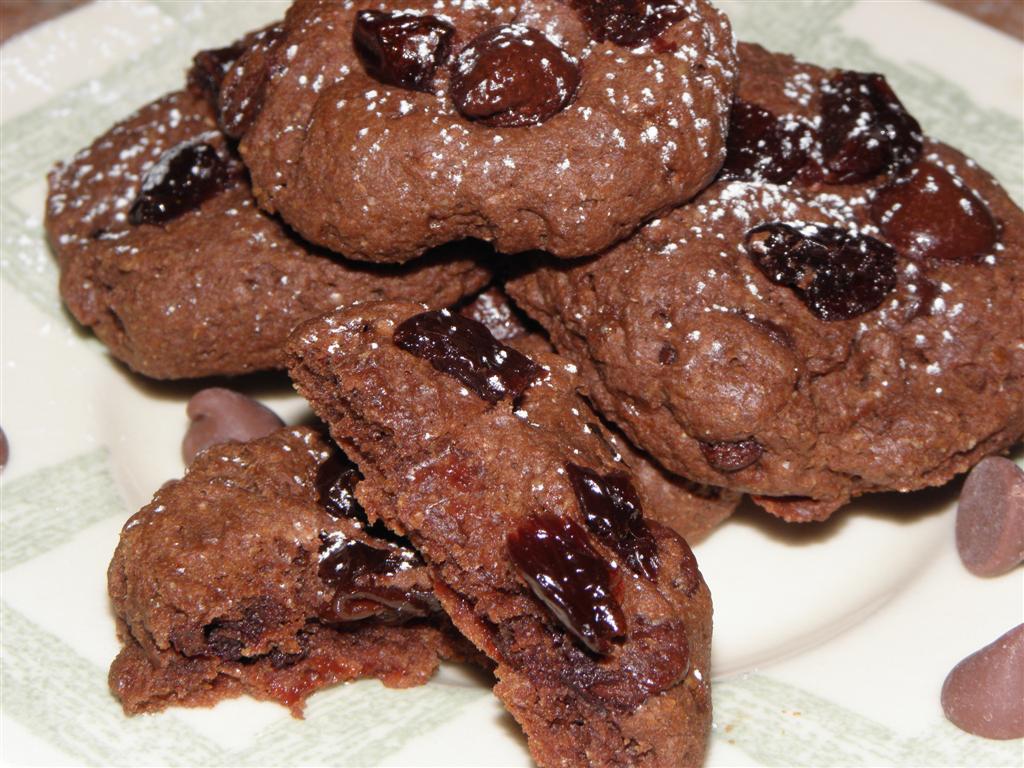 Here is a pretty yummy chocolate cookie recipe for you that you can add or sub in many different things to suit your taste buds and your families likes.
I've shared before my boys are allergic to nuts and my oldest is also allergic to soy so we have to be very careful buying any store bought cookies. Many contain both of those products. Its often a problem especially going to any type of function and having them check the labels to see if they can or can't eat it. I can make these and my kiddies are super happy to eat them and share them!
These are easy to make and like I said easy to change up a bit to suit whatever add-ins you want.
Just to clarify, my motivation in making cookies for this blog was simply to have a great recipe that you could make, knowing the nutritional value and deciding how many you could incorporate into your food plan for the holiday party you may be attending. I did not try to make these super low-fat or low in points, but they are certainly a better choice than something store bought any day. These are made with sucanat. I only use a ¼. c. so these are not very sweet, but with the dried cherries and chocolate chips I think they are perfect. Also, with the chocolate flavor stevia, oh yum! But if you don't have Stevia then increase your sucanat to ½ c.-1 c. Remember though sucanat is less refined than other sugars, but is still a sugar. It personally doesn't make me crave, but cookies are cookies! If having them in your house means (healthy or not) you will eat them, then only make them for somewhere you are going and leave them, that's my motto!
NOTE: You can replace the sucanat with honey or erythritol or coconut sugar
Double Chocolate Cherry Refined Sugar Free Cookies
[sc:Ziplist]
Ingredients
1 ½ c. whole wheat pastry flour
¼ c. sucanat or ½ c. if you like sweeter cookies
½ teaspoon baking soda
½ tsp. salt
½ c. unsweetened cocoa
1 egg
2 tbsp. butter, unsalted
1 tsp. vanilla extract
½ c. coconut oil
1 c. ricotta, part-skim
6 -½ full droppers of liquid Stevia, chocolate flavor (use my code YAJ035 and receive $5 off your order)
1c. grain sweetened or sugar-free chocolate chips or any kind you like*
½ c. dried cherries, unsweetened ( or replace with other dried fruit or nuts)
*Since I haven't been seeing my usual grain sweetened chocolate chips by Sunspire on the shelves at Whole Foods, I resorted to using sweetened carob chips instead. Recently I found a sugar-free chocolate chip at Whole Foods by the brand Lily sweetened with stevia.
Directions
Combine flour, sucanat, baking soda, salt, and cocoa in a bowl, set aside.
In a stand mixer, mix together butter, vanilla, egg, stevia until combined well.
Add coconut oil until well incorporated.
Mix in ricotta to the wet mixture.
Half a cup at a time, pour in the flour mixture to the wet mixture and mix well.
Once combined gently stir in chocolate chips and dried cherries.
Preheat oven to 350 degrees and line 2-3 baking sheets with parchment paper.
Use a small coffee scoop to make uniform sized cookies and place them on the baking sheet. Flatten a bit and add a few more cherries or chocolate chips to decorate on top.
Bake for 12-15 minutes. (mine were perfect at 15) Let cool a few minutes and transfer to a wire rack to finish cooling.