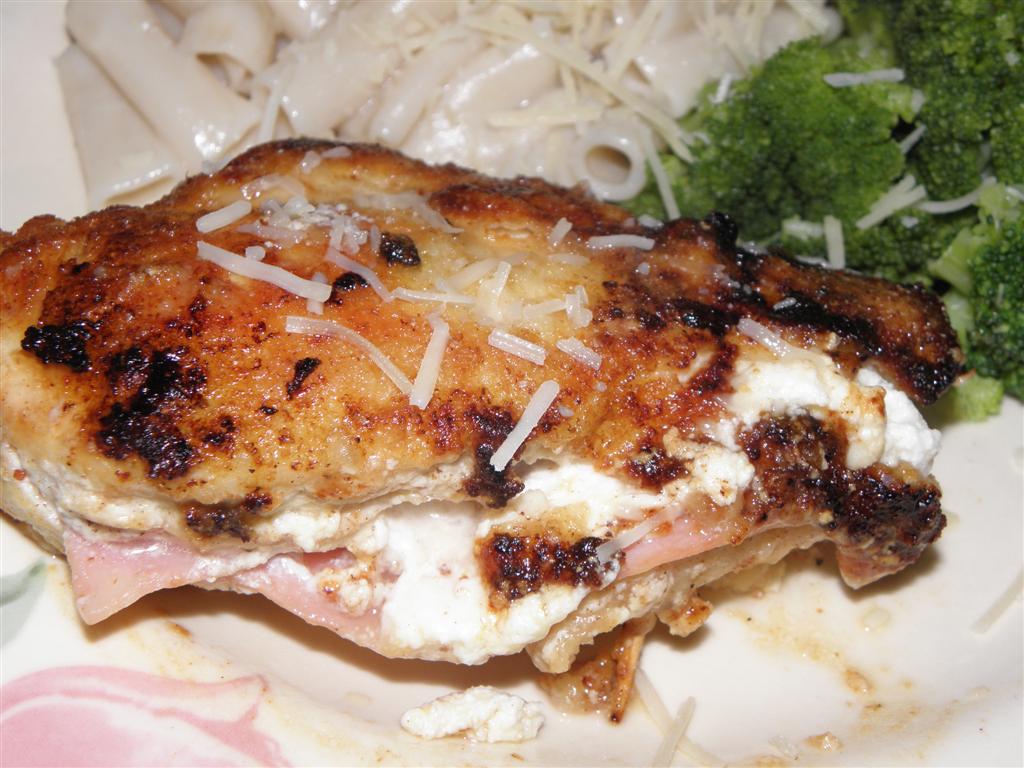 Want to make something different with chicken breasts and that's also a quick week night meal??
Try these delicious stuffed breasts. I must confess I really hate dry anything, particularly dry chicken breasts! I am the only one in my family who WANTS to eat them as opposed to the more higher calorie dark meat the rest of the family wants. So I decided to stuff these babies so MY babies would eat them!!! AND eat them they sure did!
It's a bit high in fat due to the ricotta and ham, BUT totally worth it when you are in need of a change from the typical chicken breast meal. Worth every bit of the 7 Points+ !!
Every once in awhile its necessary to change your eating patterns and choices so you don't fall into the trap of dieting/healthy eating boredom! This is so luscious because of the ricotta it almost tastes like you are cheating! I think you'll be pretty happy to see the nutritional info here. Consider making this every so often and don't forget to include a healthy veggie for a complete meal! Why not try some baked sweet potatoes and brussles sprouts with bacon? SO good!
Ricotta Stuffed Chicken Breasts
Author:
Ingredients
•½ c. part-skim ricotta cheese
•¼ c. grated Parmesan
•1 clove garlic, minced
•4 boneless, skinless breast halves (about 4 oz. each)
•2 slices, deli ham, cut in half
•½ cup whole wheat flour
•½ teaspoon salt
•½ teaspoon garlic powder
•⅓ c. finely chopped fresh basil (optional)
•¼ teaspoon pepper
•2 tablespoon extra virgin olive oil
Instructions
In a bowl combine ricotta, Parmesan, garlic, garlic powder and basil.
Cut a slit along side of chicken breast, open like a book and lay one half deli ham slice on it. Spoon ¼ c. ricotta mixture onto each ham slice then close over filling and fasten with toothpicks.
Mix flour with salt and pepper and dredge chicken on both sides.
In a large skillet, warm oil over medium-high heat. Add chicken and cook 5 minutes then flip onto other side and cook another 5 minutes until chicken is no longer pink inside. Cut into one to check. Serve hot and enjoy!
Serving size:
1
Calories:
257.3
Fat:
12.7g
Carbohydrates:
7.4g
Fiber:
,9g
Protein:
28g
Notes
Weight Watchers PointsPlus: 7*