Gluten Free Wild Blueberry Buttermilk pancakes and Exploring the Wild Blueberry Barrens of Maine!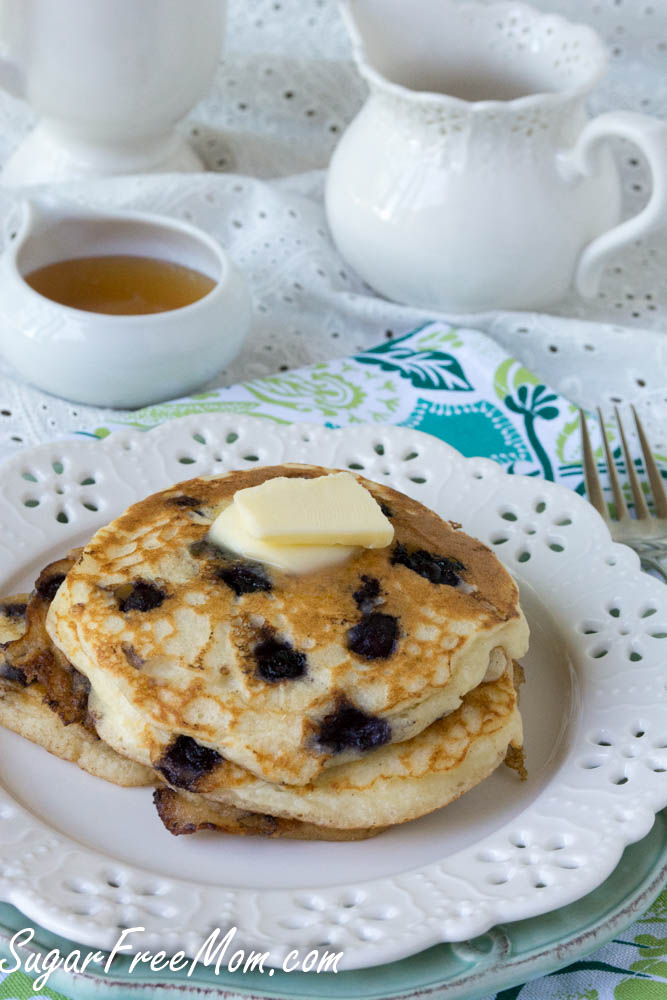 Recently I was invited by the Wild Blueberry Association of North America to explore the wild blueberry barrens of Maine and learn all about the differences between wild blueberries versus regular blueberries.
Maine is the largest producer of wild blueberries in the world. Canada is also a producer and works collaboratively with the association of Maine to help spread the Wild Blueberry message. Wild blueberries are grown on 60,000 acres of fields in Maine developed from native plants that occur naturally in the understory of forests. Due to good pruning practices to preserve these fields, only half the acres are harvested every year. 99% of the crop is frozen and most used as a food ingredient. Only one company of 6 sells retail and that is the Wyman's brand that you often see in the frozen section of your market.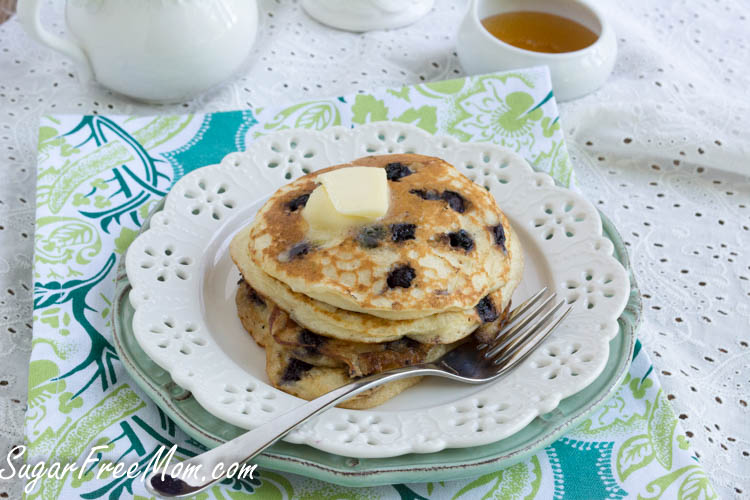 What makes Wild Blueberry superior versus regular blueberries?
Wild Blueberries Versus Regular
Wild blueberries thrive in colder climates of the north and because of these cooler temperatures they naturally have less insects and pests. Farmers in warmer states that cultivate the crop have more pest issues to deal with.
Wild blueberries have 2X the antioxidants of regular. Wild have a higher concentration of flavonid anthocycanin, a phytochemical found in the blue pigment.
Wild blueberries have a higher skin to pulp ratio than regular which means less water and more blueberry flavor.
Frozen wild blueberries are often cheaper than buying imported regular fresh blueberries. Often regular fresh are picked prematurely before they are fully ripe to endure the long transportation delays.
Cup for cup wild blueberries have twice the vitamin c and zinc than regular. Wild blueberries also have more fiber than regular and 8x the amount of manganese (200%) in just one cup. Manganese is important to bone health.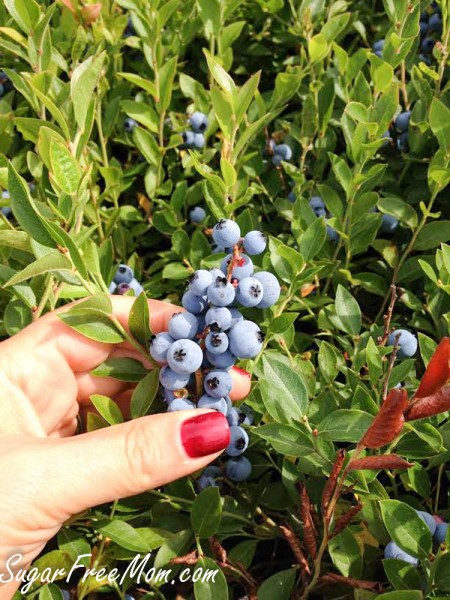 There are over thousands of different varieties of dark and light berries in these natural fields. No one bite tastes exactly the same!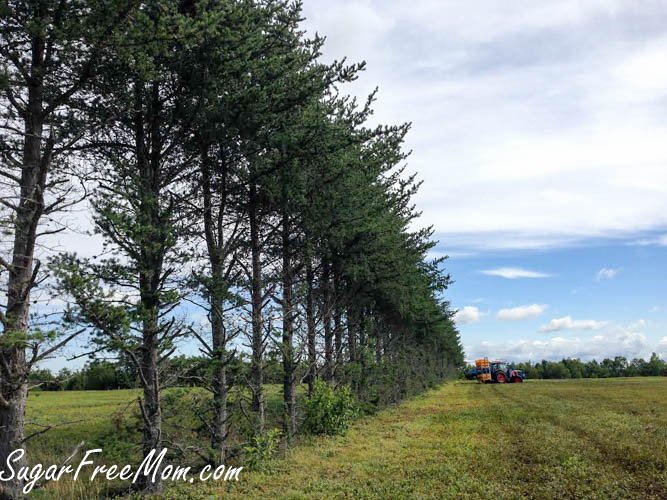 Harvest begins in late July or early August when most berries are at their ripest and the season usually ends by Labor Day. Some of the fields are still harvested by raking blueberries by hand, but today 80% of the rest are harvested mechanically.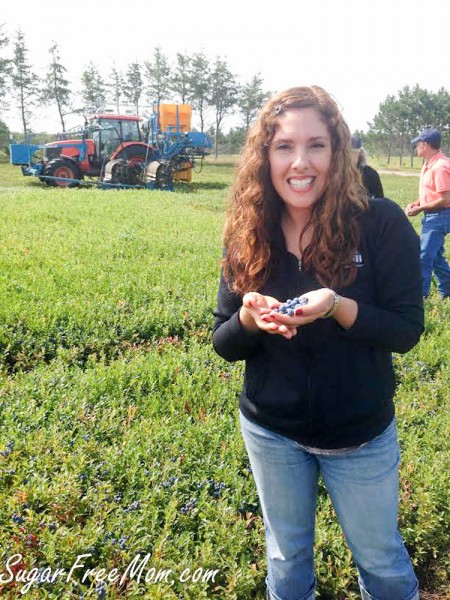 If you follow me on Twitter or Instagram you know I was a pretty happy girl snapping a ton of pics these few days away in Maine. I missed my family but what an experience! Not only being able to see how beautiful and massive these fields of wild blueberries are, but tasting all the diversity in each bite was incredible!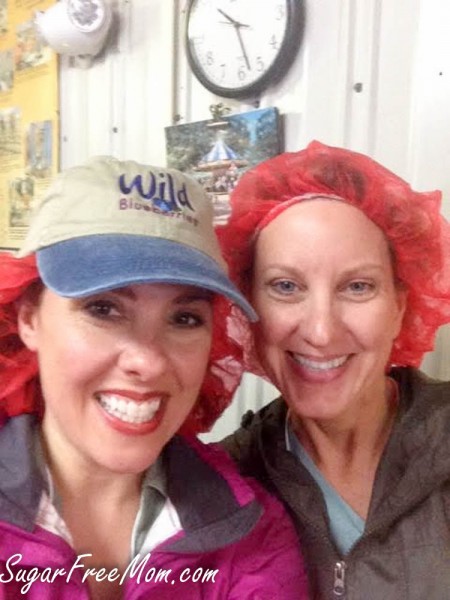 No pictures were allowed to be taken within the processing facility of Wyman's, but of course I had to share this awesome red hairnet I got to wear during the visit. We learned so much, it was well worth it! I had not known how quickly these wild blueberries were picked then frozen. Picking the blueberries in the fields to freezing them takes only 24 hours! Doesn't get any riper than that. Even fresh can't beat that time table to get from their fields to farms stands to your refrigerator.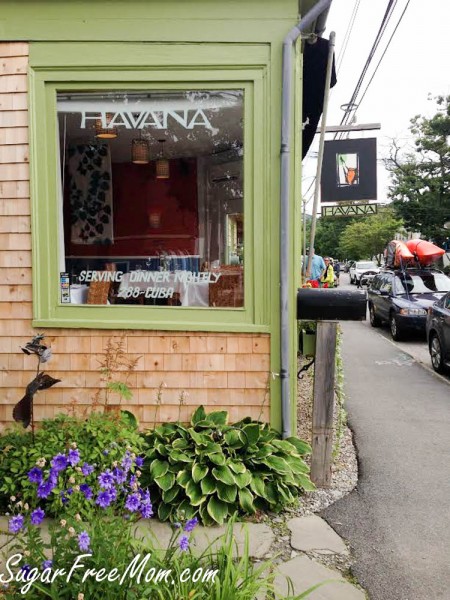 Our second night of our visit we were treated to a walk into the town and a delicious meal at this quaint restaurant. This little restaurant is known as Havana, and is well known and popular to many on Main St. of Bar Harbor. In fact, so well known and with such a fabulous reputation, that Martha Stewart showed up with her grandchildren and sat directly behind our party!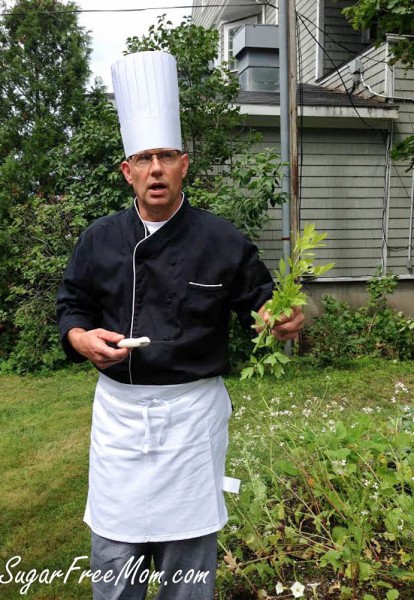 After exploring for the day we enjoyed a special lunch made just for us by Chef Louis Kiefer Jr, Executive Chef at the Bar Harbor Inn in Maine. He shared his knowledge and showed us his ample garden of herbs. He also shared with us some amazingly delicious blueberry salsa recipes. He challenged us to a plate presentation with swordfish, herbs from his garden and some of the salsa he made for us.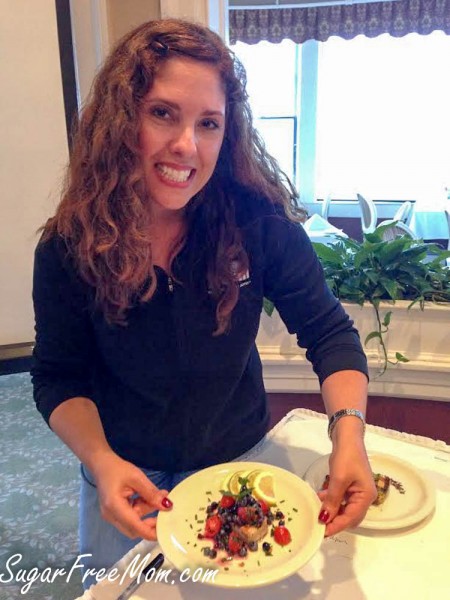 To my complete surprise and shock, my plate was voted the winner for presentation out of about 20 other talented people!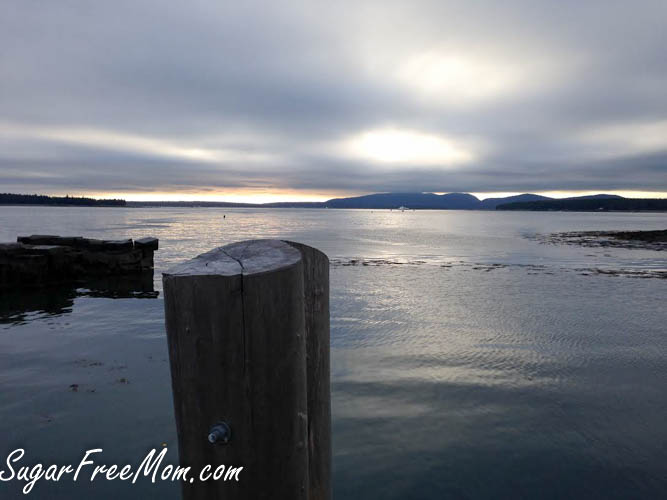 On our final night we took a short boat ride to Cranberry Island and this is the view from the dock towards the restaurant called The Islesford Dock. It also has a beautiful gallery from local artists and again my friend LOL, Martha Stewart came to dine while we were there.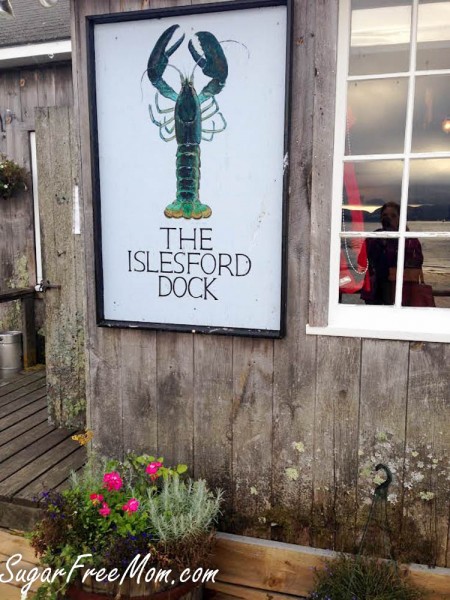 The halibut and the lobster was the choice for most of us who dined at this restaurant on the dock. I enjoyed the lobster but of course had trouble cracking it and needed help!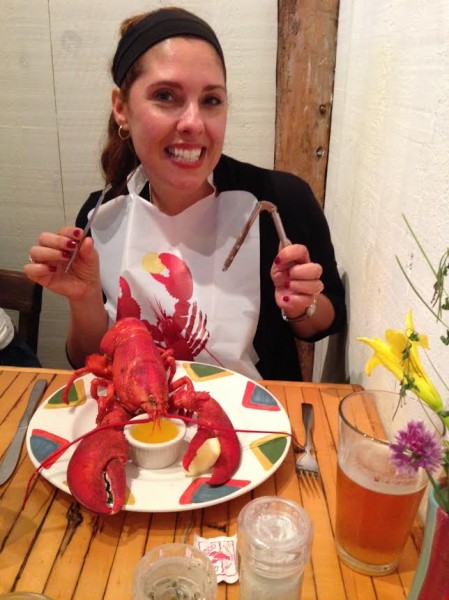 Well worth the mess of it all!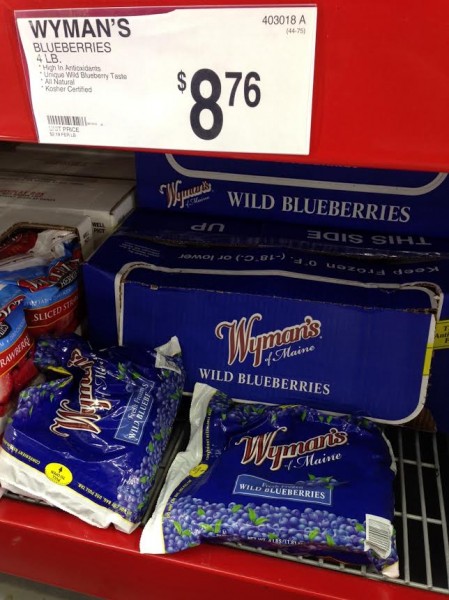 When I came home I went on a hunt for Wyman's at my local markets in town. These huge bags were found at my local Sam's club for a great price! You can also find normal sized bags at your local super market and Whole Food markets as well. I'm a mom to 3 so bulk bags are best for our house! We use wild blueberries in our smoothies almost daily! The color alone from the blueberries masks the green smoothie I make for the kids and fools them every time!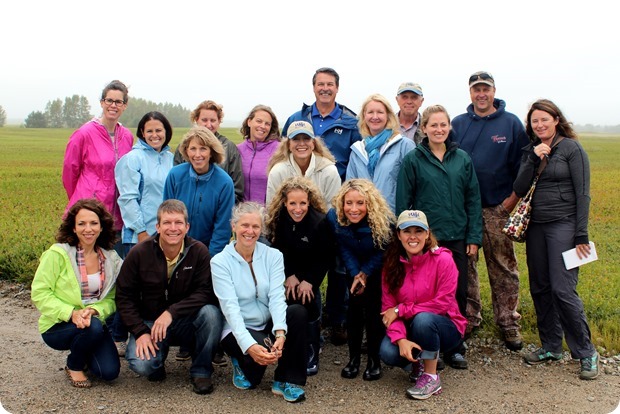 Our group of attendees consisted of: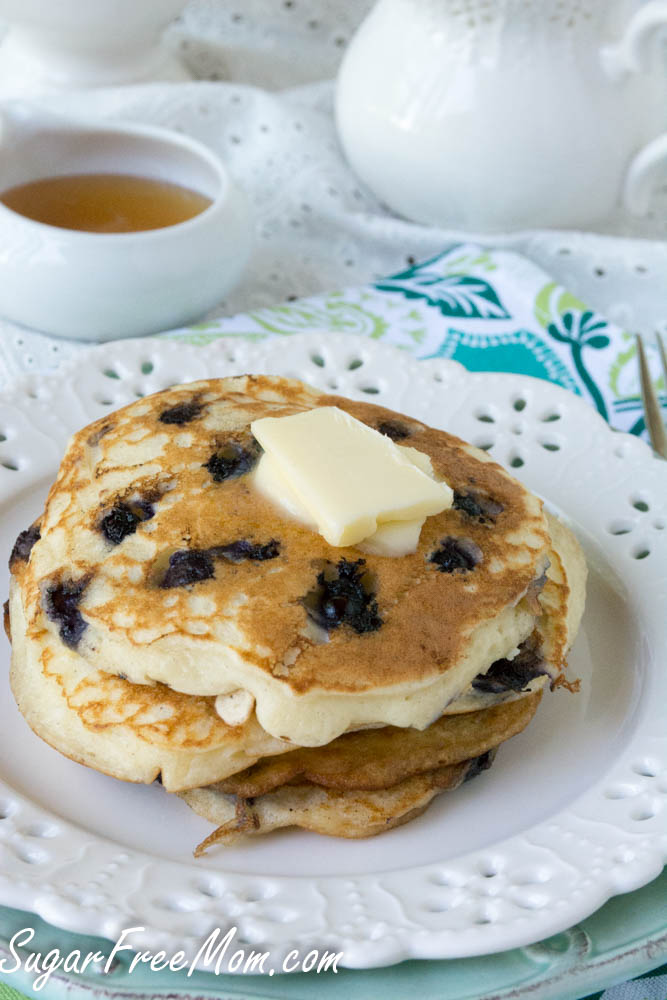 Even if the package doesn't say Wyman's, any package that says Wild Blueberries must come from Maine or Canada is most often processed from either. This package below I found at Whole Foods and was processed in Canada.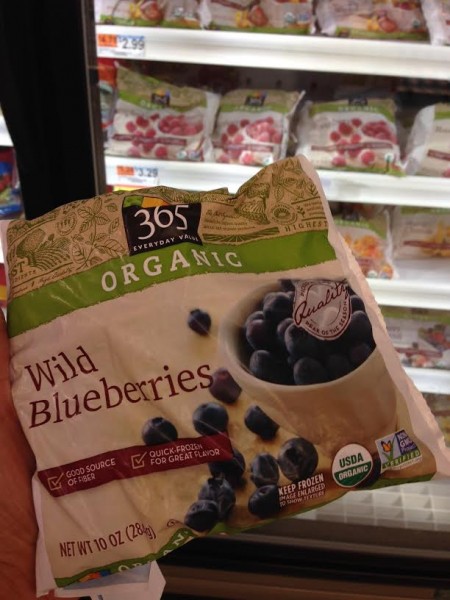 If you have the opportunity to visit Bar Harbor Maine, I highly recommend staying at the Bar Harbor Inn and visiting those fabulous restaurants mentioned above. But even if you can't make a visit to Maine, you can at least enjoy wild blueberries anytime you like simply by finding them in your frozen section of your market.
Brenda's Notes:
I used grapefruit juice but you could easily sub orange juice or even apple.
My gluten free flour has xanthan gum in it but if yours does not add ½ teaspoon.
You could sub the butter with coconut oil if you prefer.
If you don't have buttermilk on hand, no worries just add 1 ½ tablespoons white vinegar to your milk and let it sit for 5 minutes before adding to the recipe.
I wouldn't suggest stirring the frozen blueberries into the mix or you might end up with a grayish batter. You could thaw the frozen blueberries overnight and drain then stir into the batter if you prefer.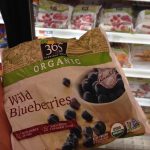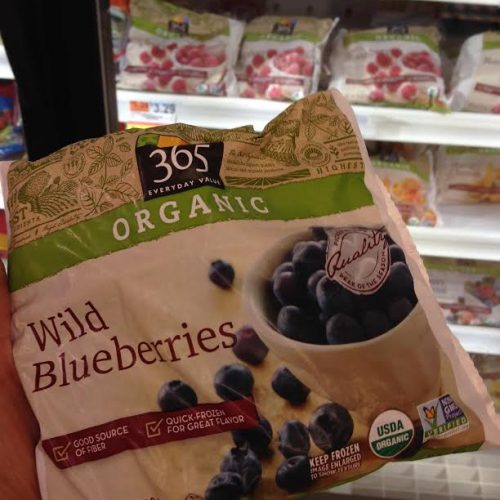 Print
Gluten Free Wild Blueberry Buttermilk Pancakes
Ingredients
1 ½

cup

gluten free flour

I used Bob's Red Mill

1 ½

teaspoon

baking powder

½

teaspoon

baking soda

¼

teaspoon

salt

1 ½

cups

buttermilk

1

small grapefruit juiced or ¼ cup

2

eggs

2

tablespoons

butter

1

cup

frozen wild blueberries
Instructions
Whisk the flour, baking powder, baking soda and salt in a bowl. Set aside.

In a separate bowl whisk the buttermilk, grapefruit juice and eggs together.

Add the wet ingredients to the dry until moist and let stand 10 minutes.

Coat a griddle pan or large skillet with butter to medium heat.

Spoon ¼ cup batter per pancake and sprinkle frozen blueberries over each pancake.

Cook 3 minutes or until edges begin to bubble and bottom is browned.

Turn over and cook until done.
Notes
Weight Watchers PointsPlus: 5*
Nutrition
Serving:
2
g
|
Calories:
200
kcal
|
Carbohydrates:
32.2
g
|
Protein:
5.7
g
|
Fat:
5.1
g
|
Saturated Fat:
2.3
g
|
Cholesterol:
62
mg
|
Sodium:
164
mg
|
Fiber:
1.4
g
|
Sugar:
1.9
g
Disclosure: The Wild Blueberry Association compensated me for my travel and trip to Maine, however I was not compensated to write this post. All opinions are 100% my own.