These keto no bake protein bars are packed full with protein and are low carb, egg free & gluten free!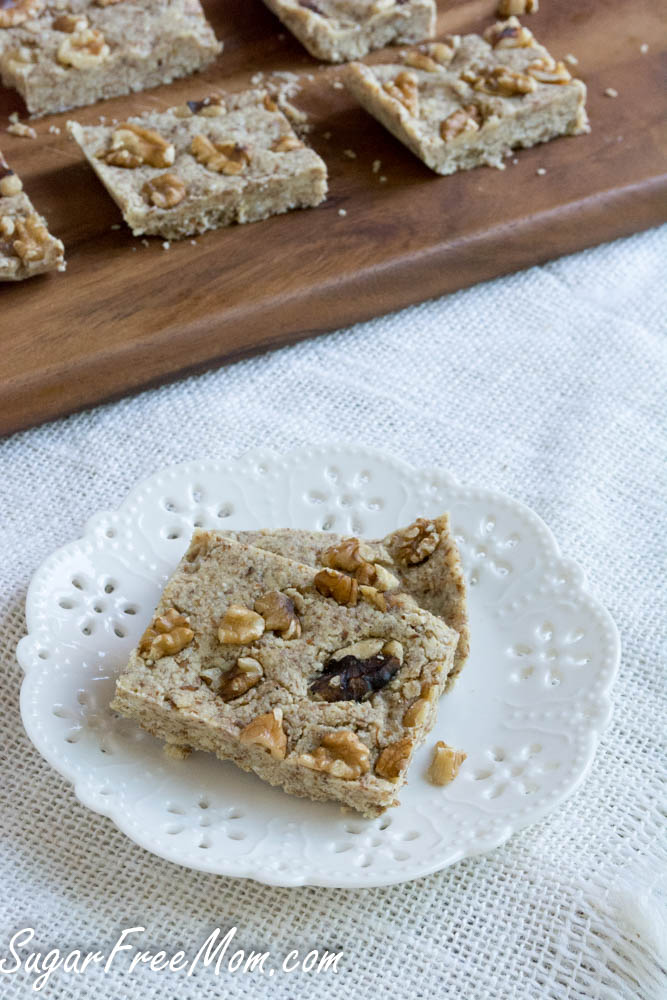 Homemade Keto Protein Bars
One of the joys of being a food blogger and being able to do this for a living is the excitement of developing a new recipe, using an ingredient in a unique way that you hope no one else had already thought of. One of the rewards of being a sugar-free and gluten free food blogger is that often creating one of a kind recipes with little to no sugar is a constant, making the recipe stand alone against the crowd.
Yes you might have made protein bars using protein powder before. But often, even if the main ingredient has been used a dozen times in recipes, variety is the spice of life. A food blogger who truly values their own work, trusts their gut and expertise will work their tail off to put a new twist on a recipe you may not have thought of before. My twist? These taste like maple fudge!
Of course there are a million protein bar options you can purchase at any market today, but often they are full of sugar, and some have a whopping amount of calories.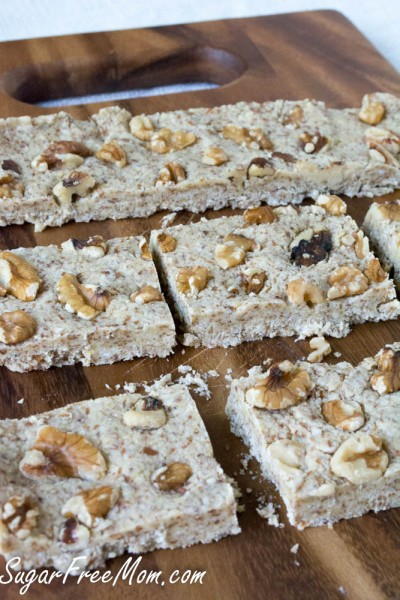 My desire and what I thrive on when creating recipes has always been to make healthy recipes that don't ever taste "healthy". Basically tricking your taste buds to believe you're being indulgent when it's anything but.
These protein bars for example; your first bite will make you feel naughty with this creamy, silky fudge texture. If you didn't read the ingredients before eating these and someone offered you a maple vanilla bar, you would have no clue you're enjoying a low carb, protein filled healthy snack. AND you would ask for another!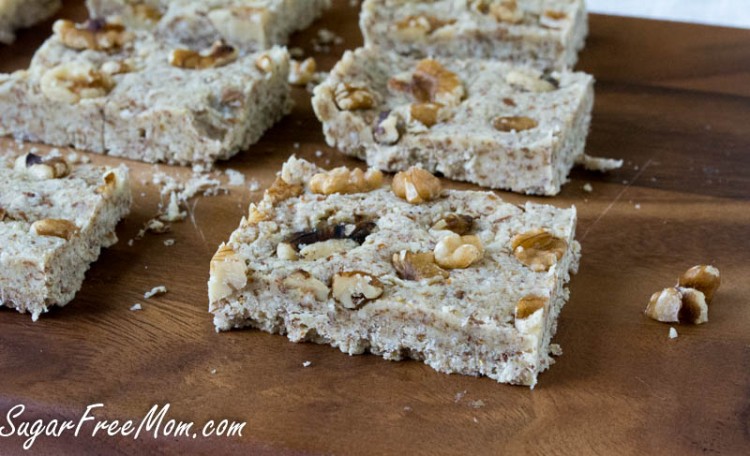 The Best Protein Powder
If a protein powder has just a few ingredients and no added sugars I often look for that first, but also I want the following:
It's gluten free
It's lactose free
It contains NO artificial colors, flavors or preservatives or Sweeteners
my rule of thumb with any product I purchase has always been that any type of sugar needs to be listed 5th or higher
The brand I've been using in most recipes is the unflavored whey protein from Jay Rob brand as well as the vanilla whey protein.
I loved the chocolate flavor in my High Protein Chocolate smoothie.
Here are some other recipes you might like including vanilla protein powder for an added boost.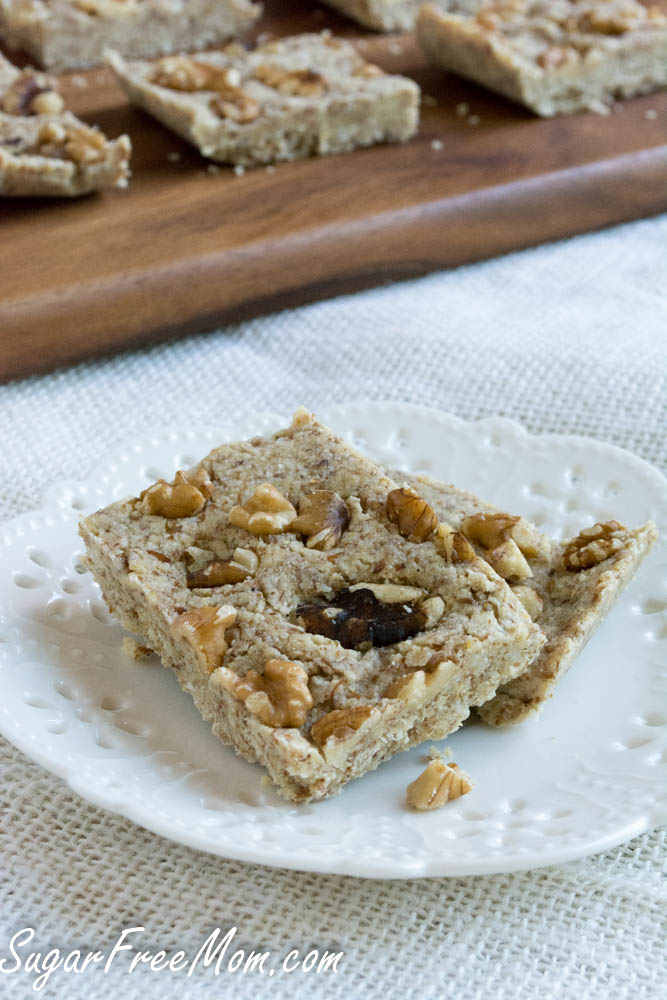 Making your own protein bars at home is quick and easy as these have no baking required. They are much less expensive than purchasing bars at any health store and a whole lot better for you as well! I hope you enjoy my "Sinfully Delicious, Secretly Healthy" protein bars!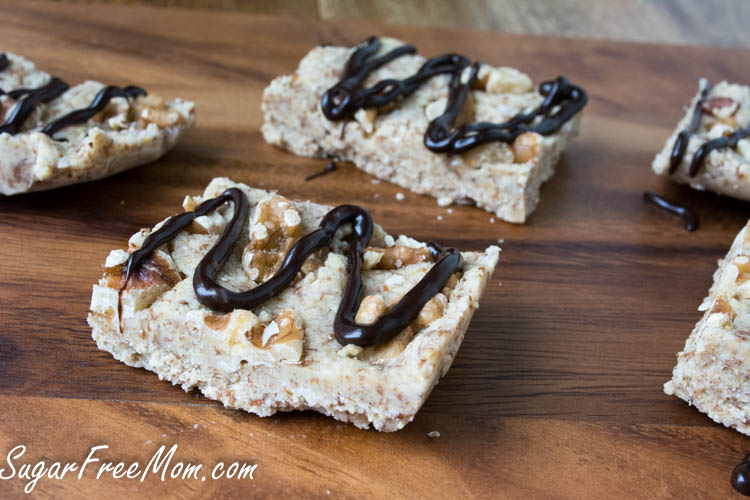 No Bake Keto Maple Vanilla Protein Bars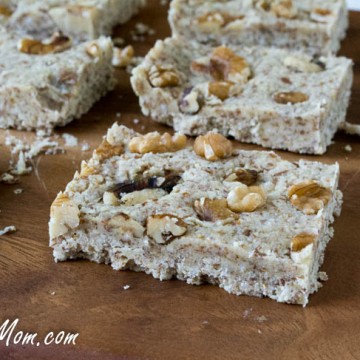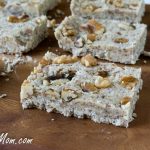 Print
No Bake Maple Vanilla Fudge Protein Bars
Instructions
In a bowl, mix together first 5 ingredients until combined. Taste and adjust sweetener as needed. Set aside.

In a separate bowl whisk protein powder and flaxseeds, then stir in milk.

Pour the wet ingredients into the protein powder mixture and stir until combined.

Line an 8 by 8 baking dish with parchment paper.

Press batter onto parchment paper and level evenly as much as possible.

If using walnuts press them into the top of the batter.

Refrigerate 1 hour then holding the edges of the parchment paper, lift onto a cutting board.

Slice into 12 bars and keep refrigerated.
Notes
Net Carbs: 1g
Brenda's Notes:
You could substitute the almond milk for any milk of choice.
Nutritional information is without the optional chopped walnuts.
PLEASE NOTE: If you have celiacs disease or severe gluten sensitivities, please remove the maple extract as it contains barely which is NOT gluten free.
Nutrition
Serving:
1
bar
|
Calories:
195
kcal
|
Carbohydrates:
4
g
|
Protein:
10
g
|
Fat:
16
g
|
Saturated Fat:
11
g
|
Polyunsaturated Fat:
3
g
|
Monounsaturated Fat:
1
g
|
Sodium:
54
mg
|
Potassium:
202
mg
|
Fiber:
3
g
|
Sugar:
0.5
g
|
Vitamin C:
0.1
mg
|
Calcium:
23
mg
|
Iron:
1
mg