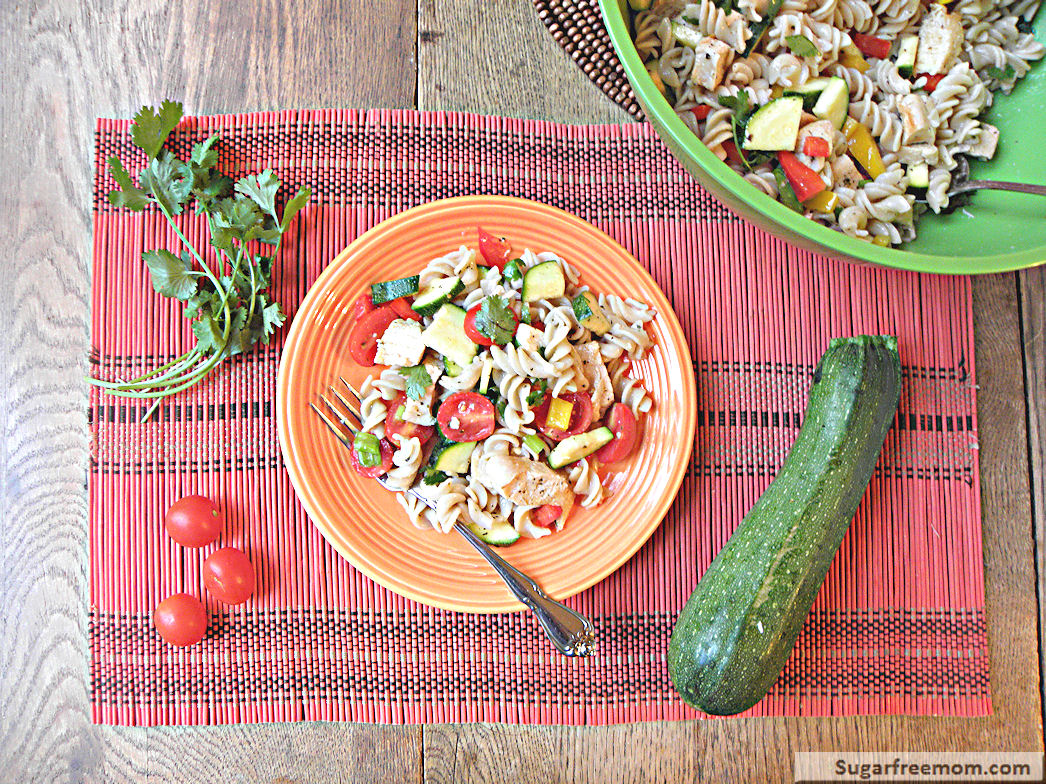 Pasta salad is the perfect cold dish to take to every summer BBQ. You can change the vegetables to really whatever you like and it still will be the dish everyone wants to grab a spoonful of. Why? BECAUSE most everyone I know loves PASTA!!! The trick to make this healthier is using less pasta, more veggies and using brown rice pasta. The texture and color of brown rice pasta is more comparable to the white flour kind and not as drastic as whole wheat. The texture of whole wheat is much denser and heavy so many people get turned off from eating it. I brought this to a cubscout committee meeting and no one except one friend and the hubby questioned the pasta choice, but everyone loved it. Evidence was in the almost empty bowl going home and actually it was just enough for me to have lunch the next day! Love that!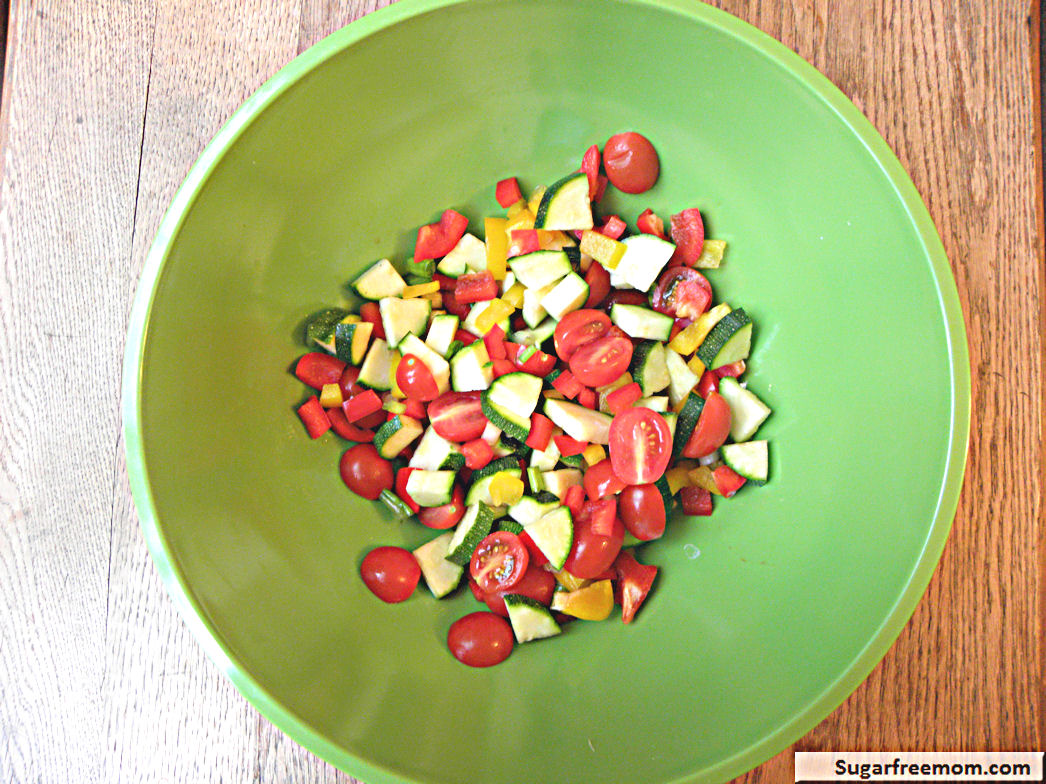 Typical Italian pasta salads have pepperoni, olives and cheese. Subbing the pepperoni for cooked chicken adds a lot of protein and makes this a really complete meal. You can add black olives, I just didn't have any at the time I made it and thought it was fine without, but my kids probably would have loved it more as well as cheese. Making the dish this way and having a small bowl of shredded mozzarella, black olives and even pepperoni if you like on the table, people can have the option to add those in or not.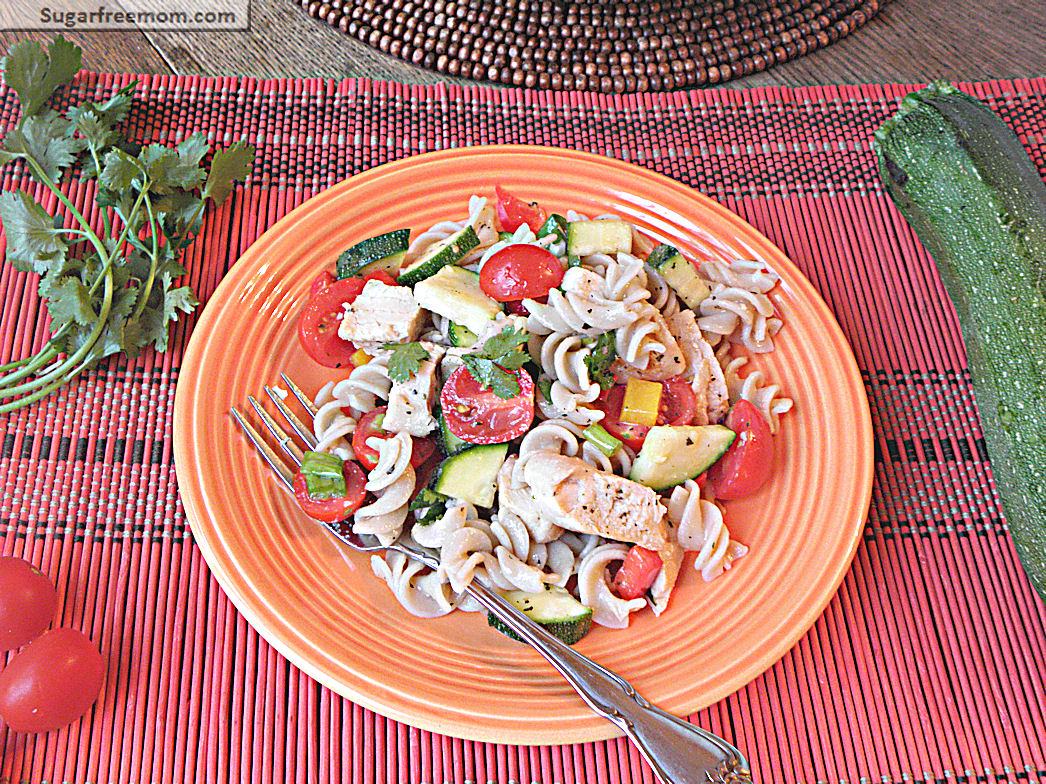 Make this salad and add the dressing the evening before you plan to attend a BBQ will allow the flavors to marry! And oh boy so delish! Just give it a really good toss to make sure the dressing doesn't all sit at the bottom of the bowl. You can quickly make more dressing if you feel it needs more.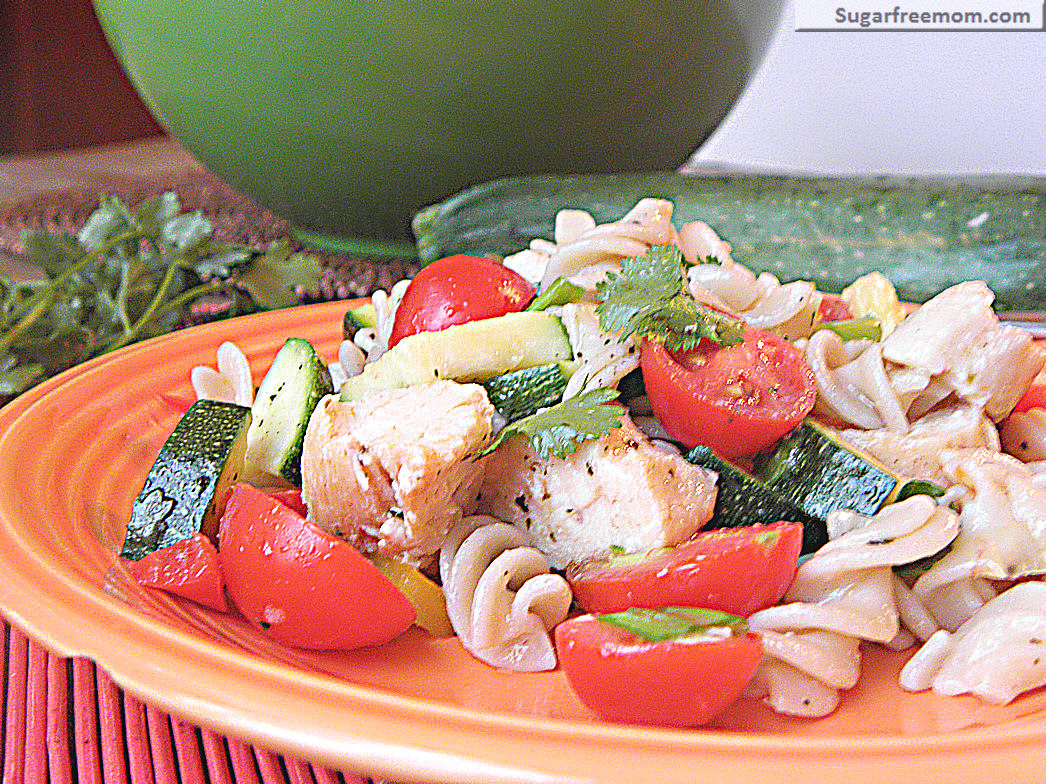 Serve with with or without chicken, completely up to you!
Healthier Italian Pasta Salad: Gluten Free
[sc:Ziplist]
Ingredients
2 cups chopped zucchini
1 cup sweet grape tomatoes, halved
½ cup sweet red pepper, chopped
½ cup sweet yellow pepper, chopped
2 scallions, diced
4 cups cooked pasta ( I used Tinkyada Brown Rice Pasta)
½ cup Italian Dressing
Optional: 2 cups diced cooked chicken (light meat), black olives, mozzarella cheese
Italian Dressing
¼ cup extra virgin olive oil
¼ cup red wine vinegar
¼ cup fresh parsley, chopped
½ teaspoon dried basil
1 teaspoon salt
½ teaspoon garlic powder
¼ teaspoon pepper
Directions
While the pasta is cooking, add all your chopped veggies to a large bowl. Take your pasta off the heat and drain it prior to it being fully cooked, al dente is best with this dish so the pasta doesn't get mushy. Cool the pasta over cold running water, drain and then add it to the veggies. If you are using chicken add it now as well. Place all your dressing ingredients in a small bowl and whisk until combined well. Pour the dressing over the pasta salad. Refrigerate overnight or at least an hour before serving. Serve with optional toppings on the side for guests.
Nutrition Info {Without chicken/With dressing}
Servings: 8* Calories per serving: 172* Fat: 8g* Fiber: 1g* Carbs: 25g* Sodium: 18mg* Cholesterol: 0mg* Protein: 3g* Points+: 5*
Nutrition Info { With chicken & dressing}
Servings: 8* Calories per serving: 236* Fat: 9g* Fiber: 1g* Carbs: 25g* Sodium: 45mg* Cholesterol: 30mg* Protein: 14g* Points+: 6*