These Cheesy Low Carb Breadsticks are made with just a few simple ingredients and grain free, gluten free, keto and so tasty! No one will notice they're made with cauliflower!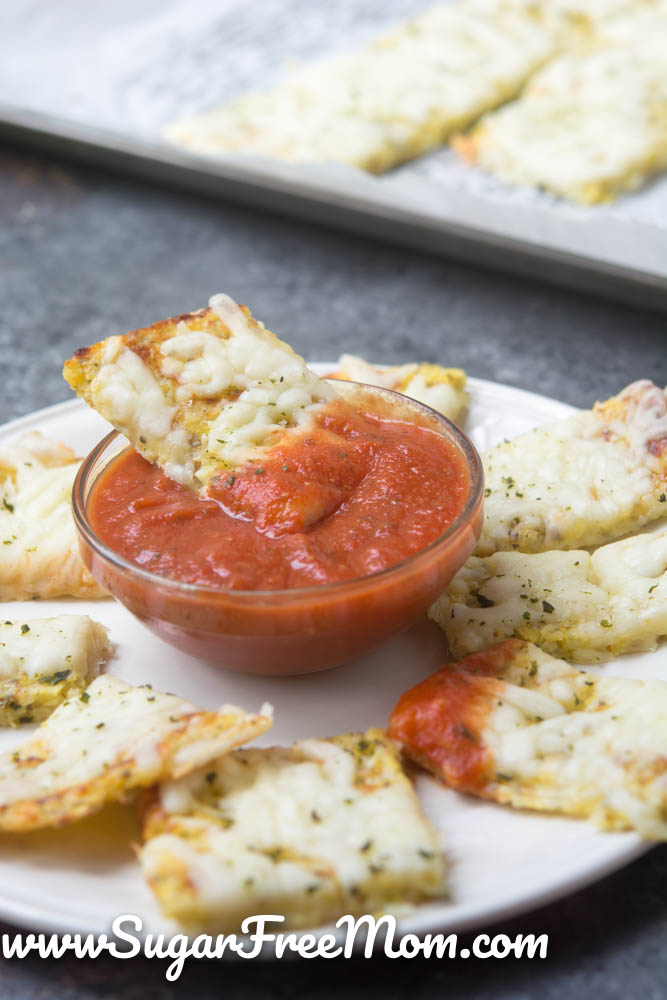 A grain free, low carb cheesy bread stick?? Pretty amazing right?
I'm such a sneaky mom and don't feel one bit of guilt in doing so! Sneaky veggies are in many of my recipes, like my Deep Dish Cauliflower Pizza and Zucchini Cheese Bites!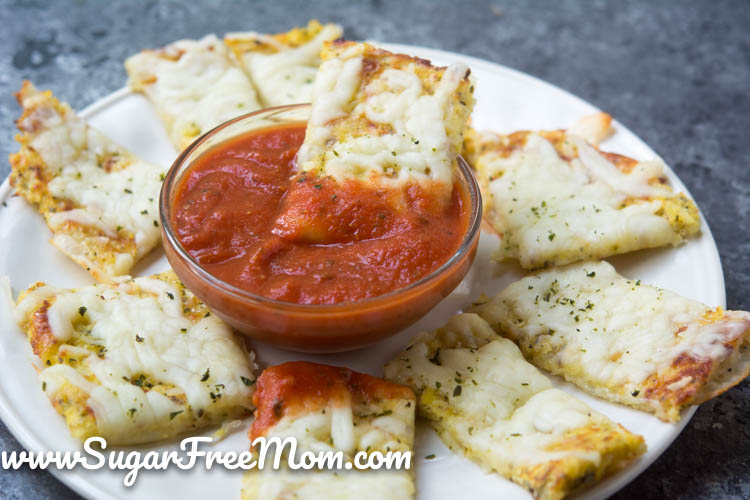 There is a secret ingredient you probably know about already or maybe you don't, either way you must give this recipe a shot before you say, "WHAT the WHAT?!!"
My kids would never notice cauliflower in this Cheesy Alfredo Sauce! This Slow Cooker Pepper Jack Cauliflower my hubby will love! Call it Pizza and my family will eat it and this Pepperoni Cauliflower Pizza is awesome!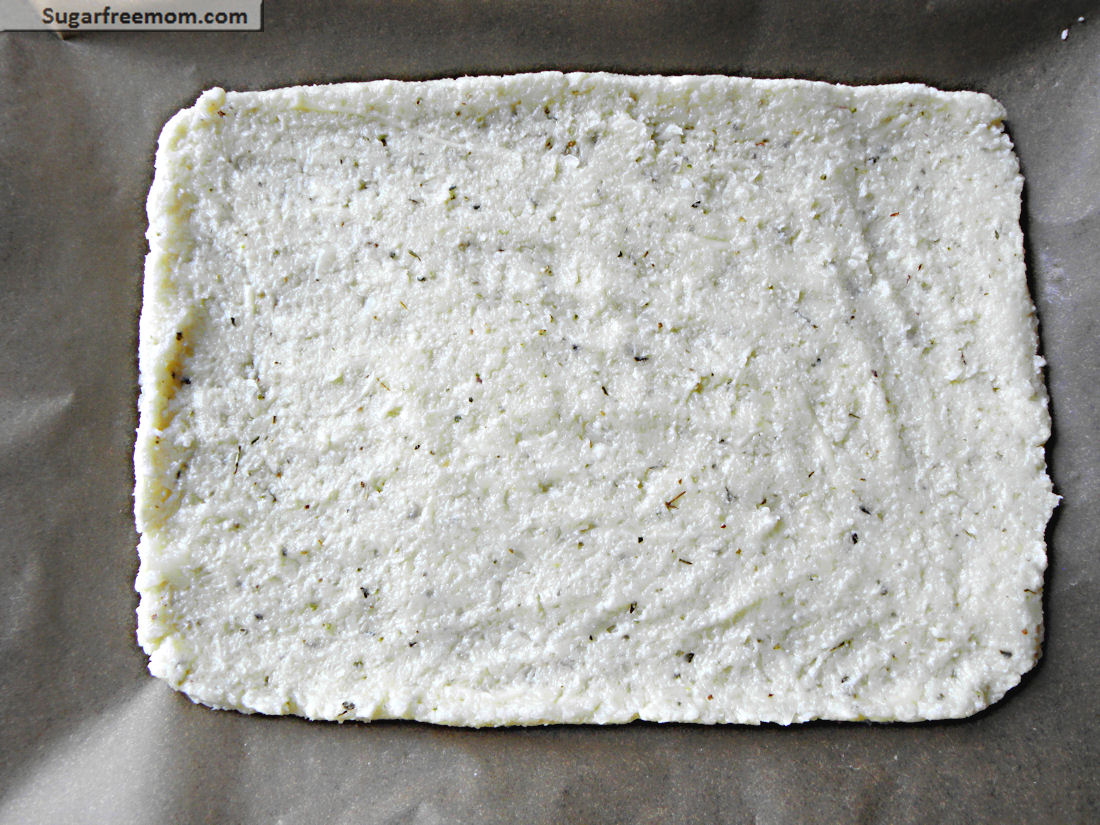 Once you steam the secret ingredient and add some other seasonings with it, you get something that looks like dough, and spreads easily with your hands to form a rectangle shape.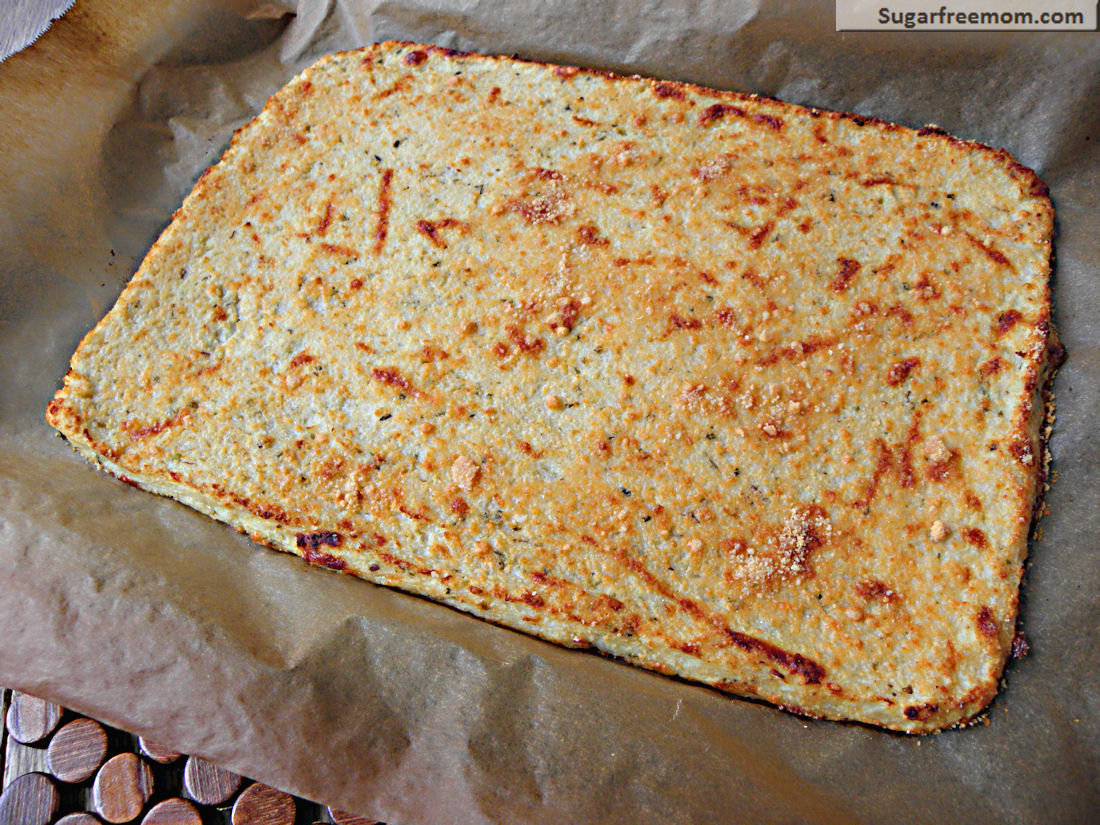 Baking it produces this nice golden crispy color, but since I've made this twice now, you need to do one extra step here. You must then flip this over onto another parchment lined baking sheet to get the bottom just as crispy and browned. Yes tricky, but will produce a better, more "pick-up-able" stick. Drizzle some water on the baking sheet and lay the parchment on it and it will stick to it well. Then place the baking sheet right over this crust once out of the oven and do the flip. Gently peel the parchment off the bottom of the crust which is now the top. Easy peasy and definitely worth it! 🙂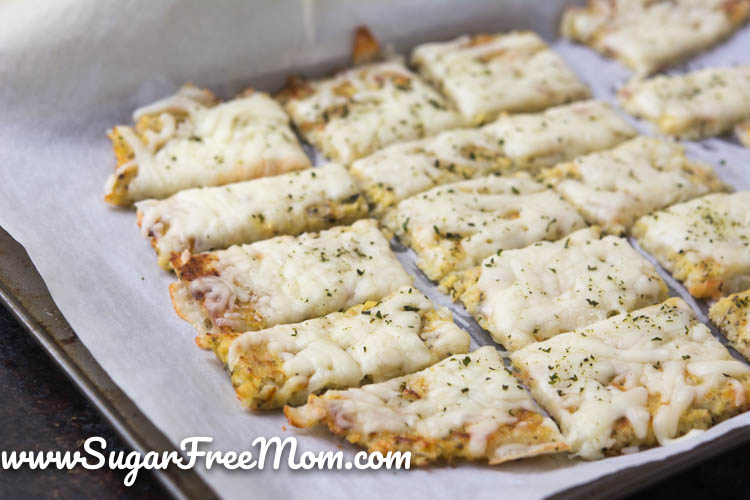 Cutting them into 12 sticks is how I began, but noticed since they are quite long and not typical "bread" sticks, they are flimsy. So I cut those 12 in half and made smaller sticks which were a lot easier to dunk in marinara sauce.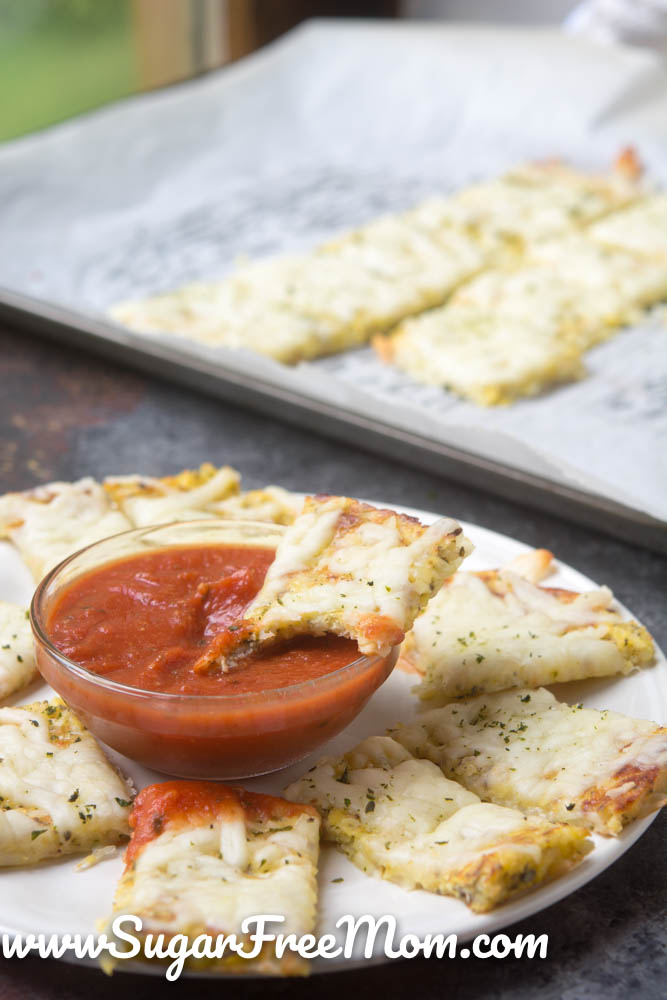 In case you're wondering how my family reacted to this I'm going to share the truth. The look of them is quite appealing and NO ONE, I repeat, NOT ONE of the them asked what was in them and all tried them. The secret ingredient smell is masked by the Parmesan and mozzarella cheeses. You might want to add more than a cup of mozzarella on the top if you're not watching calories. The comments were good! They thought they were all very tasty, but a bit softer then typical bread sticks.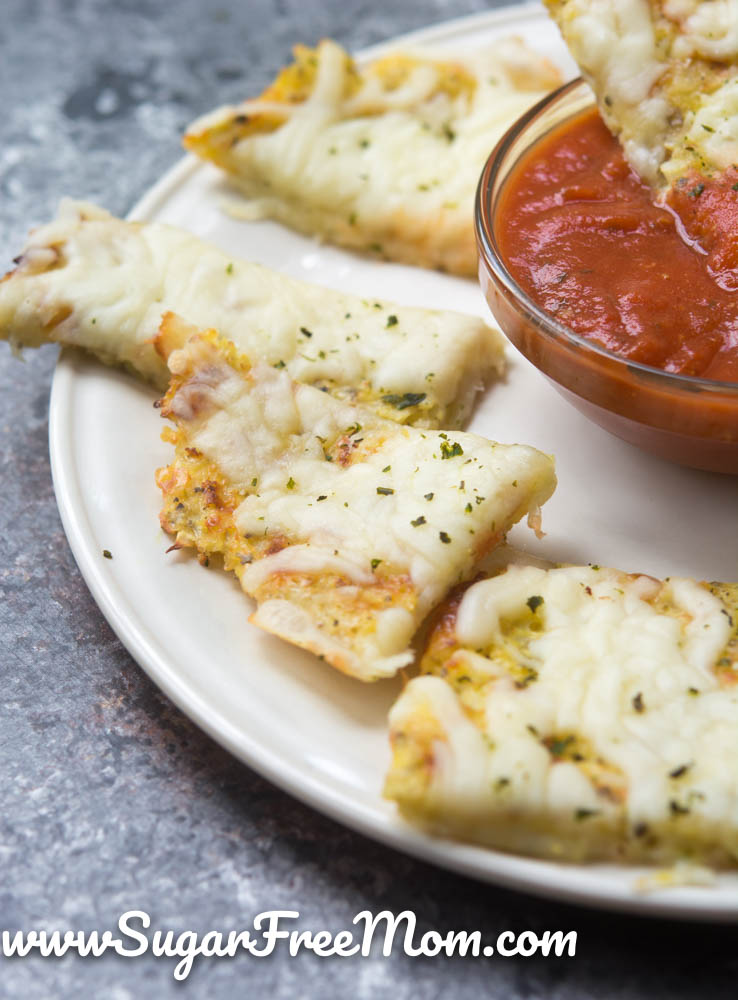 Much better and easily fooled my kids who all tried them without complaining they tasted weird!
This recipe was originally posted in March of 2013! I decided to adapt it slightly, make some new pics for it and share a video to bring it out of the archives!
Looking for more Sneaky Cauliflower Recipes? Check out these luscious ones: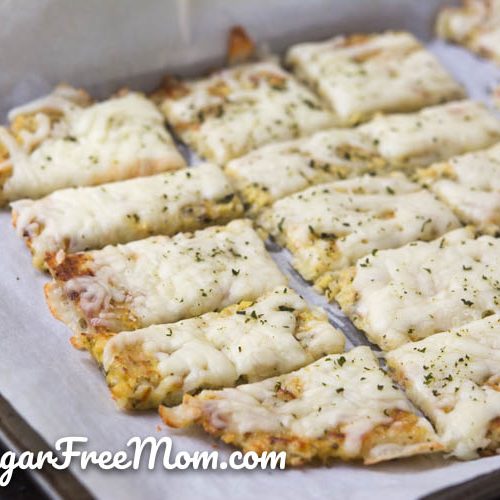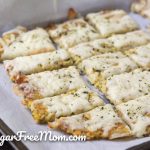 Print
Grain Free Low Carb Cheesy Bread Sticks
Ingredients
1

head cauliflower

washed, dried or 4 cups chopped

¼

cup

grated Parmesan cheese

1

egg

1

teaspoon

Italian seasonings

1

teaspoon

garlic powder

½

teaspoon

salt

1 ½

cup

mozzarella cheese

shredded, divided
Instructions
Preheat oven to 425 degrees.

Line 2 baking sheets with parchment paper.

Cut cauliflower into bite size pieces steam for 20 minutes until just tender. You can also use all ready riced frozen cauliflower and microwave for 8 minutes .

If using fresh, place cauliflower in food processor and pulse until the size of rice.

Place cooked but cooled cauliflower into a clean dry towel over a bowl and wring out as much liquid as you can.

Pour riced cauliflower into a large bowl and add Parmesan cheese, egg, seasonings and ½ cup mozzarella cheese.

Mix well then spread mixture onto baking sheet in a rectangular 8 by 10 shape. Bake for 10-15 minutes until browned on top.

Invert over onto the other baking sheet with parchment paper.

Sprinkle mozzarella over the top and bake another 5-10 minutes until browned.

Let rest 10 minutes. Slice into 24 pieces.
Nutrition
Serving:
6
pieces
|
Calories:
177
kcal
|
Carbohydrates:
3
g
|
Protein:
13
g
|
Fat:
12
g
|
Saturated Fat:
7
g
|
Cholesterol:
87
mg
|
Sodium:
660
mg
|
Potassium:
120
mg
|
Sugar:
1
g
|
Vitamin A:
405
IU
|
Vitamin C:
12.9
mg
|
Calcium:
301
mg
|
Iron:
0.7
mg