This Easy Low Carb, Sugar Free Everything Bagel is Gluten Free, Keto and Made in under 30 minutes!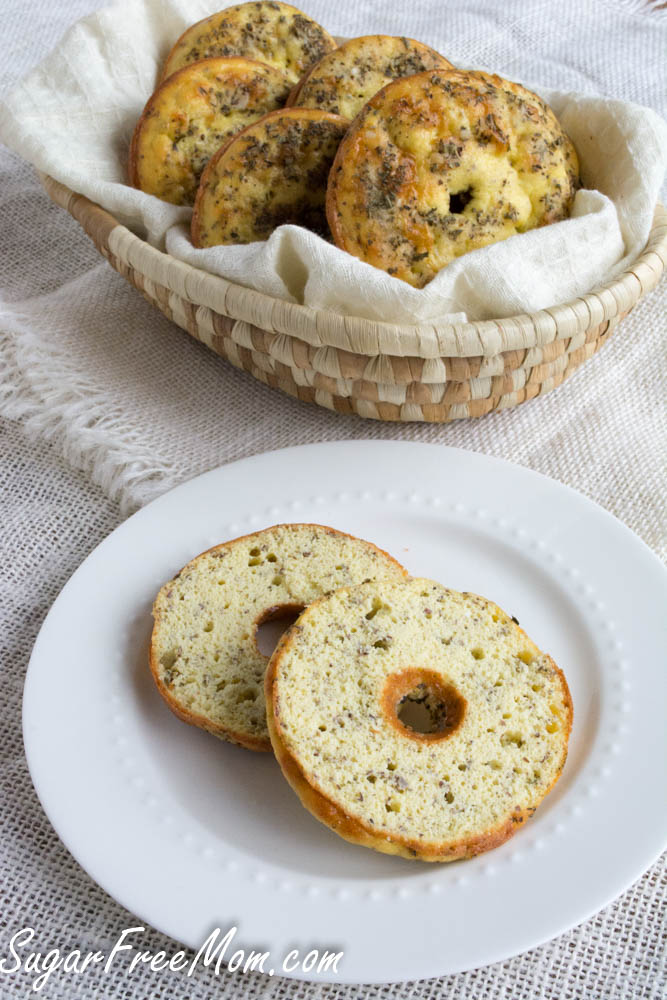 I've got news for you friends. You can enjoy a bagel and still lose weight if you need to. Why? Because one bagel is only 134 calories and 1.6 grams of net carbs!!! Some of you might be new around here and aren't on the low carb band wagon yet. Others know exactly wheat I'm talking about. Sugar and Carbs are the problem, not fat. Carbs and Sugar AND fat are a bad combo, but fat itself has gotten a bad rap. And some of my recipes are FULL of FAT and that's not a bad thing!
Like my Pumpkin Cheesecake Mousse, Apple Cream Cheese Muffins, Cauliflower Breadsticks!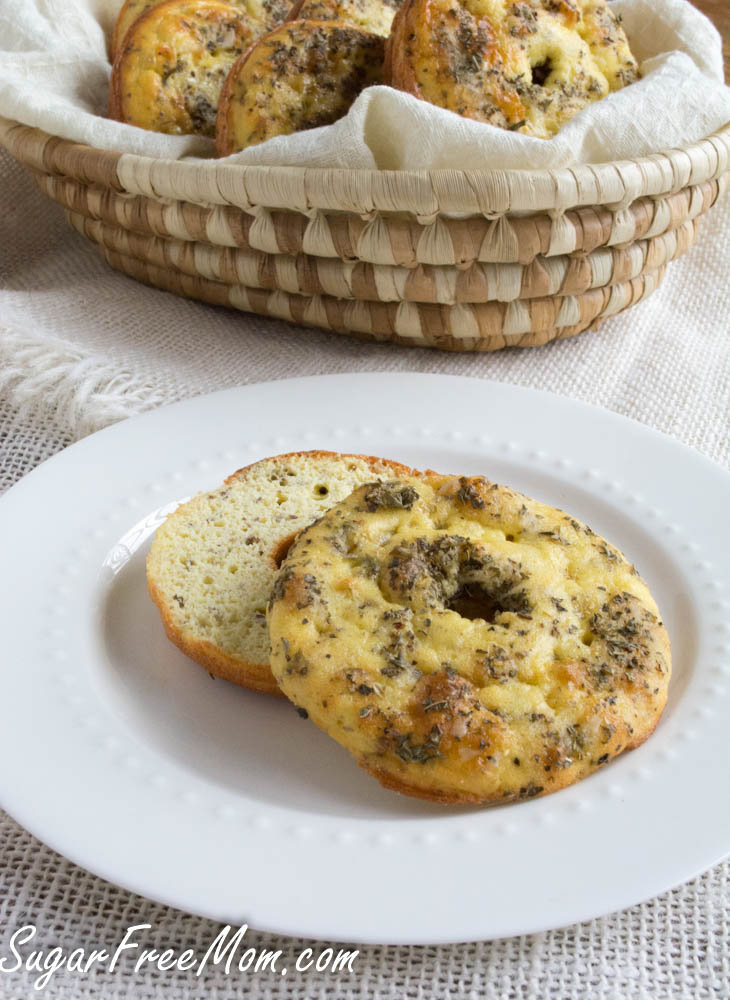 I shared my update on the last year, the very real struggles I've had, you can read about them here. While it hasn't been easy as far as what I've wanted to accomplish, it has been a learning experience. All the ways I know my body has changed and how to do things a bit differently to see results I want to see.
It might be the same body I've had all my life but things have changed. 13 years ago I started my sugar free journey and the way I ate then has changed a lot as well.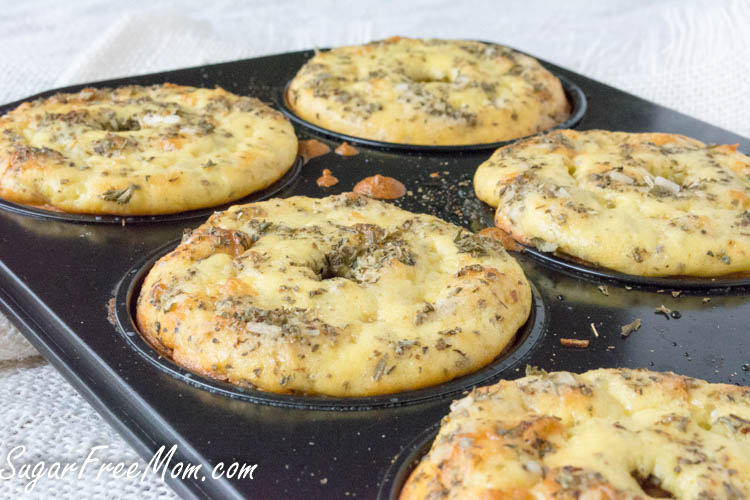 After I had my 3rd child 10 years ago, losing weight was harder. But I realized as long as I was disciplined in tracking my food I lost the weight. I was still able to enjoy whole wheat flour and some honey and other natural sweeteners on occasion without issues.
Then I started the blog about 5 years ago and got relaxed, eating more and more bites, to you know, test taste everything of course. That's what I do, it's my job, I mean, I have to, blah blah blah.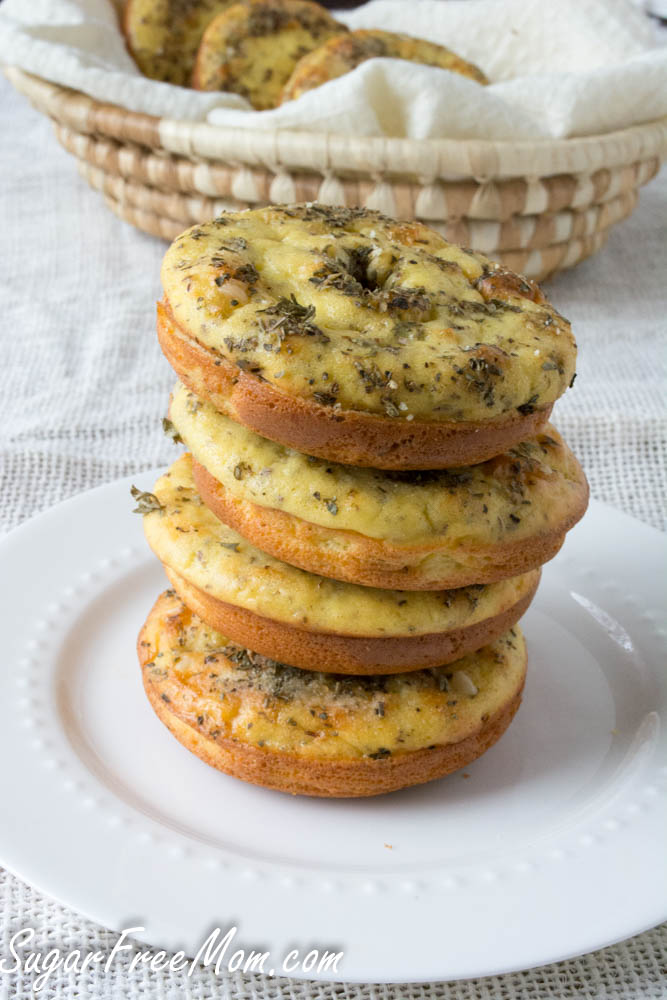 The weight didn't start creeping up on my until I started writing the cookbook. It took me until the summer to finish and with it came and an additional 10 pounds.
I was shocked, it happened so slowly. It was sneaky, just a pound or two each week, thought I could just take it off with exercise. Wrong! Did. Not. Budge. For months I did everything I knew I should do, nothing worked.
Discouraging is not even close to how I felt.
I started talking with a health coach who is a close friend, Michele, from many years ago. ( If you decide to chat with her, please let her know I sent you).
We uncovered so many underlying issues and it helped immensely. I had hope. We learned through the process of chatting once a week on the phone and trying different things that my body, at now the age of 43, is not the same as it was 10 years.
What worked for me 10 years ago, isn't working now.
I needed a new system. A new plan. A change to see change.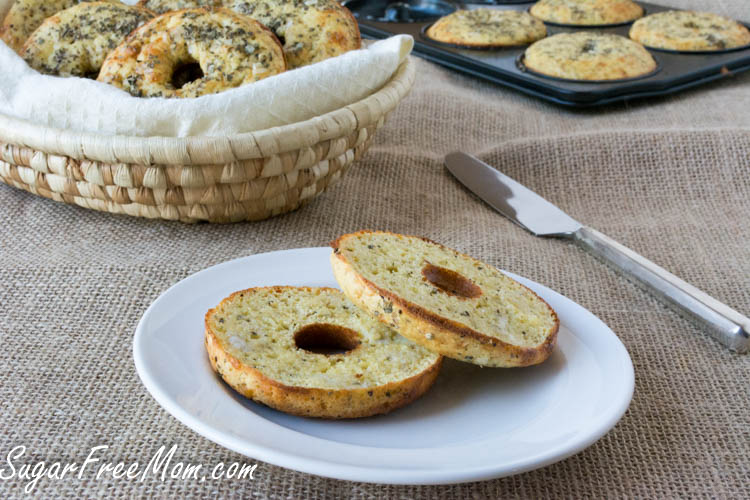 As I've gotten older and just through blogging, I changed so much as well. I've discovered what makes me feel better to eat and what I need to avoid. Through the process of self elimination, gluten products is something I can no longer have and that has been reflected in my recipes as well.
I've also learned what makes me feel satisfied is good fats, like coconut oil, extra virgin olive oil and avocados. You'll notice more of my recipes are not low in fat and that is on purpose friends! Good fats make you feel satisfied so you're not left feeling like you need more!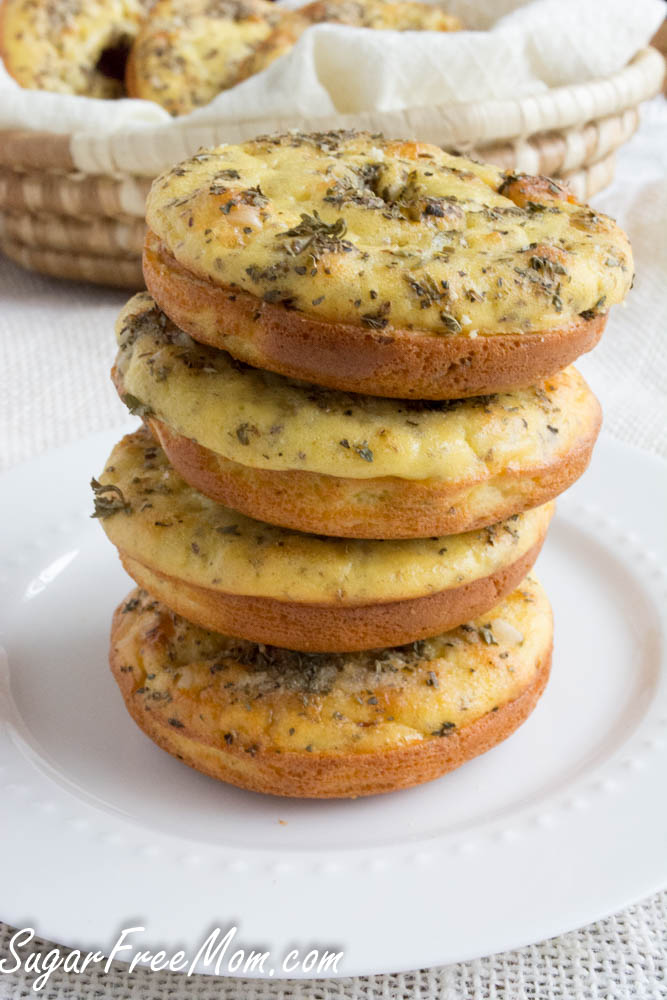 I want you to know, you don't have to avoid breads when you make them low carb!
One thing I've learned is that low carb and healthy fats make me feel better. Over the last few months and with this continued approach, I am feeling better than I've ever felt and satisfied.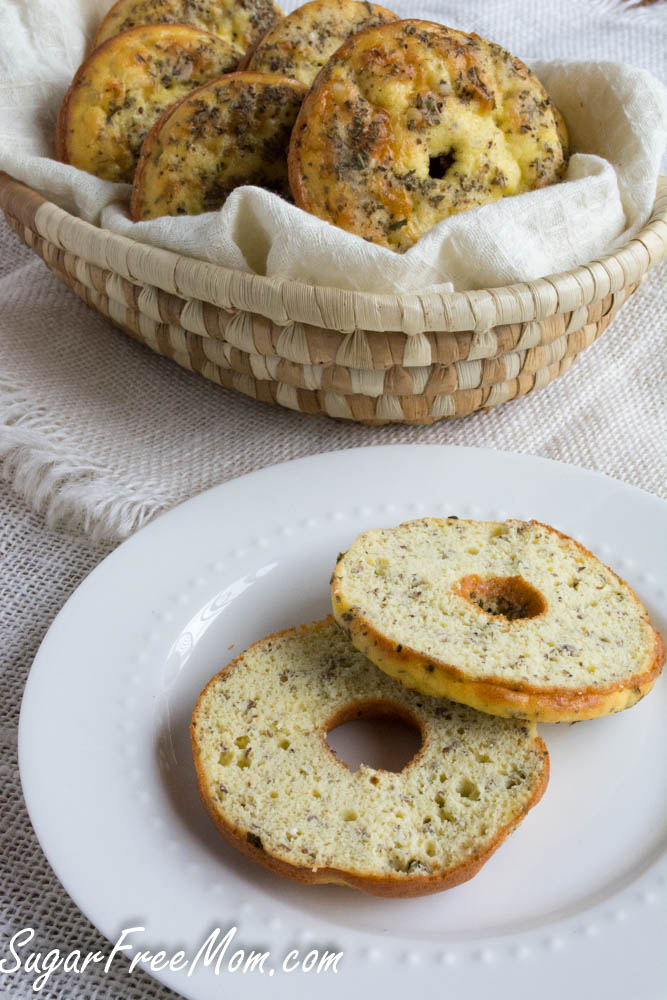 Higher healthy fats in foods is not something to avoid but embrace!
I've made this recipe with many different changes and this is by far the best I know it can be. I've tried subbing the sour cream for heavy cream and they came out too soft. I tried more flaxseed and less coconut flour and they were not as tasty. I used more coconut flour and less protein powder and the texture wasn't right.
Now comparing this to a white flour and sugar bagel, they will never be like what you might be used to. BUT for a low carb healthy bagel these rock!
This bagel just needs some butter on it and an egg and you've got a fabulously healthy low carb breakfast that will keep you full and happy!
Here are some other recipes you might like:
This recipe was first published in January of 2015 and updated today with a video.
Here's the link to the donut pan I purchased for the recipe.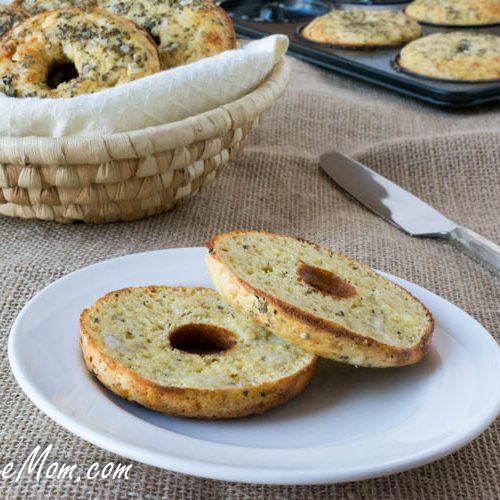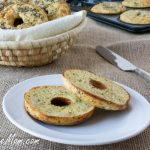 Print
Sugar-Free Low Carb Everything Bagel
Ingredients
Seasoning Topping
1

teaspoon

dried parsley

1

teaspoon

dried oregano

1

teaspoon

dried minced onion

½

teaspoon

garlic powder

½

teaspoon

dried basil

½

teaspoon

sea salt
Instructions
Preheat oven to 350 degrees.

In a stand mixer add the eggs and sour cream and blend until combined well.

In a large bowl whisk the flaxseed, salt, baking powder, coconut flour and protein powder together.

Slowly pour the dry ingredients into the wet in the stand mixer until incorporated.

In a small bowl whisk the seasonings together for the topping. Set aside.

Grease two 6 capacity doughnut pans liberally.

Sprinkle about ¼ teaspoon of the seasonings directly into each section.

Pour batter evenly into each.

Evenly sprinkle the rest of the seasoning mixture onto the batter of each bagel.

Bake bagels for 25 minutes until golden brown.

Cool slightly then remove from pan. Keep refrigerated until ready to toast and serve.
Nutrition
Serving:
1
bagel
|
Calories:
134
kcal
|
Carbohydrates:
4.2
g
|
Protein:
12.1
g
|
Fat:
6.8
g
|
Saturated Fat:
2.2
g
|
Cholesterol:
188
mg
|
Sodium:
279
mg
|
Fiber:
2.5
g
|
Sugar:
0.8
g