This Loaded Cauliflower bake is a low carb, keto side dish that even non low carb fans will enjoy! Perfect side with any dinner!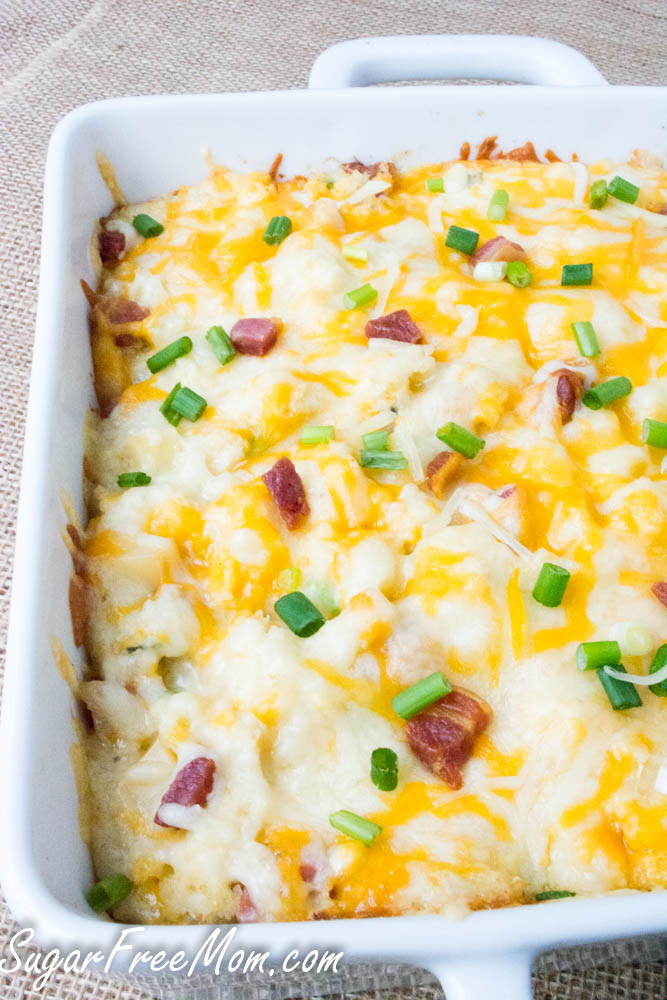 Loaded Cauliflower Casserole
Cheese and bacon. Bacon and cheese. Can't have one without the other it seems. At least in most epic recipes that make you drool, they are the stars of the dish and this one is no exception.
But this one uses pancetta, the bacon of Italians. And while loaded cauliflower wouldn't be consumed by my old fashioned Italian grandmother, this is still a winning side dish for any party or holiday.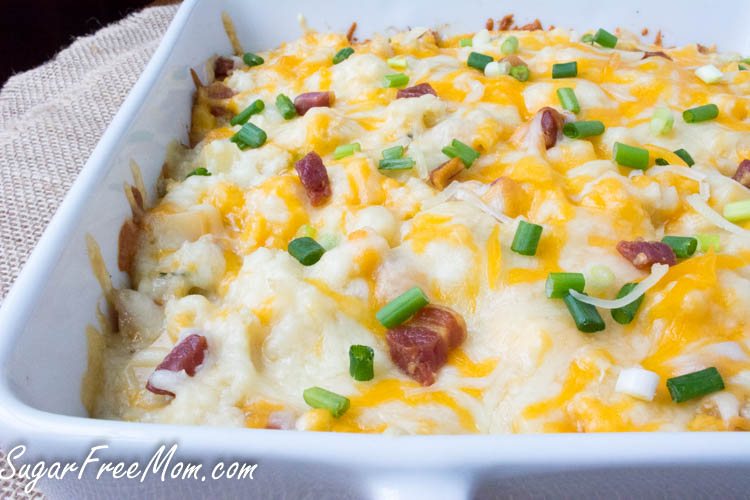 Loaded Cauliflower
When you hear the word 'loaded' what do you think? Loaded with calories? Loaded with goodness? Maybe loaded is a dirty word for some, that is, if you are into your New Year's Resolution at full force.
But loaded means so many good things in the keto, low carb world! Loaded with all things delicious in this creamy cheesy mashed cauliflower.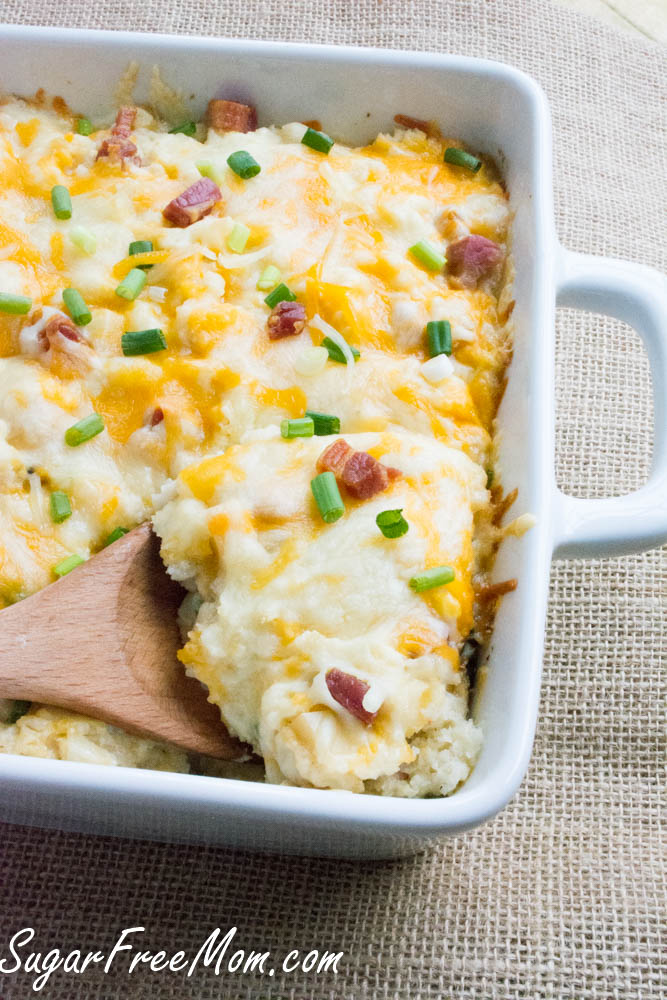 But whether you're keto or low carb or not even close to either of those things, you will still enjoy this cauliflower casserole.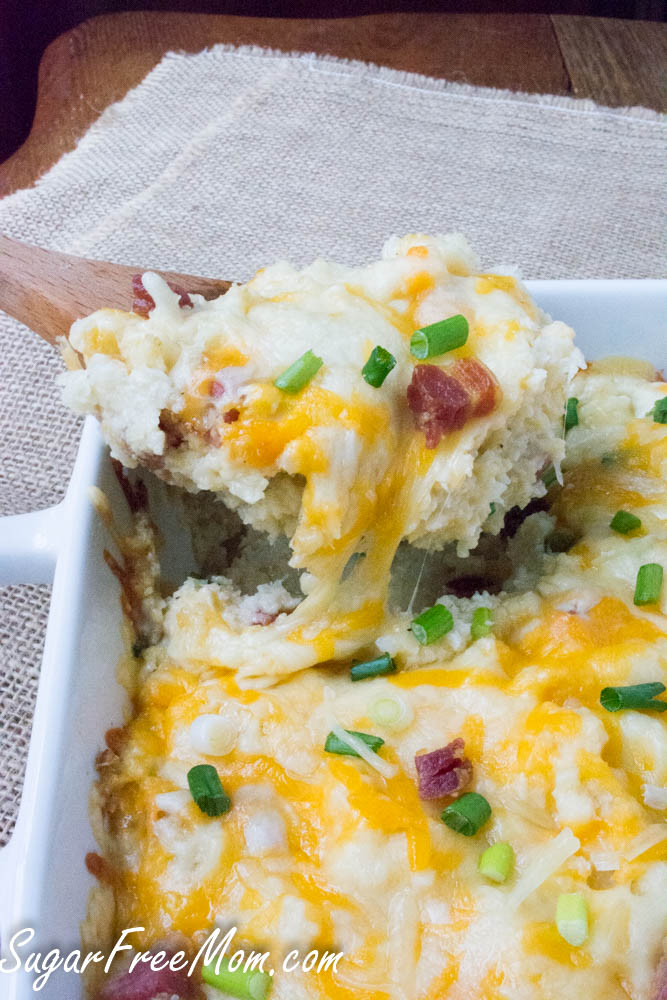 Here's my Keto journey in case your interested in beginning. All I can say is it's worth it. You will never be hungry. You always feel satiated and you can enjoy things you thought were once forbidden. And that is food freedom in my opinion.
I've also got a Free 7 Day Keto Menu if you'd like to get started. It's really not as hard as you think!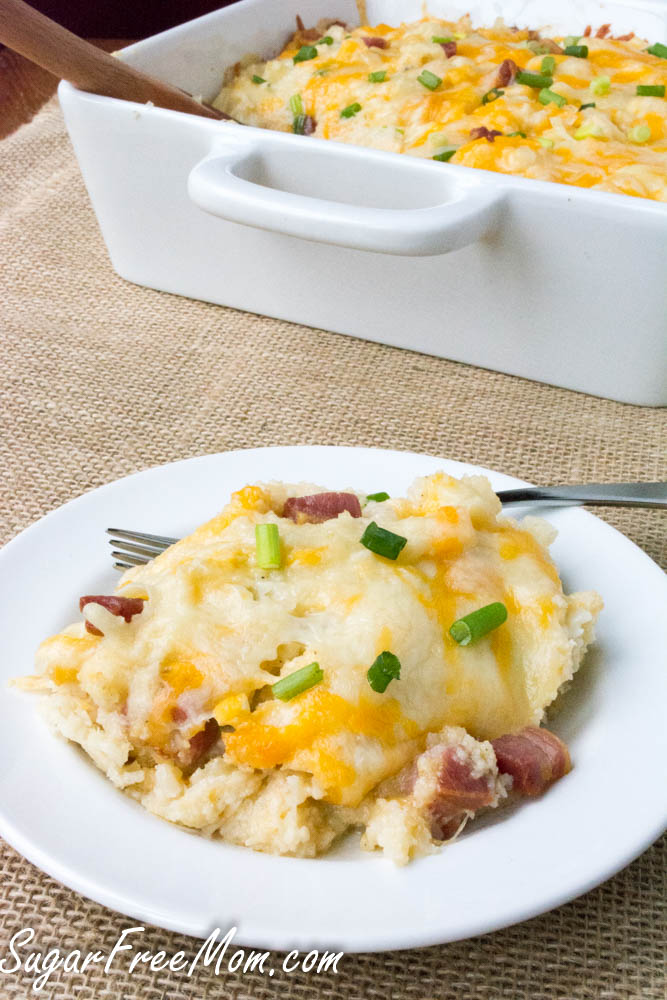 I pulled off the unthinkable in my Italian household. I made this as a side for Christmas day along with my mom's prime rib! And the only one who knew it was made with cauliflower was the hubby and he didn't tell!
If my dad did think it tasted different than potatoes, he never mentioned it. So this is a win in my family.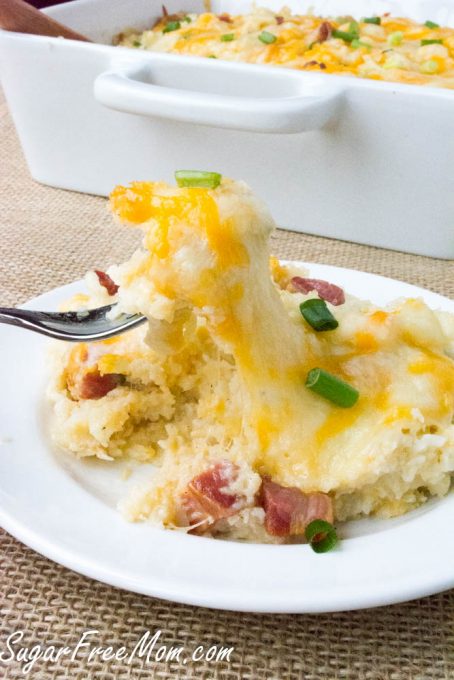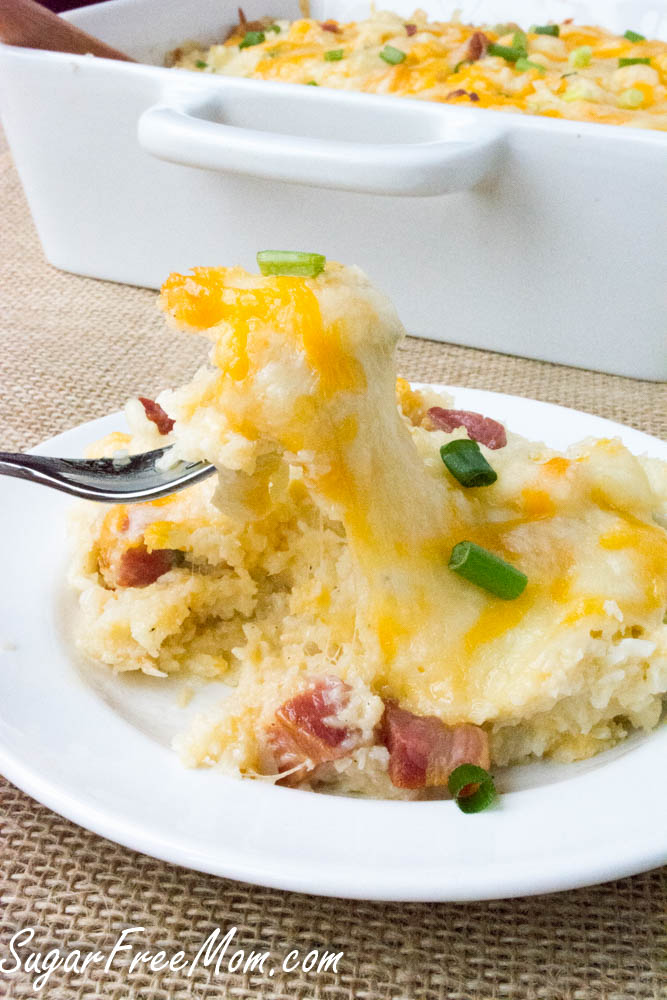 AND they all ate it up. The Kiddies. The Picky Hubby. My Italian father who comes from Rome and doesn't even like mashed anything.
And they all loved it. So whether you tell them what inside or not, just be sure to tell them AFTER they try it.

New Here?
Are you unsure about all the sugar free sweetener options and what is the difference between sugar free versus low carb? Here's what you'll see shared on my blog as well. If you're all ready a sugar free fan, but need a little guidance in converting some recipes to sugar free, this post about all the differences with stevia plus a conversion chart might help you.
And last if you're ready to start the New Year, but need a little more help and guidance you can check out my Sugar Detox Plan and well as my Cookbook for more helpful recipes.
You can subscribe for free by email so you won't ever miss any recipes I share on social media and just for subscribing you receive a FREE recipe from my Cookbook!
Loaded Cauliflower Bake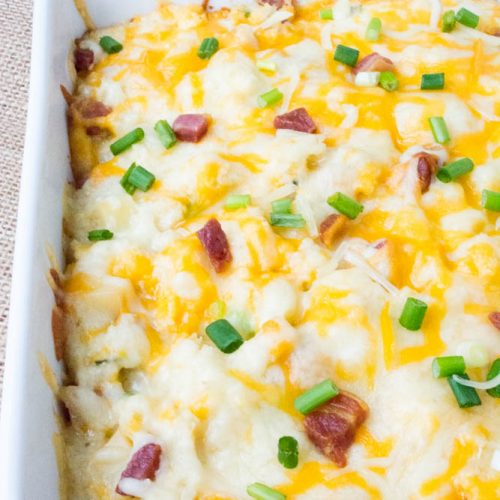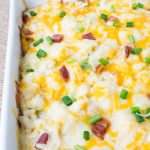 Print
Loaded Mashed Cheesy Pancetta Cauliflower
Ingredients
32

ounces

cauliflower or 2 pounds

¼

cup

butter

¼

teaspoon

salt

¼

teaspoon

pepper

½

teaspoon

garlic powder

8

ounces

pancetta

diced

8

ounces

smoked gruyere

8

ounces

shredded Monterey Jack cheese

divided

8

ounces

shredded cheddar cheese

divided

½

cup

chopped scallions
Instructions
Cut off stems of cauliflower and steam florets until tender.

Place in a food processor and add butter, salt, pepper and garlic powder.

Process until smooth, no lumps.

Preheat oven to 350 degrees F.

Cook pancetta in a saute pan over medium high heat until crisp. Drain on paper towel.

Place pureed cauliflower in a bowl and stir in half of each kind of cheese. Save remaining cheese for topping.

Stir in pancetta, save some pieces for topping.

Stir in scallions and save some to sprinkle on top when serving.

Grease pan with olive oil cooking spray.

Spread mixture evenly into dish.

Sprinkle the rest of the cheese over the top of the mixture.

Bake for 30 minutes or until bubbling on the edges.

Allow to cool for 15 minutes before serving.

Sprinkle with extra pancetta and scallions before serving.

Enjoy!
Notes
Net Carbs: 1.9g
Brenda's Notes:
You can use frozen cauliflower if you don't have fresh on hand. Just steam as you would with fresh florets and continue with recipe as follows.
If you don't have pancetta, just use regular uncured, nitrate free bacon.
You could use any cheeses you like. Not a fan of gruyere, try gouda or smoked mozzarella.
Not sure about the differences between sugar free versus low carb, check out this post for more info.
This recipe was first published in January 2016 and updated with video in Nov. 2018. 
Nutrition
Calories:
229
kcal
|
Carbohydrates:
2.9
g
|
Protein:
13.1
g
|
Fat:
18.8
g
|
Saturated Fat:
9.7
g
|
Cholesterol:
60
mg
|
Sodium:
460
mg
|
Fiber:
1
g
|
Sugar:
1
g