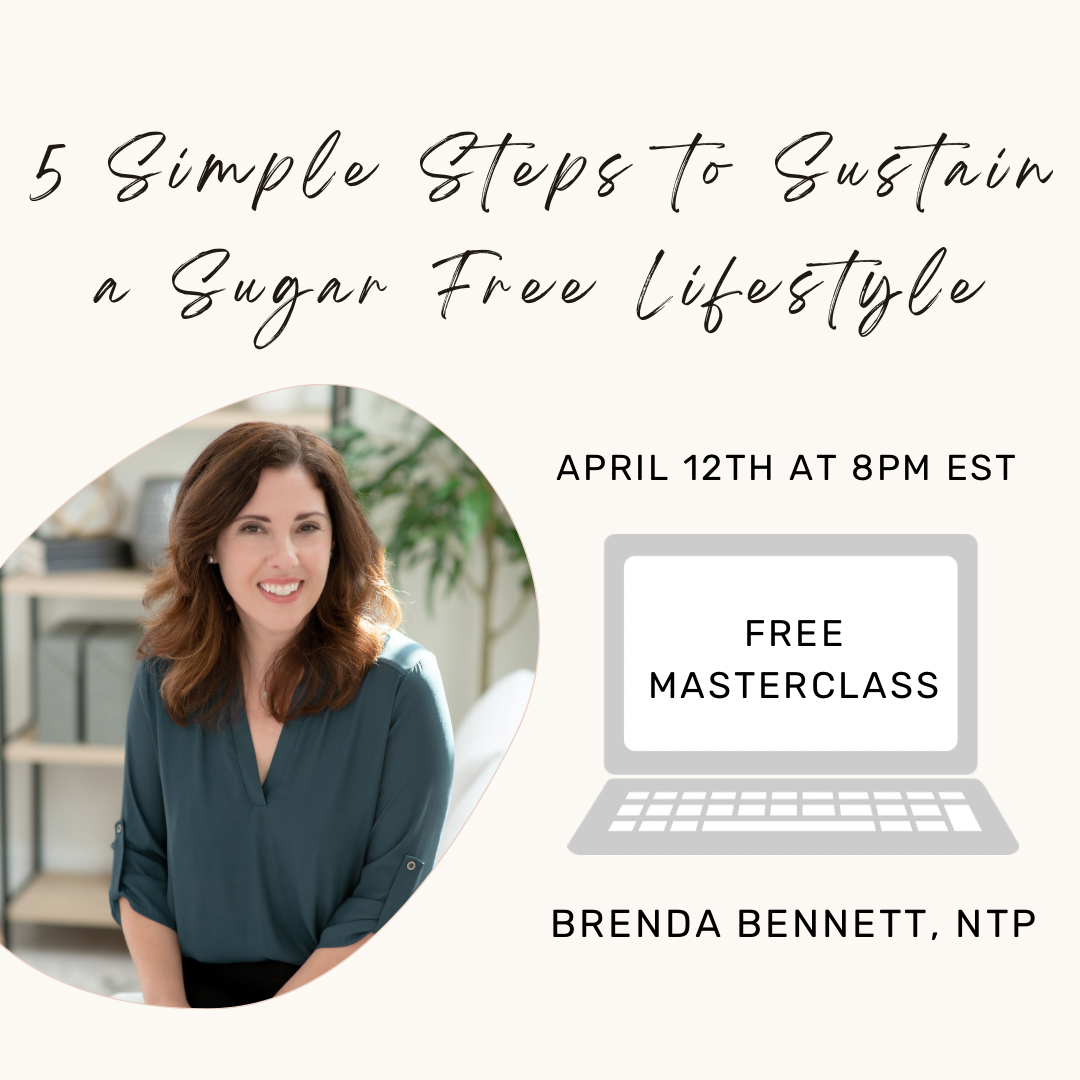 If you have struggled with eating too much sugar, or have had a difficult time saying no to sugar cravings, this free masterclass will give you the tools to learn how to balance your blood sugar levels to reduce and/or eliminate your sugar consumption and learn how to sustain a sugar-free diet so you can reap the health benefits to reach your weight loss goals.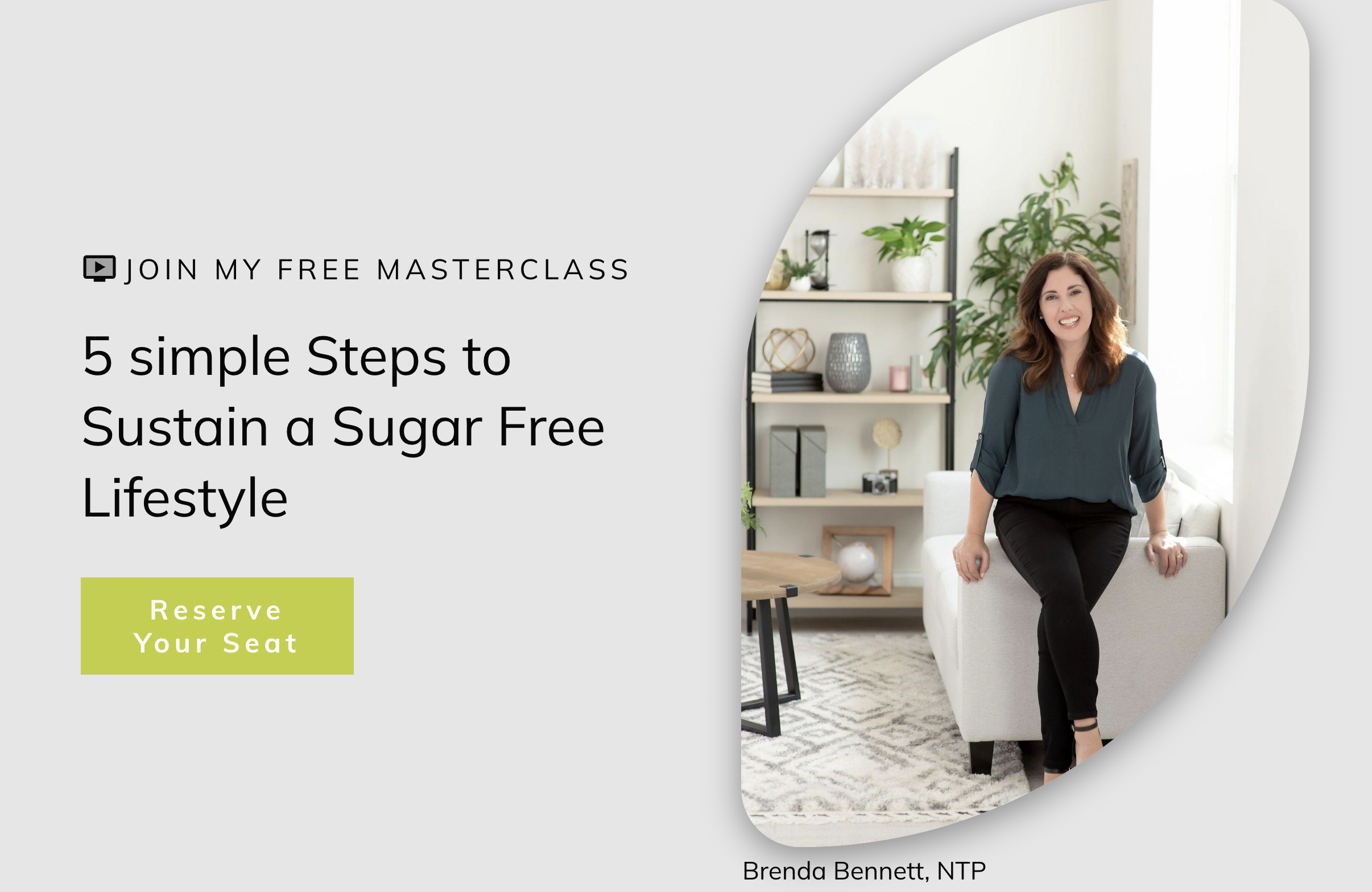 What's the secret to kicking sugar cravings?
Have you ever wondered why some people can just stop eating sugar whenever they want, yet some people struggle and struggle, and keep trying to quit, but can't seem to make it stick?
Why is it so hard for some to remove added sugar, refined sugar and even natural sugars, but it's not a problem for others?
Why does the sweet stuff call your name, but your spouse doesn't desire it and maintains a healthy weight, yet every year you have more weight gain?
Why do you keep turning back to old habits that you know don't serve you, that you know causes a ton of adverse effects and health problems?
Is it even possible to live without sweet treats, table sugar, sugary foods, sugary drinks, energy drinks, brown sugar, maple syrup, high fructose corn syrup (which is literally in everything) or even artificial sweeteners?
Can I eat small amounts of white sugar on special occasions or will that derail my efforts?
Do I have to stop cold turkey?
Do I have to stop eating whole fruit or fruit juice?
Can I still enjoy soft drinks that are made with sugar substitutes?
Can I still eat white bread, white rice, white potatoes and sweet potatoes?
Will removing or reducing my sugar intake cause low blood sugar and mood swings?
What can I order at a coffee shop?
Are natural sources of sugar ok?
I will be answering all these questions and more in this New FREE masterclass on April 12th at 8pm eastern.
The 5 Simple Steps to Sustain a Sugar Free Lifestyle and be in the body you Love!
In this Free Masterclass you will learn:
The 5 steps needed for successfully living a sugar free life without feeling deprived.
The ways to avoid turning back to old eating habits and self-sabotage.
How to reach your weight loss goals and stay there.
Is Sugar Addiction Real?
There comes a time in life that you have reached the bottom. The bottom of a pit that looks hopeless and miserable and you think you'll never get out of it.
I've been there, I know the struggle to say, "Tomorrow will be better, tomorrow I will do everything right, tomorrow I will change my ways and won't give in to the sweets that call my name, tomorrow things will be better."
Then tomorrow comes, which of course is a Monday, and you are ready to take on the day. You made a nice breakfast and have all the stamina of a bull ready to be released and charge into the pit to fight. Lunch comes around and your feeling great; had a nice salad, enjoyed veggies, protein and a fruit. Feeling wonderful and happy.
Then 3 pm hits and you have some coffee to help with that sluggish feeling.
You start looking in the cupboards for a healthy snack and choose some fresh fruit. But you're not satisfied; you can't concentrate you need something else because certainly fruit isn't going to hold you over until dinner right?
So you go back into the cupboard and find some whole grains like crackers; "ok cheese and crackers that will work, but those cookies in there for the kids look really good!
"I can do this, I can have one and be done, I just need a little something sweet, one won't ruin my healthy eating day!!"
And you take that one bite and if you can relate to this you know how it ends, don't you?
This is Sugar Addiction and it is Real!
Studies show that in some people, sugar triggers a high dopamine response just like a drug addict. Some people can moderate sugar and some can't. I am an abstainer because moderation never worked for me.
Sugar Cravings are Intense
Let's face it, stress happens to all of us. No one is immune to external or internal stress and how we think about stress, what we feel about stress, how we deal with stress is different for everyone. Some turn to alcohol or drugs, but some turn to food to soothe ourselves.
At some point in your life, you chose to deal with stress by eating a lot of sugar to cope to make yourself feel better. It just became a habit for your brain to deal with stress and it's often a really hard habit to break.
But I've got some good news, you can break free from a high-sugar diet that feeds chronic diseases while balancing your blood glucose levels and changing your taste buds to desire whole foods!
Coping with Stress through Emotional Eating
If it's beens years and years and you've dealt with whatever life throws at you by eating over it, then you know this is an ingrained habit in your brain.
But there are simple ways to rewire our brains to stop the stress eating. Simple strategies that really work to retrain your brain to stop eating over your emotions.
I said simple, but I didn't say they'd be easy. Simple and easy are two very different things, but with support it can be done and I'm going to share with you, not only how to stop the stress eating, but how to rewire your brain into using other strategies to reduce your stress, so you don't continue this destructive pattern.
If you've had a sweet tooth all your life and/or struggled with kicking sugar to the curb for good to reach your weight loss goals, join me in this New Free Sugar Freedom Masterclass! Register Here.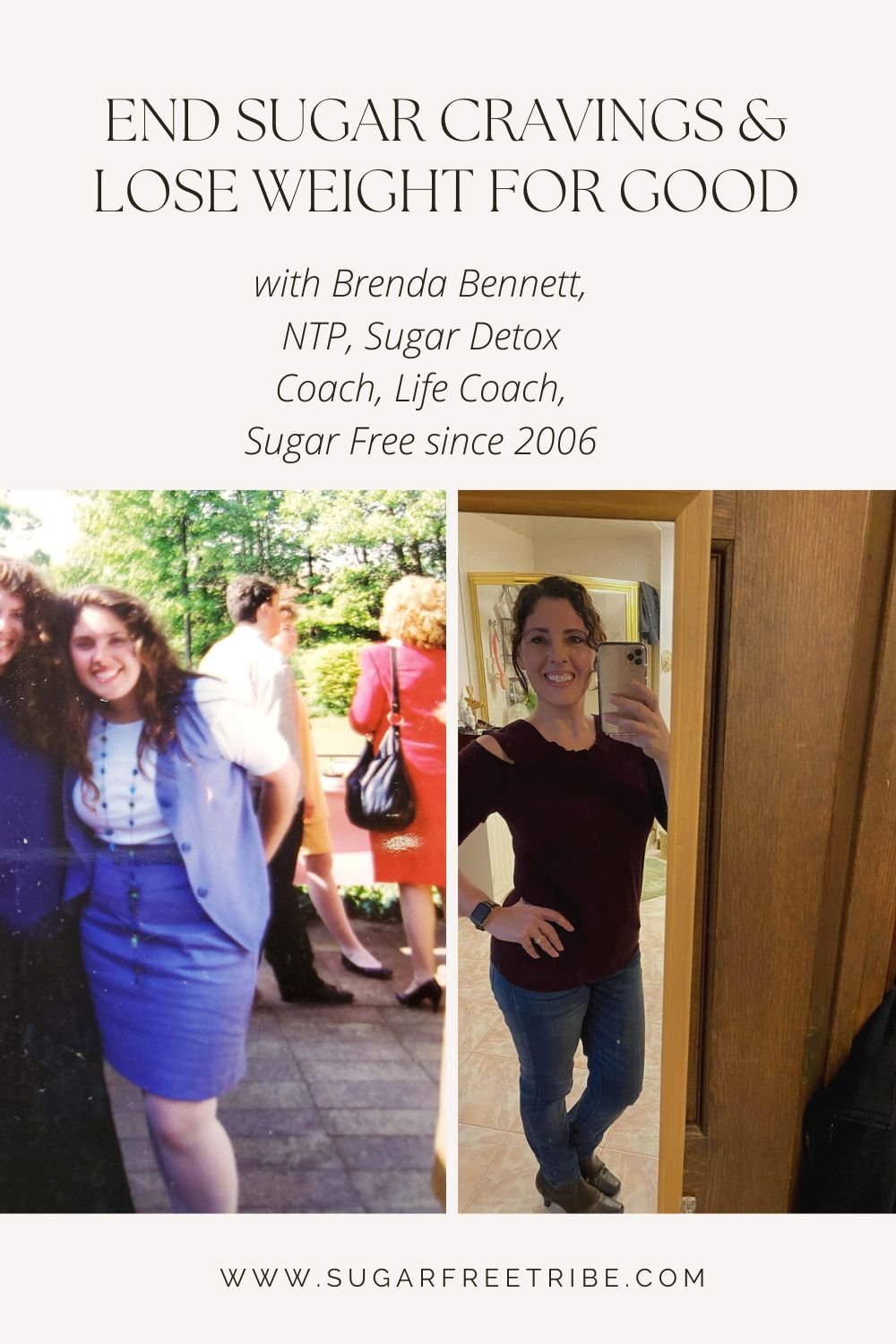 Brenda Bennett is a Nutritional Therapy Practitioner, Certified Keto coach, Sugar Detox Coach and has been living a sugar-free life since 2006. Brenda Bennett is the writer and photographer behind www.sugarfreemom.com and allergy-friendly low carb food blog that focuses on fresh whole-food recipes that are free of grains, gluten, and of course sugar.
She launched the blog in 2011 as a place for her family and friends to find her recipes easily, and it quickly because a leading resource for low-carb versions of high-carb favorites.
She has written 2 cookbooks, Sugar-Free Mom, and Naturally Keto and her 3rd book The 30-Day Sugar Elimination Diet, is a four part program to help you detox from sugar, eliminate cravings, balance blood sugar and lose weight all while eating a delicious, nutrient dense whole food meal plan that offers two tracks to follow, low carb or keto.
She is the CEO and owner of the Sugar Free Tribe Membership which provides weekly live coaching classes, courses and weight loss support for living a sugar free lifestyle to reach your health goals.