Homemade Peanut Butter Cups made healthier and naturally sugar-free!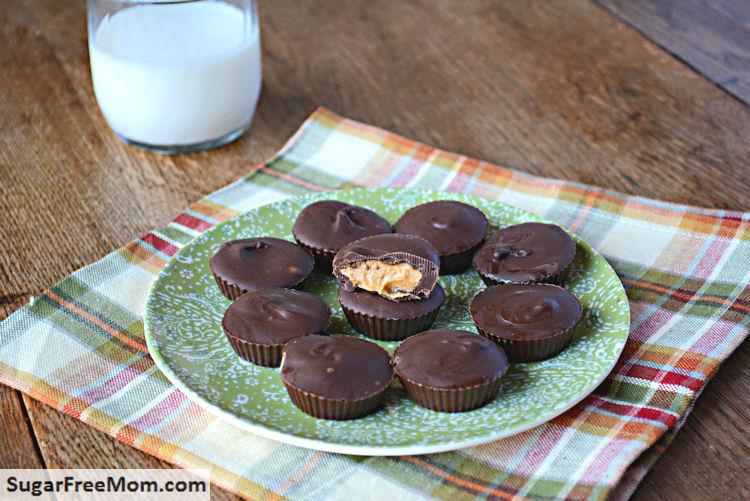 Can the classic peanut butter cup be made sugar-free and still be just as good, if not a bit better knowing it's sweetened naturally? YOU better believe it! Or don't believe me, but TRY this recipe and find out how seriously true this is! It's a simple recipe that really just requires some melting of chocolate and layering chocolate and natural peanut butter together then refrigerated. Perfect little gift idea to give during the holidays or to add to cookie trays. A special treat for the family with a recipe this easy can really be made anytime at all.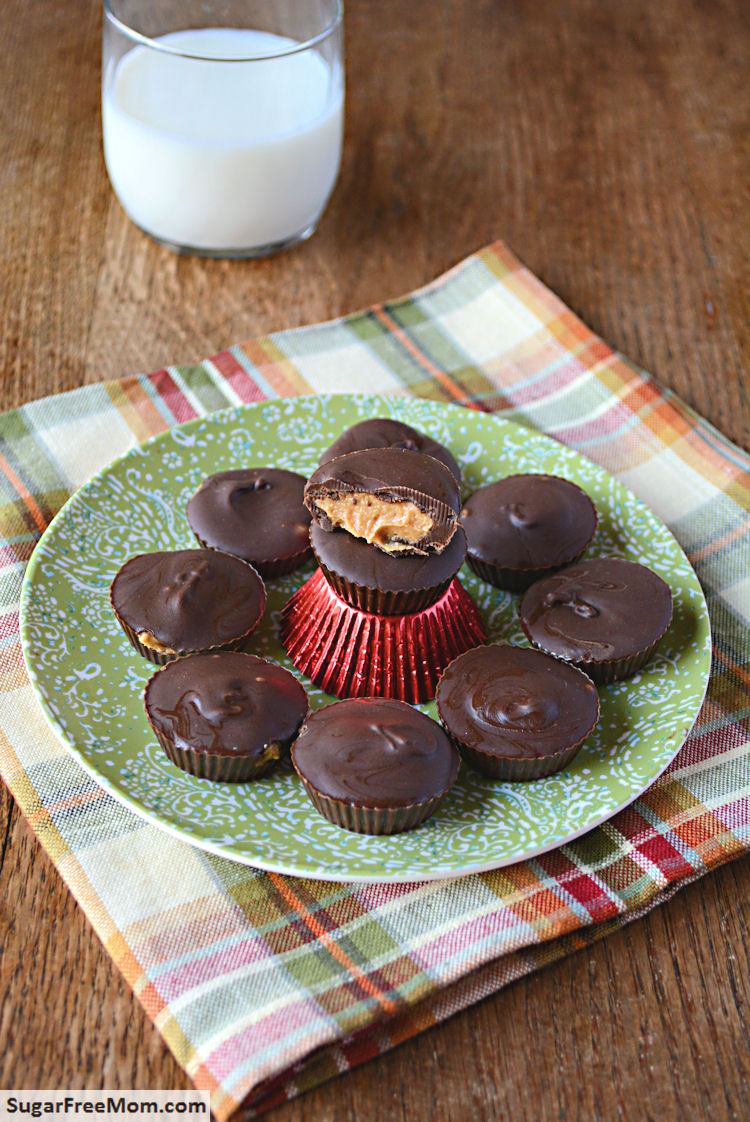 A creamy peanut buttery smooth center is unmistakable to the peanut butter cup. You can really add any sweetener you like, but making it with powdered or even liquid stevia is the way I enjoy these. My boys are allergic so they can't have them, but my hubby and daughter and I are peanut butter lovers! Using all natural unsweetened peanut butter is the better choice here so you can add your own sweetener and adjust as needed.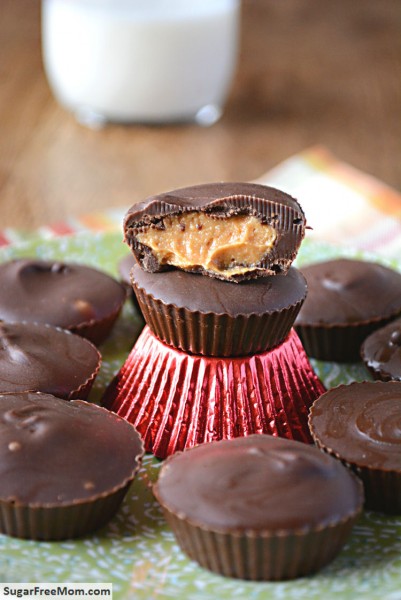 For me candy and Christmas go hand hand. Yes I know everyone loves the Christmas cookies, but I just want chocolate and good chocolate. Buying sugar free artificially made candy will cause your stomach to do relay races to the bathroom, how do I know? I've had the experience once in the past and never again will I buy that stuff. It's just as easy to make at home!
Filled with fiber and protein and less than 100 calories for one delicious decadent peanut butter cup! Make and freeze so you won't be tempted to eat more than one!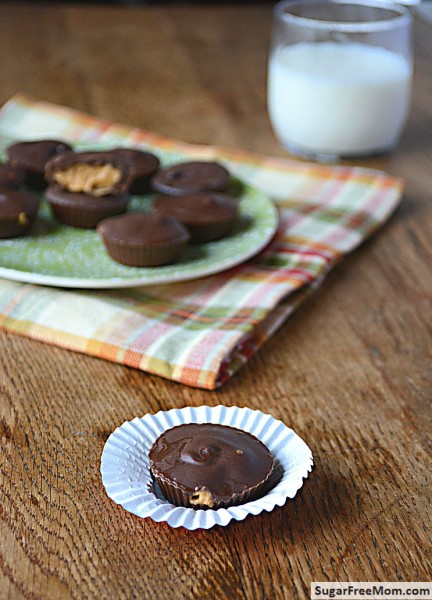 Notes on Substitutions:
If you don't have powdered stevia packets you can use 2 teaspoons in the chocolate mixture or use liquid stevia, about 4 droppers full or taste and adjust to your liking.
You can use already sweetened chocolate chips if you prefer, then you can eliminate the 4-6 packets of stevia in the chocolate mixture. A brand I like that is sugar-free from Whole Foods is called, Lily's sweetened with stevia. An allergy friendly chocolate chip is by Enjoy Life sweetened with evaporated cane juice. You may be able to find grain sweetened chocolate chips, but if gluten free be careful of the sweetener called barely malt syrup which is not gluten free.
You could also sub honey or another sweetener in the unsweetened baking chocolate.
If you don't have brown rice flour, you can sub another flour you have on hand, perhaps almond or just eliminate it. I would not recommend coconut flour as the taste will be distracting from the peanut butter flavor.
I've not tried this with powdered peanut butter, but I think it will work, just not sure the taste will be as authentic here.
Increase flour if using another liquid sweetener.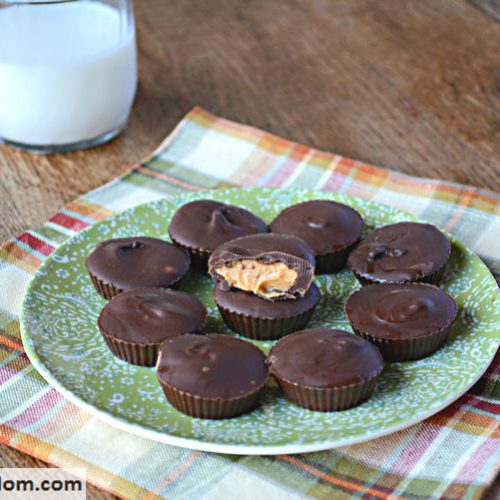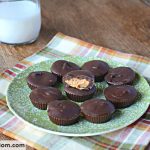 Print
Homemade Sugar Free Peanut Butter Cups
Instructions
In a microwaveable bowl or on the stove, melt together the chocolate or carob with 1 tablespoon butter in sauce pan.

Add stevia packets to taste (if using carob you will not need any stevia).

In another bowl mix together the rest of the ingredients and stir until smooth.
To Assemble:
Place 1 teaspoon of chocolate into each mold.

Spoon a heaping ½ teaspoon of peanut butter onto each chocolate sauce in mold.

Top with one more teaspoon of chocolate on top to cover.

Refrigerate until hardened about an hour.
Notes
*If you use unsweetened carob chips you will not need to add any stevia to it once melted. It is naturally sweet on it's own but will increase sugar grams to 3 grams but decrease your calories to 64.
Weight Watchers PointsPlus: 3*
Nutrition
Serving:
1
g
|
Calories:
94
kcal
|
Carbohydrates:
4.6
g
|
Protein:
2.3
g
|
Fat:
9.5
g
|
Saturated Fat:
5
g
|
Cholesterol:
5
mg
|
Sodium:
22
mg
|
Fiber:
2.3
g
|
Sugar:
0.2
g
Other Christmas Recipes you might like: