How to Make Lemon Poached Chicken and a light low sodium Broth!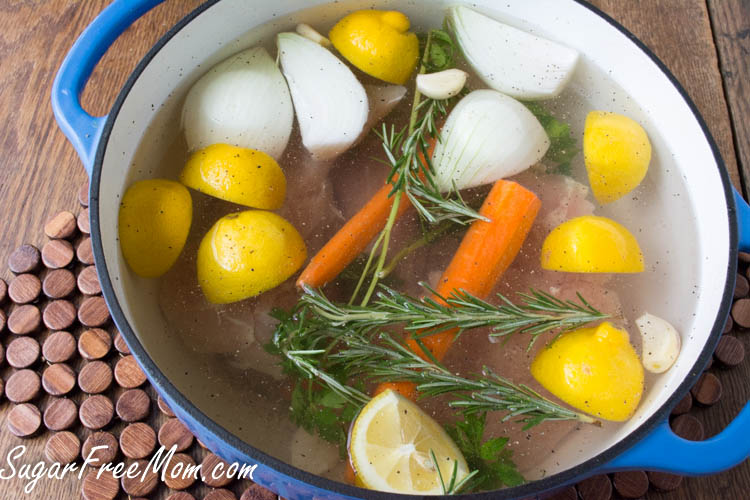 I've got a confession for you, this is so easy but I'd never poached chicken before or made my own broth with it! My motivation for this was simply because I wanted some light chicken for salads and such during the week and also wanted to make some new soup recipes. As I was looking at the chicken bouillon cubes and realized that there was 1100mg in just one, and if you intend to use 4-6 bouillon cubes for soup OH MY that is a whole lot of sodium!
I knew I had to start making my own, especially for my hubby's sake. He's got high blood pressure so anything with too much sodium is not his friend. Well, how silly I was to think this would be time consuming! It is anything but! Once the veggies are in the pot with water and you've boiled for a little bit you can turn off the heat and come back later to strain out the broth. The chicken is so moist and tender and obviously can be used for so many wonderful recipes.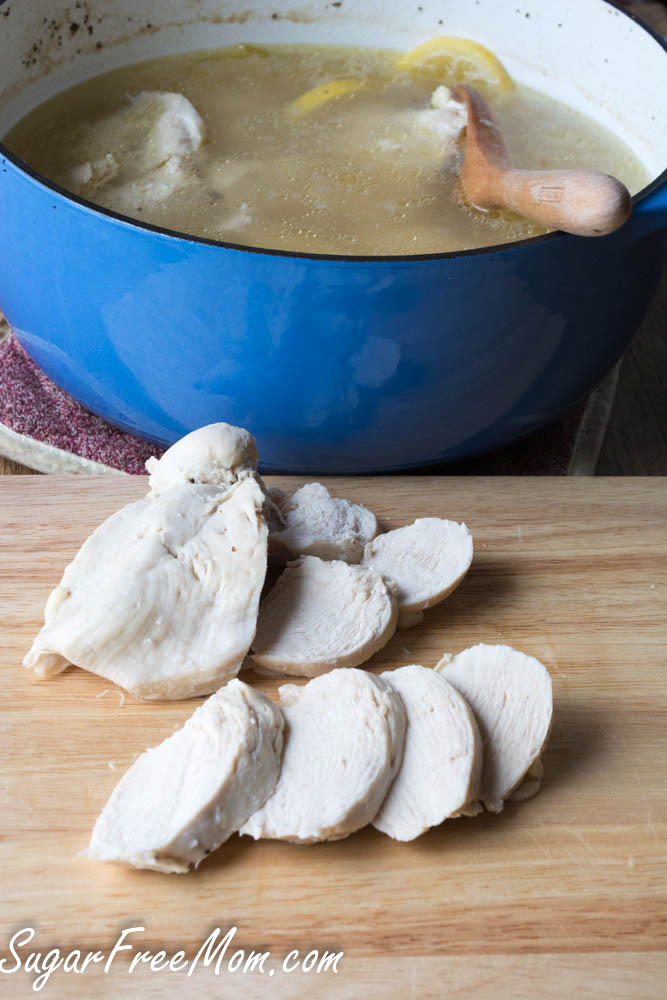 The first time I made this lemon poached chicken I didn't add much to the poaching liquid as far as veggies, but the second time I decided to add more flavor from onions and carrots. Much better than the first, but you can truly add anything you want to the pot to flavor your broth.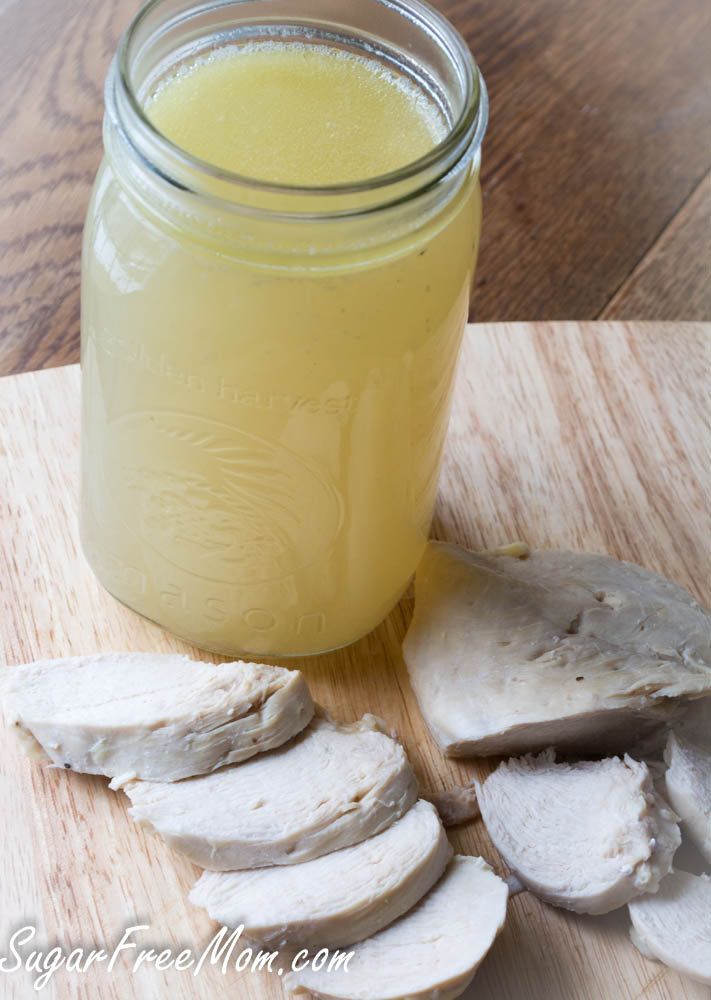 Once you strain the broth you have a fabulously light and low sodium broth for whenever you need! I've got a few new soup recipes coming your way soon. I mean just because it's May 1st doesn't mean you should ignore a good bowl of soup right? And plus once you have a fabulous broth like this you'll want to use it up! 🙂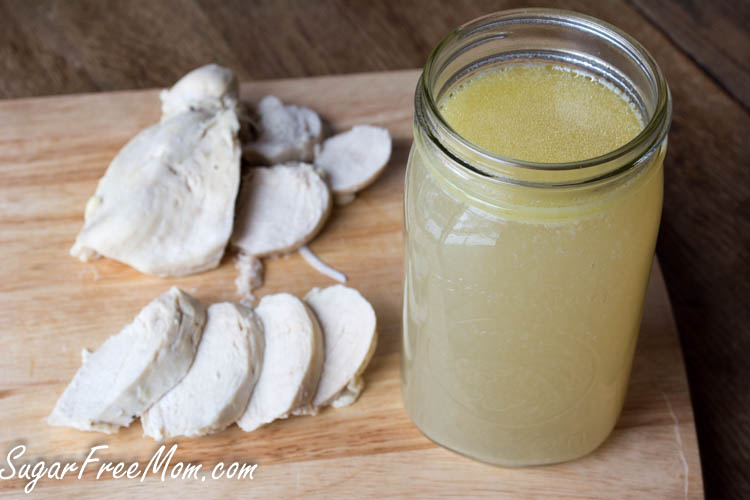 Brenda's Notes:
Although you begin with 12 cups of water, once cooked and strained you will have 11 cups of broth.
The nutrition info below is just for the poached chicken.
This is the nutrition info for just the broth which is considerably lower in sodium than even buying low sodium canned broth. Most canned low sodium broth is around 500mg of sodium per cup.
Low Sodium Broth per cup: Calories: 5* Fat: .1g* Cholesterol: 0mg* Sodium: 206mg* Carbs: 1.1g* Fiber: .3g* Sugars: 0g* Protein: .2g*
The broth can be stored in the fridge for up to 2 weeks or freeze in a plastic container or Ziploc bag for up to 2 months.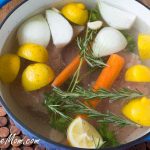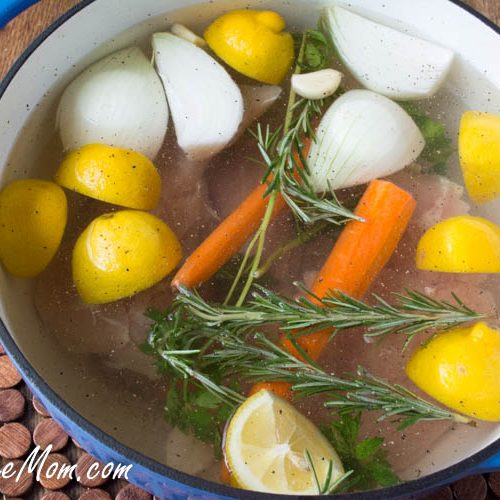 Print
How To Make Lemon Poached Chicken
Ingredients
12

cups

water

2

pounds

boneless

skinless chicken breasts

1

onion

peeled, quartered

3

carrots

peeled

3

cloves

garlic

peeled

3

sprigs fresh rosemary

3

stems fresh parsley

2

lemons sliced or quartered

1

teaspoon

salt

1

teaspoon

pepper
Instructions
In a large Dutch oven or heavy stock pot, add chicken and water.

Add in the rest of the ingredients and bring to a boil.

Cover halfway with the lid and simmer for 10 minutes.

Turn off heat and cover completely and let sit for 15-20 minutes.

Chicken should be cooked through and no longer pink when sliced in the center of a breast.

Strain poaching liquid and save for a nice light, low sodium broth.

Makes 11 cups of broth. Keep refrigerated.
Notes
Weight Watchers PointsPlus: 3*
Nutrition
Serving:
4
g
|
Calories:
102
kcal
|
Carbohydrates:
0.6
g
|
Protein:
23
g
|
Fat:
1.5
g
|
Cholesterol:
60
mg
|
Sodium:
512
mg
|
Fiber:
0.1
g