This keto, dairy free, nut free parmesan is a great alternative for those with dairy and nut allergies!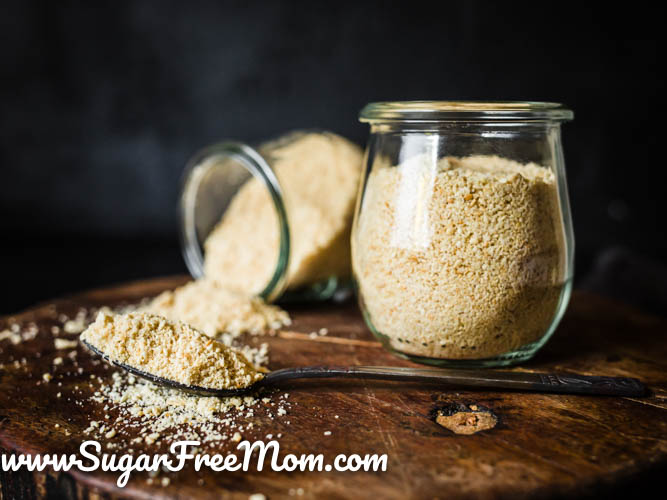 Dairy Free Parmesan
It seems odd to say parmesan made dairy free, but stick with me a minute. Italian parmesan cheese is an incredibly delicious aged cheese that works so well for so many wonderful Italian recipes I've shared on my blog. It's incredible for my Italian Skillet Chicken Parmesan from my cookbook Naturally Keto, and to top myQuick Italian Marinara sauce over zucchini noodles or spaghetti squash or miracle noodles. But sadly, so many are now dairy free due to allergies, like my own 16 year old daughter, that I wanted a solution that would be just as delicious. This dairy free Parmesan made with just two ingredients is phenomenal and just as tasty! Though it won't obviously have that familiar smell as grated parmesan does, it will provide that same texture to top most of keto recipes, even my Slow Cooker Turkey Rice Soup!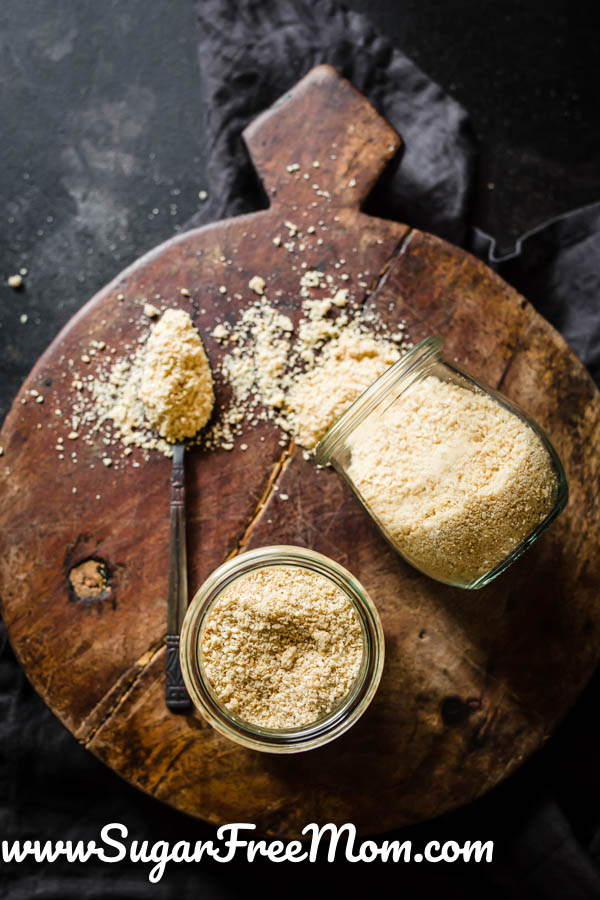 Tools to make Keto Vegan Parmesan
Shallow Frying Pan- A nice shallow frying pan works great for browning nuts and seeds in a dry skillet. It's large enough so that the seeds can spread and brown nicely all over.
Spice Grinder-These little grinders are fabulous for grinding spices or coffee beans and this one in particular can be used for wet or dry ingredients.
or Food Processor- This is a smaller capacity food processor than the one I use which is 14 cup capacity, but for smaller quantity of ingredients this size will work for most recipes.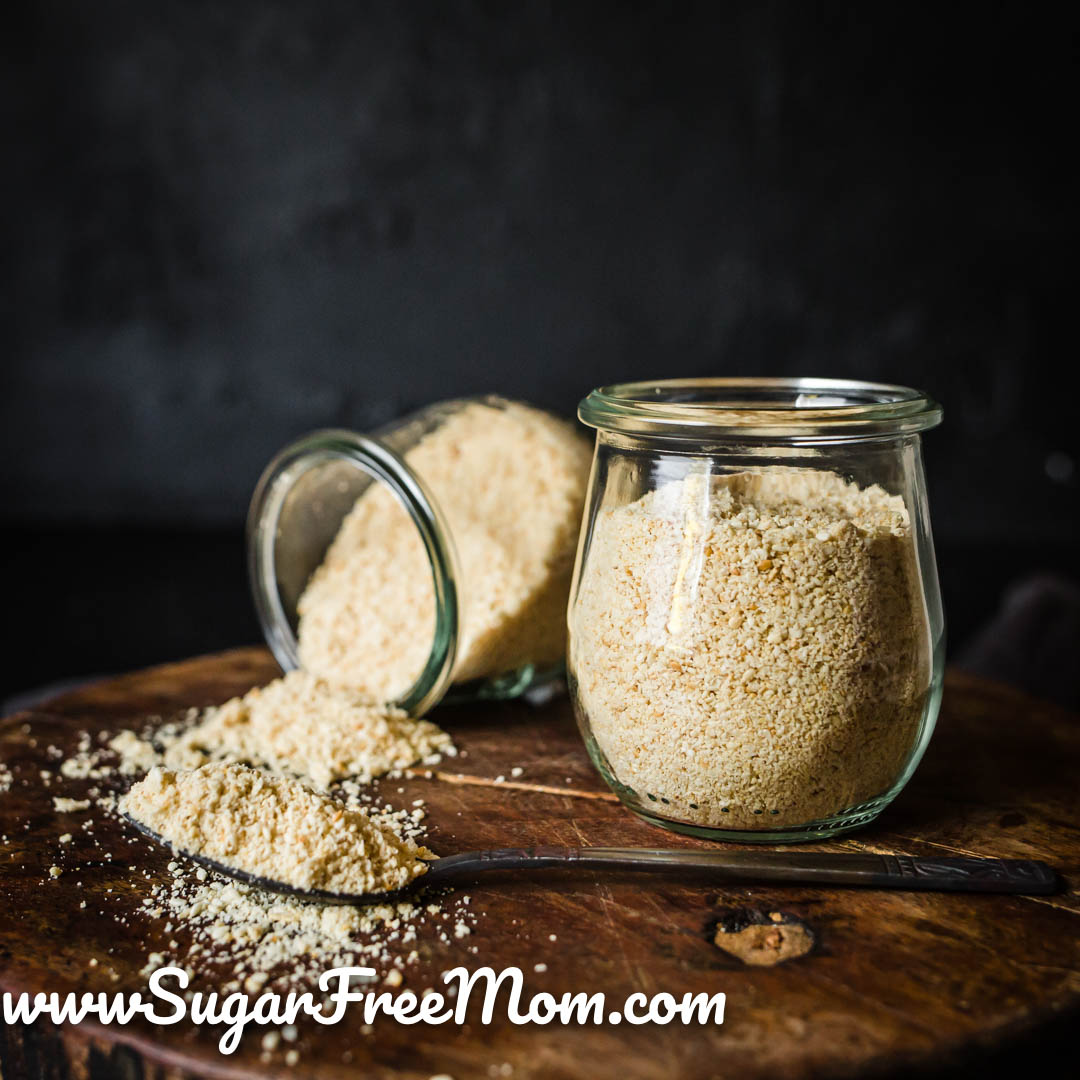 Meal Planning
If you love recipes like this for yourself and family, you will love my meal planning membership. Weekly low carb and/or keto meal plan sent to your inbox every Friday with shopping list. The best part about my meal planning feature is that if you aren't interested in one of the dinner meals you can swap it out for something else! You can even change serving sizes and the shopping list will adjust! It pretty amazing software and I hope you'll take advantage of it. You can have a sustainable low carb/keto lifestyle when you're well prepared and planning meals is the key! LEARN MORE TODAY!
Keto Vegan Parmesan (Nut Free)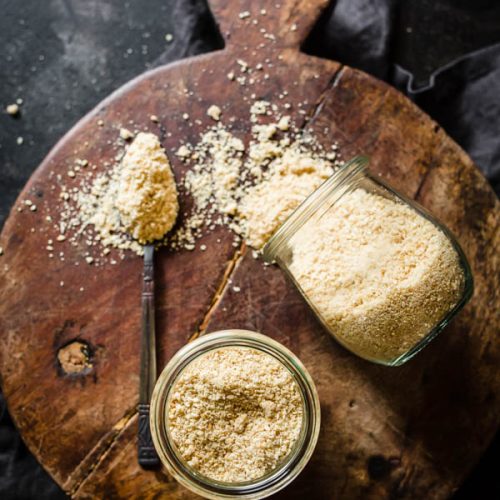 Print
Keto Vegan Parmesan (Nut Free)
This seasoning is so delicious that you won't notice it's not parmesan. The toasted
sesame seeds have a cheesy, rich flavor and the added salt gives it a salty finish. You
can sprinkle this on anything; eggs, avocado, salads…
Instructions
Place your sesame seeds in a large shallow frying pan and toast over medium heat until
they are golden and fragrant.

Be careful not to over-brown them as they will turn bitter.

Stir the salt through and then wait until the mixture cools, but is not cold.

Pulse the mixture in a spice grinder or food processor until it is broken up but not powdery. You still want texture in it and if you blitz too long the oils will start to form a paste.

Store in an airtight container in the pantry for up
to 4 weeks.
Nutrition
Serving:
1
tablespoon
|
Calories:
54
kcal
|
Carbohydrates:
2
g
|
Protein:
2
g
|
Fat:
5
g
|
Saturated Fat:
1
g
|
Sodium:
146
mg
|
Potassium:
44
mg
|
Fiber:
1
g
|
Sugar:
1
g
|
Calcium:
91
mg
|
Iron:
1
mg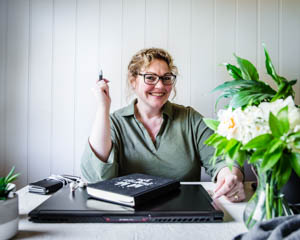 Naomi is the force behind Naomi Sherman | Food Creative. She is passionate about recipe development, food photography and styling. An accomplished home cook who was diagnosed with an auto-immune disease eight years ago, Naomi started to explore the connection between healthy, whole food and her symptoms, and a new love was born. She fiercely believes that what you put in your body is one of the most important factors for your physical, and mental, wellbeing.