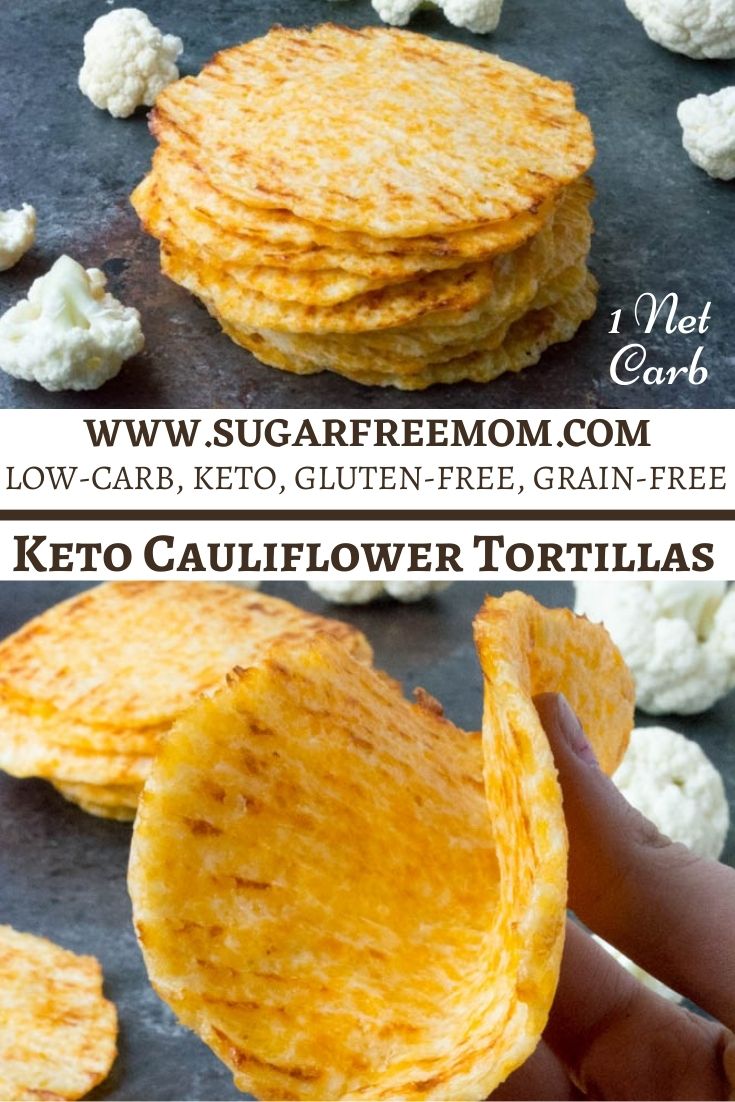 These Low Carb Keto Cauliflower tortillas are easy to make with just 5 ingredients and they wrap up without breaking. They are grain free, gluten free, low carb and easy! Just 1 net carb per serving.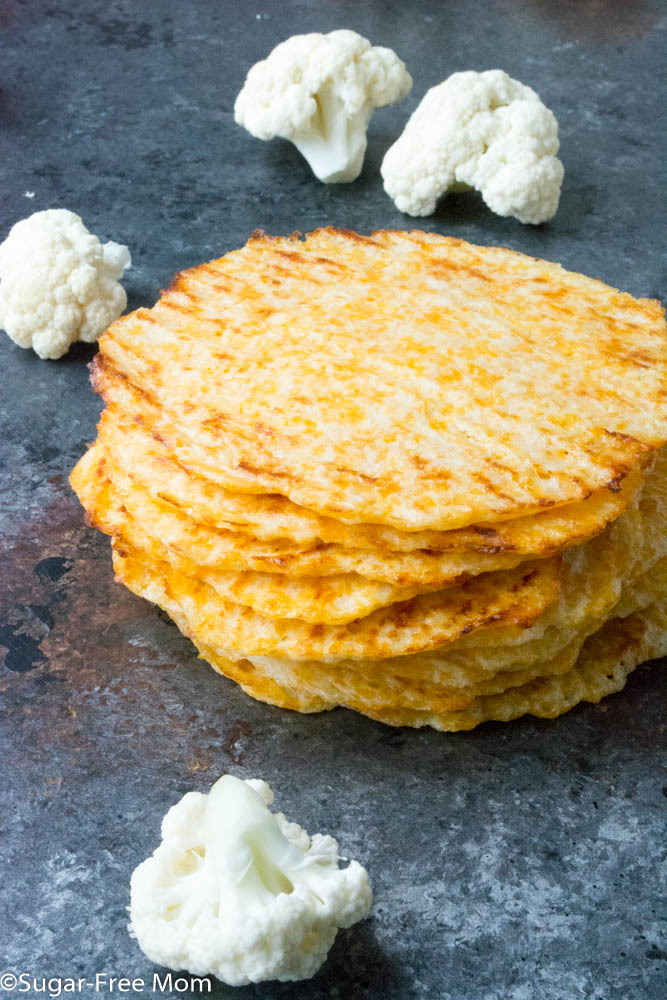 Cauliflower Tortillas
Just 5 ingredients are needed to make these fabulous cauliflower tortillas. Everything is combined easily in a food processor, basically making cauliflower rice then mixed with some simple ingredients and baked in the oven so NO Flipping required!
These are the easiest low-carb cauliflower tortillas you will ever make and the whole family will love them!
Use these low-carb tortillas as cauliflower wraps, they are perfectly bendable without breaking, or for keto low carb quesadillas or for myLow Carb Mexican Lasagna recipe!
Homemade Tortillas
It's Monday and January 2nd so that can only mean one thing.........The diet starts now! Maybe not, if you've been faithfully enjoying a low carb and sugar free life style for some time now.
Even if you've been really balanced through the holidays, (I for one overindulged and need to watch my portions more than ever), these tortillas are great for a healthy lunch or dinner recipe and much better for you than corn tortillas that have high carbs and would not be recommended if you're on a keto diet.
I don't know about you, but I hardly make New Year's Resolutions. I'd rather focus on a few things that are doable with small goals I can actually and realistically do during the hectic week with my family.
I'm a busy mom of 3 kids and I homeschool and I run this blog and it's not easy working from home with constant interruptions. BUT I am grateful for being able to BE at home, do something I love as a career and teach my kids.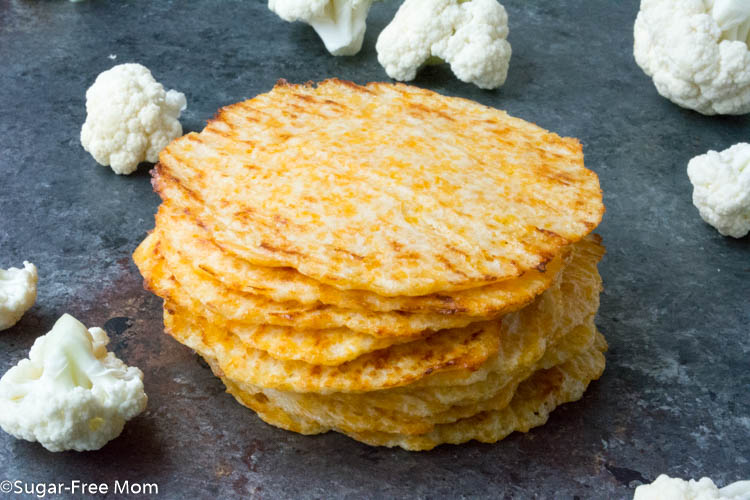 Honestly though, my time is truly limited and I've had to find ways to get in exercise and work before school begins. I've had to become a morning person and get up at 5:15am every day! It's tough but it really is the only way for me to make time for myself.
My focus this year in my life is to get strong and fit through increasing my cardio, but adding twice a week of strength and weight training. I tend to get back spasms and all the cardio in the world won't help my back if my core isn't strong so that's my focus this year.
I continue to eat a low-carb diet and my net carbs range from 40-50 a day. Sometimes it's lower than that. These low carb tortillas can fit nicely for most dietary needs.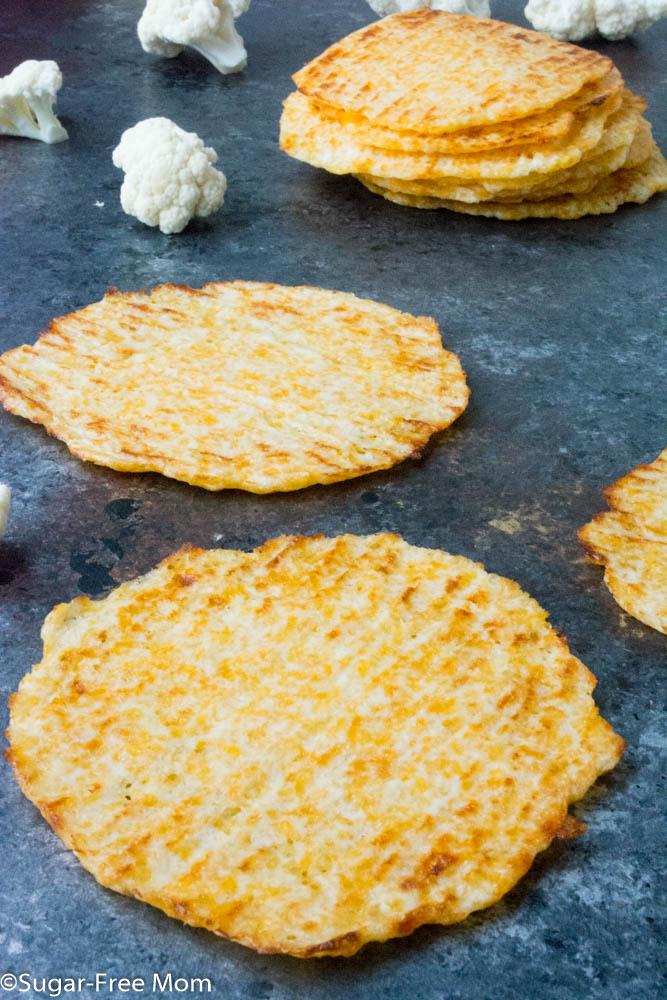 Over our school vacation I had a cauliflower in the fridge I wanted to use up. I've got a ton of hidden cauliflower recipes and knew I wanted to do something a bit different with this one. I looked over my cauliflower tots which my family loves and adapted from there.
To be completely honest with you I was hoping to make a new keto low carb chip, but the recipe didn't work as I thought and now we've got these awesome tortillas instead, still a win in my book!
My oldest teen loved them and didn't even realize cauliflower was in there! You're family will hardly believe these tortillas contain cauliflower, if they passed my picky teen son test!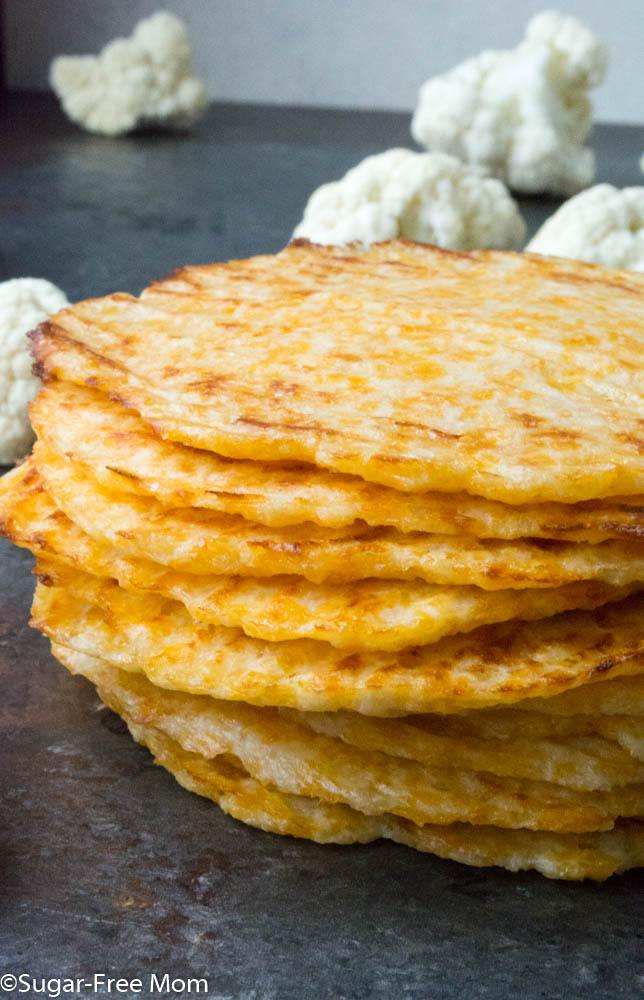 Low-Carb Tortilla Recipe
Exact measurements for the main ingredients are in the recipe card at the bottom of this post. Nutritional information is also provided.
Fresh Cauliflower- a head of cauliflower or purchase cauliflower florets. If you buy cauliflower rice that is frozen be sure to thaw and drain excess moisture by squeezing in a clean kitchen towel. See Best Tips below for how much cauliflower rice to use.
Egg
Garlic Powder
Sea salt
Cheddar cheese or a blend of Mexican Cheese
Step by Step Instructions are in recipe card below.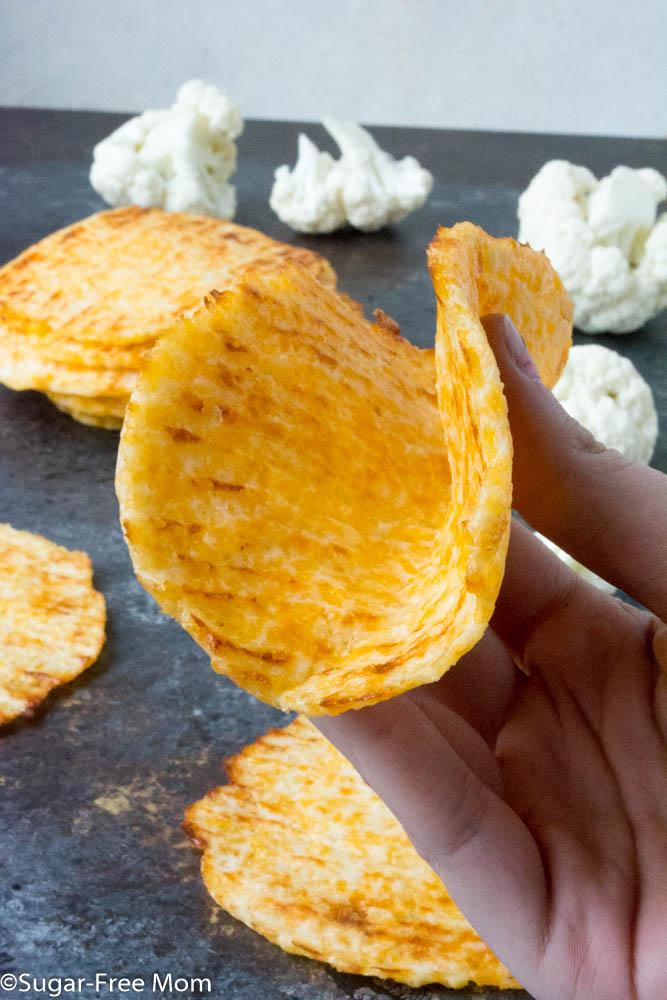 How to Store
Once cooked and cooled, lay left over tortillas between parchment paper and store in the refrigerator in an airtight container for up to 7 days or freeze for up to 2 months.
Tools to Make Cauliflower Tortillas
Food Processor- My food processor makes everything quick and easy and this recipe is no exception. Just combine all ingredients into the processor and let it do it's thing.
Baking Sheet pans- You will need two large baking sheet pans for this recipe so that you can spread out the batter and bake 6 cauliflower tortillas on each pan.
Parchment paper- These are pre-cut pieces of parchment paper sheets that fit perfectly onto the sheet pans but you could also just buy a roll and cut to fit your pan. I like easy and quick and these precut work well for me. If I need them for a smaller pan I just cut them in half.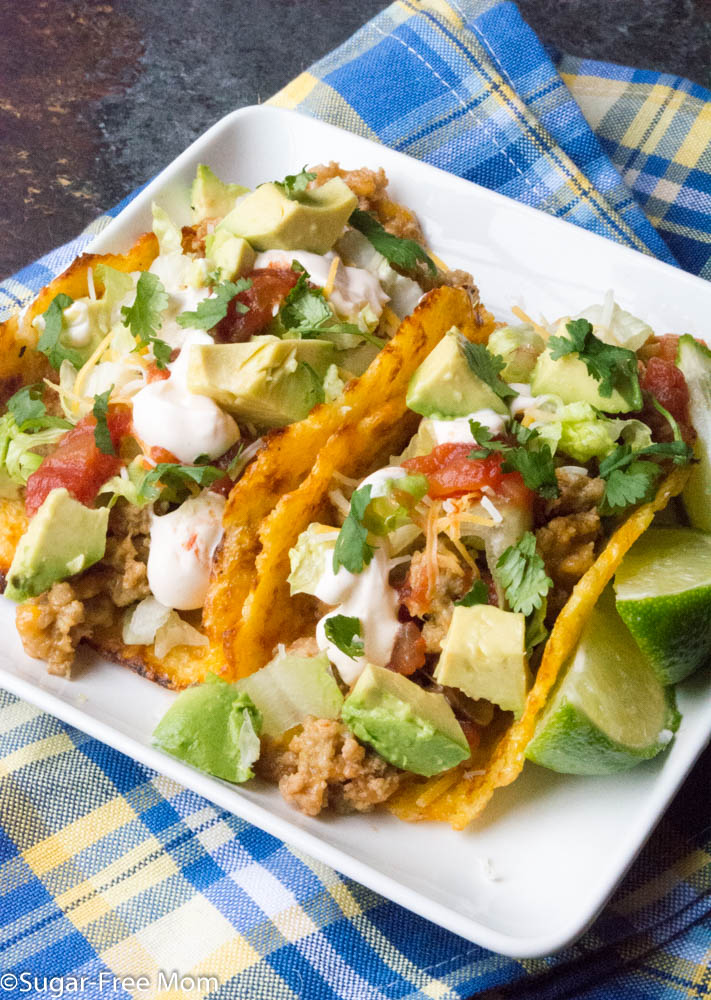 Best Tips for Keto Tortillas
The reason I didn't just use an egg here and chose egg whites instead is that I didn't want them any more yellowy in color.
Yolks often provide the fat content to most recipes and since I am using a lot of cheese which has fat, the yolk isn't needed. The egg whites are enough to bind the ingredients together.
If you prefer you could replace the egg whites with one egg.
PLEASE!!!! Weigh these measurements! A cup of shredded cheese is not the same as weighing it in ounces or grams.
If you notice them to be a bit greasy, simply pat them with a paper towel.
If you buy all ready riced cauliflower, use 2 ½ cups, that's how much mine measured after I grated it in my food processor.
UPDATE: I decided to make these again using 1 egg instead of egg whites to make it easier for everyone. I also felt since they were a bit greasy I weighed my cheese and was now only able to make 12 instead of 16. I also spread them out even flatter, about ⅛ inch thick and they are amazing!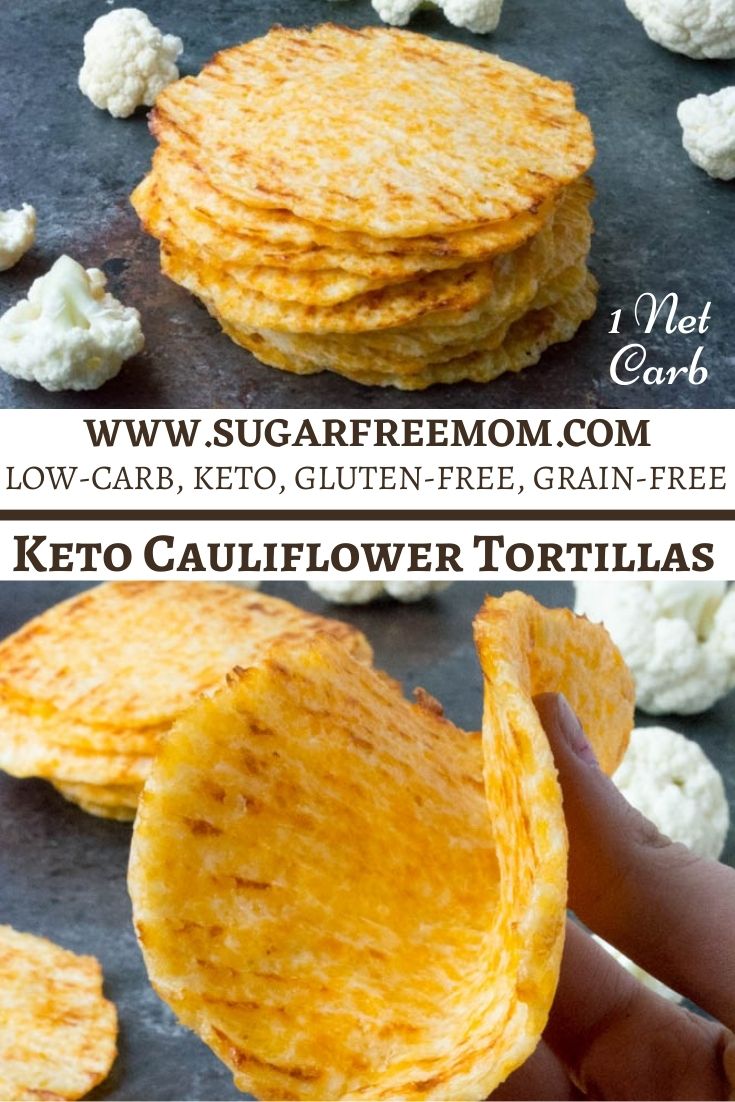 Keto Cauliflower Tortillas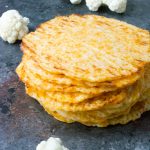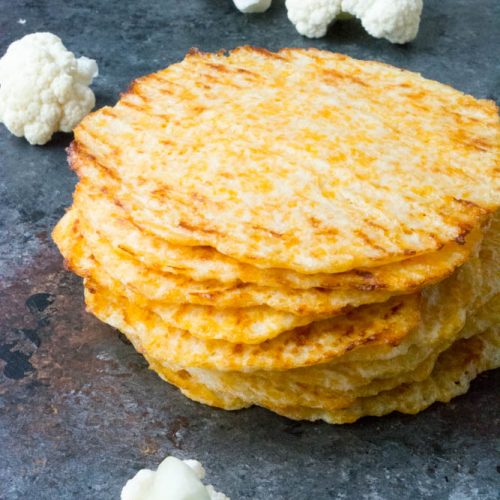 Print
Low Carb Cauliflower Tortillas (Gluten Free)
Ingredients
4

cups

cauliflower florets

½ large head (12 ounces)

1

egg

or 2 egg whites

½

teaspoon

garlic powder

¼

teaspoon

salt

2.25

cups

cheddar cheese

shredded or (241g)
Instructions
Preheat the oven to 400 degrees F.

Lay parchment paper on two baking sheets. Set aside.

Place the florets into a food processor and pulse until the florets are grated and there are no large pieces.

Add into the food processor the remaining ingredients and pulse until combined.

Scoop 3 tablespoons of the mixture onto the baking sheet and pat down into an even flat, round circle about ¼ inch or even ⅛ inch thick depending on your preference. Do this with the remaining batter. Should be able to make 12.

Bake for 15-20 minutes until golden.

To get some color on the other side of the tortillas you can place another piece of parchment over the cooked tortillas. Then place another baking pan the same size over the parchment. Holding the sides of the pans together, flip the pan over and remove the layer of parchment. You can then place them back in the oven for another 5 minutes if you prefer.

Allow to cool then layer between pieces of paper towel to absorb some of the grease from the cheese.

Fill as you would for a taco.

Keep remaining pieces in the refrigerator until ready to use again. Just reheat in a dry skillet for a minute or 2 on each side.
Notes
Net Carbs: 1g
This recipe was first published in January 2017.
Nutrition
Serving:
1
tortilla
|
Calories:
89
kcal
|
Carbohydrates:
2
g
|
Protein:
6
g
|
Fat:
6
g
|
Saturated Fat:
4
g
|
Cholesterol:
34
mg
|
Sodium:
210
mg
|
Potassium:
123
mg
|
Fiber:
1
g
|
Sugar:
1
g
|
Vitamin A:
158
IU
|
Vitamin C:
16
mg
|
Calcium:
148
mg
|
Iron:
1
mg