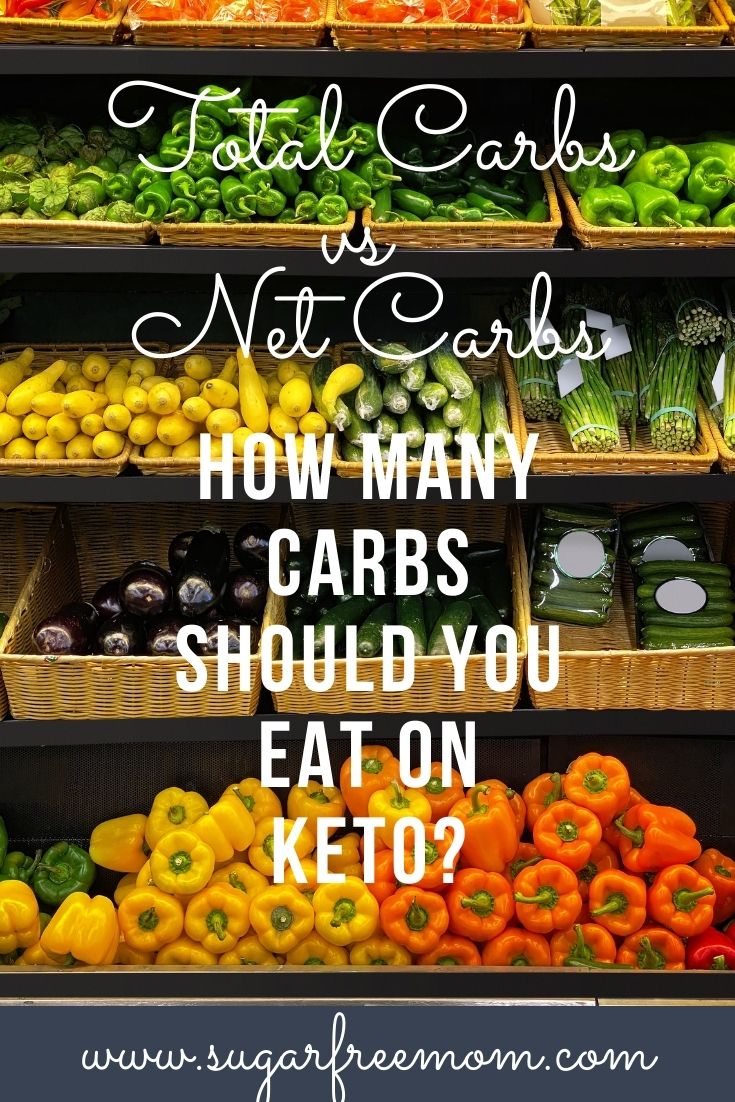 How many carbs should you eat on a ketogenic diet to lose weight? What's the difference between total carbs versus net carbs and why does it matter? This article will explain all you need to know about carbs on keto for weight loss and how to find the right amount for your body and health goals.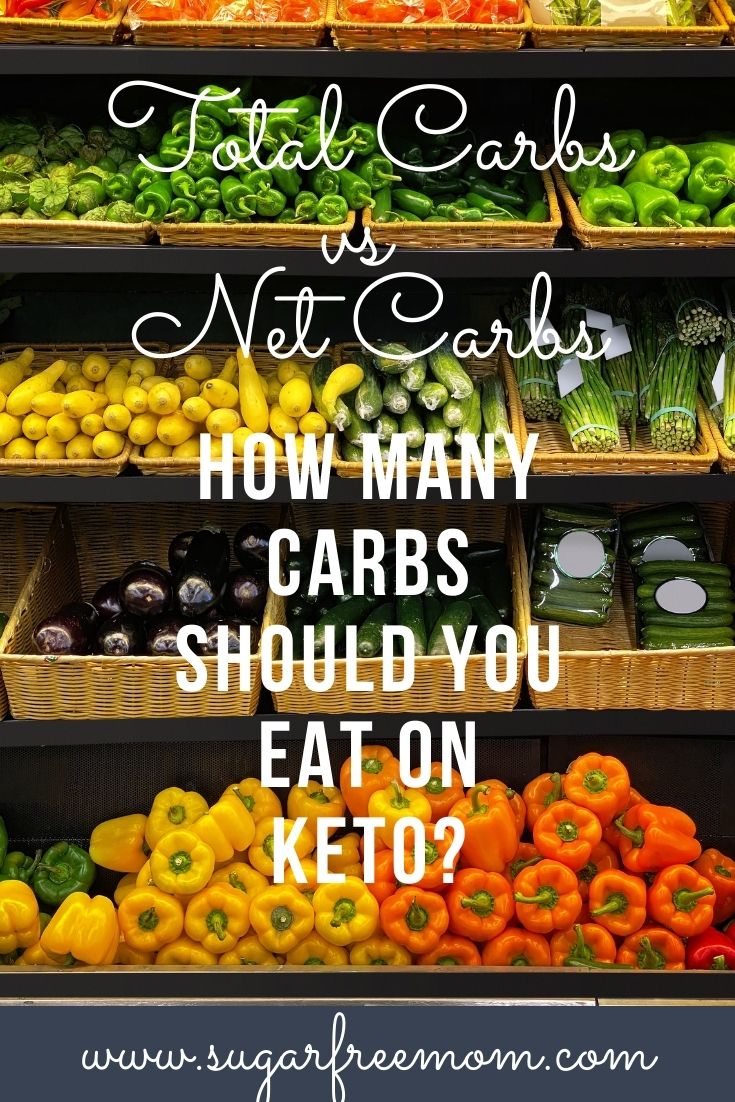 HOW MANY CARBS SHOULD YOU EAT ON A KETO DIET TO LOSE WEIGHT?
Ketosis is a metabolic state that causes your body to use ketones for fuel instead of glucose. When your body is using ketones, it is burning fat for fuel. For weight loss on a ketogenic diet, limiting your daily carb intake will get your body into ketosis helping you to lose weight without feeling hungry all the time.
The controversy among most experts is the daily intake of carbohydrates that will allow your body to get into this metabolic state to produce ketones. The daily amount of carbs for effectively getting into ketosis greatly varies among different people and can range anywhere from, less than 20, to as much as 100 carbs per day.
The other controversial topic is whether net carbs or total carbs are better for weight loss and again this varies among individuals depending on many other factors like your daily activity level, health issues, genetics and lifestyle.
Some argue that women need more carbs than men in order to keep their hormones balanced. Ketogenic expert Maria Emmerich, from mariamindbodyhealth.com, shares her expert knowledge as to why you don't need carb ups to keep your hormones balanced.
Using a keto calculator can take the guess work out of finding your personal macros for weight loss. I love Maria Emmerich's Keto Calculator . She also takes into account using a Protein Sparing Modified Fast some days of the week. Ketogains Keto Calculator is great as well, and they both prioritize protein for weight loss.
20-30 net carbs a day is a good start to learning if this amount will work for your body to get into ketosis. Once there and successfully burning fat for fuel, losing weight and enjoying all the benefits of a ketogenic diet, you could begin increasing your daily carb intake to see where your threshold might be.
HOW TO TEST YOUR CARB LIMIT
There are a number of ways to determine what is the right amount of carbohydrates that will work for you and keep you in ketosis so you can burn your own body fat stores. The first step is to make sure you are in ketosis by the most accurate testing available to test blood ketone levels with a ketone meter mentioned below.
Once you know you are in ketosis, make note of how you feel physically, and mentally. Do you have lots of energy, and mental clarity? Can you go many hours between meals without hunger? Read all about my 6 week results and all the benefits I felt when I went from a Low Carb Diet to a Keto Diet.
If you are feeling great and you're in ketosis, a gradual increase of carbs per day is recommended. You could increase your carb intake by 5 grams for one or more days.Test your blood and check in on how you feel. If you're still registering ketones and feeling good, continue the next day by increasing 5 more grams.
If weight loss is still your goal, and you continue to show ketones, then you should also be losing fat when measuring for inches lost around different areas of your body or by the scale. Stalling can happen during this testing of your carb limit, but if you are stalled longer than 2 weeks, it would be best to reduce your daily carb intake back down to the place where you were still seeing results.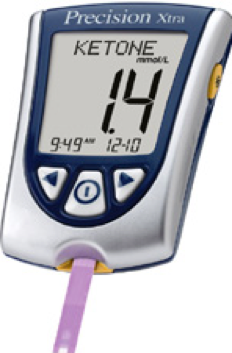 HOW TO KNOW IF YOU'RE IN KETOSIS
There are a number of ways to test if you are in ketosis. You could also just go by how you feel and not test with any measuring tools if you are feeling great and seeing results with what you are doing. Most people do like some form of confirmation when it comes to knowing if what you are doing is working.
Urine testing is the lest expensive. You simply pee on a ketone strip and the color will determine if your urine is registering ketones. While this is a very simple and less expensive way to test, after 1-2 months your urine won't show as much as it did when you started. This is because your body will be using those ketones you are making rather than showing up on the urine strips.
Breath Testing is effective and less expensive than blood testing. The beauty of this tool is that no strips are needed to check your breath. Once you purchase the breath meter that is all you need. It is more accurate than the urine strips but not as accurate as blood testing.
Blood Testing is the most accurate ketone testing, but is the most expensive due to purchasing the strips needed. If you're someone who enjoy numbers, this blood testing is for you! Testing after eating certain foods is a wonderful way to determine which carbs work better for your body and don't produce a glucose spike.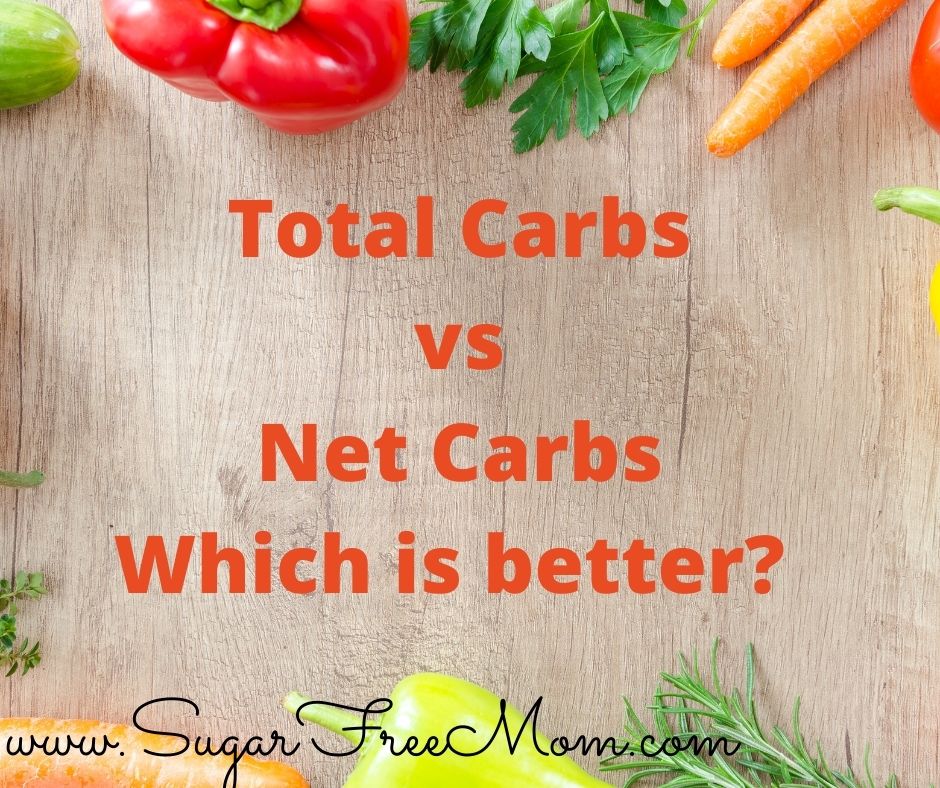 TOTAL CARBS VERSUS NET CARBS
Total carbs mean exactly that. It is the total sum of all your carbs for the day. You would use some form of tracking to calculate what you eat in a day and look up the nutritional information for each of those foods eaten.
Net carbs are not the same as total carbs because in order to calculate net carbs you must first know the dietary fiber in a given food. Once you know both the fiber and total carbs, you then subtract. Here's a great example given from Ketomojo.com;
1 cup of cauliflower rice contains 4.8 grams of total carbs and 3.2 grams of fiber. So, to get its net carbs, you subtract the fiber (3.2 grams) from the total carbs (4.8 grams), which leaves you with 1.6 grams of net carbs (i.e., 4.8 grams carbs – 3.2 grams fiber = 1.6 grams net carbs for 1 cup cauliflower rice)
Dr. Stephen Finney and the Virta Team recommend no more than 30 total carbs per day to get in and stay in nutritional ketosis.
The recommended carb limit from Ruled.com, is 35 total grams a day, which they believe should be enough to get you into ketosis. They mention other factors that could also be contributing or hindering you from getting your body to produce ketones, like exercise and stress.
At Trifectanutrition.com, they state that the more active you are, for example how regularly you do high intensity workouts, the more carbs you can effectively use. They recommend keeping your carbs to under 50 grams per day, which they believe will be enough to promote ketosis in most people.
Ketodietapp.com shares a wonderful graphic for the dietary fiber in many keto-friendly foods. Their ketodiet app calculates net carbs. I've used this app for years and find it to be very accurate.
If you're curious about the best low carb vegetables for a keto diet, dietdoctor.com has a handy graphic providing the top 10 most useful low starch veggies for keto cooking, along with their net carb counts.
KETO IS NOT A ONE-SIZE-FITS-ALL APPROACH
Tracking net carbs might work fine for most people looking to lose weight with a keto diet. For those who have health issues or looking to a ketogenic diet to manage a disease like cancer, Alzheimers or epilepsy, tracking total carbs might be more beneficial.
Whether you decide to count total carbs or net carbs, the most important thing is to do what works for you and your goals. If net carbs aren't helping you to lose the weight you want, switch to total carbs to see if that will make a difference. Another factor that could be hindering your weight loss is eating too much fat. Learning how to leverage your fat intake to determine how much fat is right for your body, can help with weight loss stalls.
I started a ketogenic diet in 2015 without any tracking and did not lose any weight. I did however grow my hair back when I was undiagnosed with hypothyroidism. After going strict keto in 2018 and using net carbs, I did see fat loss, but after my diagnosis with hypothyroid in 2018, net carbs stopped working for me.
Switching to total carbs started the weight loss again and that is what I currently follow today. I enjoy one day a week where I have a higher calorie and higher total carb day, but the rest of the week my total carbs remain about 20 or less. I am losing the fat I want and I feel fantastic! There is no shame in changing your approach to the keto diet. If the classic keto macros aren't working for you, change it to reach your goals!
Brand new to the keto diet? Want to learn more about keto to get started? You can take my FREE Keto Basics Course which takes under 15 minutes and once complete you will receive a FREE 7 Day Keto Meal Plan. Register Here!