This Mini Keto Layered Cake is actually a Pumpkin Mug Cake recipe made Sugar-Free, Gluten Free, Grain Free, Nut Free and Keto. It's layered with Sugar-Free Maple Cream frosting between perfect pumpkin spice cake!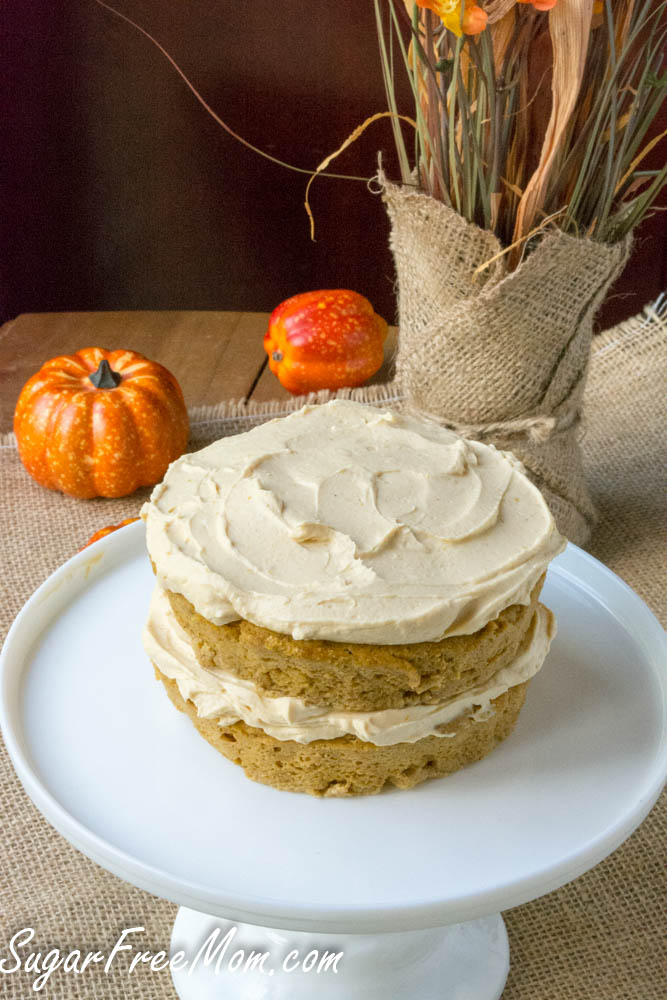 Microwave Pumpkin Mug Cake
Pumpkin mug cake that is made in minutes and tastes like everything of fall you love, is heavenly all by itself. But adding some Sugar-Free Maple Cream Frosting between those layers of perfectly moist pumpkin cake is even better!
I don't know who it was who dreamed up the idea for mug cakes made in minutes in the microwave, but whoever it was, I am eternally grateful! Baking instructions are included below if you're not into using a microwave.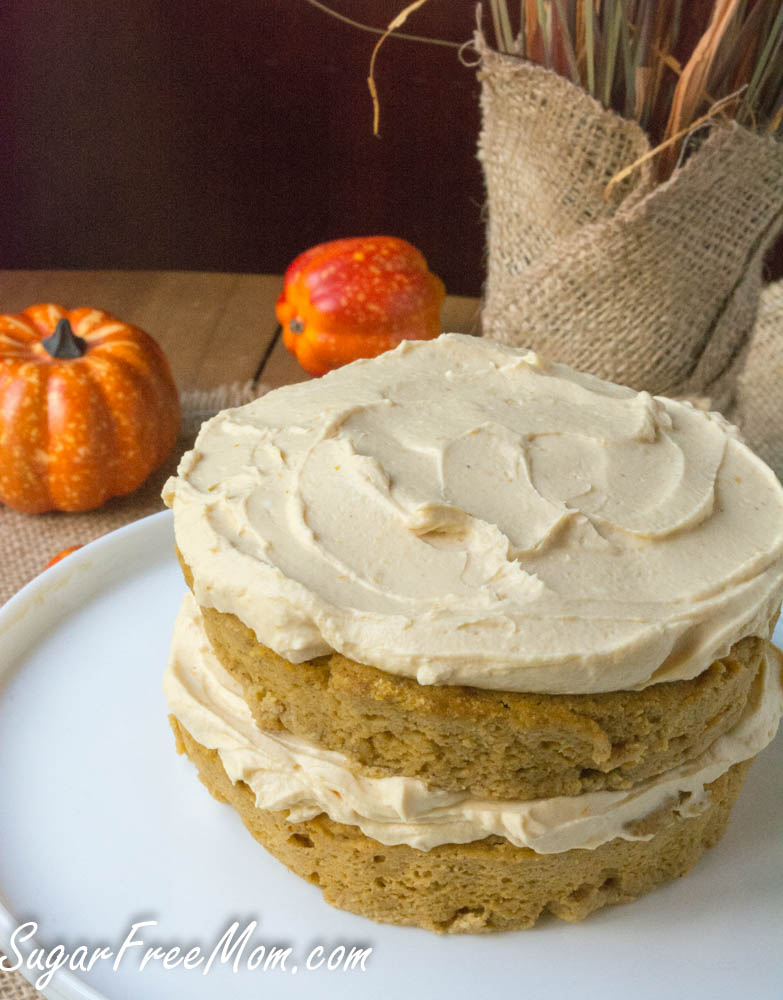 Quick Pumpkin Mug Cake
I'm a busy homeschooling mom who runs a full time business from home. I don't have a whole lot of time on my hands to make beautiful traditional cakes and I have very few on my blog as a result. I only make traditional, large portion cakes for birthdays and holidays and that is it.
One of the biggest reasons is I have a problem with portion control. Once it's there sitting on the counter or in the fridge I can not seem to control myself with desserts. Hence the mug cake made for people like me.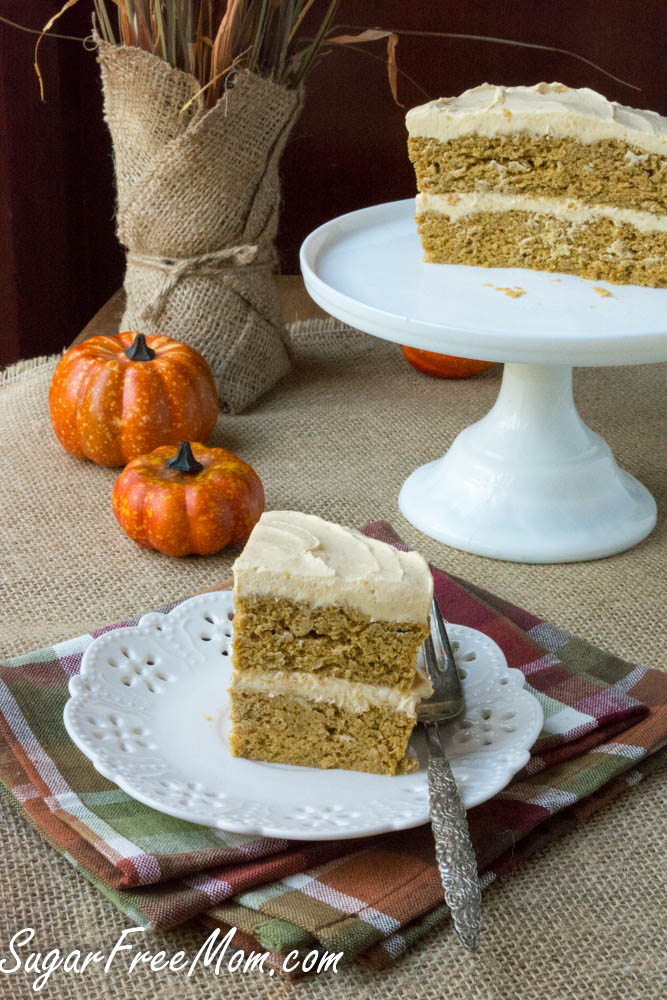 I think the orginial mug cake idea was probably made for just one single serving. And I have a bunch of them on my blog because that's how I roll.
Make it. Eat it. Forget about it. No more going back for seconds because there isn't any. That works for me.
But it's also a good idea for my whole family. My children have got that sweet tooth like their momma. They need portion control just like I do. In comes my idea for mug cakes made for more than one. More like 2-4 depending on your portion control issues. 🙂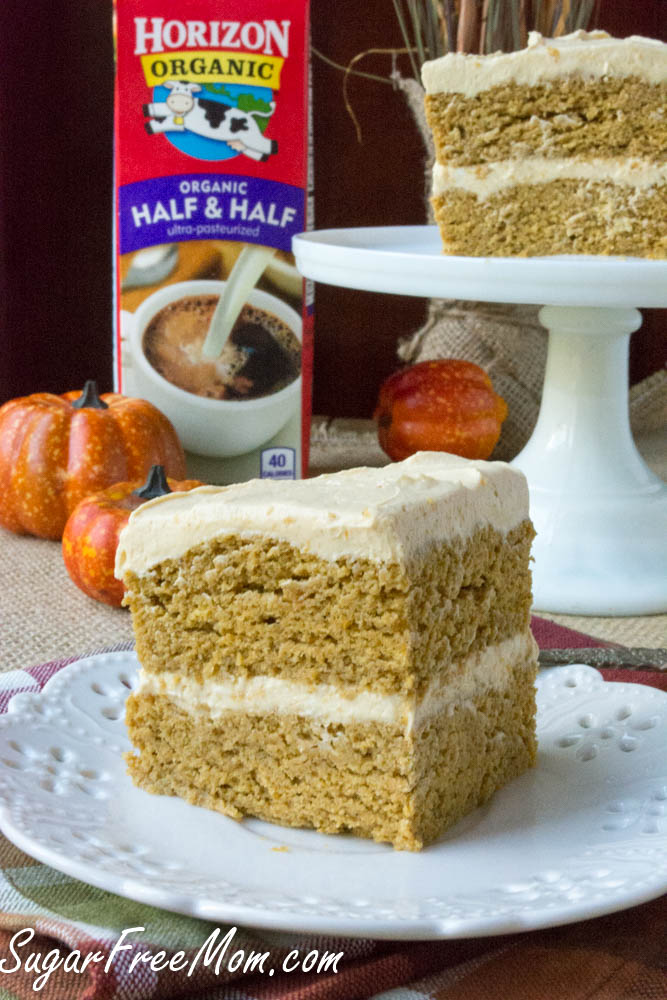 Layered Mug Cake
Make two perfect little mug cakes. Make frosting. Layer just like you would for a regular large cake. The first time I tried this idea was for my hubby. It was a Red Velvet Valentine's Couple's Mug Cake and it was what has gotten me to love the whole layering mug cake idea.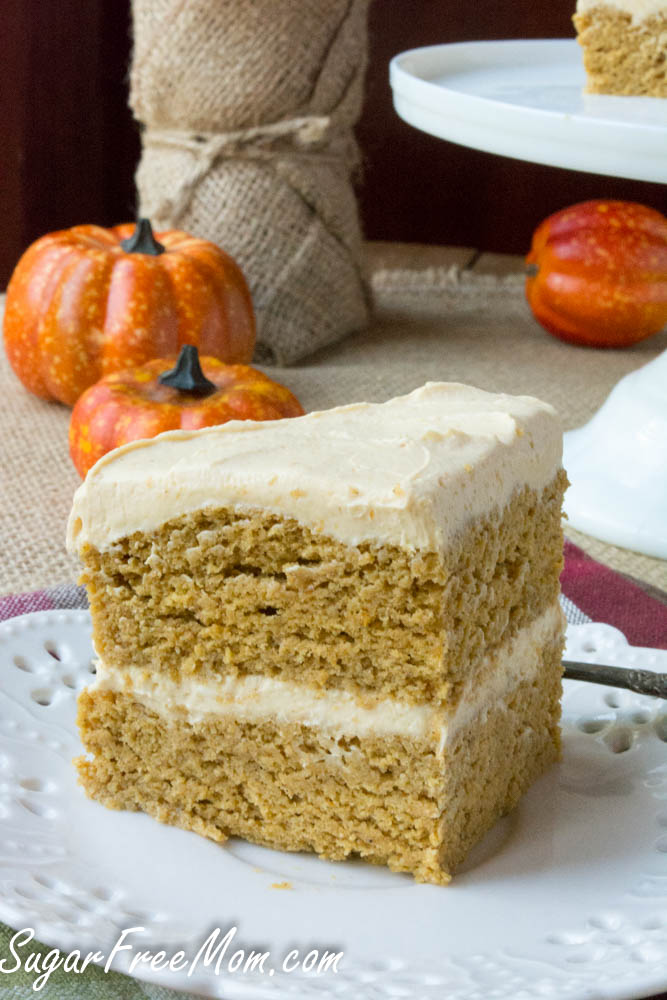 I've been on a crazy mission ever since making these layered mug cakes!
And now this!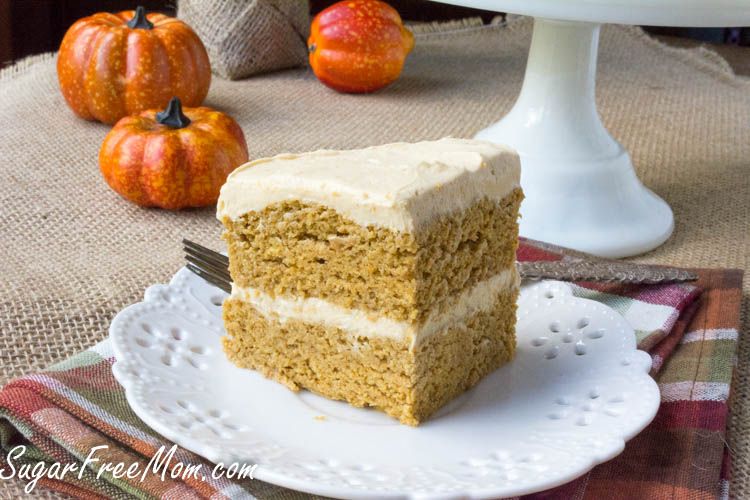 While it's still a delicious cake, it's mini!
Slice into 4 sections. I get a piece and each of my 3 kids get a piece.
Afternoon time once school is done, this is the perfect little snack. No sugar, not a whole lot of calories so it won't ruin their dinner and it's made in minutes. Nothing sweeter to a mom like me then some extra time on my hands instead of slaving in the kitchen making cake!
Pumpkin Mug Cake with Maple Cream Frosting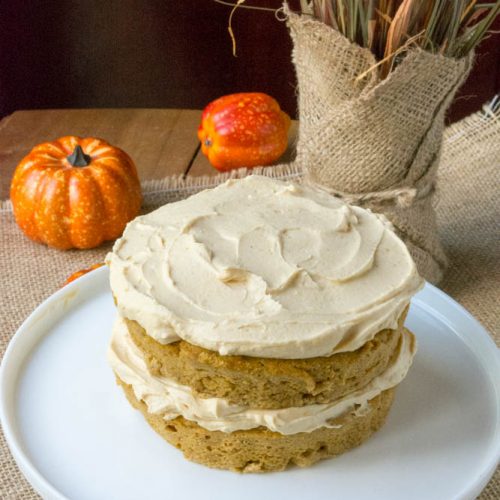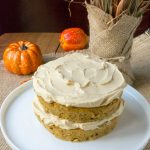 Print
Sugar-Free Pumpkin Spice Maple Cream Layered Mug Cake
Instructions
Whisk first 3 ingredients together until combined.

Stir in remaining ingredients.

Grease 2 ramekins. I used quiche ramekins, more shallow.

Divided batter among 2 serving dishes.

Microwave one cake at a time 1- 2 minutes or until toothpick in center comes out clean.

Allow to cool completely before frosting.

*Not into microwave or don't have one? Bake these in a preheated oven at 350 degrees for 15 minutes.

Make the frosting by placing all ingredients into a stand mixer and blend until smooth. Taste and adjust sweetener if needed. Frost cake and enjoy!
Notes
Net Carbs: 4g
Brenda's Notes:
Nutrition Info does include frosting.
Swerve sweetener is the brand of erythritol I like to use. It is not as sweet as most granulated sugar substitutes so I would advice you to use less if you are using something else other than Swerve.
If you don't have cinnamon liquid stevia, clear or vanilla stevia is fine to use as well. You could also just use whatever sweetener you prefer, taste and adjust as needed for the frosting.
This recipe was first published in September 2016 and updated with video in October 2018. 
Nutrition
Serving:
1
piece
|
Calories:
242
kcal
|
Carbohydrates:
7
g
|
Protein:
5
g
|
Fat:
20
g
|
Saturated Fat:
11
g
|
Cholesterol:
123
mg
|
Sodium:
141
mg
|
Potassium:
143
mg
|
Fiber:
3
g
|
Sugar:
2
g
|
Vitamin A:
3785
IU
|
Vitamin C:
0.8
mg
|
Calcium:
64
mg
|
Iron:
0.8
mg