Chocolate Pudding Protein Frappe is a low carb, full of protein, satisfying frappe made without added sugars.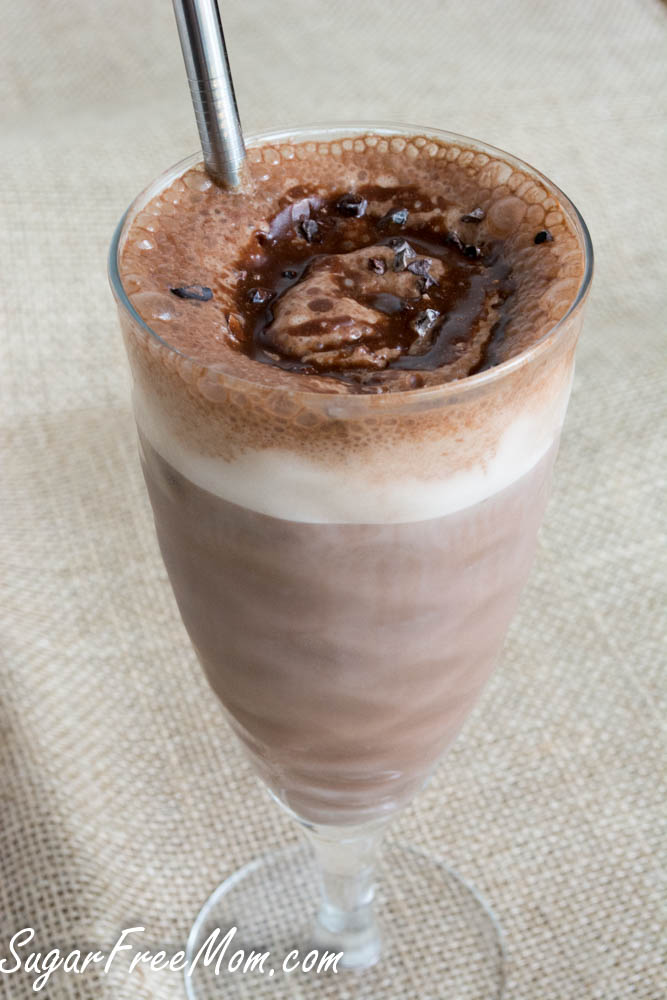 Chocolate pudding in a beverage? Yes! Sometimes a little indulgence is needed and necessary, but you will be surprised to know this frappe is a guiltless pleasure! Under 200 calories and with 20 grams of protein!! Enjoying some tasty chocolaty cold delight while still getting in a good amount of protein will keep you full, happy and satiated.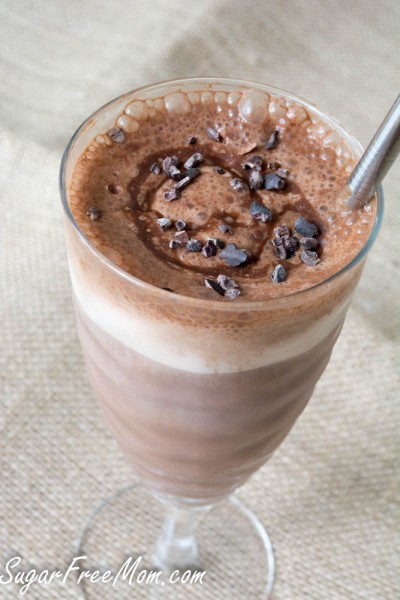 Today is my last day of Cub Scout day camp and I'm exhausted. It's been a hot, humid and busy week, but I wouldn't have missed it. Leaving the house by 8:15 and not returning until 4:30 then having to get in all the wet towels and bathing suits and camp shirts washed and ready for the next day, plus prepare lunches was not easy. I give all you full time working outside the home momma's a lot of credit! I worked full time as a teacher but had only one child at the time and that was hard, now with 3, I'm pretty grateful I can work at home instead and at least throw in some laundry while homeschooling during the school year.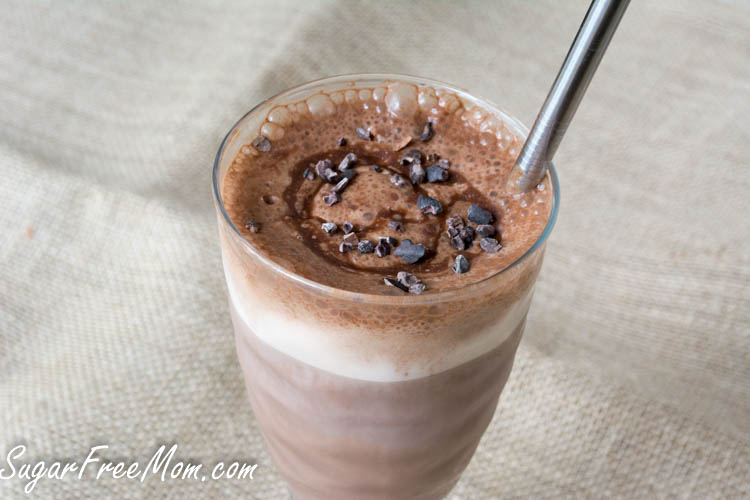 Twice this week I didn't even cook dinner, shocking for me! We went to my parents since they have a pool and they fed us, and I was so thankful. Getting home at 7 though to do all things needed for another day of camp was not easy. I have survived and will be doing it again next summer which will be our last and then my youngest will go into boy scouts with my hubby. And that's it, my 3rd little baby will be off and running with the big boys, just the thought makes me sad and that's why I've volunteered in day camp for the last 5 summers. Not from guilt but from the honest but truthful cliché from experienced and wise mothers, "Raising children goes by in the blink of an eye!" I don't want to miss out on anything.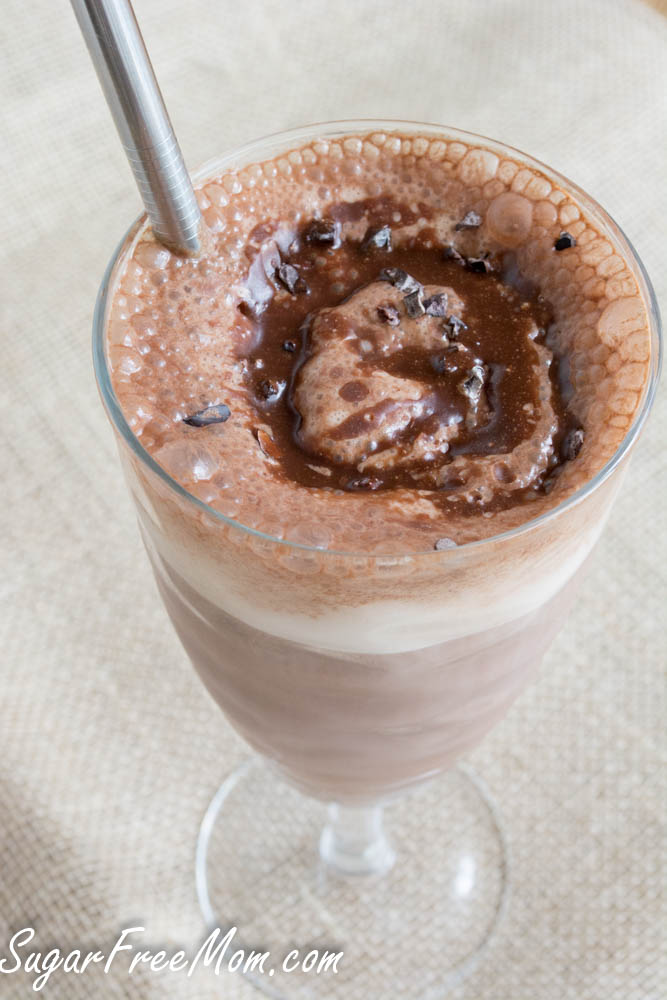 This recipe is the perfect kind of thing when you are not too hungry for a heavy meal or it's later than you planned or you just need some chocolate but don't want to eat junk!
A frappe is really more of a light, less thick in texture drink then a shake or smoothie would be. If you want it to be thick and creamier you could just prepare the pudding mix and add it directly into the blender with the rest of the ingredients. I added mine dry and unprepared for the "taste like pudding" kind of frappe.
Brenda's Notes:
If you haven't made the recipe for my sugar-free instant chocolate pudding mix you could substitute unsweetened cocoa powder then add sweetener to your liking for a light frappe or use prepared store bought sugar free pudding for a thicker frappe.
Egg whites that are purchased in a carton are safe to consume when they specifically say pasteurized on the label. Using local pasture raised eggs may be ok for some, but if you do not have access to safe eggs I would not consume egg whites unless they are pasteurized.
If you don't have liquid stevia, you can use powdered, just start with a very small amount as adjust to your liking. You could also sub any other sweetener you enjoy.
The chocolate syrup can also be made with just unsweetened cocoa powder, just add sweetener as needed.
There are no added sugars, the sugar grams you see are from the milk powder in the chocolate pudding mix.
When you subtract the fiber grams from the total carbs you have 9.9 net grams of carbs.
This recipe makes 16 ounces and I did consume it one day as my lunch. 🙂
The chocolate syrup topping is optional and not included in the nutrition info. The coconut oil makes the chocolate syrup harden and when you've finished drinking the beverage, grab a spoon! There will be delicious little chunks of chocolate all at the bottom of your glass. A happy little surprise at the bottom 🙂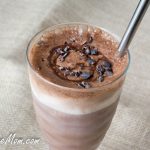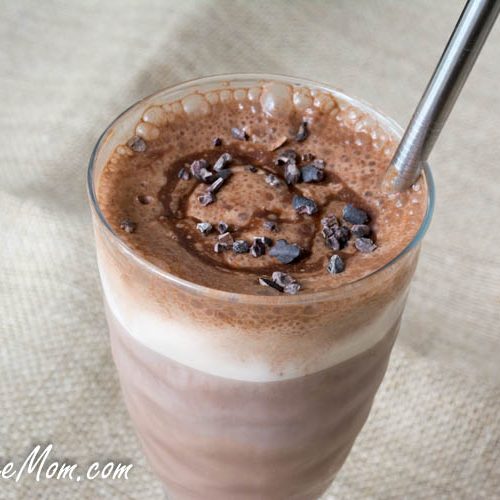 Print
Chocolate Pudding Protein Frappe
Ingredients
¼

cup

dry or prepared sugar free instant chocolate pudding mix

¼

cup

low fat cottage cheese

½

cup

unsweetened almond milk

¼

cup

egg whites

½

cup

ice

¼

teaspoon

vanilla liquid stevia
Chocolate Syrup Topping
1

tablespoon

chocolate pudding mix

1

tablespoon

coconut oil

melted
Instructions
Combine all ingredients into a high powdered blender and blend until smooth.

Taste and adjust sweetener if needed.

In a small bowl mix chocolate syrup topping together until well combined and top or stir into frappe if desired.

Enjoy immediately!
Notes
Weight Watchers Points Plus: 4*
Nutrition
Serving:
1
g
|
Calories:
159
kcal
|
Carbohydrates:
11.8
g
|
Protein:
20.6
g
|
Fat:
3.1
g
|
Saturated Fat:
1
g
|
Cholesterol:
10
mg
|
Sodium:
753
mg
|
Fiber:
1.9
g
|
Sugar:
3.9
g