Instant Homemade Sugar-Free Chocolate Pudding Mix is an easy recipe that takes only 5 minutes to prepare!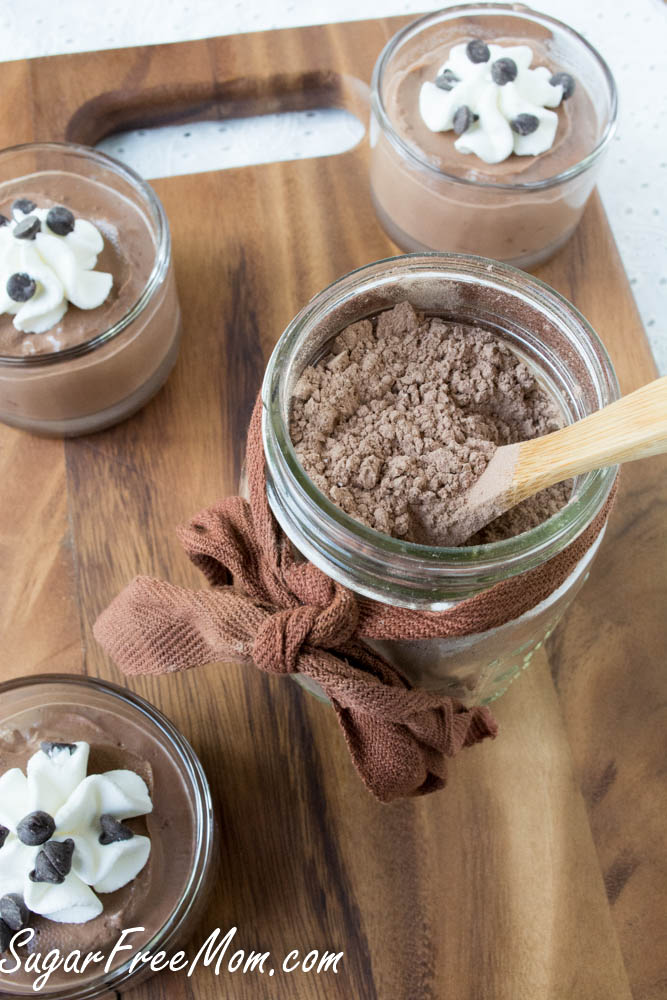 When you're a foodie who loves food and loves to cook, but wants to be free of cooking and baking with sugar, there is what I call a foodie bucket list! My foodie bucket list is currently a white board in my office of all the recipes and ideas I think of or happen to see or can't wait to try a remake on. The board is full and always stays full. There is not one empty space to write on it unless I cross off or erase an item I've made which of course, always thrills me!
Making a dry pudding mix has been on my foodie bucket list for a long time. I'm not sure the reason for my hesitation or delay but one thing is for sure; it's quick, much healthier than anything you can purchase and made sugar free!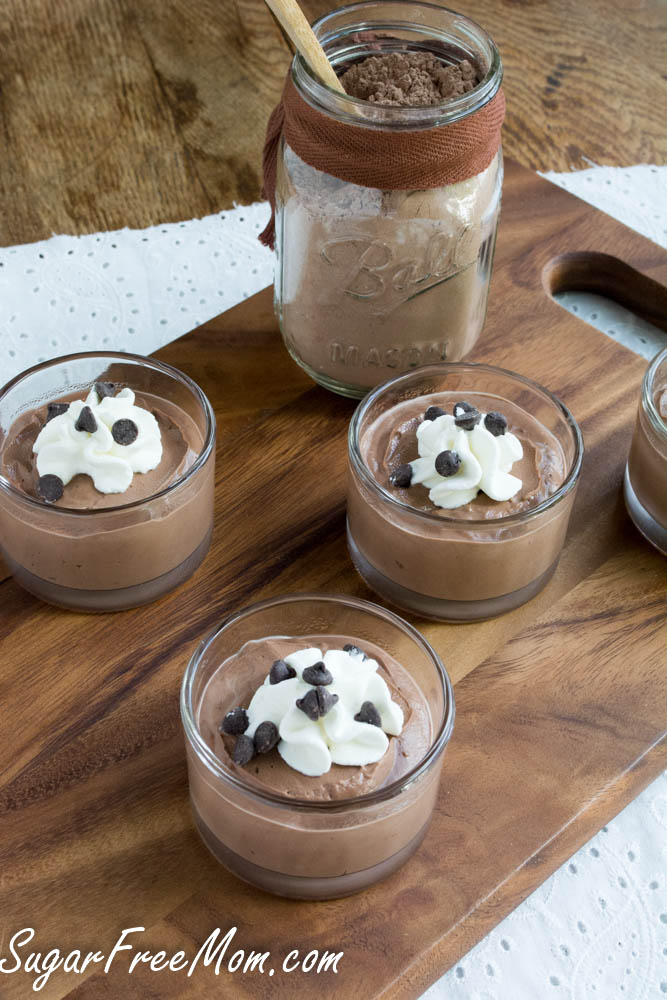 So what do you think prompted the sudden desire to finally push me into making dry sugar free pudding mix? I was half asleep watching Alton Brown on the cooking channel and he was making instant pudding mix! I popped up from my slumber and took notes on what he was using and adapted from there! The next day I was bursting with excitement and couldn't wait any longer to try my adaptions!
I've made sugar free and dairy free pudding before, but never attempted a mix. Having a dry mix brings me a sense of accomplishment as a mom. Now I can make it once and get more than one serving out of it! With 3 kids who like pudding and a mom who wants some too, well you get the idea. I need at least 4 servings in one shot. I want to get the most bang for my buck in the kitchen, especially in the summer.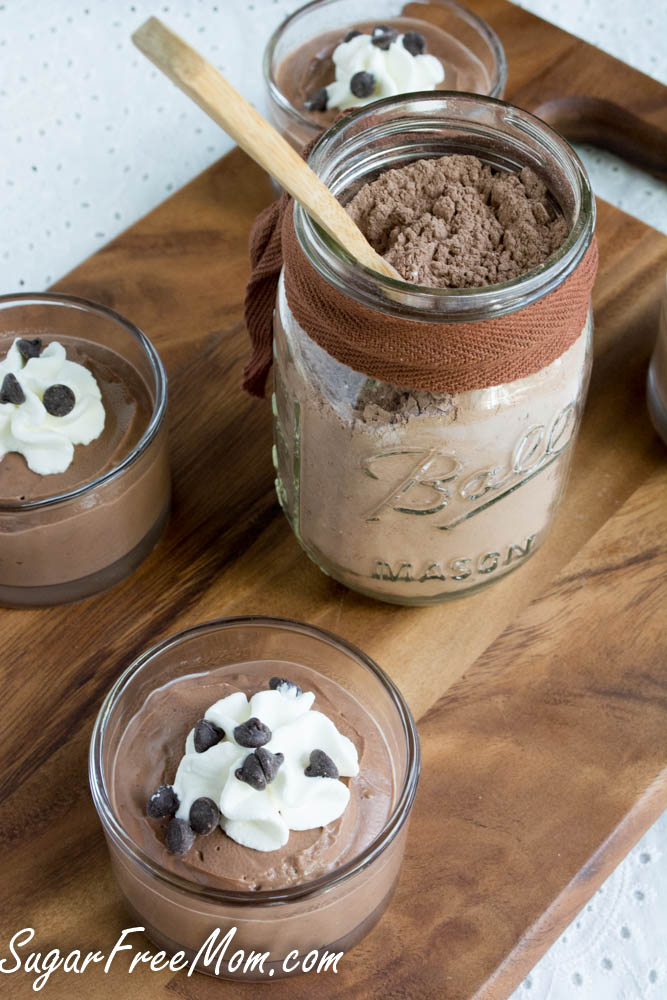 This dry pudding mix and be stored in your pantry for a good 6 months! Mine would never last that long lol!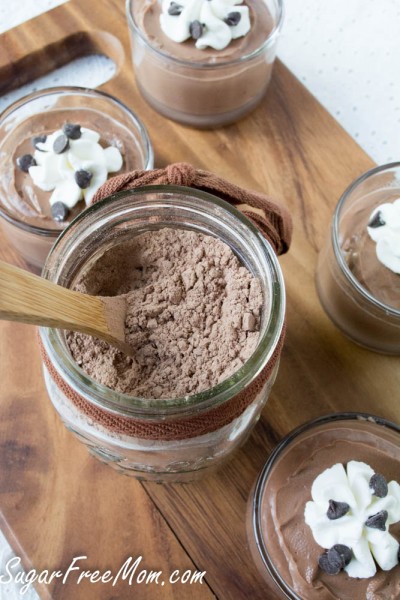 So I hope you will try this new creation and enjoy another summer day without slaving in the kitchen!
Brenda's Notes: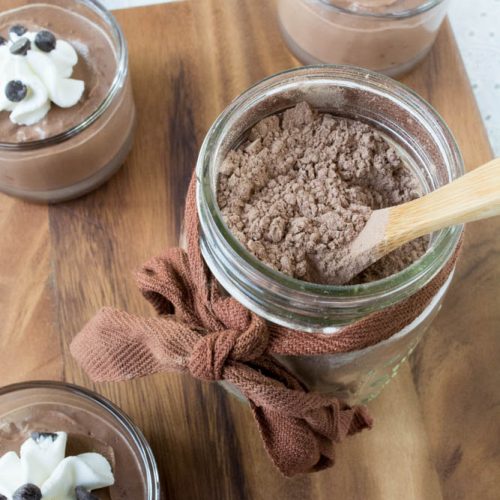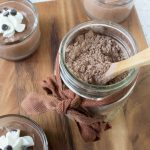 Print
Instant Homemade Sugar-Free Chocolate Pudding Mix
Ingredients
Dry Pudding Mix
½

cup

instant nonfat dry milk powder

½

cup

arrowroot powder

1

teaspoon

salt

1

cup

unsweetened cocoa powder

⅔

cup

erythritol

I used Swerve

¼

teaspoon

pure stevia extract
Instructions
Combine all dry pudding ingredients together and keep in an airtight container for up to 6 months. Makes 2 ½ cups.

To Make Pudding: In a sauce pan measure out ¾ cup of dry pudding mix and whisk with 1 cup milk and 1 cup heavy cream.

Bring it to a boil then turn to low heat and simmer 3-4 minutes.

Turn off heat and add vanilla extract and liquid stevia.

Pour pudding through a fine sieve and place into serving glasses or a bowl.

Cover with plastic wrap directly on pudding and refrigerate 4 hours.
Nutrition
Serving:
1
g
|
Calories:
180
kcal
|
Carbohydrates:
14.9
g
|
Protein:
5.2
g
|
Fat:
12.4
g
|
Saturated Fat:
7.3
g
|
Cholesterol:
44
mg
|
Sodium:
262
mg
|
Fiber:
2.8
g
|
Sugar:
1.9
g