This EASY Gluten Free, Almond Flour Free Crispy Country Fried Steak is a wonderful Low Carb meal your whole family will love!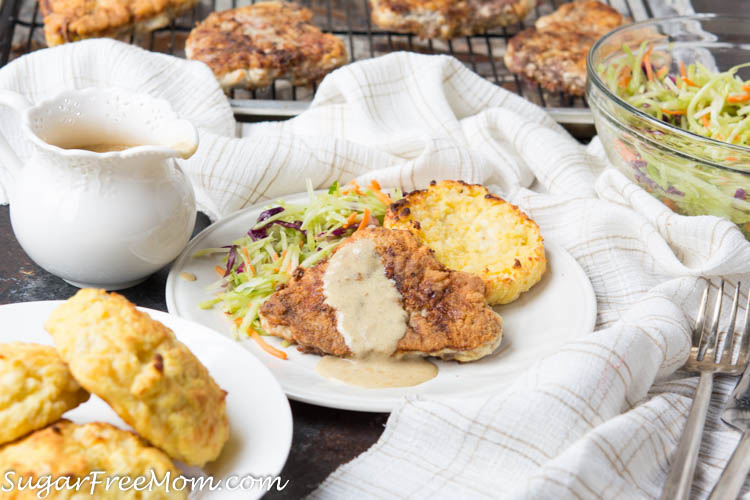 Eating low carb and perfecting a crispy outer coating for recipes can be challenging. Add to the fact I have a child with a tree nut allergy and using almond flour is also not an option, I've been working hard to finally get the desired crispy coating I've wanted for a long time.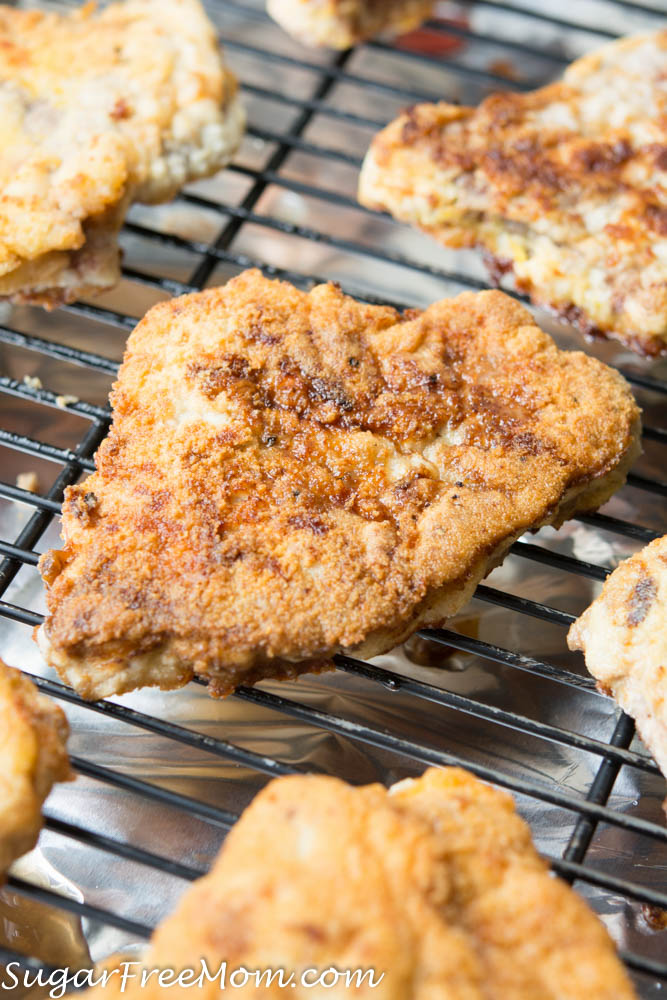 This recipe was inspired by our recent 1 month Cross Country Trip! I've never actually had traditional country fried steak, but my hubby has and he's the biggest critic ever so getting him to say he liked was success to me!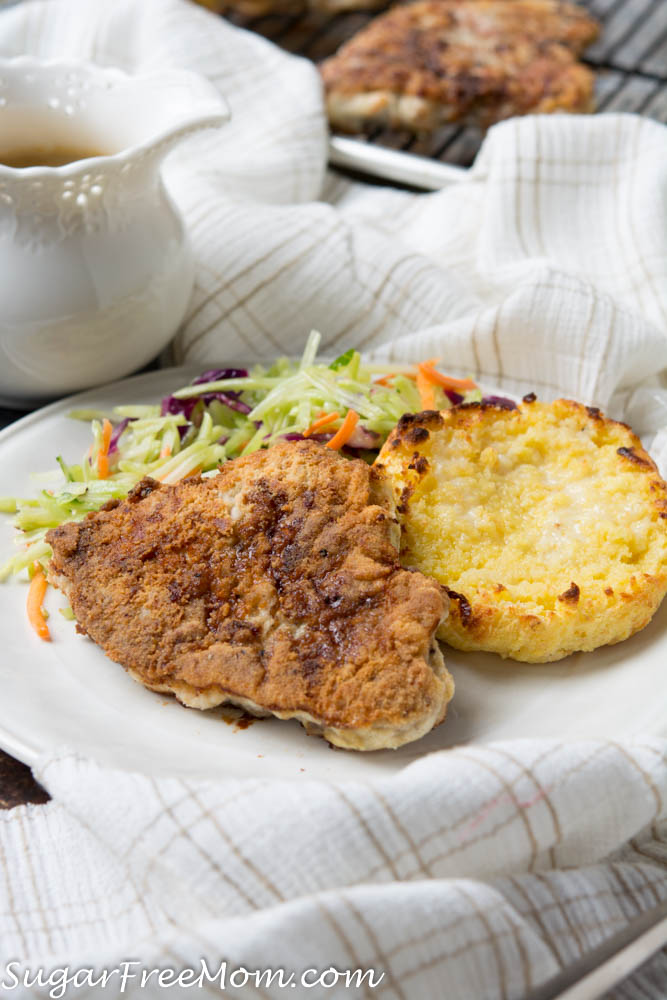 Of course the picky kids ate this meal up with no complaints! I mean, how can you go wrong with crispy steak! My daughter doesn't usually like steak as it's often too chewy or grainy or something she complains about. Given that she isn't fond of turkey or fish or many other proteins, my thoughts were she wasn't going to eat this either. But to my surprise she devoured her piece!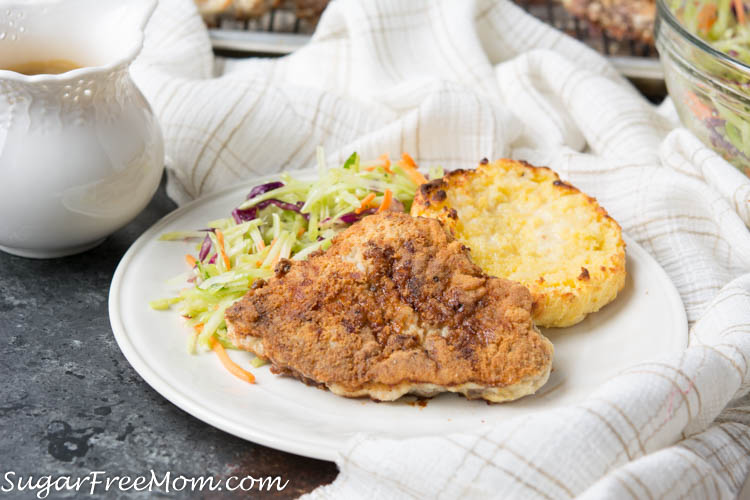 I served this with my Broccoli Slaw and Keto Fathead Rolls!
The additional gravy, which is completely optional of course makes everything taste even better! you could add a little xanthan gum for a quicker time getting the heavy cream and broth to thicken.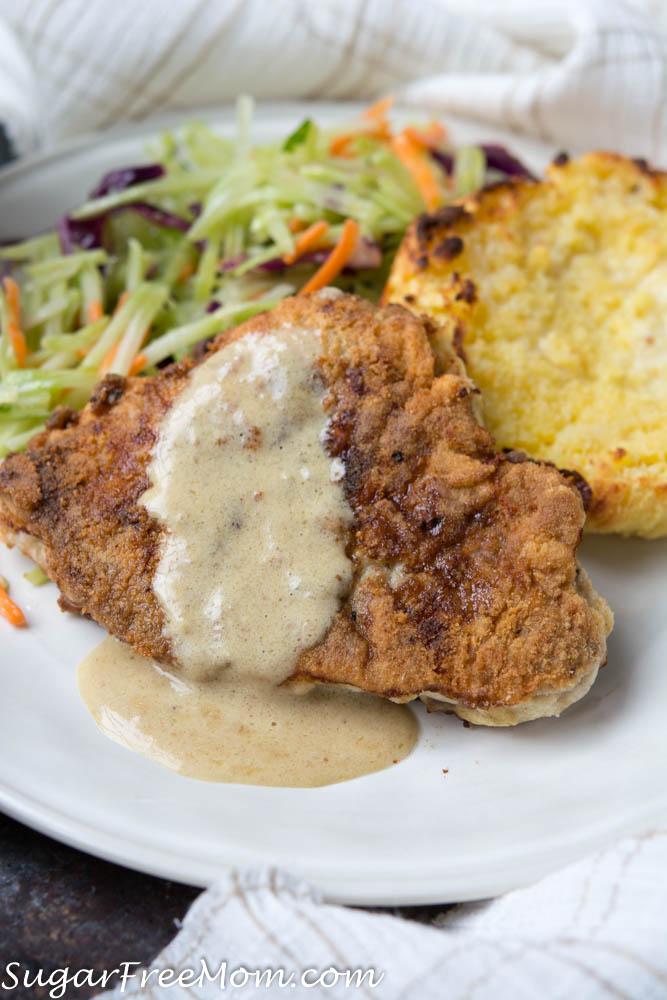 Hope you enjoy this easy recipe!
Brenda's Notes:
Since the gravy is completely optional, I did not factor it into my nutritional information here. It is fantastic to have a nice gravy, but the meal is perfectly delicious without it!
I've also tried the coating on chicken and fish and it works perfectly!
This recipe was inspired, not only because of my Cross Country Trip, but by this photo I saw on Pinterest!
Please note: When I attempted this recipe the first time, I coated all my steak and placed it onto a parchment lined baking sheet while the oil was heating in the skillet, BAD IDEA! The coating was lost and stuck to the parchment and I had to start all over again! Follow my directions and wait to coat right before adding to a hot skillet. I also tried a second attempt placing the uncooked coated steak on a baking sheet without parchment, same thing happened! Don't let it happen to you, fair warning!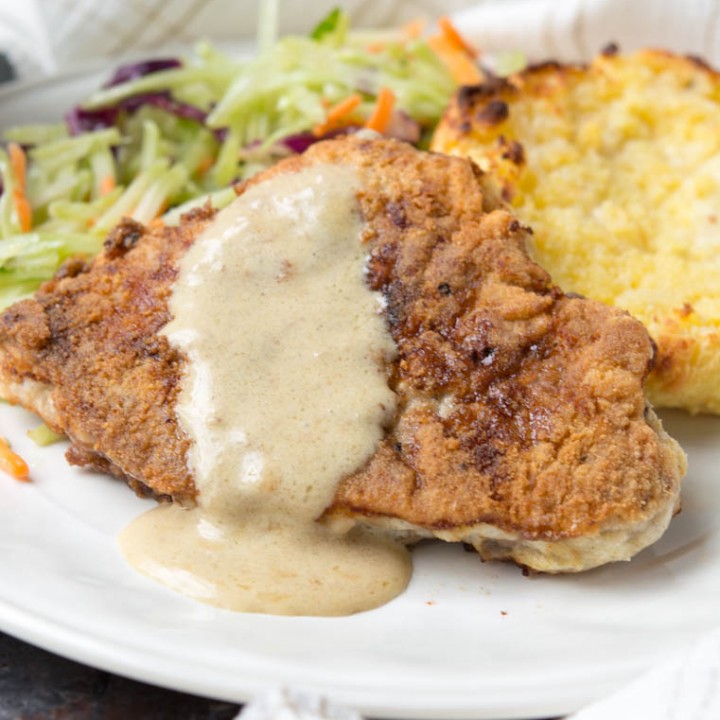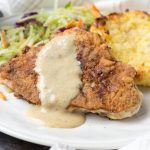 Print
Low Carb Country Fried Steak
Instructions
Slice beef into ½ inch thick slices. Flatten by pounding with a meat mallet to ¼ inch thickness. Set aside.

Whisk the next 7 dry ingredients together in a shallow bowl. Set aside.

Heat coconut oil in a large skillet, medium high heat.

Once oil is melted, dredge 1 piece of beef into protein powder mixture then into beaten eggs and again into protein powder. Place into skillet and continue process with 3 more pieces. Don't overcrowd pan.

Cook about 5-6 minutes on each side until golden brown. This will be medium (some pink in center). Cook longer for medium well. Remove to wire rack and continue with the rest.

To Make Gravy: Once done cooking beef, add chicken broth to deglaze skillet, bring to a boil. Pour in heavy cream and continue to cook until it thickens, about 10-15 minutes.
Nutrition
Serving:
4
ounces
|
Calories:
255
kcal
|
Carbohydrates:
1
g
|
Protein:
39
g
|
Fat:
9
g
|
Saturated Fat:
3
g
|
Cholesterol:
107
mg
|
Sodium:
304
mg
|
Potassium:
88
mg
|
Vitamin A:
180
IU
|
Calcium:
48
mg
|
Iron:
0.3
mg