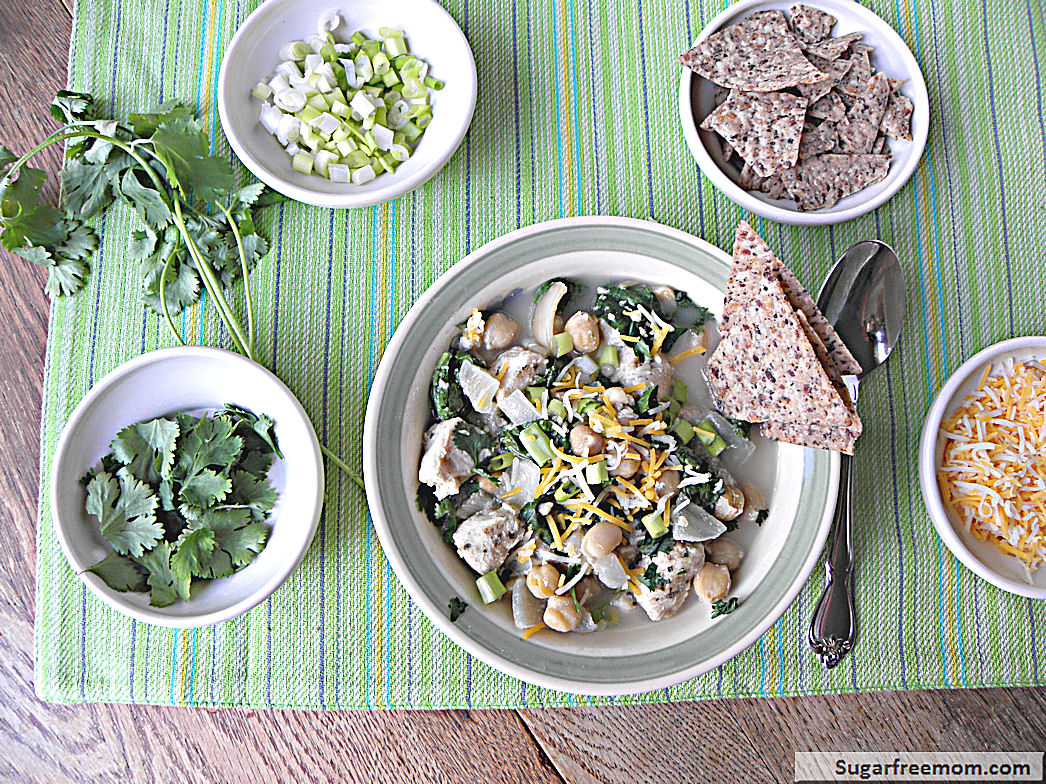 Is your slow cooker used all winter and then forgotten about once the warmer months come? Having a warm stew cooking all day to come home too is not only wonderful in the winter, but even more fantastic in the summer!! You're house will smell divine AND you won't need to turn that oven on and be heating up your home!
I'm sure you've had chili before but have you had white chicken chili?? This is a super easy and healthy meal for your whole family. You all know I have picky kids and a picky hubby right? They literally ate at least two bowls each! They topped their chili with scallions, shredded cheese, crushed tortilla chips, and cilantro!!! My KIDS at scallions and cilantro and liked them!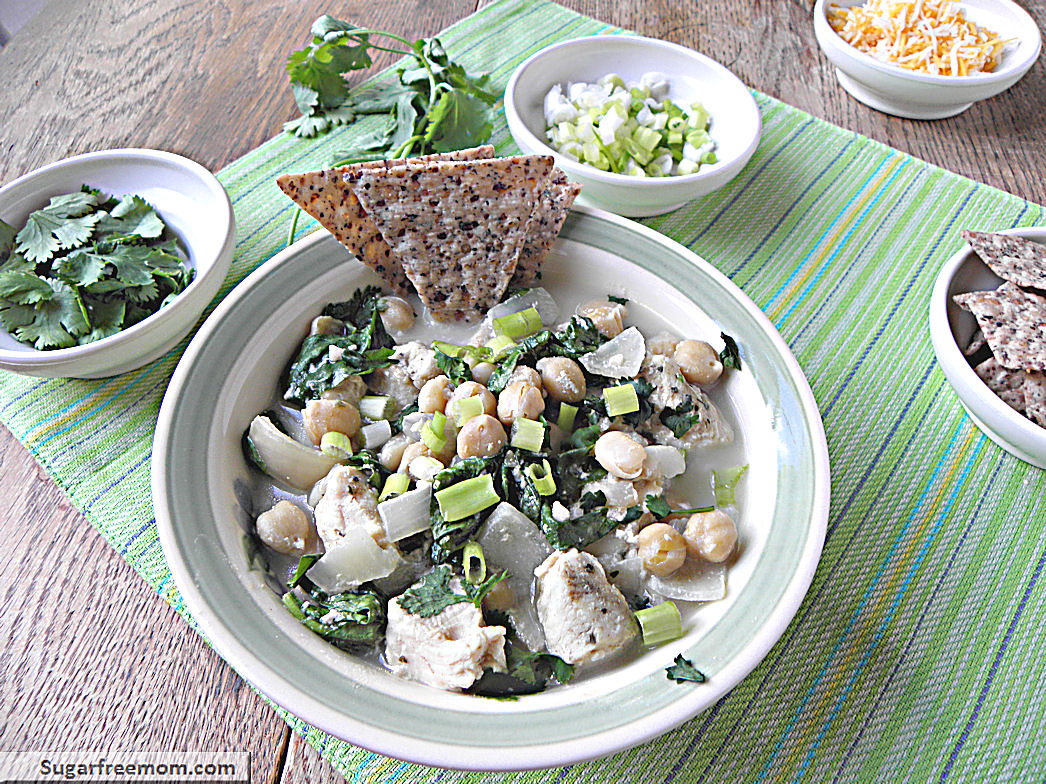 I've made this recipe many times before but often times used corn. I really love to see some green in our food though so I had a thought. Although my family loves corn, they also really love spinach. So this time I threw in fresh spinach the last hour of cooking. I loved it much better than with the corn kernels. But if your family isn't crazy about spinach then just add in a can of drained corn instead. You never know though until you try, they may just surprise you!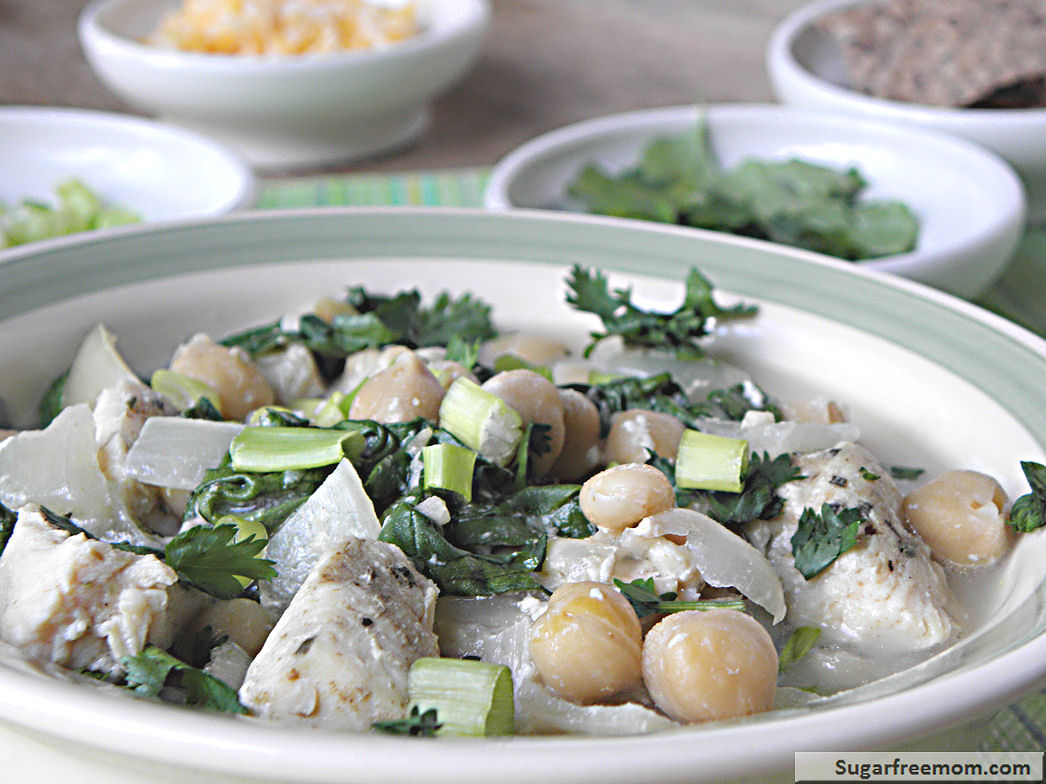 You can literally prepare this the evening before if it is difficult to make in the morning before heading out. Chop up your onion, place it in a bowl and place a piece of plastic wrap over the onion. Add your chopped chicken cubes on top of that then place another piece of plastic wrap over the chicken. Add your drained beans over the plastic wrap right on top of the chicken. cover the bowl with more plastic wrap and place in the fridge till the morning. Just be sure to remove all the plastic wrap layers when pouring the ingredients into your crock pot. SO easy right? Add all the seasonings and broth and cover and cook. When you get home in the evening throw in the spinach and sour cream even if only for a half an hour but an hour is better to warm through the sour cream. You will LOVE this !!! My kiddies don't even like onion and they ate the onion because I diced it quite small. Having toppings available to kids make them think they have some choices and they certainly love dipping their fingers in the bowls to add their own.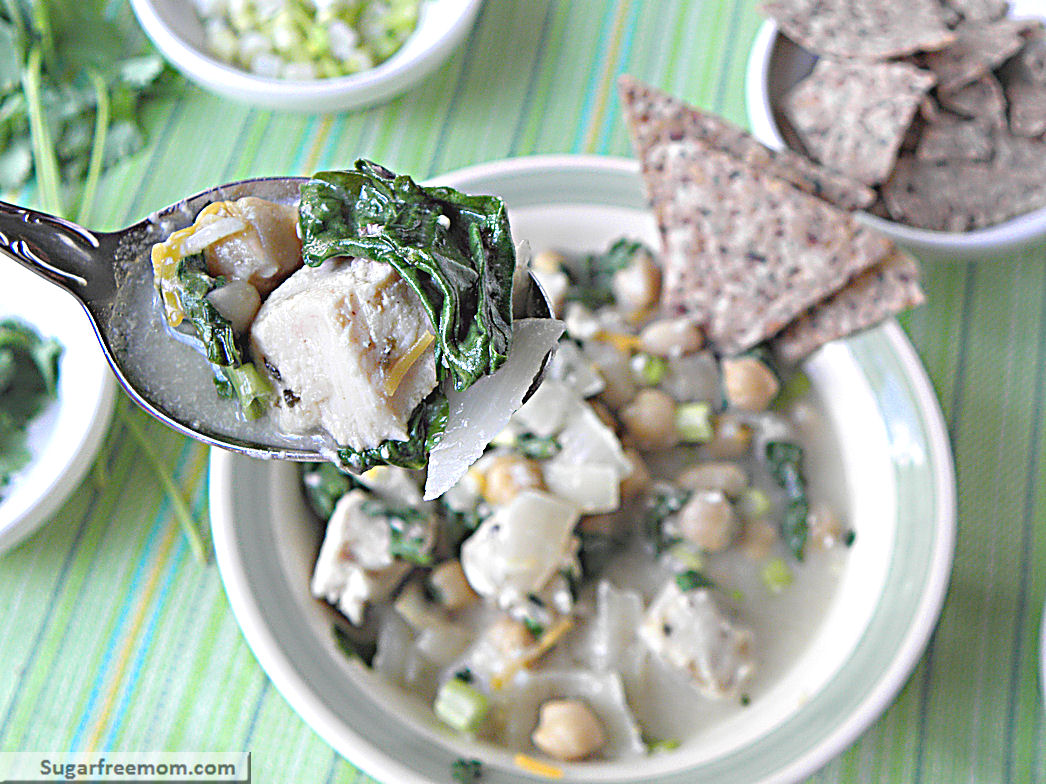 Low Fat Crock Pot White Chicken Chili
Author:
Prep time:
Cook time:
Total time:
Ingredients
1 ½ pounds boneless raw chicken breasts, cubed
1 cup diced onion
1 (15.5 ounce) can chickpeas, drained and rinsed
1 (15.5 ounce) can northern beans, drained and rinsed
2 cups chicken broth
3 teaspoons minced garlic
½ teaspoon salt
½ teaspoon white pepper
3 teaspoons cumin
1 teaspoon dried oregano
2 cups fresh spinach
½ cup sour cream, light
optional toppings; shredded cheddar cheese, scallions, crushed tortilla chips, fresh cilantro
Instructions
Combine all ingredients, except spinach and sour cream, into a 4 quart or larger crock pot.
Cook on low for 6-7 hours.
In the last hour of cooking add sour cream and spinach and stir to combine.
Enjoy with optional toppings.
Serving size:
1cup
Calories:
173
Fat:
3g
Carbohydrates:
18g
Sugar:
1g
Sodium:
168mg
Fiber:
4g
Protein:
19g
Cholesterol:
37mg
Notes
Weight Watchers PointsPlus: 4*