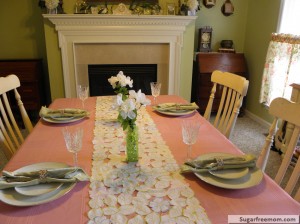 Good Morning!! It's Sunday, the day we post our weekly menu for you to get some inspiration for feeding your family during the week! Of course tomorrow is Memorial Day so I have some special recipes I'll be making and we'll have my parents over for the day then head to a softball game for my daughter. I'm super happy to enjoy a Monday with no school and no work for the hubby too.
We're not going too crazy cooking since only my parents are coming over. The hubby is planning on grilling which he loves to do and I'm going to work on a new recipe for healthier Boston Baked Beans! We'll see if it passes the hubby taste test though. I'll make some sides like Italian Potato Salad, Italian Pasta Salad, Balsamic Berries, coleslaw and corn on the cob. I think my mom will bring dessert for the kiddies too. In case you missed this post the other day, here are 30 Healthy Memorial Day Recipes.
Also, in case you're unaware, my blog has been nominated in the Circle of Mom's Top 25 Food Blogger Contest. Last year I made it to 3rd place, but right now I'm in 1st and would love love love to remain there. Only with you voting will that happen. Voting is allowed every 24 hours and I need all the help I can get. The competition is very close and your vote is so very important! I really need your support to win. I can't do it without you. The contest ends June 4th so until then daily votes are needed.
So if you enjoy my recipes, Will you Vote for me please? Thank you so very much!
[Circle of Moms Top 25 Foodie Moms - 2013 - Vote for me!]


Breakfasts
Orange Chocolate Chip Scones(new) adapting from here
cereal, berries, yogurt-2x
Dinners
Have a wonderful weekend and week ahead!