Low Sugar Salted Caramel Cashew Fudge is a creamy and decadent fudge made healthier!
With one bite of this creamy fudge, you'd never know it's healthier. Silk's New Creamy Cashew Milk is what takes this fudge over the top to beyond amazing.
I've been a Silk Almond milk lover for the last 10 years, but recently I was asked to create a recipe using the New Silk Cashew Milk. I found the unsweetened version at my local Walmart Super Center and once I got home to try a glass, I was hooked.
I NEVER thought anything else would win me over better than my favorite and beloved almond milk, but I was wrong, very wrong. This cashew milk is so creamy I can't even explain how much I love it. It is my new favorite!
With Christmas in 14 days, I've been all about creating healthier but fantastic treats for the holiday. I've been wanting to make a new fudge for a long time. A few weeks away I had made some Low Sugar Salted Caramel sauce and then the thought of combining the creamy cashew milk with it into a fudge was all I could think about. I couldn't make the recipe fast enough.
​My family is very picky and above anyone else, the pickiest is the hubby. If he notices a bit of aftertaste when I use my sugar free substitutes, he surely lets me know. I knew I could pull this over and win him over.
Drum roll please......He has claimed this is the closet texture and resemblance to real, old fashioned, homemade fudge with sugar. WINNING!
I brought this to Thanksgiving with my extended family and they too could not believe it was made with cashew milk and was low sugar.
If you sign up for Silk's eNewletter you'll instantly receive a coupon to try the New Cashew milk! If you try it, go and tell them on their Facebook page and tell them Sugar-Free Mom sent you over! You will also find a ton of awesome new cashew milk recipes on the Silk Cashewmilk Pinterest Board.
Brenda's Notes:
To make this dairy free, sub the butter used for a vegan butter or try coconut oil.
If you don't have liquid toffee flavored stevia, you could also use vanilla liquid stevia or plain is fine too.
If you choose not to use any stevia you may need to increase the molasses or maple syrup. Cool slightly then taste and adjust before pouring into pan to harden.
Swerve is the brand of erythritol which is a natural sugar alcohol.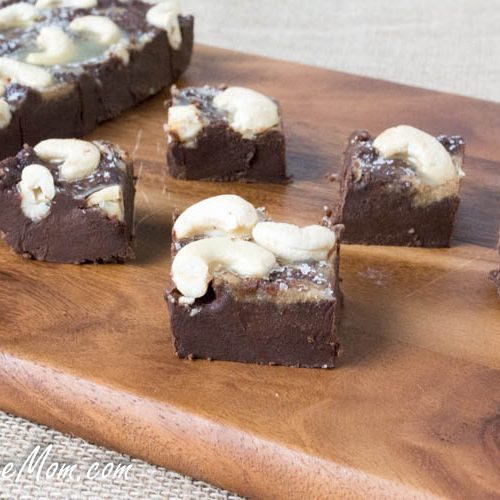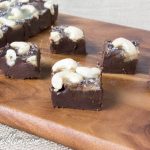 Print
Low Sugar Salted Caramel Cashew Fudge
Instructions
Melt butter and cashew butter over medium heat in a sauce pan.

Once butters are melted stir in Swerve, cashew milk, arrowroot powder, maple syrup, and molasses.

Bring mixture to a boil and simmer 3-4 minutes until thickened.

Turn off heat and add in lquid stevia and chocolate chips.

Stir well until chocolate chips are melted.

Pour mixture inot a parchment lined baking pan.

Top with cashews and sea salt.

Refrigerate 3 to 4 hours or overnight.
Nutrition
Serving:
1
g
|
Calories:
154
kcal
|
Carbohydrates:
14.9
g
|
Protein:
2.4
g
|
Fat:
12.5
g
|
Saturated Fat:
6.2
g
|
Cholesterol:
10
mg
|
Sodium:
128
mg
|
Fiber:
3.4
g
|
Sugar:
0.8
g
link
This conversation is sponsored by Silk. The opinions and text are all mine.