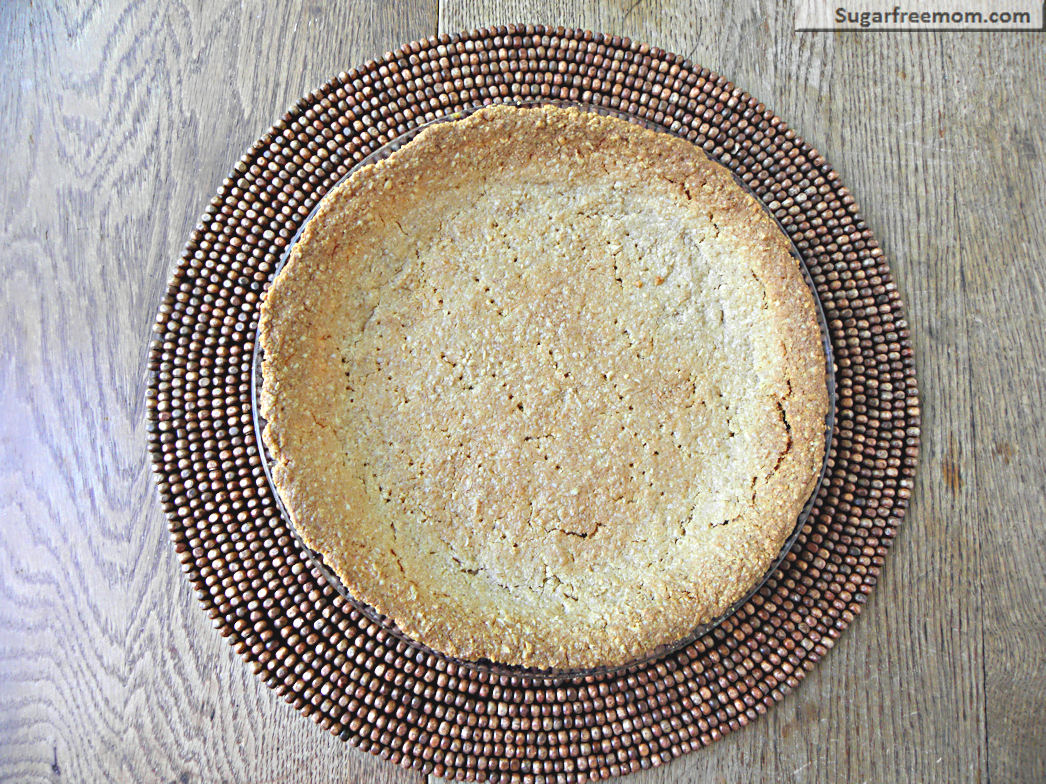 Have you made any no bake summer desserts that always involve a pre-made graham cracker crust? Is there anyone who hasn't? They certainly come in handy for a no bake type filling, but they are full of sugar. Even many of the gluten free pie crusts contain sugar. Many alternative pie crusts that don't use any grains at all contain almonds or some type of nuts which my boys are allergic to. Of course I had to try to make a sweet crust for all these cool recipes I want to make.
You've seen my other pie crust recipe, Healthier Whole Wheat Pie Crust, for savory foods like quiches, but it wasn't what I wanted to use for a creamy, cold dessert.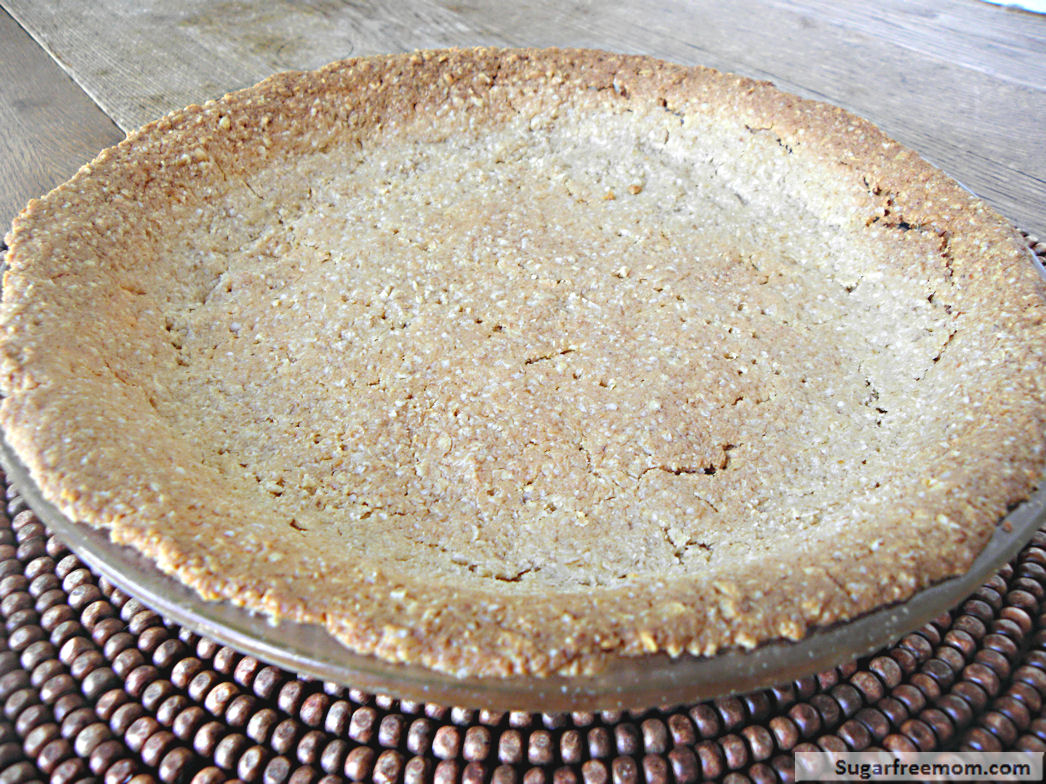 If you have a fabulous pudding or ice cream type pie that you love to make then you will certainly want to make it with this incredible crust! This beats a graham cracker pre-made crust any day! So much tastier, without sugar, and no rolling out dough! Pretty fantastic if you ask me. 🙂
Just make it ahead of time to allow it to cool completely before adding your favorite filling.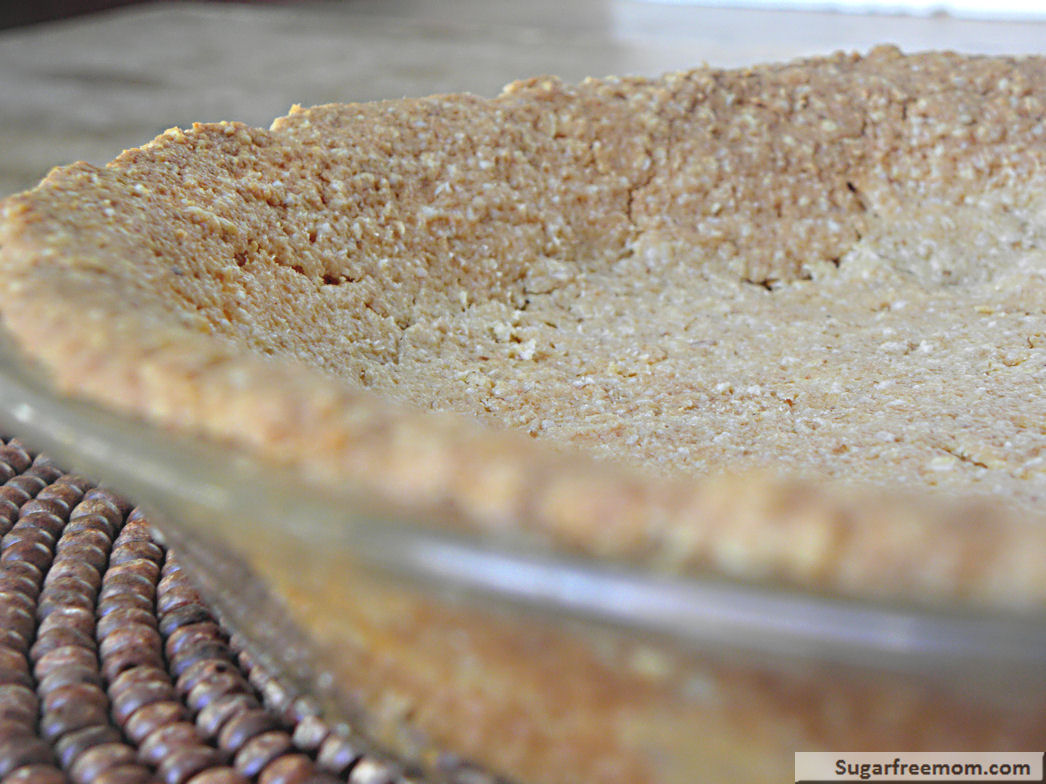 adapted from food.com
Cream Cheese Oat No Roll Pie Crust: [Gluten, Sugar & Nut Free]
[sc:Ziplist]
Ingredients
½ cup cream cheese, softened, light
½ cup butter, softened
1 ½ cups oat flour* ( I made my own grinding up rolled oats in my food processor)
½ teaspoon salt
½ teaspoon powdered stevia
* If you are gluten free, make sure the rolled oats are gluten free.
Directions
Preheat your oven to 350 degrees. Using a stand mixer, mix together cream cheese and butter until well combined. In a separate bowl mix your flour, salt and stevia. Turn your mixer on low speed and gradually add the flour mixture to the cream cheese and butter. Spray a 9 inch pie plate with non stick cooking spray. Pour your flour mixture into the pie plate. Using your hands spread the batter on the bottom and up the sides of the pie plate. This may take awhile but don't give up! Prick the bottom of the dough with a fork. Bake for 20-25 minutes or until the crust is browned. Cover the crust with aluminum foil and continue to bake for another 10-15 minutes until the bottom is slightly browned and not soft. Let it sit and cool before adding any filling.
*If you are baking a warm fruit pie, you can bake for 20 minutes, add filling and bake for the rest of the time, but watch the crust and cover if needed.
Nutrition Info
Servings: 8* Calories per serving: 209* Fat: 15g* Fiber: 2g* Carbs: 15g* Protein: 4g* Points+: 6*