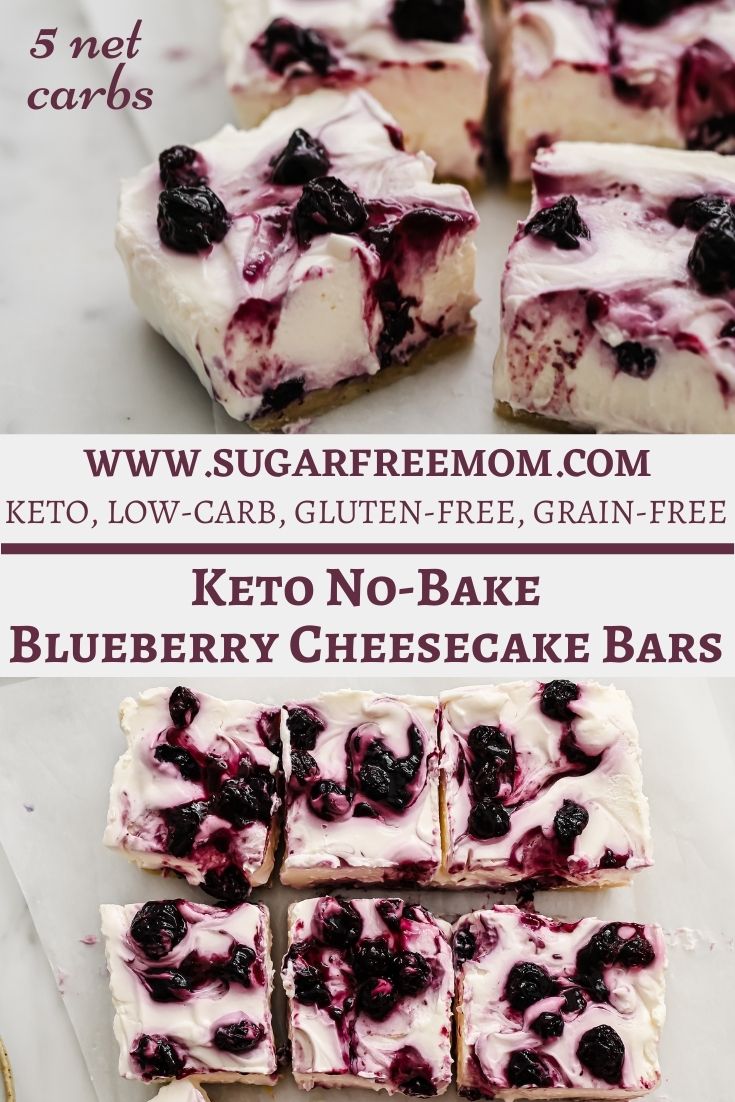 Sugar-Free, Keto, Low Carb Blueberry Cheesecake bars are a creamy, easy, no-bake dessert with 5 net carbs per serving!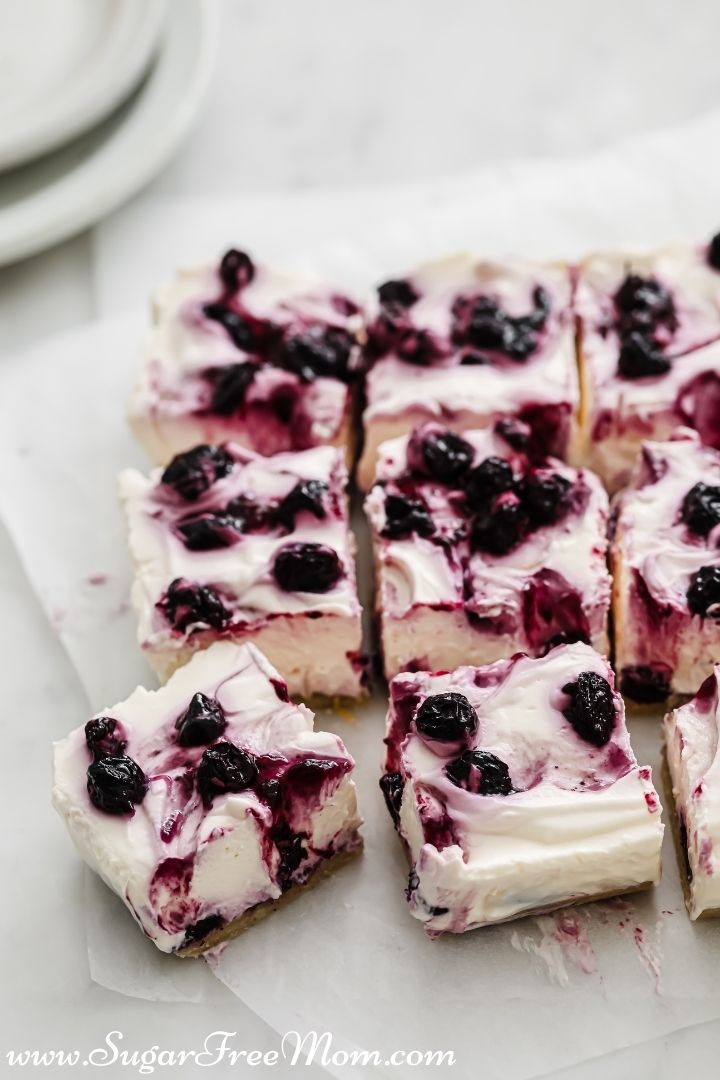 Keto Lemon Blueberry Cheesecake Bars
These sugar free keto cheesecake bars use a classic low carb cheesecake recipe of mine and have a delicious swirl of fresh blueberry topping. Made into perfectly portioned bars the whole family will love will love and can be enjoyed on either a keto diet or low carb diet.
These Keto Blueberry Cheesecake squares are easy to make because no baking is required and even the crust ingredients do not require baking!
Perfect treat for easy and fun summer entertaining!
The cheesecake crust is made from almond crumb and melted butter to create a a super simple, buttery, almond flour crust and the filling is a lemony cream cheese topped with sugar-free simple blueberry swirl, which add intense bursts of fruity flavor.
If you don't love blueberries, feel free to swap with raspberries, blackberries or even pitted cherries.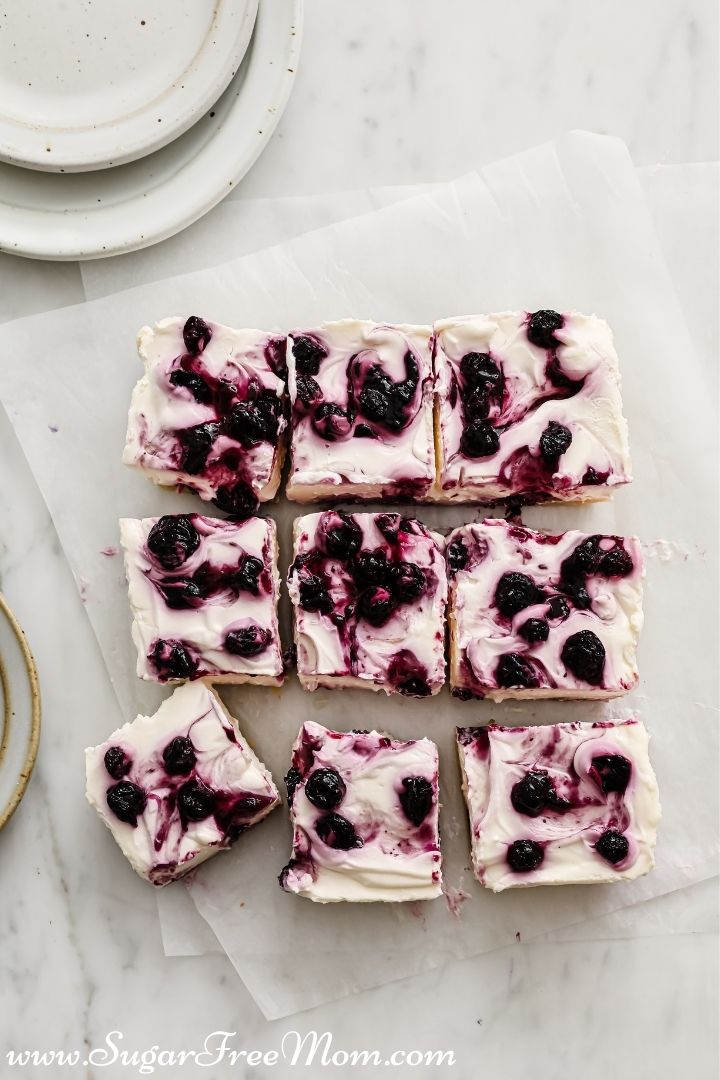 Can I Make the Almond Flour Crust Nut Free?
If you prefer not to use almond flour or you or someone you love has a nut allergy, you can swap the almonds with sunflower seed flour.
If you can't find sunflower seed flour, use raw, unsalted sunflowers and grind them in a food processor until fine. Be careful not to over-process or you will have sunflower seed butter.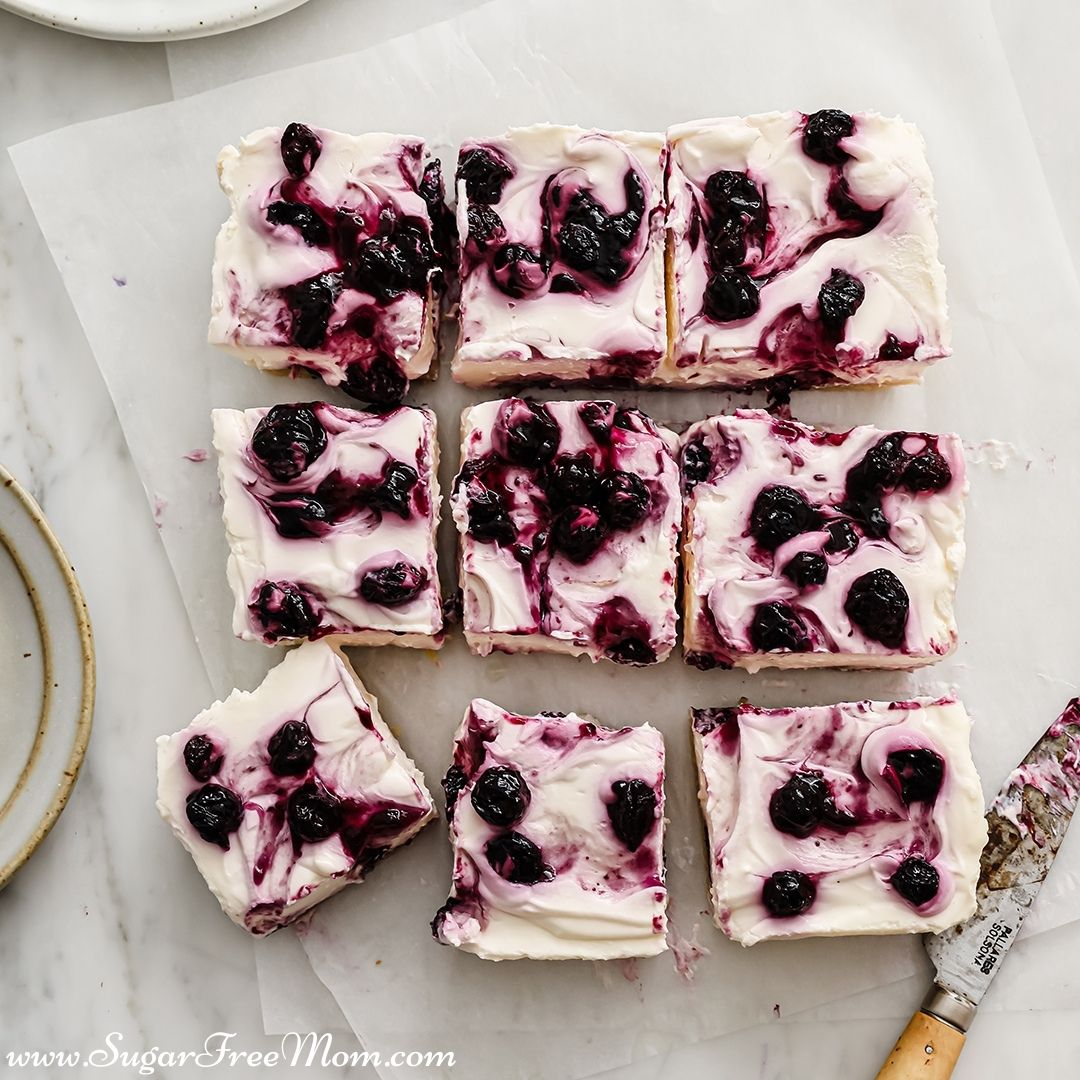 Can this Easy Blueberry Cheesecake Recipe be made Dairy Free?
You can make these luscious gluten free blueberry cheesecake bars dairy free!! In the crumb base, be sure to replace the butter used for softened coconut oil.
To replace the full fat cream cheese used in the filling, swap with full fat canned coconut milk. Be sure to only use the thick "coconut cream" from the canned coconut milk or your cheesecake bars will not solidify.
You can place your canned coconut milk, unopened, in the fridge over night. Flip it upside down and this will allow the watery coconut milk to be easily removed from the top of the can when you open it the next morning.
Drain or use in a smoothie! Coconut milk in a carton in the refrigerator section with all other milks, will not work in this recipe, only canned will work.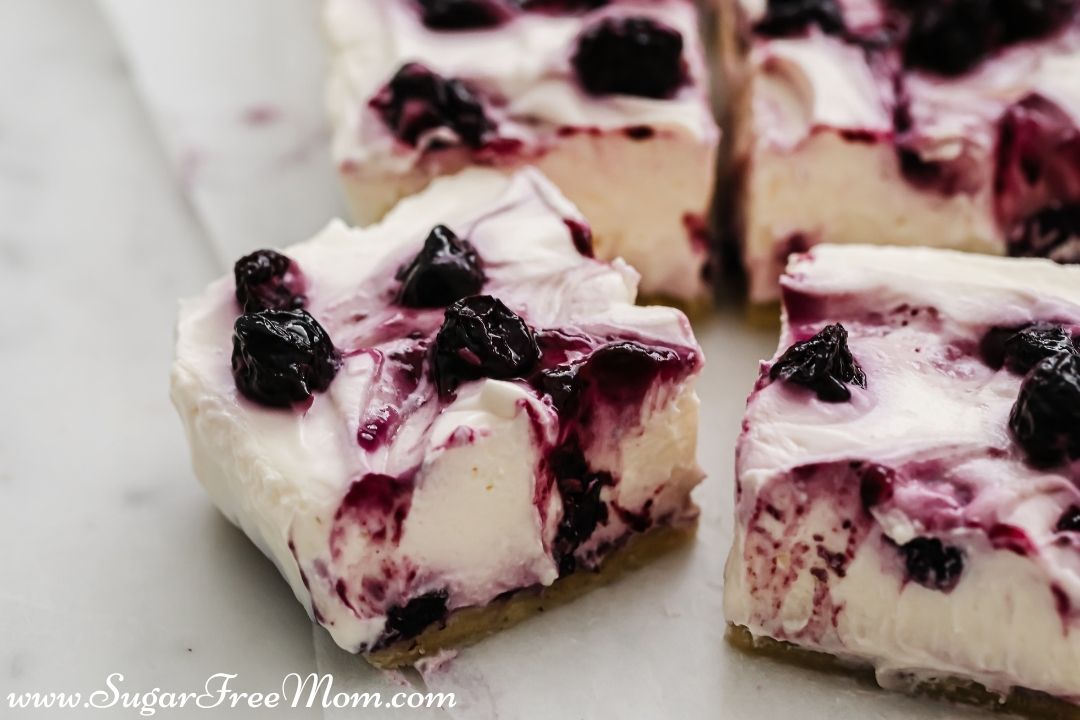 BEST TIPS for Low Carb Cheesecake Bars
TIP #1 Use a good quality thick full fat cream cheese. I like full fat Philadelphia. Low fat cream cheese will make these cheesecake bars too soft, runnier and more difficult to set.
TIP #2 If you find your cheesecake a bit too soft, pop into the freezer for about 30 minutes or to your liking. It won't make it grainy or icy, but like a nice frozen dessert.
TIP #3 If you leave your cheesecake for too long in the freezer and it sets too hard, just let it thaw a little at room temperature before eating.
TIP #4 Since this is a no bake recipe and there are no eggs in this cheesecake, you can taste your filling and decide if it is sweet enough for you. If not, add more to your level of sweetness.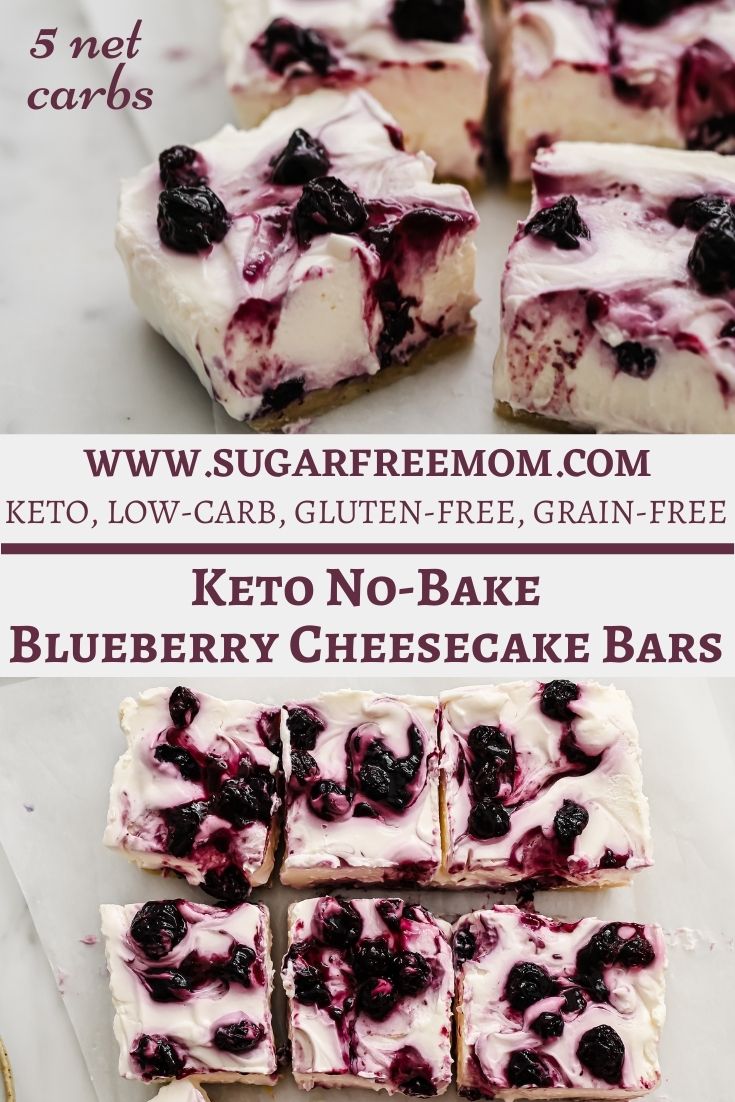 Can I Use another Low Carb Sweetener?
There are many sugar-free sweeteners on the market today, but it's really about personal preference. Figuring out which is the best to use for one purpose or another is not the easiest thing and can quite confusing. Unfortunately, the product labels can be misleading, and not all sugar-free sweeteners are created equal.
When I first went sugar-free in 2004, I didn't know any sugar-free sweeteners beyond aspartame, Splenda and stevia. I tried several artificial sweeteners, and after two years sugar-free, my sugar cravings were still just as bad, if not worse. That was when I decided to start creating recipes with natural sugar-free sweeteners and nothing artificial.
The most natural sugar free sweeteners are stevia, Monk fruit sweetener, erythritol, xylitol and Allulose, but there are some big differences when it comes to using these in your recipes.
Here's my extensive Natural Sweetener Guide and Conversion Chart that will help you determine which sweetener to use for certain baking needs and how much to use compared to other sweeteners I might use in my recipes.
Keto Desserts & Keto Cheesecake Recipes:
Keto Healthy Blueberry Cheesecake Bars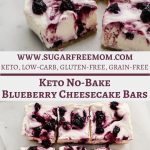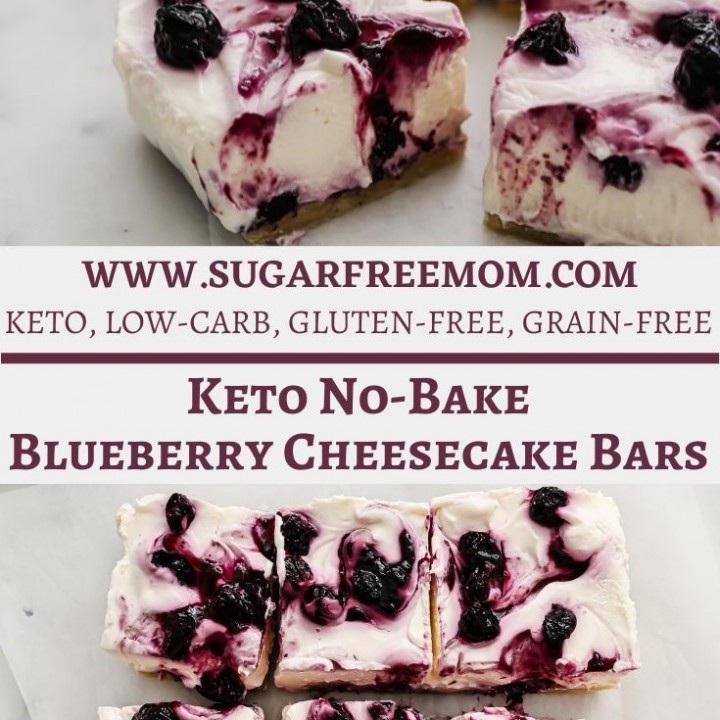 Print
Keto No-Bake Blueberry Cheesecake Bars
These low-carb No-Bake Blueberry Cheesecake Bars are perfect for summer entertaining or a treat that doesn't require you slaving away at the stove. And it can be frozen then defrosted.
Ingredients
Filling
12

ounces

cream cheese

full fat cream cheese (or 360g)

⅔

cup

Swerve confectioners

(or 106g)

2

tablespoons

lemon juice

1

teaspoon

lemon zest

(zest of 1 lemon)

⅛

teaspoon

salt

1

cup

heavy whipping cream
Instructions
Base
Place all the dry base ingredients in a mixing bowl and stir to combine. Add the melted butter and mix to form a flakey crumb.

Line a 8 x 8 inch baking pan with parchment paper.

Press the base mix into the bottom and smooth with the back of a spoon to get neat edges.
Filling
In a clean mixing bowl, add the cream cheese, Swerve, lemon juice, zest and salt. Mix with an electric mixer to combine. Taste and adjust the sweetness to your liking.

In a separate bowl, whip the cream until thick (but don't over whisk or it gets super stiff, you want it just under when it splits).

Fold the cream through the cream cheese with a spatula to combine.
Swirl
In a small saucepan, add the frozen berries,Swerve and water.

(Depending on how icy your blueberries are will depend on the amount of water. Start with ½ tablespoon and add more if needed. The blueberries will release water as they cook.)

Simmer on a medium heat for about 5 minutes until the sauce thickens and you can squash some of the blueberries with the back of a spatula. Turn off heat, add the xanthan and allow to fully cool to thicken.
Assembly
Spoon the cheesecake filling on top of the base and smooth the top with a silicone spatula. Add dollops of cooled blueberries and swirl with a toothpick or the tip of a sharp knife.

Place in the fridge to fully set, about 8 hours, or overnight. About an hour before serving place into the freezer to firm up and to make slicing easier. Slice into 9 bars with a sharp knife.
Storage
Fridge and option to place in the freezer a little before eating to make it firmer.
Notes
Net Carbs 5g
This recipe was first published in July 2021.
Nutrition
Serving:
1
bar
|
Calories:
344
kcal
|
Carbohydrates:
7
g
|
Protein:
5
g
|
Fat:
33
g
|
Saturated Fat:
17
g
|
Polyunsaturated Fat:
1
g
|
Monounsaturated Fat:
5
g
|
Trans Fat:
1
g
|
Cholesterol:
55
mg
|
Sodium:
234
mg
|
Potassium:
70
mg
|
Fiber:
2
g
|
Sugar:
3
g
|
Vitamin A:
675
IU
|
Vitamin C:
3
mg
|
Calcium:
66
mg
|
Iron:
1
mg