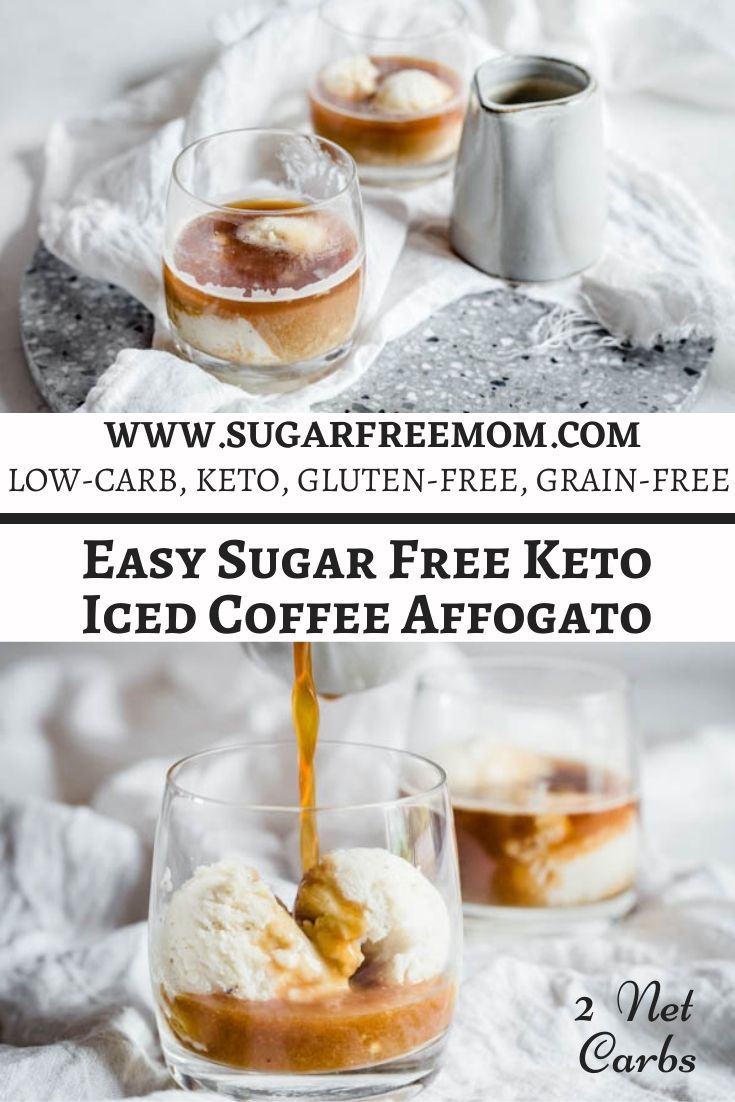 This Sugar-Free, Keto Affogato recipe combines keto vanilla ice cream and hot coffee to create an easy and spectacular Italian dessert to serve to company or to enjoy on any weeknight all by yourself. It's made with just 5 ingredients and also gluten free, nut free and low carb.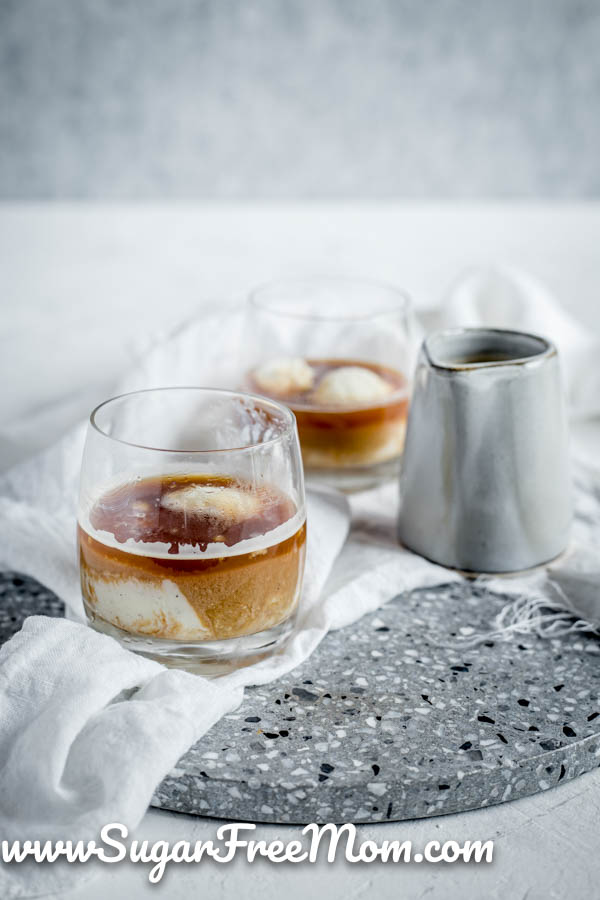 What is Affogato?
Affogato is a favorite of my Italian family and a much loved Italian dessert for many!
The name affogato comes from the Italian word "affogare" which literally means "to drown". This dessert starts with creamy scoop of gelato served in a glass then topped or "drowned" in a shot of hot espresso coffee!
Heaven on earth or in a cup at least! You won't find a keto or sugar free affogato in Italy that I know of, but you can make it at home and it's just as tasty.
This Italian dessert can be enjoyed whether it's a hot summer day or a chilly winter evening and it's very easy to make for those on a keto diet or low carb diet. Just 2 net carbs!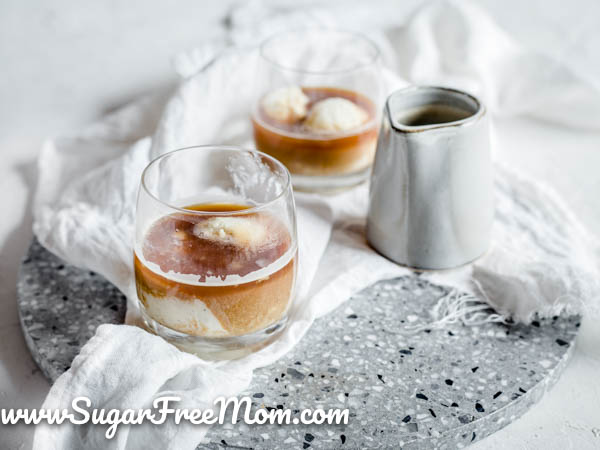 Ice Cream versus Gelato
While ice cream contains egg yolks to make it creamy and thick, gelato does not usually contain egg yolks and uses more milk than cream.
Gelato has a more creamier, and more elastic like texture. Using canned coconut milk here, rather than almond milk helps provide enough fat to make this creamy vanilla gelato.
It's a simple based keto ice cream recipe that you could use over and over again and also change it by adding different extracts and/or fillings, like nuts, berries or sugar-free chocolate chips.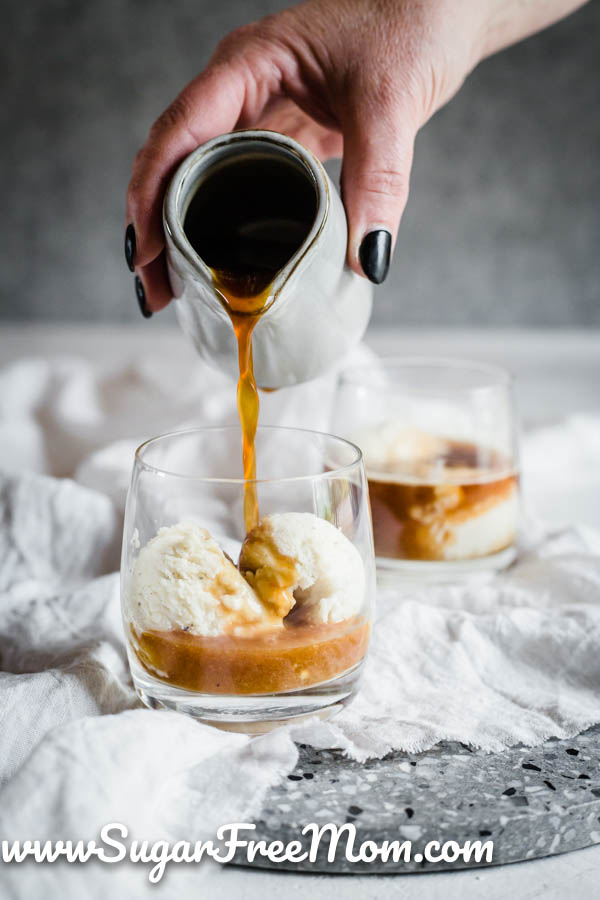 I don't think there is anything better than ending a busy day with a hot and cold, sweet treat like this.
If caffeine in the evening bothers you, simply use decaffeinated coffee and you can still enjoy this traditional Italian favorite!
When my family and I traveled to Italy this past Spring, my oldest son and father enjoyed authentic affogato al caffe, definitely not keto or sugar free.
My oldest loved it so much, he asked for me to have a keto friendly version so we could make it more often at home. He's pleased and I know you will be as well, once you try this keto affogato.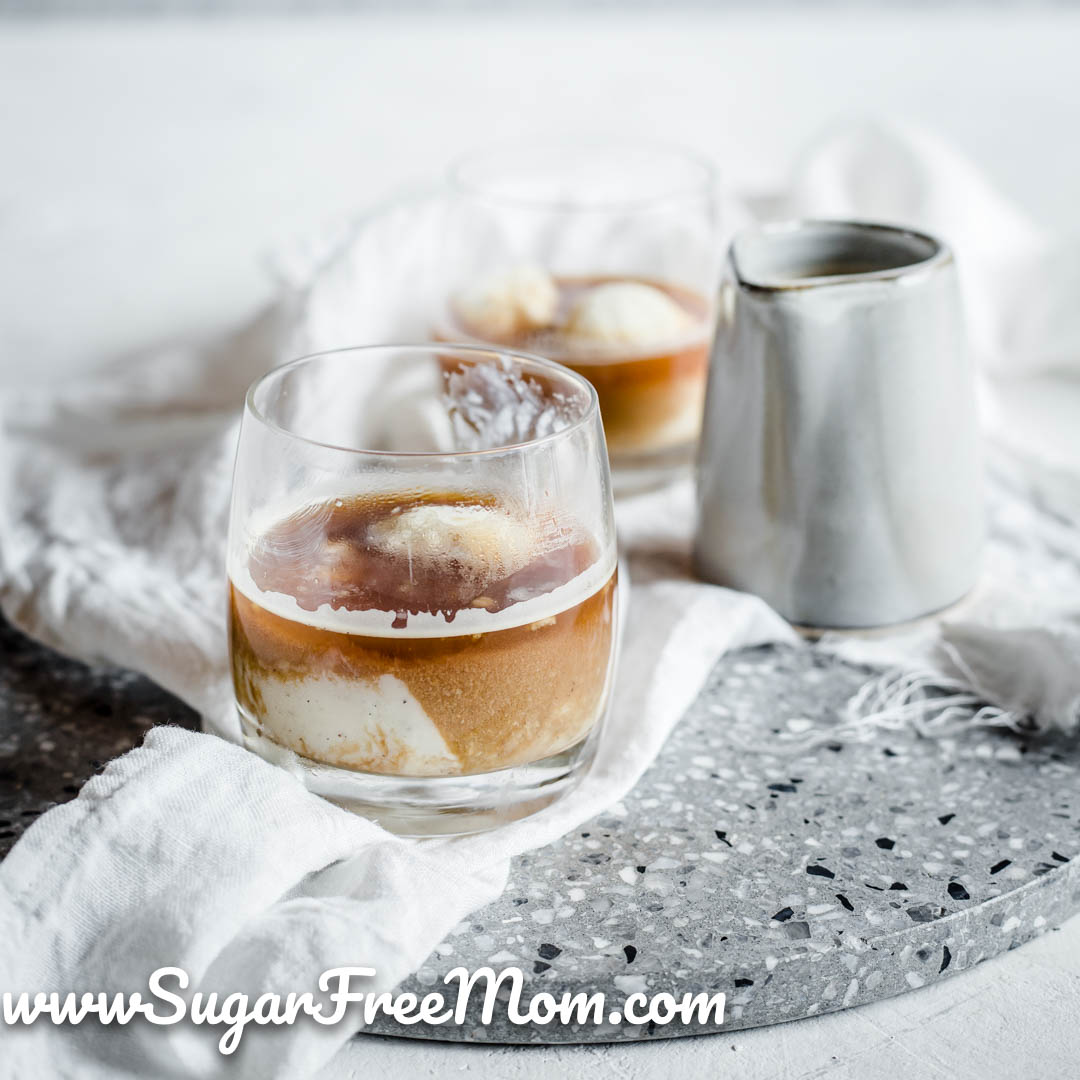 More Keto Coffee Desserts
Store Bought Keto Ice Cream Options
If you don't want to make my recipe below for keto friendly ice cream, simply buy one of these options below.
Luv Ice Creams
Rebel
Enlightened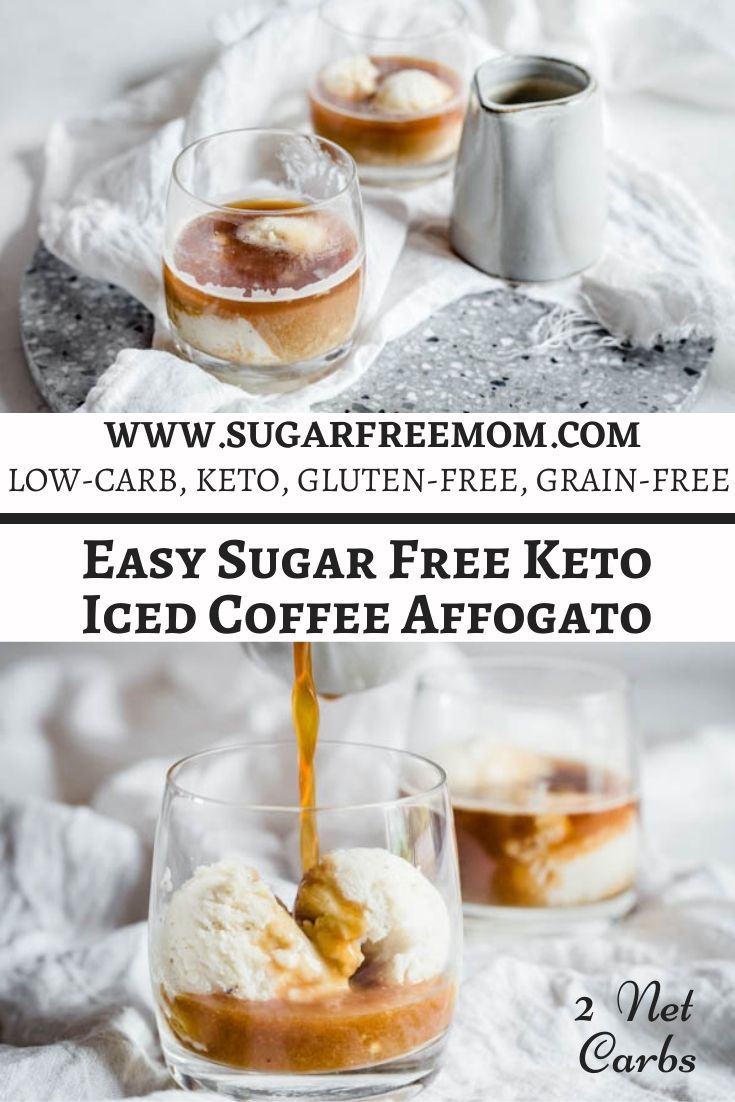 Sugar Free Keto Affogato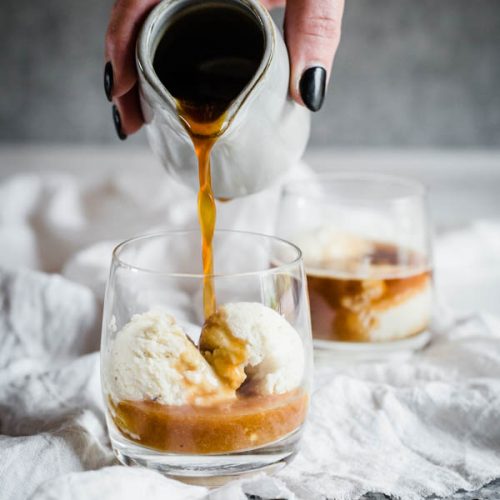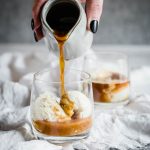 Print
Sugar Free Keto Affogato
Servings
6
@ 2 scoops ice cream plus coffee
Instructions
Chill the can of coconut cream in the fridge overnight before starting to make your ice cream.

Scoop the coconut cream into your stand mixer bowl and beat until light and fluffy.

Add the vanilla, sweetener of choice and then slowly drizzle the cream in while beating.

Once the mixture is light and fluffy, you can transfer it to your ice cream churner to finish.

To make the affogato; place two scoops of ice cream in the bottom of your serving glass and pour a double shot of espresso or 2 ounces of hot brewed coffee over the top.

This dish needs to be eaten immediately and at room temperature.Ice cream can be stored I the freezer for up to one month.
Notes
(Xylitol is better for ice cream as it helps to keep it soft and creamy, however you should only use it if you have no dogs in the house as it is lethal to them)
Net carbs: 2g
This recipe was first published August 2019.
Nutrition
Serving:
1
serving
|
Calories:
394
kcal
|
Carbohydrates:
3
g
|
Protein:
1
g
|
Fat:
40
g
|
Saturated Fat:
30
g
|
Cholesterol:
1
mg
|
Sodium:
10
mg
|
Potassium:
31
mg
|
Fiber:
1
g
|
Sugar:
1
g
|
Calcium:
1
mg
|
Iron:
1
mg