Sugar-Free Key Lime Pie Bars require no baking and are keto, low carb, gluten free and tree nut free! Easy and fabulous summer dessert!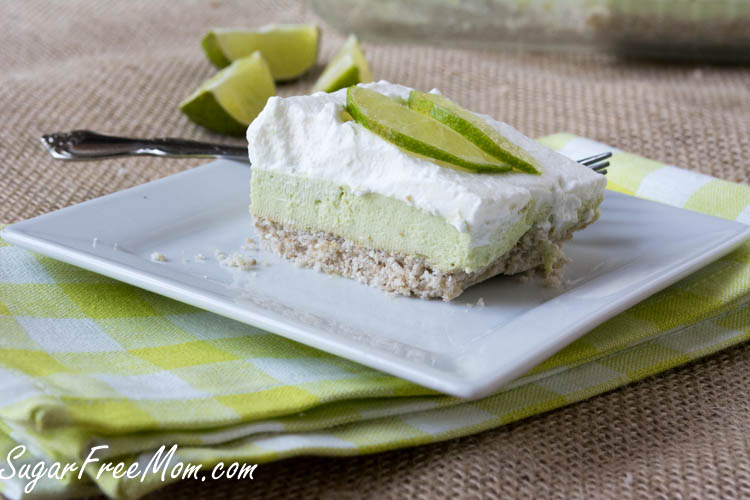 Keto Key Lime Pie
A little bit of tartness, a smidge of sweetness, a crumbly light crust and all made keto, sugar free making these key lime pie bars one of a kind! If you're a lover of lime flavored goodness then this treat will win you over. It's light and serves a bunch so take this to your next cookout this summer! The filling is all made in a stand mixer, I use my KitchenAid, or you can use an electric mixer. Unless you have exceptional strength in your arms, creating a smooth filling without lumps will be a challenge by hand. I want easy in the summer and a healthy dessert that can feed a crowd without heating up my kitchen is where it's at for me, how about you?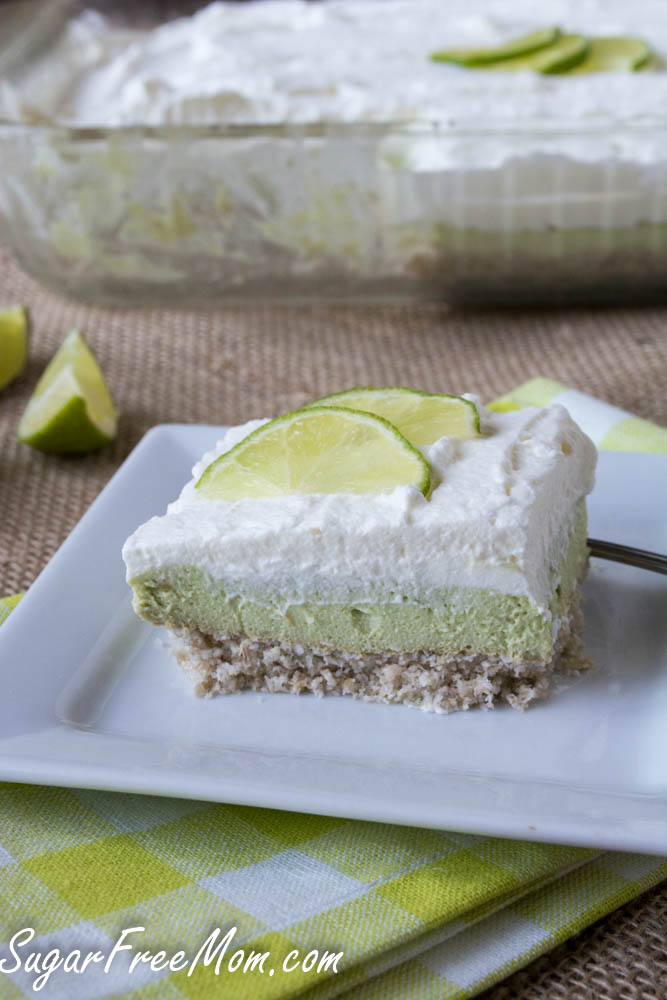 I wouldn't have a food blog if I didn't love to cook, but there is something about summer that just gets me in the mood to tackle clutter in the house, clean out the kids bedrooms, and attack our to do list that never seemed to get finished during the school year. Since many of you know I homeschool as well, during the school year it's all about school work. That's a full day in itself not to mention the work I do for brands and my blog. So I've got a really long to do list of things that actually make me happy. I want to organize my kids pictures I've got piled up in a box.
You've got to know what I mean.
So just with those things on my list, family vacation trips planned this summer and camp week this week, there goes the month of July.
But you know it's not just about all the cute pictures on the wall, no I want better matching frames to make a beautiful wall that is like an art piece. You see what's stopping me? Perfectionism! I want it just right so I procrastinate until I can really devote the time to it. Hence, 3 years have literally flown by.
But I'm not going to stress about it because for me summer is about relaxing more and de-stressing from a busy school year. Next week is our family reunion vacation and although I will need to bring my laptop and have to work some, the house my mom chose for all of us is on a lake!! I can't wait, I'm so excited to do some kayaking!
It will be interesting with my parents, my 3 brothers and there 5 kids between them, plus my 3 kiddies! Lots of chaos, lots of noise, but lots of time to unplug, unwind, be lazy and eat some good food. I will definitely be cooking up a storm in the house as that's my passion. I get anxious when I can't cook and love to make food for everyone we we're together. Last year some of our favorite no baking recipes on our trip in New Hampshire were my Cole Slaw, and Fennel Salad.
I will be making Keto Key Lime Pie Bars before we leave so it's already prepared and in the fridge for a cool, refreshing, light dessert!
The crust idea is adapted from my Frozen Strawberry Cream Cheese Pie. I love how crumbly it is but if you want a more solid crust just add more butter or coconut oil.
I made this specifically for my daddy who loves key lime pie! It was Father's Day and it was devoured except 2 pieces! I'd say that's a win!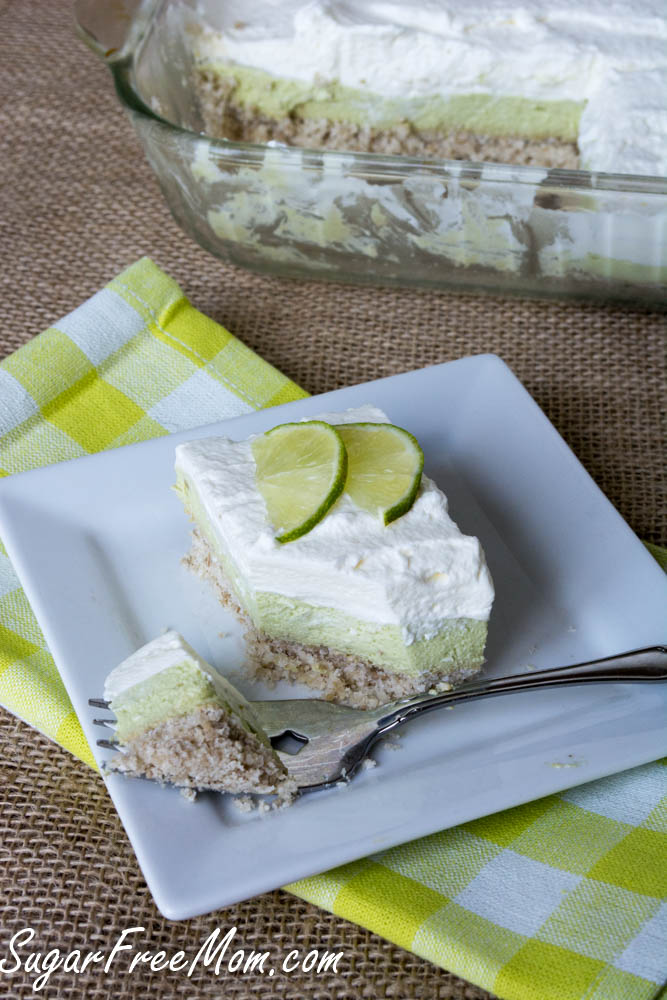 Even if the walls don't get painted this summer, those pictures will be going up anyway. Because really aren't they more for a mother anyway? For us to stare at our babies through the years of memories we've created for them after they're grown and leave our home? I will believe that while I'm kayaking next week instead of worrying about my summer to do list. 🙂
Sugar Free Keto Key Lime Pie Bars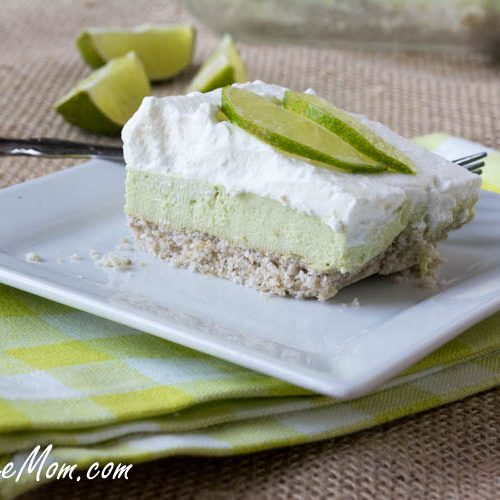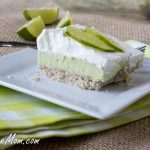 Print
Sugar-Free Key Lime Pie Bars
Ingredients
Filling
3

limes

or ½ cup

1.5

teaspoon

gelatin

unflavored

2

avocados

ripe

4

ounces

cream cheese

room temperature

¼

cup

sour cream

1

cup

heavy cream

zest of 1 lime

½

teaspoon

pure stevia extract

½

teaspoon

lemon liquid stevia

optional topping: 2 cups whipped cream
Instructions
In a food processor add all crust ingredients and process until combined.

Press mixture into a greased 9 by 13 baking dish. Set aside.

In a small sauce pan add lime juice and gelatin and bring to boiling.

Reduce heat to low and stir constantly until gelatin is dissolved. Cool 2 minutes.

In a stand mixer beat avocados and cream cheese until combined well.

Add the rest of the ingredients into the stand mixer and beat on high until whipped in texture and all incorporated.

Pour in the cooled lime and gelatin mixture and beat until combined.

Pour this mixture onto the crust in the baking dish.

Refrigerate uncovered for 2-3 hours.

Add optional whipped cream if desired.

Keep refrigerated until ready to serve.
Notes
Net Carbs: 4g
You can certainly change out the sweetener to your choice.
If you want a less crumbly crust, add a few tablespoons more of butter or even coconut oil to the crust mixture in the food processor and process until desired.
If you don't have erythritol for the crust just eliminate and use 2 tablespoons of powdered stevia or even coconut sugar.
FUN FACT: Key limes are not actually green when ripe as the limes you see in most supermarkets. In fact they are yellow when ripe. They are more tart and bitter than typical limes. They are well known in the Florida Keys as the "key" ingredient in making Key Lime pie. But obviously if you can't find "true" key limes, regular limes will also work.
FYI: Absolutely NO avocado flavor is present in this pie, it simply makes the filling super duper creamy!
This recipe was first published in July 2014 and updated with video in August 2018. 
Nutrition
Serving:
1
piece
|
Calories:
211
kcal
|
Carbohydrates:
6
g
|
Protein:
2
g
|
Fat:
20
g
|
Saturated Fat:
11
g
|
Cholesterol:
40
mg
|
Sodium:
109
mg
|
Potassium:
198
mg
|
Fiber:
2
g
|
Sugar:
1
g
|
Vitamin A:
495
IU
|
Vitamin C:
5.9
mg
|
Calcium:
30
mg
|
Iron:
0.6
mg