It's a typical New England kind of day today. Cold, rainy and a chance of snow tonight! The only day all week that I had to be out with the children since early this morning until dinner time. Yuck!
Having a busy, hectic day ahead and not having a plan for dinner is one of the biggest culprits for ditching your weight loss plans. I know, I've been there. I don't know about you, but with a family of 5 and one income, take out is not an option. As a mom who is trying to maintain a weight loss, mac and cheese and nuggets for the kiddies is not on my food plan either!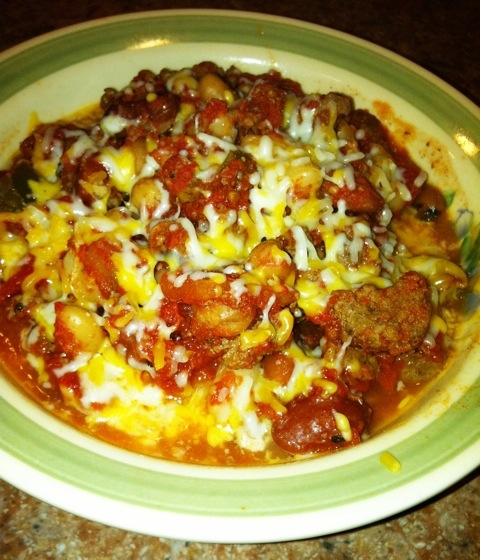 Being prepared for busy days and having something in the freezer already prepared or already cooked and just needing to be reheated is one of the BEST ways to combat those busy nights. Especially helpful to keep me away from eating what my kids might be eating.
Today was one of those type of days for me. I knew it would be a long day ahead and even the evening was filled with activity. I decided yesterday to take out of the freezer the chili I had made in the slow cooker about a week ago. I had made a huge amount of it for the exact reason of wanting left overs to freeze. Now chili is not a kid favorite in my house, but it is a favorite of my husband and myself. So they are having a kid meal and we are having some chili! Some nights are like that, but for the most part my kids eat what we eat.
This chili recipe is so delicious, satisfying and good for you. Perfect for a cold, rainy night and even more delicious knowing all I had to do was heat it up!!!
This recipe has been updated with new photos, a few more delicious ingredients and made lighter!
Lightened Up Crock Pot Three Bean Turkey Chili!
Comments to original post can been seen below!