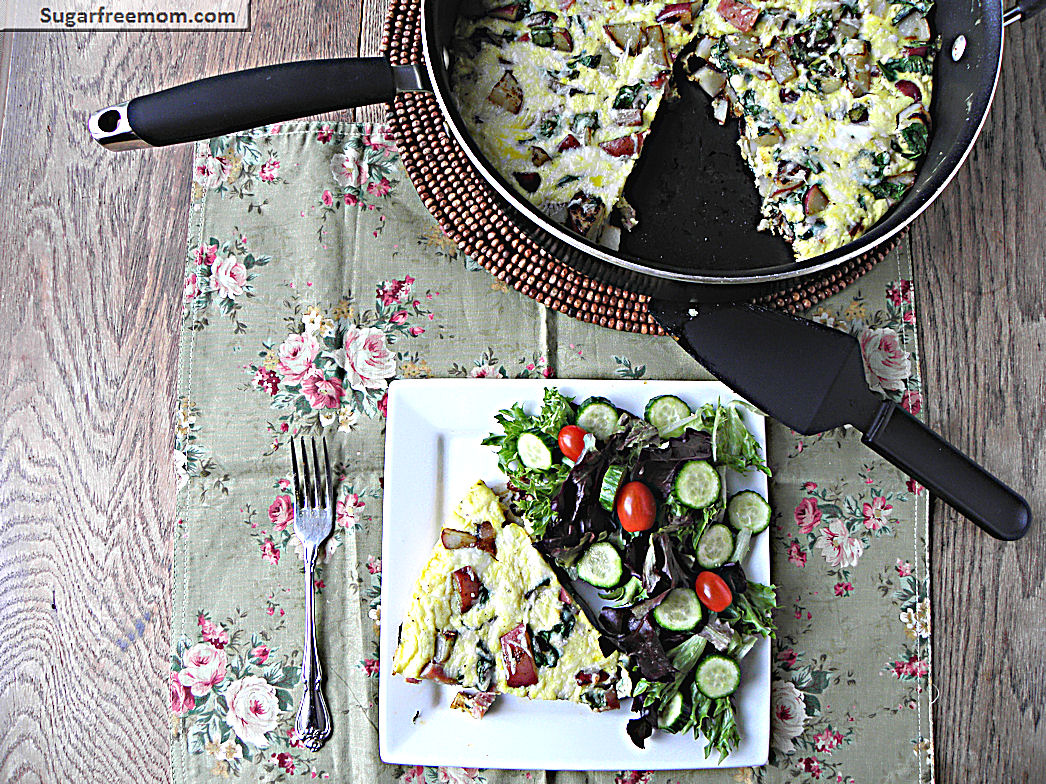 Looking for a quick weeknight that can be prepared in no time flat? You just need a few ingredients and this can be ready in under 30 minutes. Often frittata recipes don't usually have potato in them. My husky hunky hubby loves potatoes! Adding some delicious red potatoes makes this a super hearty dinner dish. Leaving the skin on the potatoes is also less time consuming then peeling and we think tastes better anyway.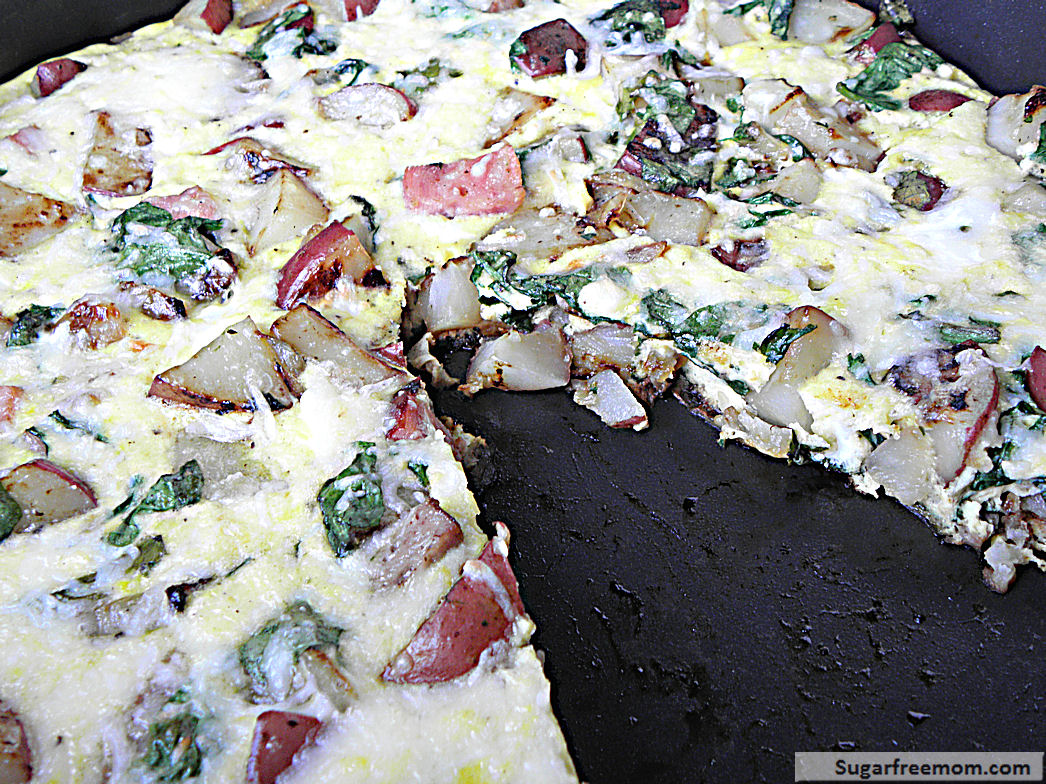 You can make this with meat or without. I had some leftover cooked ham in my freezer that I wanted to use up so I simply defrosted it and added it as well. But honestly it tastes just as good without meat. How do I know? Because of course I've made it without and the hubby prefers with. When its just me and the kids for dinner I make it without meat and it.is.so.good. 🙂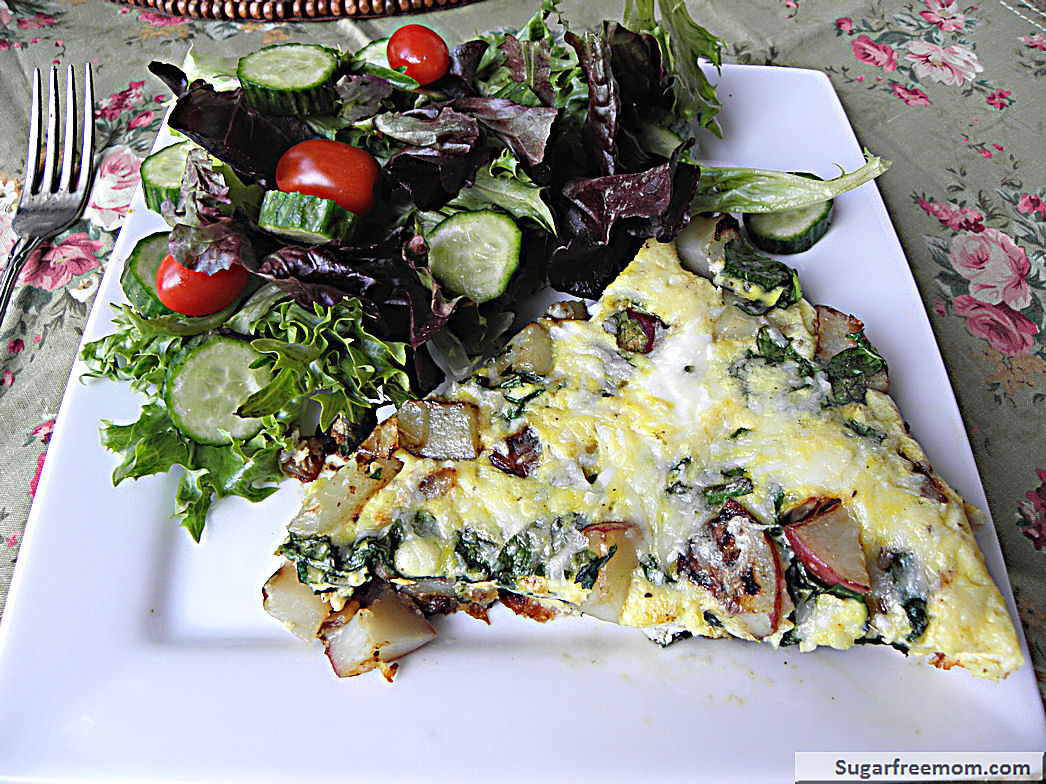 Even though this looks super cheesy, there is only a ½ cup total of cheese in the whole recipe! When you use the good stuff a little goes a long way and you really won't even notice the small amount of cheese because it bursting with yummy flavor!
Nutrition Info [without ham]
Servings: 6* Calories per serving: 215* Fat: 10g* Cholesterol: 221mg* Sodium: 243mg* Carbs: 18g* Fiber: 2g* Sugars: 2g* Protein: 15g*
Weight Watchers Points+: 5* [using recipe builder online]
Nutrition Info [with ham]
Servings: 6* Calories per serving: 247* Fat: 11g* Cholesterol: 237mg* Sodium: 573mg* Carbs: 18g* Fiber: 2g* Sugars: 3g* Protein: 20g* Points+: 6*
Other frittata recipes you might like: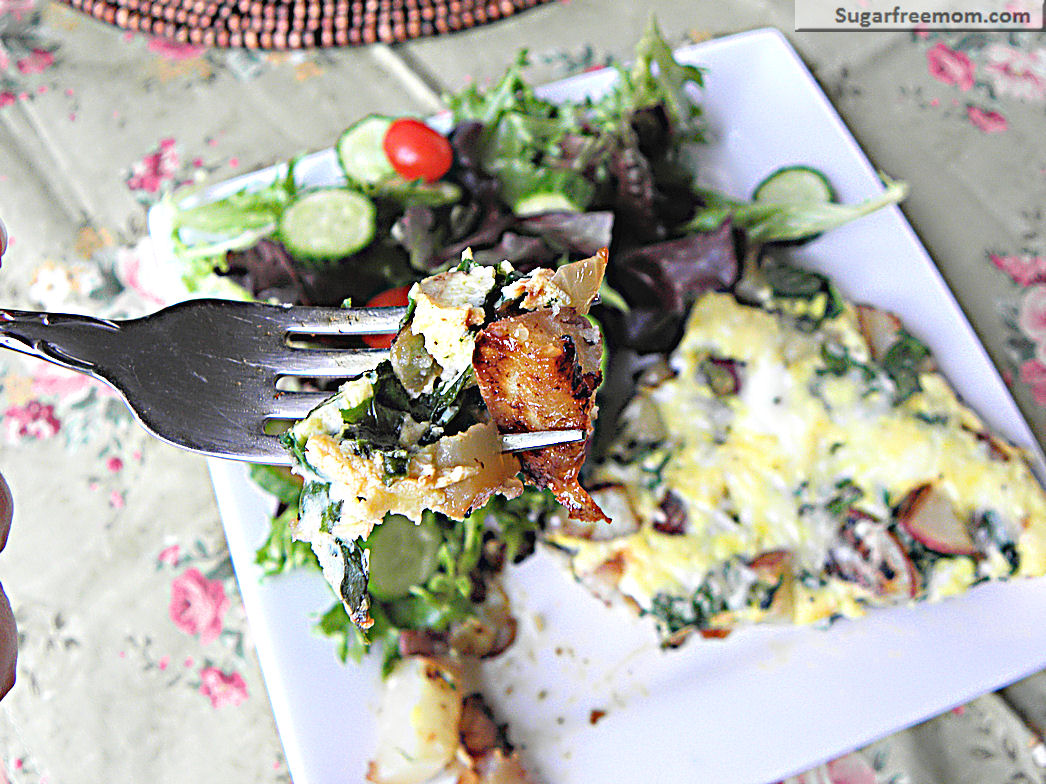 Healthy Potato Spinach Cheesy Frittata
[sc:Ziplist]
Ingredients
1 Tablespoon canola oil
1 teaspoon minced garlic
1 cup chopped onion
3 cups red potatoes with skin, diced
3 cups fresh chopped spinach
6 eggs
½ cup egg whites
¼ cup grated Parmesan cheese
¼ cup shredded mozzarella, part skim
¼ teaspoon salt
⅛ teaspoon pepper
2 tablespoons fresh chopped parsley
optional: 6 ounces cooked ham, chopped
Directions
In a medium size saute pan heat your oil to medium high heat and add garlic. Cook for a minute then add your onion. Saute onion until softened about 5 minutes. Add your potatoes and cook for about 10 minutes continuing to stir until tender. If you are using meat add it now along with the fresh spinach. Saute until spinach is wilted. In a small bowl whisk egg, egg whites, Parmesan cheese, parsley, salt and pepper. Pour mixture into saute pan covering all over the potato and spinach. Cover and reduce to low for 5-10 minutes until egg is slightly set near center and firm around edges. Uncover and add mozzarella cheese over the top. Broil for about 2 minutes until cheese is melted. Let cool for 5 minutes then slice and enjoy with a nice salad!